Pavilion's '180' — Grieving Family's Hideaway to Social Hub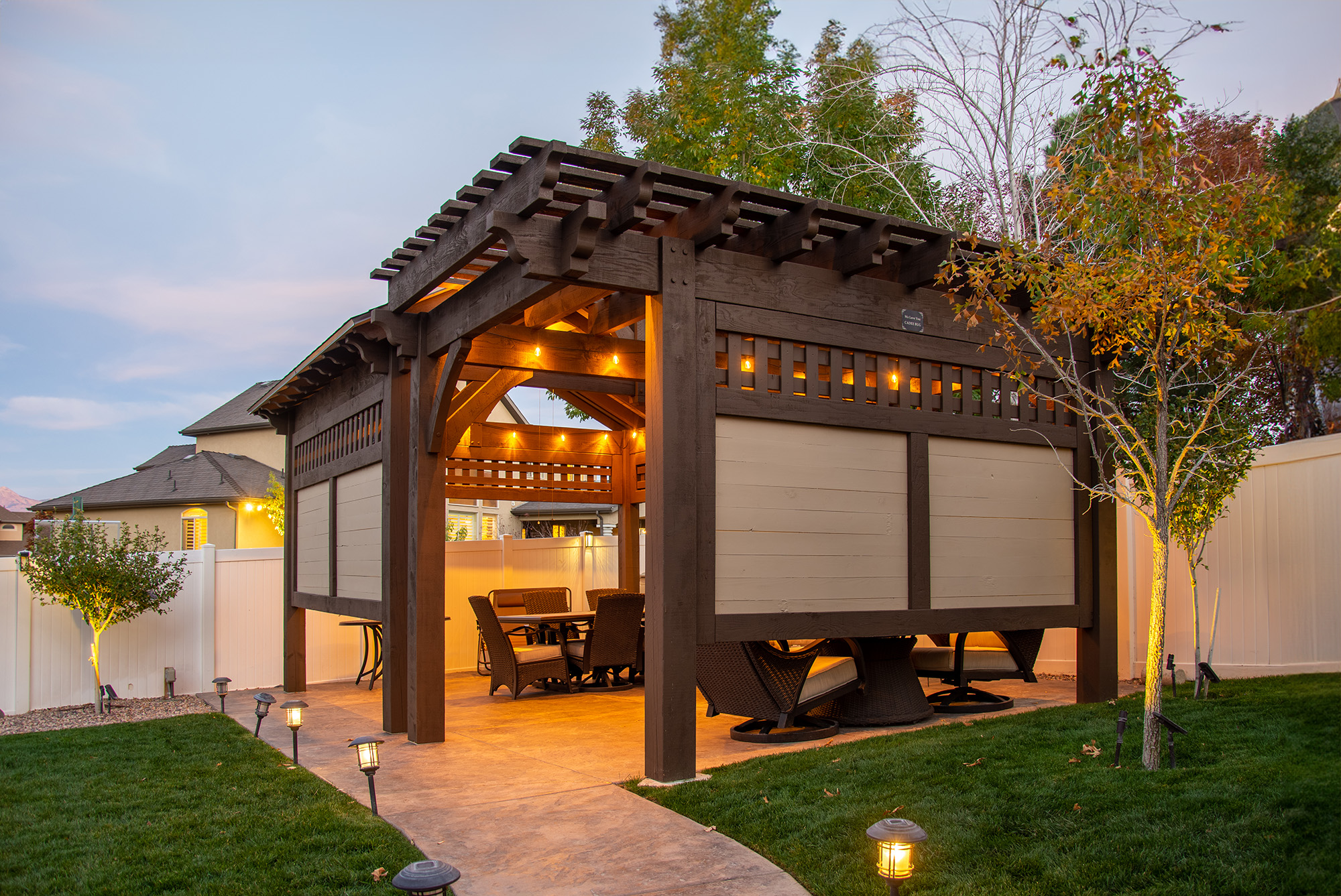 Introduction
We had the privilege of sitting down with Ed and Aubree, an inspiring couple who generously shared their heartwarming journey of transforming their backyard into a sanctuary that brought hope, healing, and happiness back into their lives. In our candid conversation, they opened up about their experiences following the unimaginable tragedy of the loss of their beautiful daughter, Cadee; which initially led them to retreat into the safety of their home, seeking solace from the outside world.
Their initial intention from the start was to construct a sheltered escape, distanced from both social interactions and inquisitive onlookers. Little did they know that their pavilion would become a pivotal catalyst to breathe life and bring light back into their world, metaphorically and tangibly. In this blog post, we'll explore Aubree and Ed's heartfelt journey, their experiences working with Western Timber Frame, their initial challenges, and how their new outdoor haven became a hub for family gatherings, healing, and newfound joys.
Get ready. It's a story that will grab hold of your heart and never let it go.
The Beginning of a Dream
Aubree began, " I remember meeting with you. I remember being so direct with you and saying, "I don't want any sales pitches, like, I am a broken woman. I need your help."
"I can't even thank you enough for the heart that you brought to my home. And then the fact that you dealt with me who didn't even know what perfect was yet. I didn't know how to even start to breathe. And I wanted my family to be able to have a new normal but also have her with me."
Ed chimed in, "We didn't really know what we wanted, so your input was very valuable. But we had a general idea, right? And we knew what we didn't want."
"I remember you kind of brought up a good memory. You were talking about getting the original ideas from us and then when you came out to do all the measuring and whatnot, I was actually blown away because I was thinking how precise it had to be. And then you came out with your tape and took a couple of measurements. And then you said you were all done. I was kind of surprised by that. I was like okay, it better be good. It better be good, you know, because otherwise, we'll stop you from the get-go."
From Hideaway to Hangout
"So, one of the foremost reasons," Ed reflected, "that drove us to pursue this entire structure was our desire to step out of our house, continue living our lives, and yet retain our cherished privacy."
"And, indeed," he continued, "it worked so remarkably well that our family now frequently gathers here, just as we've shared with you before. Family comes over..."
Aubree chimed in, laughing, "We can't get them to stop coming over."

Ed joined in the laughter, saying, "Exactly, and once they're here, they don't want to leave. Picture us at one o'clock in the morning, gently urging everyone to keep the noise down because our neighbors don't appreciate parties going on past that hour."

"The other interesting challenge we face," they both concluded with infectious laughter, "is that we can't convince anyone to go on a double date anywhere else except right here in our backyard. They want to set up hammocks, watch TV on the screen, and they insist on having their meals delivered here.
We can't even recall the last time we managed to persuade them to go elsewhere because everyone simply loves this place. We feel incredibly spoiled. So, I suppose you have to accept the downsides that come with the upsides, right? Now, we are kind of confined to our own backyard."
Cadee Bug's Pavilion
You know, throughout this journey, we had dealings with other companies, and our experiences had been far from positive. From damaging our yard to overpromising, overcharging, and ultimately abandoning us, it had been a frustrating and disheartening process. When we first encountered your company, I have to admit, I was skeptical. I thought, "Okay, can they really deliver on their promises?" However, you not only delivered on every commitment but also brought a level of professionalism that was truly remarkable.

Your team's dedication was a game-changer for us. When our yard transformation was complete, it brought a newfound sense of hope into our lives. While you can never truly ease the pain of losing a child, having this beautiful space gave us a way to honor her memory. I even asked you to dedicate this

backyard, this building you constructed, to her memory. What you did next touched our hearts deeply. You took the time to craft a special plaque for our daughter and placed it in the yard. I see it every time I'm out here, tending to the yard.

The fact that you not only transformed our physical space but also touched our hearts and spirits is something we can never fully express our gratitude for. There simply aren't enough thank-you's to convey the depth of our appreciation.
A Haven of Healing
Our son, whom we affectionately call 'Buddy,' closely resembles both his mother and me in many ways, and as a family, we value our privacy. His closest companion was always his sister, and there are no words to describe the immense void her absence left. They were more than just siblings; they were best friends. Losing her was like losing a piece of himself.

In the aftermath, Buddy found it challenging to connect with others his age. He didn't share their enthusiasm for wild and raucous activities. However, things began to change when we screened in the hot tub area, and spruced up our backyard the the pavilion and trellises. Even the harshest critics, high schoolers, gave their approval, which allowed Buddy to expand his social circle.

As he grappled with depression and loneliness, we recognized that we couldn't simply move on from our loss; we had to find a way to move forward. Our backyard transformation played a crucial role in helping us feel comfortable in our own space.

Despite having the option to move out and seek independence, Buddy surprised us by inviting his coworkers, bosses, and friends over.



Even last weekend, what was intended as a small barbecue turned into an unforgettable gathering in our backyard, complete with movies and homemade desserts. Everyone marveled at the unique and serene atmosphere we had created. Buddy commented that he had the best of both worlds: the comfort of home and a welcoming space for friends.
Reflecting on the past, I couldn't help but imagine how different our lives might have been with such a haven during our own youth. It's heartwarming to witness the positive impact this space has had on Buddy's life. It's become a hub for his friends and various events, as well as a gathering place for family.
Creating Privacy and Comfort

Aubree recalled, "So, when I met with you, I was like, okay, I need you to —without making us look like we have a cave— give my husband some privacy. But make this look classy. And once you designed that, and did that into my stairs, my exciting stairs, my husband started hot tubbing. And he started enjoying it with us."

Aubree added, "And he'd sit out there, and it actually helped improve his health. And he, uh, joins all of us. I mean, we're only getting older, so, you know, it was a wonderful thing to have that come together. So, thank you, for that beautiful privacy."

From Hot Tub Hiding to Health Improvement

Aubree explained: We have a nice hot tub. We really wanted to enjoy it. We bought it with the best intentions and then we discovered that my husband didn't like coming outside due to the lack of privacy in our backyard. Our house was positioned on a hill, unique in that both our front and back doors were at ground level, resulting in a significant slope in our yard that allowed our neighbors to have a clear view of our outdoor space.

I struggled to convince him to use the hot tub during the day because he worried about our neighbors seeing us. Strangely, he had the same concerns about nighttime privacy. We couldn't help but question our decision to invest in this costly hot tub, complete with the expense of pouring concrete. That's when she reached out to us, seeking a solution that would offer her husband the privacy he desired without making our space feel like a cave but make it look classy.

"And once you designed that," said Aubree, "and did that into my stairs, my exciting stairs, my husband started hot tubbing. And he started enjoying it with us. And he'd sit out there and it actually helped improve his health."
A Wellness Center

"The one thing you don't know about us is that, in three years, we have had five major surgeries." Given our circumstances, this outdoor space has played a significant role in our lives. When we consult with doctors, their advice always includes staying active but not overexerting ourselves, and being in a positive environment. Interestingly, this outdoor area has fulfilled those criteria perfectly.

"It's allowed us to stay healthy. It's allowed us to be able to still bring people here when we can't get mobile somewhere. Yeah. Where we can still socialize, where we can still enjoy the outdoor, double date, whatever we want to do with, you know, the limitations we have. And so, that's something I never even saw. You never know what life's going to bring you but this is just enhanced and been such a light for us in so many ways. And it's still going."

"That's what we should call this: Our Wellness Center. Literally, like this is our Wellness Center because we have always been active mountain people."

"Thank you for what you've done."
Decor Store and Flower Shop

"The one thing I did have," said Aubree, "was a Decor Store and Flower Shop that I was doing in honor of my daughter. And everyone was picking up flowers from my home and coming to my home. And I didn't know how to even have its be an inviting situation for me."

"And then from there, we turned around and we were able to comfortably sell flowers in our home. And then I had my Decor Shop and you now I've had fun decorating in here and it was funny because I had tons of customers that were like 'How do you even decorate a back yard. What do you do?'"

And I brought it home and my husband and I said, "We know exactly what to do."

"And we took pictures and we advertised It and it took our sales up and it helped us now with our business. You know, so now, personally we've got a gain. And business wise we have a gain. And, and then that doesn't even talk about the family that comes over."
Dog Parties, Right?

"Oh, the other funny thing is," Aubree chuckled, "we've been asked to host like five dog parties. Oh, yeah, probably been the funnest thing we've ever had. I didn't even know that was a thing. Yeah. But literally, like last fall, we had her first little thing and our friends brought their dogs. And it turned into this, we got phone calls: We could go to the park but we got to experience Sky's birthday party. And they're decorating their streamers in here and popping up cakes. And I was like, 'We're now hosting dog birthday parties at our home.' And so, that's another new thing that just started. So, yeah. And that's actually, probably our funnest thing. So yeah. I wouldn't have ever said that before."
The Night Our Backyard Stole the Show
Ed said, "One of the best things I like is showing off — showing this stuff off. Two years ago, was it two years ago, I had my boss out for dinner. All the way from Long Beach."
" Yeah." said Aubree, "This actually became their custom spot.

So these guys were used to high-end, like, Ruth's Steakhouses. And then they got the experience to come over here because he had surgery. And they looked in our backyard and they looked over and saw the Pavilion and they were like, 'What have you been holding out?'

And so we let them come down here and then they saw the smokers and everything and they were like, 'Okay, we're not going to Ruth's Steakhouse." And I was like, "Wait. We don't want to do the cooking and all the entertaining." And we had to that night.

The bosses, the big bosses came and the funny thing is, it's made its word around about how we had them here. And it just became this big word of mouth about our backyard. And so that was also something I didn't see —between the dog parties and Ed's work parties."