SHADESCAPE YOUR LANDSCAPE™
Create an Invitation & Accentuate your Backyard with ShadeScape® Arbors & Trellises
Arbor and Trellis structures can accent your backyard living space. In some ways arbors can appear similar to pergolas, providing shade, and shelter – and shade shelters can be trellised. Even though there are some common design features between some outdoor living shelters, nothing compares to the vast artistic license arbors or trellises provide in the orchestrating of landscape design. From subtlety, separate space to bold boundaries arbors and trellises are offered an integral part of a building and directing throughout the scenery.
Arbors and Trellises are the Poetic License to ShadeScape® for a Pristine Landscape Design.
The unique shapes and lines of well-planned arbors and trellises offer opportunities to beautifully frame a landscape to guide views, direct traffic, provide entertainment, and cradle with nesting areas. In our experience, they are often used in conjunction with a pergola, gazebo, or pavilion to accent a walkway, hidden corner, or provide shade for a swing or bench.
Arbors are a great way to provide a small amount of shade to a dedicated area or walkway. Our heavy-duty Arbors and Trellises utilize our dovetail joint method for superior strength and minimum maintenance.
---
Shade has always been a vital need to living things for rest and rejuvenation. With an arbor/trellis timber frame structure from Western Timber Frame™, the structure is a durable permanent outdoor shade structure built to last for centuries.
In ancient times an arbor was an orchard or a natural kind of latticework formed or covered with vines or branches for a shaded retreat. Whereas a trellis is a lattice framework that is formed by crossing laths or thin strips diagonally or in a zigzagged style.

Lattices were also used ornamentally for covered windows, gates, doors, form a wall, support climbing vine and roses, shade garden areas and more.
Today, modern Arbors and Trellises have become extremely popular in prominent residential and commercial areas for its low cost in meeting a variety of landscaping needs, spanning from a quaint homespun cottage appeal to a formal illustrious estate.
To Start Designing Your Kit – Contact Us or Call

(877) 870-8755
(9am – 5pm MST)
Vertical Gardening & Landscape Design

Western Timber Frame™ garden arbors and trellises add a stunningly inviting feel to a garden and are also very practical to accentuate with hanging baskets, pots or growing boxes. They help facilitate beautifully inviting backyard living throughout the year.

Natural timber is a fantastic substrate for plants, compared to metal arbors or latticeworks, which can burn and freeze growing plants. A trellis can add a new dimension to unique climbing vines, vegetables or vineyards as well as garden flowers. They are excellent for vertical gardening to keep vegetables and flowers off of the ground, or even to grow a vegetable garden in a limited space, or a nook in your backyard.

"It turned out beautiful, we love it. I would recommend Western Timber Frame™ to anyone I talk to.

I appreciated their design ideas, and the efficiency in which it was installed

. We love it!" –

Debbie Wright – UT
---
We will help you Design and Craft your Arbor or Trellis
Arbors serve as entryways, gateways, and pathway coverings, while trellises are a natural element for walls, boundaries, and enclosures. From a very small or narrow area to a large expansive surrounding, arbors and trellises help create the perfect landscape.
MOMENTS IN PARADISE™
"We used our hot tub maybe five times in a year. Now we use it at least five times a month — and more. We never really came out in our yard much before. Now we are outside every night.

We joke that we have our own little club house, and we are putting Cadee's name on our club house —so it's pretty cool…(Cadee's in heaven)

Nobody knows when we are back here. We sit out here until midnight and love to talk." – The Conner family, Utah
Celebrations & Events
An Arbor or Trellis can act as a main focal point or a perfect backdrop. A place to stand for the exchanging of vows or as an entryway to the altar. It is so easy to complete with wedding flowers, vines, lights, Japanese lanterns or ribbons for a reminiscent romantic setting. It can also be showcased with a more modern flair with balloons, garlands, streamers, fiber optic lights or accents that are tailored to your particular wedding theme or event. The possibilities are literally endless.

Outdoor Living Nooks and Retreats
A pair of arbors with a bench or benches facing each other will provide a quiet place to sit and enjoy the exquisite beauty to a garden, sandbox, park, landscape, residential or commercial area as well as camping or tourist areas. An arbor swing can also be an enchanting invitation to a garden or landscape as well as a welcome resting place at the end of a pathway or quiet secluded retreat.
Our project managers can help you design your trellis or arbor kit. Click HERE or Call Today!

1-877-870-8755
Inviting Focal Point
Being able to decorate your Arbor or Trellis with seasonal decor lends to an even more inviting focal point for entertaining and family gatherings. They are so easy to decorate with just about everything. Whether you're celebrating the 4th of July with patriotic flags, red, white and blue colored outdoor streamers and memorabilia, or the winter holidays with branches of evergreens and festive red and green decor.

Privacy Lattice
A trellis works well for as a sanctuary, adding additional privacy while providing simultaneously the warmth of the sunshine and the cool summer breezes in the welcome shade. Outdoor furniture can also be added for that atmospheric feeling to put up your feet and make yourself at home.
---
Add Additional Accents & Eye-Catching Touches With Awnings
Trellises or arbors also add an inviting touch of class. Add an awning for a welcoming accent.
Traditional Craftsmanship of Old World Architecture

• Western Timber Frame™ arbors and trellises are built with a mortise joint system utilizing the best qualities from the traditional craftsmanship of old-world architecture with the precision of advanced technology.

• Referred to as The Dovetail Difference®, the joints are pre-cut and interlock for a tight fit that allows the natural expanding and contracting of wood.

• Timber itself is naturally more durable. Western Timber Frame™ arbors and trellises use quality grade timber as found in outstanding historical Dutch and Colonial gardens and landscapes.

• Western Timber Frame™ can match or compliment any architectural style to taste with the finest in quality arbors and trellises.

• All of Western Timber Frame™ timber frame kits are numbered, pre-cut, pre-drilled and pre-notched for a fast, efficient assembly process.
Revolutionary Joint System Eliminates Gaps
And Makes Arbor or Trellis Kit Installation Simple
Easy installation
Longer lasting
Higher quality
Reduced warping, twisting
Gap exposure
No hangers
Fast Installation

Pre-drilled
Layout
Min. possibility for mistakes
Pre-stained
Posts Mortised
All Fasteners
Eased Edge on all timbers
---
We will help you Design and Craft your Arbor & Trellis
Meet your Design Manager

Western Timber Frame™ is different. Rather than fit you with a pre-made, cookie cutter kit; we will custom design your timber kit to fit your yard and your style.

Your first contact will be with a Design Manager, not an obnoxious salesman.

Your Design Manager will make sure that your project is a Success:

We help you measure and choose the correct size of kit for your yard.
You will see what you're getting, with free 3D Renderings & Design.
Get easy HOA and engineering approval, when our experts help you.
We work with your subcontractors, to get your project done on time.

ENGINEERING
We work hand in hand with our engineer to make sure that your kit will be able to withstand the snow loads and wind in your area. All kits have a 120 mph wind rating.

DESIGN
Your Design Manager will help you design your kit. They take your ideas and help you measure your kit. With a complimentary 3D Rendering, you will know exactly what you are buying.
"Western Timber Frame was wonderful to work with.

They were easy to talk to. They came out quickly after we called them

. They gave us an appraisal, and then when they lined up people to come out and do the cement work it was done quickly.

I especially love that it is a family business; that there are a lot of brothers that work together. And when they came out, there were two brothers who installed the entire pavilion in one day" – Calleen Argyle – UT
---
Expert Timberwrights Handcraft Each Kit
Quality Checking Kit Prior to Delivery.

Build to Last. It's what we love to do.

We cherish the American tradition of family, community, and country. We are good at innovation in engineering and designing customized, extra durable, over-sized, outdoor living structures that are fast and easy to assemble.

Our mission is to "Enrich the quality of lives through celebrating relationships while creating inspiring environments." Indeed our passion is to influence the integrity of the home through American architecture that invites people who share in the same common values to gather together. Thus strengthening the integrity of the home to build a stronger America.

Forklift with 30′ beam for a 30′ x 50′ Pavilion.
"The guys showed incredible attention to detail. They left my yard looking fantastic and kept the work area clear so that my 3-year-old and I could safely watch the whole process. It was so cool!

The Pergola went together like Lincoln Logs.

And the pergola in my back yard is just as gorgeous and durable as the one my friend bought that started this whole adventure. I highly recommend Western Timber Frame. If you are looking for affordable, durable, and high end, this is the place to go! This was an excellent experience from start to finish. Thank you Western Timber Frame™." –

Patty Sampson – UT
SUSTAINABLE

We use sustainably harvested Douglas Fir. We use free of heart timber to minimize checking; ensuring lasting durability.

FINANCING

Financing Available. We make it easy for you to afford the backyard you desire. Contact us for details.

SHIPPING

All kits include hassle free delivery right to your door. We ship all across North America. Installation options are available. Call for details.

WARRANTY

All kits are built to last for generations. We want to leave a lasting legacy, so we back all our kits with a 15-25 year warranty.

CLIENT BASE

We are an award-winning, 5-star, customer rated company. We are committed to making sure that your project is a success. We don't settle for anything less.
To Start Building Your Kit – Contact Us or Call

(877) 870-8755
(9am – 5pm MST)
---
Experience The Dovetail Difference®
Drop-in Interlocking Joinery

Structural Integrity

Quick Installation

The Dovetail Difference® is an unprecedented patented masterpiece of architectural engineering. Its simple, yet strong design provides greater stability and heavier load capacities. It allows the wood to perform as nature intended, expanding and contracting while keeping the joint tight and secure throughout the years.

Custom Kits

No Exposed Hardware
Authentic Craftsmanship
Superior Quality

Our unique Beam-to-Post application reduces future warping, twisting, and gap exposure. All kits use The Dovetail Difference®, our easy interlocking corners, and drop-in rafter layouts. Once assembled, our kits do not show any unsightly bolts, lags, hangers or hardware.

Easy Installation

Pre-cut Rafter Slots
Fast Alignment
Simple Installation

With the best timber mortise construction techniques, properly engineered designs, and expert craftsmanship; a timber frame Pavilion can be expected to last a lifetime. We stand behind our product, so all ShadeScape® Series timber Pavilions are protected by our 25-year warranty.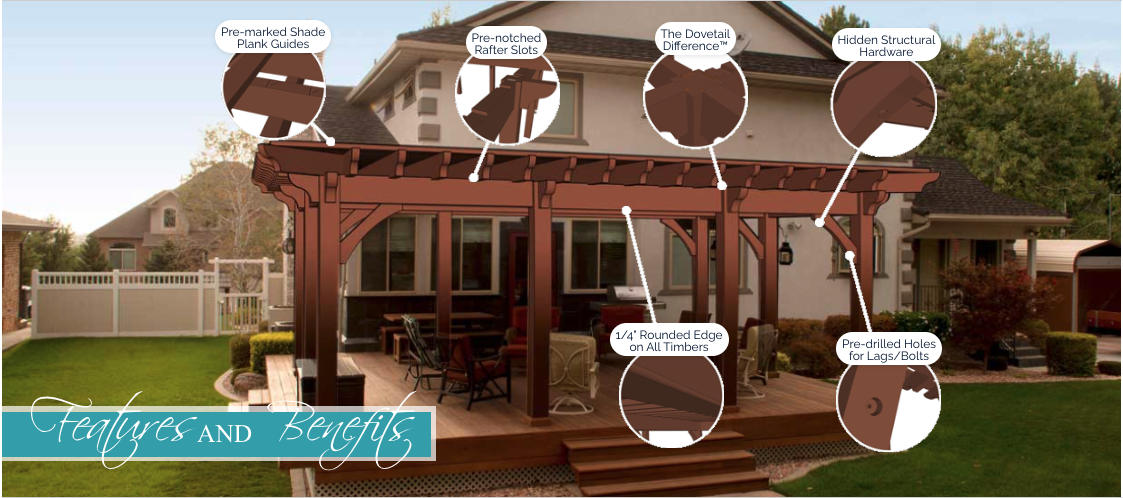 Mortised Joints Make Leveling a Breeze
The Dovetail Difference® joint system that allows for the natural seasonal expansion and contraction of timber pergola joints. These photos show the notch and the groove of the mortised interlocking joints used on the posts, beams, etc.

Your kit will be easy to install
We test fit every single piece before we ship to ensure that your installation will be easy and fun.


We will ship your kit right to your door. Your pavilion is designed to let you lift your posts in place, drop in your beams, and easily lay out your rafters and roof.

"

The instructions that come with it are very self-explanatory

. I had a minor problem getting the measurements right. After a quick phone call, I got it straightened out. It was a pleasure working with Western Timber Frame™. –

Dewey Farmer – AZ

Easy Installation
Longer lasting
Higher quality
Layout
Gap exposure
No hangers
Fast Installation
Pre-drilled
Reduce warping & twisting
Min possibility for mistakes
Pre-stained
Posts Mortised
All Fasteners
Eased Edge on all timbers

"Before I found them, I was going to have one self built.

But when I found them it was kind of a no brainer to have them manufacture it. Because I wanted something heavy

. Rather than the light little you know 2×4 or 2×6 construction. I wanted something that was heavy and sturdy and looked proportional." –

Lindsay Andrus – UT
Ready to get started? – Contact Us or Call

(877) 870-8755
(9am – 5pm MST)
---
Unlimited ways to Customize Your Kit
Standout with a ShadeScape® Kit Series
| | | |
| --- | --- | --- |
| Commercial • Residential (Popular) | Estate • Commercial | Luxury • Estate |
Arbor & Trellis Upgrades
TimberVolt® posts are pre-drilled through the entire shaft. Our pre-wiring options will save you time and money. TimberVolt® makes it easy to bring power to your outdoor living area. Your structure can be ready to use the moment it is installed; no need to wait for someone to wire it up.
The TimberVolt® Inferno® model has integrated USB outlets to charge your smartphone, tablet, or other USB compatible devices while you watch movies on your outdoor TV.
Cantilevered Roof

Adding an extra gable or two can help define an entrance, create an additional wing on your structure.

Create an open view showcasing your pavilions beautiful trusses. You will love looking up admiring the impressive timber framing when you are inside a three or four gabled pavilion.

Arched Knee Braces

Arches have long been a part of traditional architecture. Arched Knee Braces are capped with a decorative keystone, and provide extra durability.

These original beam spanning arches are an extremely popular upgrade, and they look great on any pavilion, gazebo, arbor or trellis.

Privacy Lattice

With neighbors all around you, it is nice to have privacy. Create your own secluded backyard room with beautiful lattice panels.

Lattices are also great for growing wisteria and other hanging vines.
---
How to Start Your Arbor or Trellis with
3 Easy Steps
| | |
| --- | --- |
| | Note: All kits include your choice of beam profile, knee brace, and stain at no additional cost. Beam End Profiles are cut out from the end of the beams. They are a great way to customize your kit and compliment another design element in your yard. You can choose any of the following profiles, or you can send us a template or sketch with your own custom profile design. |

| | |
| --- | --- |
| | Knee braces are an integral part of your kit's design. They provide additional strength to your posts and prevent your kit from swaying in the wind. They also provide visual contrast to your horizontal beams and vertical posts. Create your own, or choose your favorite knee brace style from any of the following distinctive options. |

| | |
| --- | --- |
| | To make sure that your pergola looks great and lasts, we only use the highest quality premium grade stain. All stain colors have the highest UV-rating possible and are water based to make them safe and easy for you. For your convenience, we pre-stain all kits before they are shipped. Pick any of the following stains or color match with your own custom color. |
Beam Profile Options

Axis
Axis Step
Crescent
Crescent Step
Champion

(Popular)

Roosevelt
Roosevelt Step
Southwest

Knee Brace Options

Classic

(Popular)

Cove
Legacy
Standard

Stain Options

Rich Cordoba

(Popular)

Early American
Rich Sequoia
Natural
Black
Alpine

(Upgrade)

Canyon Gray
Wild Olive

(New)
Begin Your Kit – Contact a Design Manager

START TODAY

"I thought they were excellent.

The fact that I was out of state initially worried me, but as we worked through the project it was evident that it was not an issue

. You just need to take good dimensions, and talk it through. The sales rep Ondi, he was excellent." –

Mark Church – OH

"The workmanship of the pavilion was fantastic. Love it so much.

Don't wait three years thinking about purchasing from Western Timber Frame like I did

. Just do it. I could have been enjoying it all these years." –

Nikki Deniro – UT

Quick Start – FAQ
---
Award-winning Custom Timber Arbor & Trellis Kits!

Choose Western Timber Frame™ and enjoy peace of mind as we continue to lead the industry in quality and design. Western Timber Frame™ provides the highest quality timber frame arbor/trellis and products across the Nation. Call us now for a your arbor and trellis kit estimate and a qualified representative will give you a quick and easy design consultation. For local backyard consultations, we can give you a design and price right there on the spot. You pick the style and color and we'll do the rest.
Arbor Day
The birth of Arbor Day began on the flat desolate plains of Nebraska. J. Sterling Morton and his wife, Caroline, purchased 160 acres in Nebraska City before Nebraska was even a state. A journalist by trade, Morton established the state's first newspaper – Nebraska City News.
Possessing an enthusiastic love for nature, Morton used his paper to encourage the ecology and forestation of Nebraska and proposed a day to plant and appreciate trees. Originally, "Sylvan Day" was suggested but Morton, however, felt strongly that it should be in recognition of all wooded shrubs and trees. "Arbor" literally means a tree, orchard, or shade covering.
Because of Morton's efforts, America's schoolchildren began to participate and in 1885 Arbor Day was established as an official Nebraska state holiday. It was estimated that well over one million trees were sown in the soil of Nebraska on that first Arbor Day. Within 20 years, every state except Delaware acknowledged an Arbor Day.
"Each generation takes the earth as trustees." — J. Sterling Morton