SHADESCAPE YOUR LANDSCAPE™ | The ShadeScape® Experience
Custom ShadeScape® Shelter Structures Designed to Fit Around Your Lifestyle.
Meet Your Timber Frame Design Manager

Your Design Manager will make sure your preferred outdoor living needs are met. He will spearhead your project so that it is aesthetically pleasing and structurally sound. Your Design Manager will also ensure that the design is within your budget and time constraints.
You Imagine it,

We Bring it to Life.

Our #1 priority is you.

We believe in our products and hold ourselves to the highest standards. We truly care about your outdoor living needs as much as you do, which is why we offer the best support around at our dedicated support center and a 15-25-year warranty. Each of our products, from wood gazebos to timber frame kits, to wooden carports is designed with you in mind! We have the perfect shade structure for YOU and your outdoor lifestyle.

You can count on us.

Molding your ideas into reality has never been easier. No matter if your goals are simple or complex, your experience will be easy and straightforward. From outdoor kitchen gazebos to solar pergolas, we make your ideas come true.

Our kits are proudly made in the USA. We ship and install projects throughout the USA, Canada, and abroad.

Share your ideas with us and watch them become a reality.
Find Your Style
YOU HAVE GREAT IDEAS! Our desire is to take your ideas, no matter how vague, and make them a reality. Most importantly, we focus on designing to fit your lifestyle. We want your outdoor living space to be beautiful. We do this through a tailored approach, to guarantee the perfect timber frame fit.
MOMENTS IN PARADISE™
ShadeScape® Traditional Style
The time-honored Traditional style is a long-established classic of sturdy craftsmanship. Match traditional style with an outdoor structure like a wood gazebo and you will find the beauty in the details. The Traditional style is strongly influenced by Old World, European, and Early American architecture invoking a satisfying, clean, orderly feel.
ShadeScape® Contemporary Style

Featuring well-kept and functional characteristics, the Contemporary style provides a utilitarian modern look featuring straight strong lines characterized by a clean, subtle, wide open space. From contemporary gazebos to contemporary pergolas, we only use the highest quality of material so your outdoor structure lasts a lifetime.

ShadeScape® Southwest Style

Inspired by the beauty of the desert; the Southwest style has a hint of rugged appeal.

The infusion of Spanish and Native American characteristics reminds us of the grand hacienda; a rough ambiance of adobe, turquoise, and terra-cotta. Simple, warm, and inviting.

ShadeScape® Tuscany Style

Entertain Tuscany style with the romantic ambiance of the Renaissance, famous for its great masters of the arts, skilled craftsman, artisan workshops, and prosperous villas terraced with bounteous rolling vineyards.

Our unprecedented patent-pending Tuscany-style posts can be engineered to withstand 120+ mph winds.
---
ShadeScape® Structures
PERGOLAS • PAVILIONS • GAZEBOS No matter what you are trying to accomplish we have got you covered. You can get exceptional shade and sun protection with a ShadeScape® Pergola, or complete shelter from rain and snow with a ShadeScape® Pavilion or Gazebo.
ShadeScape® Pergolas

A pergola can dramatically enhance your backyard, providing a shaded retreat for relaxation or entertaining, while adding architectural interest and increasing the overall value of your property. Select one of our sturdy Pergola kits to enhance the beauty of your yard.

ShadeScape® Pavilions

Pavilions are free-standing with a fully covered roof to provide an umbrella-like shelter for protection from inclement weather. With a wide selection of Pavillion kits from Western Timber Frame, the right one is waiting for you.

ShadeScape® Gazebos

A pavilion that is built for the express purpose of taking in the surrounding view is referred to as a gazebo, meaning that it is a place from which to gaze. A Gazebo kit can enhance your outdoor living and increase your property's value.

ShadeScape® Arbors & Trellises

Arbors and Trellises for breezeways compliment backyard and garden entrances, or function as a beautiful accent to a small patio area. We offer a wide variety of outstanding Arbor and Trellis kits that can easily match your style.
---
Excellence in World-Class Architecture.
The ShadeScape® Series represents excellence in world-class architecture. We utilize rough-sawn heavy wood timbers to create the ultimate outdoor living structures. The Western Timber Frame™ ShadeScape® Series offers a wide range of size options to create superior outdoor living experiences. Each landscape is unique in size, location, and application. The ShadeScape® Series can be customized to fit any outdoor environment. True to size rough-sawn timbers provide timeless quality while embracing authentic old-world craftsmanship.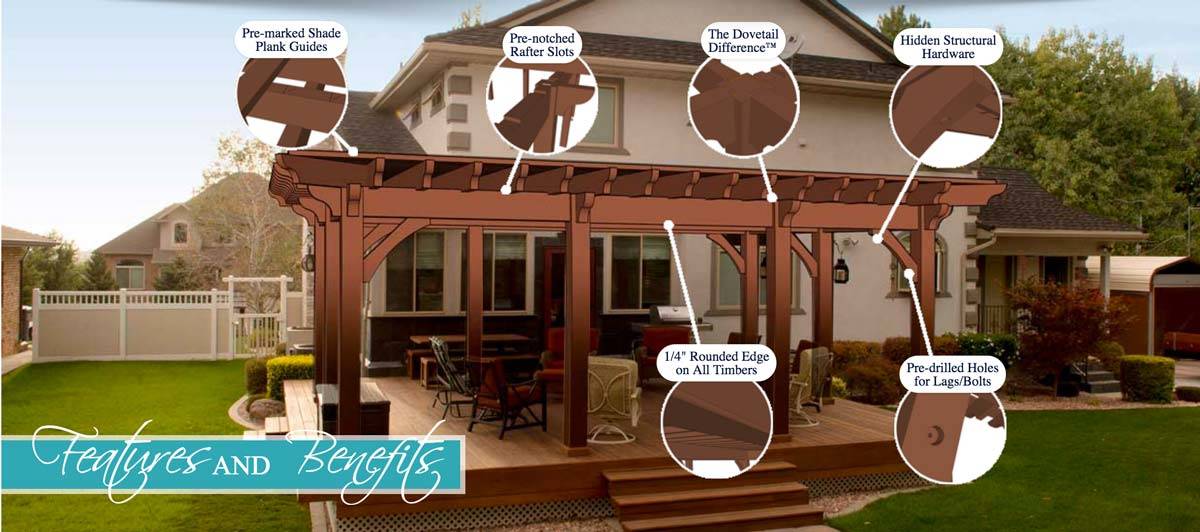 Those Are Just A Few Main Features, There Are Plenty More
Dedicated Design Manager

Kits Manufactured To Your Specs

3D Rendering Of Project

Dreams Brought To Reality

A Superb Customer Experience

HOA Approval Guarantee

Permit Approval Experts

Perfect Light To Shade Ratio (85%)

Patented Dovetail Design

Virtually Eliminate Unsightly Brackets

Beautiful Old-World Craftsmanship

500% Greater Joint Strength

500% Greater Load Capacity

Pre-Fit – Every Single Piece

Pre-Cut – Every Part

Pre-Stained – Every Piece

Detailed Assembly Instructions

Pre-Drilled Lag Holes

Eased Edge On All Timbers

Slotted Drop-In Rafter Layout

Shade Plank Guides

Incredible Strength – Hang Swings & More

120 MPH Engineered Wind Rating

Long Structural Spans

FREE Curbside Delivery

Dedicated Architectural Department

Dedicated Customer Service Department
User Reviews: We Love Our Users, And They Love Us.
BUILDING A PROJECT with Western Timber Frame™ is a simple process that can be done in person, over the phone, or via email. You only need to know the color and the 'look' you want to get started. Our Design Managers know the industry and can pull your project together with just a few suggestions. We will help you work through local building codes and engineering. It doesn't matter where you live; your Design Manager is there to accommodate your specific needs.
---
"I would recommend Western Timber Frame to Anyone."
"WOW It turned out beautiful, we love it. I would recommend Western Timber Frame to anyone I talk to. I appreciated their design ideas, and the efficiency in which it was installed. WE LOVE IT!"

– Debbie Wright
| | |
| --- | --- |
| Join 1,000's+ ShadeScape® Owners! | |