Double Your Space w/Unique Solar Pergola or Pavillion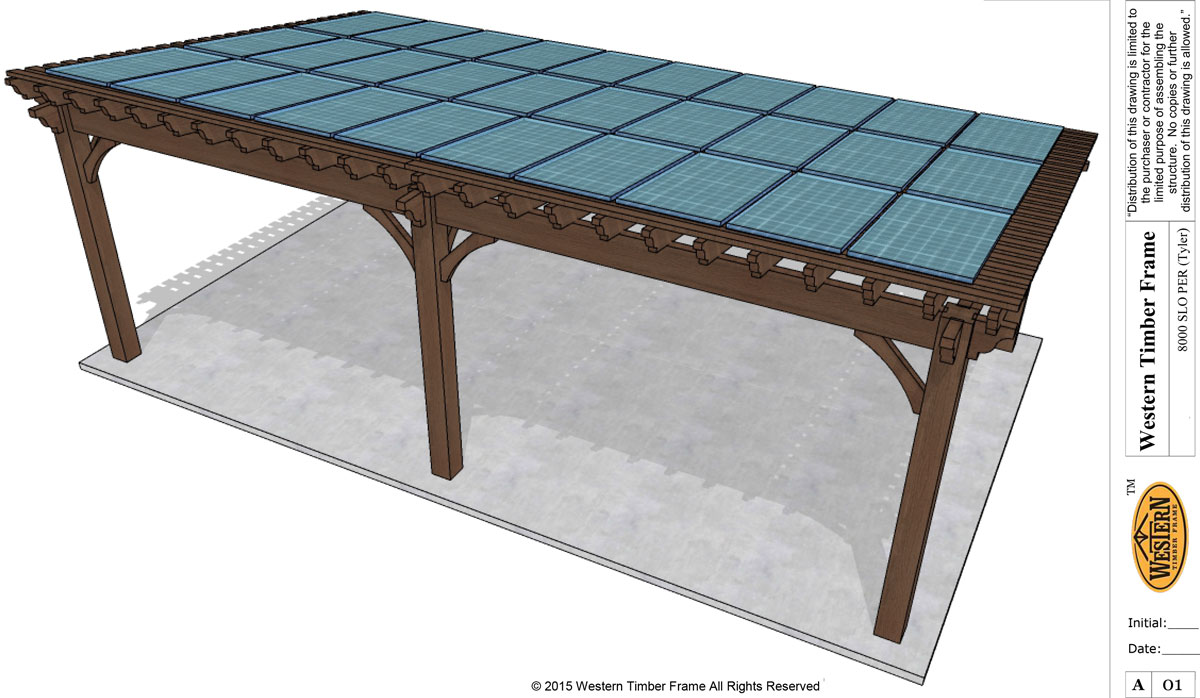 Western Timber Frame™ timber pergola kits complement solar installations by increasing the available installation roof area to allow for more panels, more flexible site suitability, and accommodate installation in unique and hard-to-reach areas all the while adding beauty and value to your projects. A solar pergola saves on space by intuitively utilizing its pergola roof design.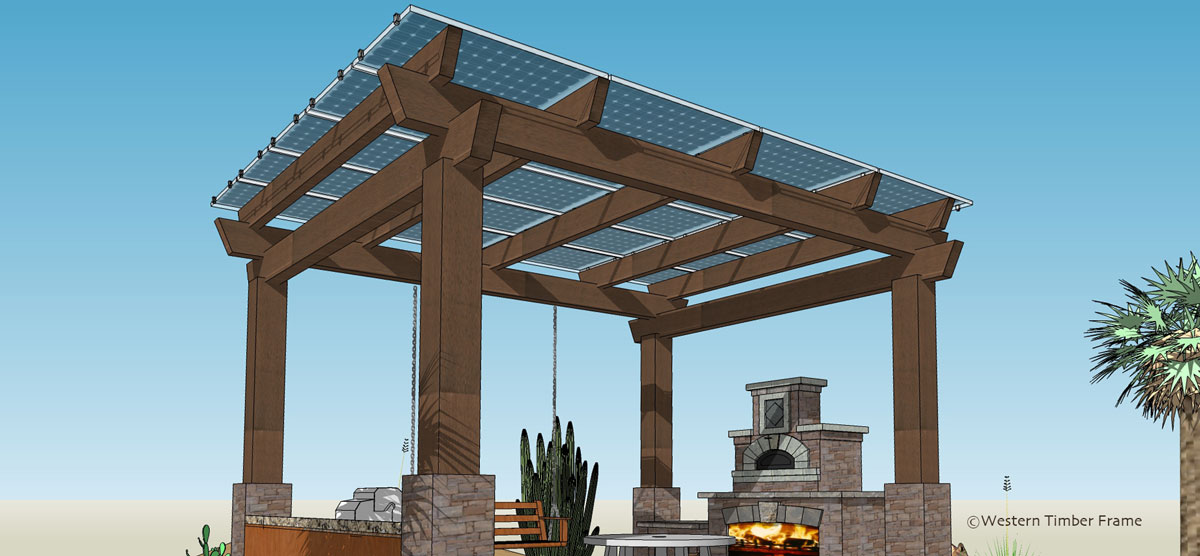 Unique Solar Pergola Design Process
Each custom kit comes ready to assemble. We work with you on each project to craft a design that accommodates your site. Our architects offer valuable insight and design suggestions that are both beautiful & cost-effective.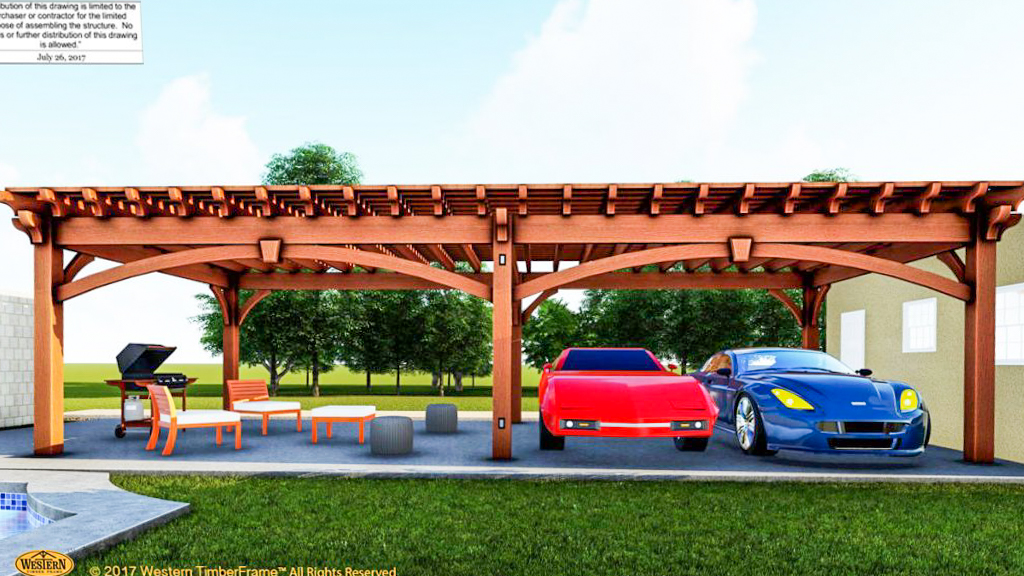 One of the typical disadvantages of a solar energy system is that to generate the amount of electricity required, you usually need a substantial amount of roof space. In cases where you have a small roof, many corners, hips, and valleys, or if the orientation to the sun is not appropriate, you are forced to choose between sacrificing valuable yard space or having fewer solar panels. A Solar Pergola can help you save on that precious space!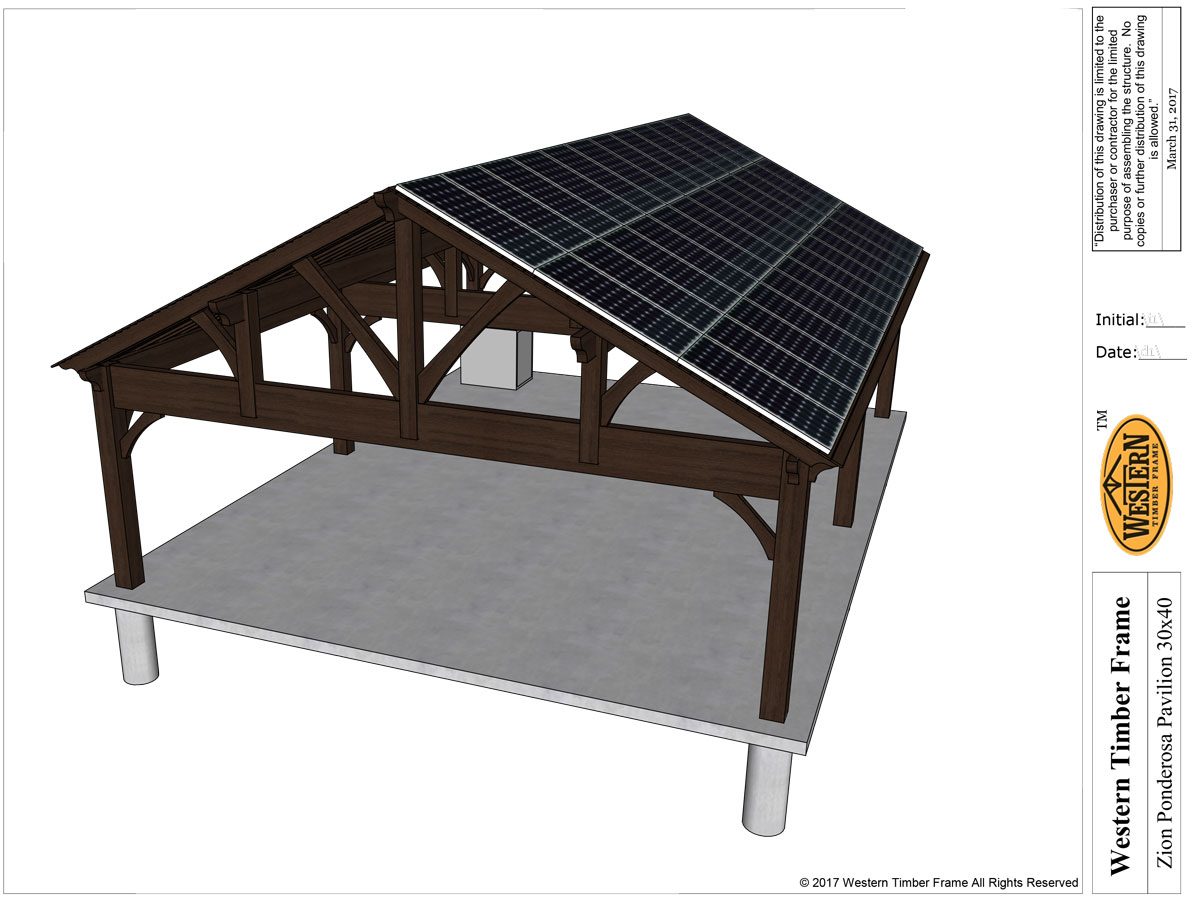 Many yards today are already small, and so you're forced to choose between sacrificing your outdoor living space or having few solar panels. Apart from sacrificing valuable yard space, these extra panels are usually mounted on scaffolding which can be very unsightly in any backyard.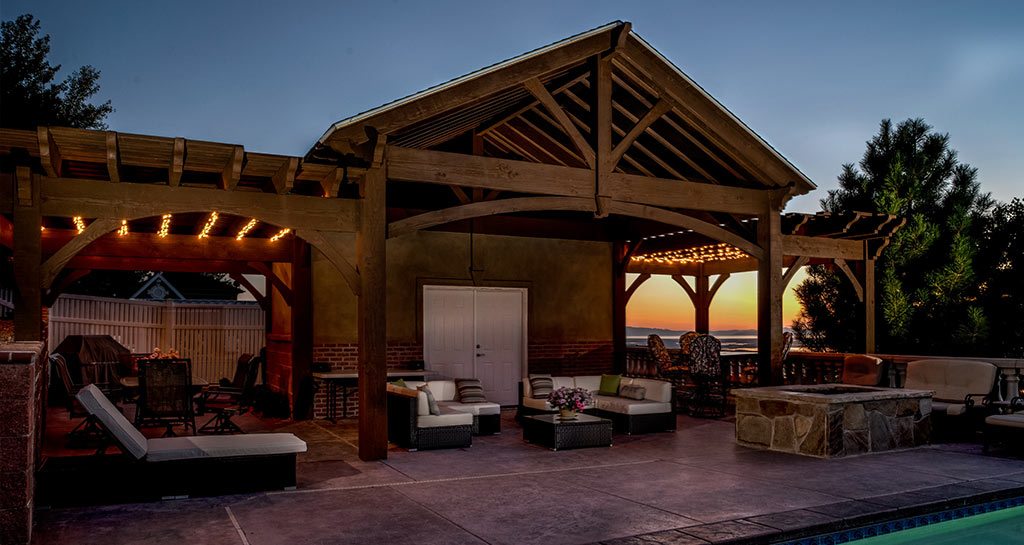 Solar Pavillions
Our pavilions are a fantastic medium upon which to mount solar panels.
A customizable roof pitch combined with a flexible site position allows for solar installation and maximum seasonal energy collection.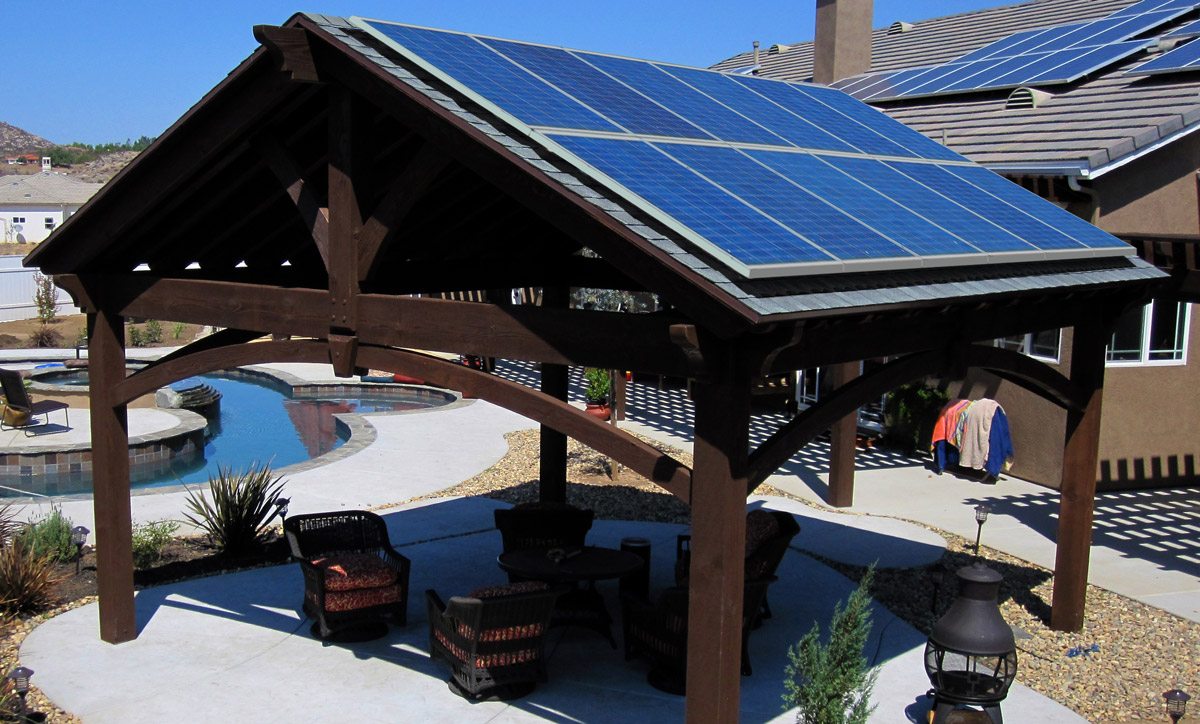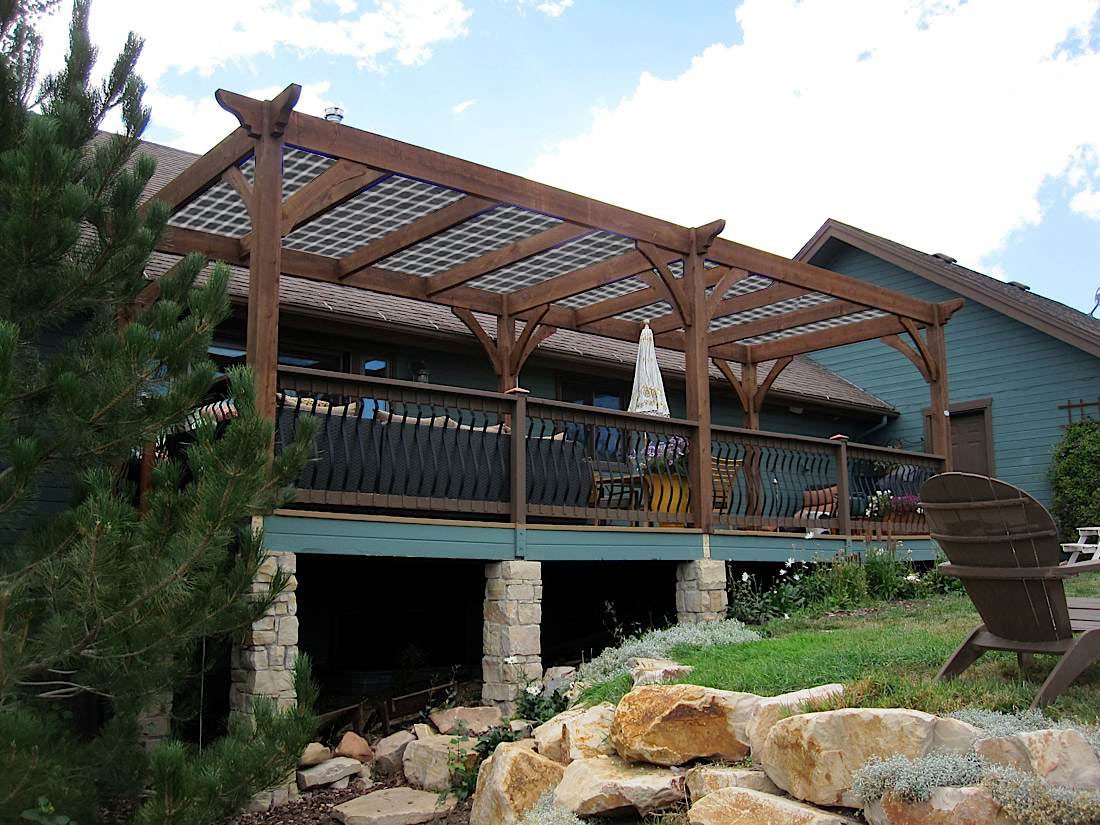 Solar Pergolas
A flat roof allows panels to be ideally mounted with standoff mounting hardware for the maximum angle of incidence and also allows for seasonal adjustment as needed.
Solar Panel Pergola Cost Savings
Solar Pergolas or Other Timber kits that are installed with solar panels qualify homeowners for most Federal and State rebates and tax credits. Adding solar panels can allow for faster cost recovery.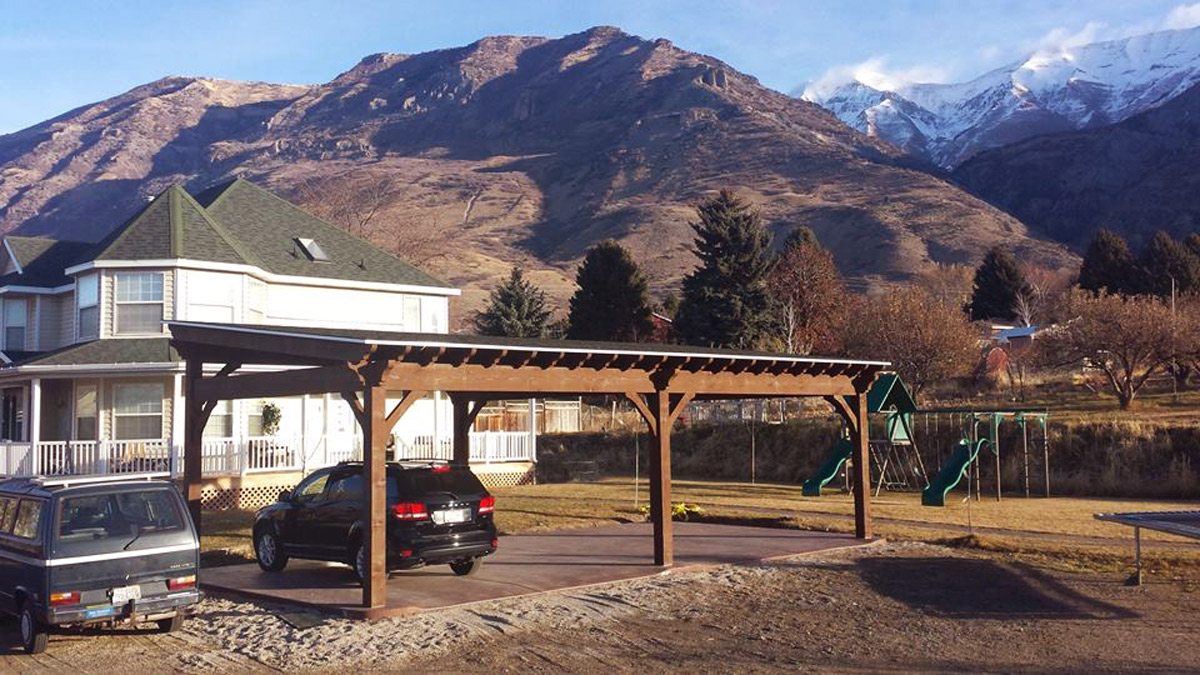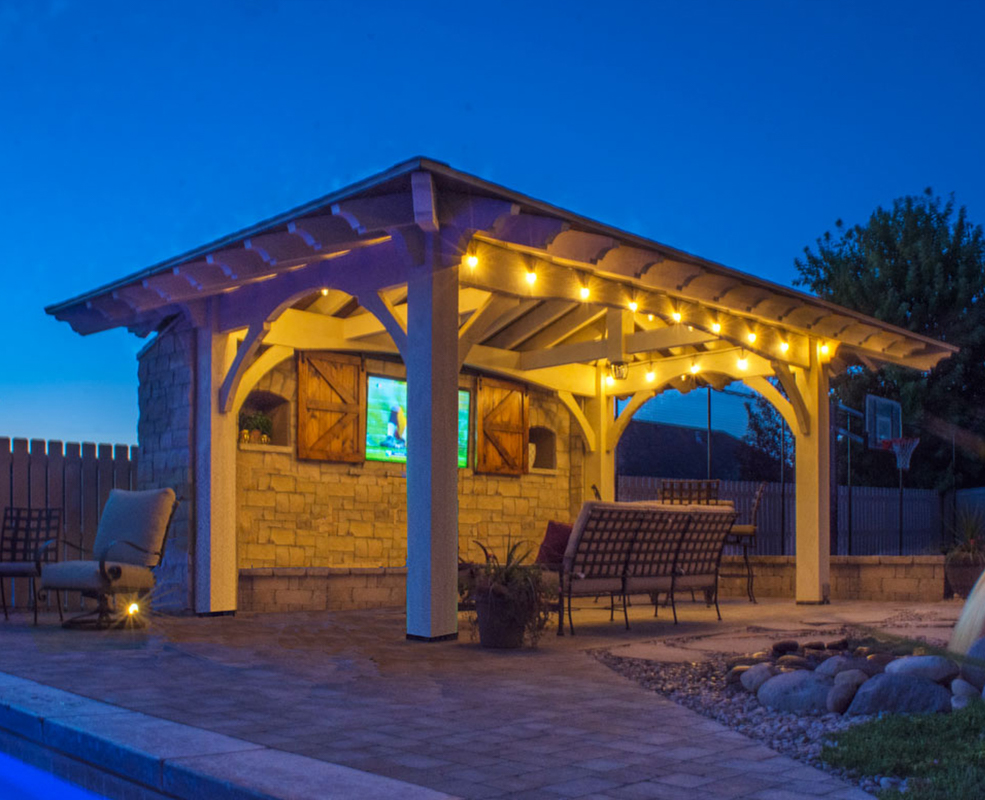 Solar System Aesthetics
Solar systems are usually bulky and can look awkward from an aesthetic point of view. Instead of being an eyesore, solar panels can be custom integrated with one of our award-winning timber kit designs. Beautiful, responsible, and smart outdoor living is easy with a pergola or pavilion as the integrated solar panels and system are sturdily held out of sight on the roof of the outdoor structure, providing shade for those underneath it, while saving you on energy costs through green solar solutions.

Solar Power Site flexibility
Combined with one of our timber kits, the possibilities for solar panel installations are endless. Gain a beautiful outdoor living area, instead of sacrificing valuable yard space.
Solar power systems have come a long way from the traditional, rigid panels we often imagine. Today, flexible solar panels are revolutionizing the industry, offering adaptable and portable solutions for generating electricity. But what does this mean for you? Well, it's all about flexibility in where and how you can your solar panel system harness the sun's power.
Flexible Solar Panels: The Basics
Flexible solar panels use photovoltaic cells to generate electricity, just like their traditional counterparts. The key difference is their flexibility, which opens up new opportunities for solar power generation. These panels can conform to the curve of roof tiles or any uneven surfaces, making them versatile in application.
While these flexible panels might not be as efficient as standard ones in full sunlight—converting only about 7% to 15% of the sun's energy—they offer unique benefits. One such advantage is their lightweight nature and construction. Some are even as thin as human hair and can be glued to a strong, lightweight fabric, making them easy to install and transport.
Solar Power Site Flexibility: What It Means
This newfound flexibility in solar power technology means that you can now install solar panels in places you never thought possible. And this is where our wood and timber kits come into play.
Our timber kits, combined with flexible solar panels, open your house up to endless possibilities for solar panel installations. You can transform your outdoor living area into a renewable energy site without sacrificing valuable yard space. Imagine your pergola, shade structure, or even a solar array attached to your home, all serving as a clean energy system while enhancing the aesthetics of your space.
They can be installed on our wooden carports, pavilions, gazebos, and pergola kits.
The Added Benefits
In addition to providing a source of renewable energy, integrating solar panels into structures like pergolas can offer shade and comfort, creating a perfect outdoor sanctuary. Plus, adding solar panels could potentially qualify a business or you for tax credits, making it a financially savvy move as well.
So, whether you're looking to boost your home's energy efficiency, reduce your property's carbon footprint, or simply create a beautiful outdoor space, flexible solar panels offer the versatility to make it happen. Embrace the flexibility of solar power and explore the countless ways it can enhance your living space.