Prefab 1 Afternoon DIY Purposed Yard
When you install prefabricated, wood-to-wood connected structures to better the presence of a private property, highway, or business area, you are doing more than just creating "curb appeal." ShadeScape® pergola, pavilion, gazebo, and arbor kits are built with old-world architectural principles and craftsmanship that has proven to last for thousands of years. Timber frame is a timeless architectural form that gives beyond its present-day use —future generations will be able to benefit from it, too, thanks to you.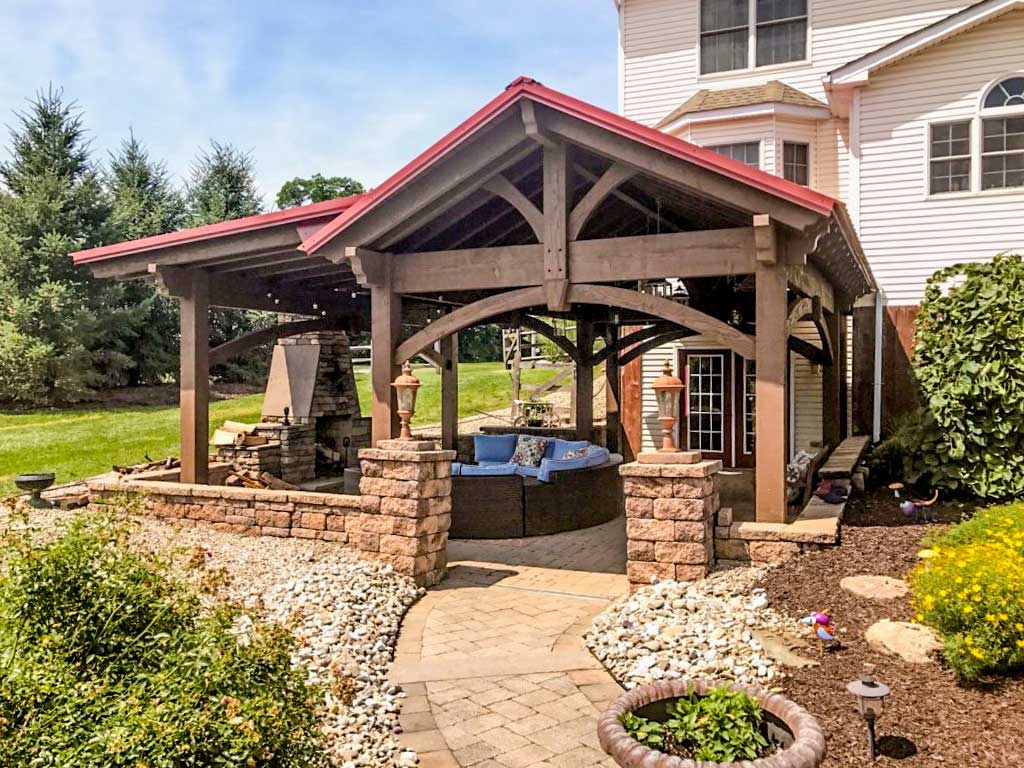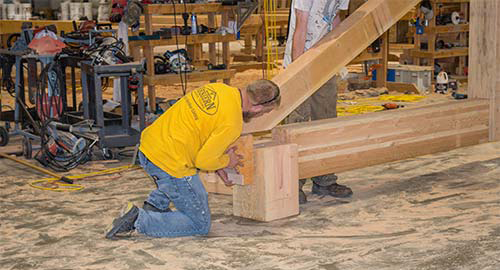 Most kits can be installed in as little as ONE afternoon! Whether it is an arbor, cabana, gazebo, pavilion, pergola, trusses or trellis —each ShadeScape® kit is prefabricated at the shop, pre-cut, and pre-tested before it is shipped to its new home.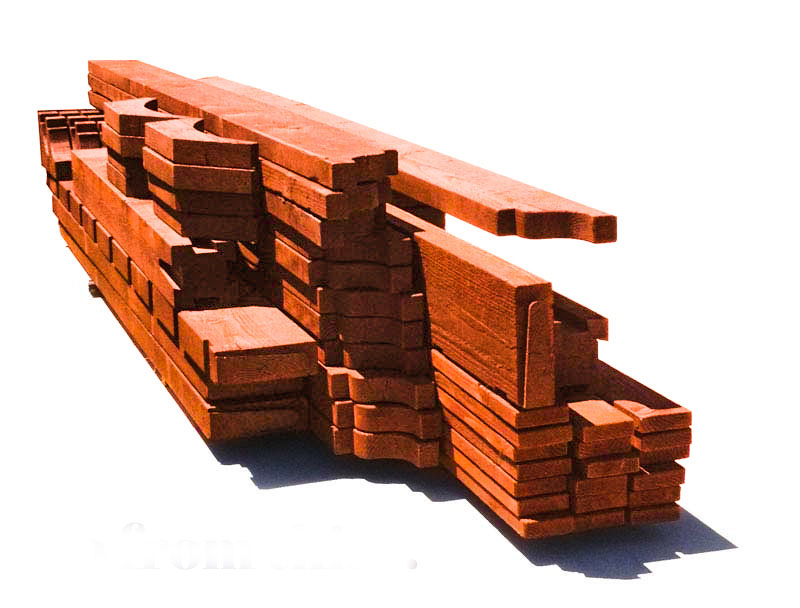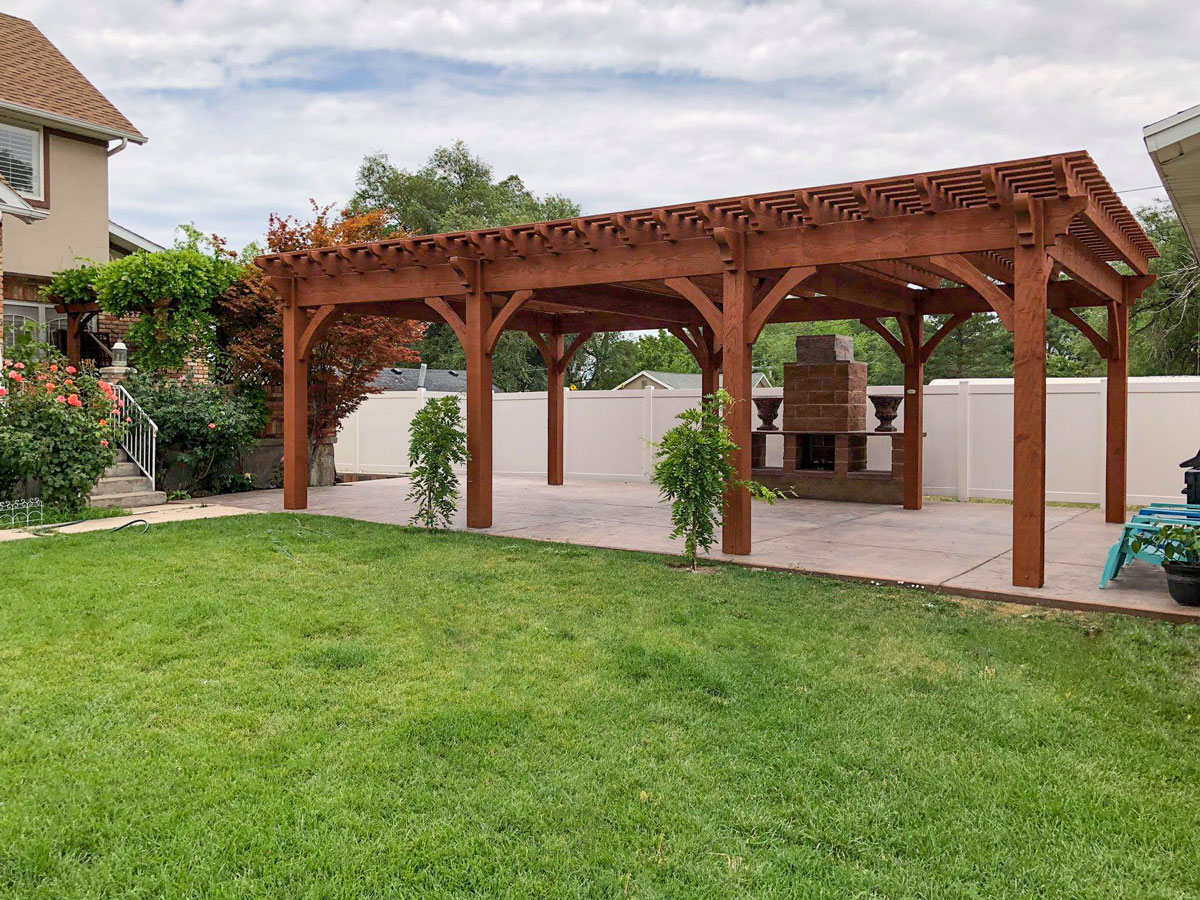 in as little as ONE afternoon!
Don't let the fact that it is a kit intimidate you.
From the initial idea to a completed custom kit, a Design Manager is committed to making your kit fit the landscape, the style, the budget, and work with your subcontractors, to get your project done on time. Despite their massive size, more often than not, they are actually easier and quicker to assemble than a kit that is 10-30 times smaller in weight. We utilize a patent-pending dovetail joint method for our beam and post connections. Everything is pre-cut, prefinished, and ready to assemble. The main "downside" is the weight of the posts and beams. You'll need to invite over a friend or two to lift each end of the beams in place, but once the beams are set in place that weight locks everything into position with our dovetail joint system.
"My 3-year-old and I could safely watch the whole process. It was so cool. The Pergola went together like Lincoln Logs!" — Patty Sampson, West Valley, UT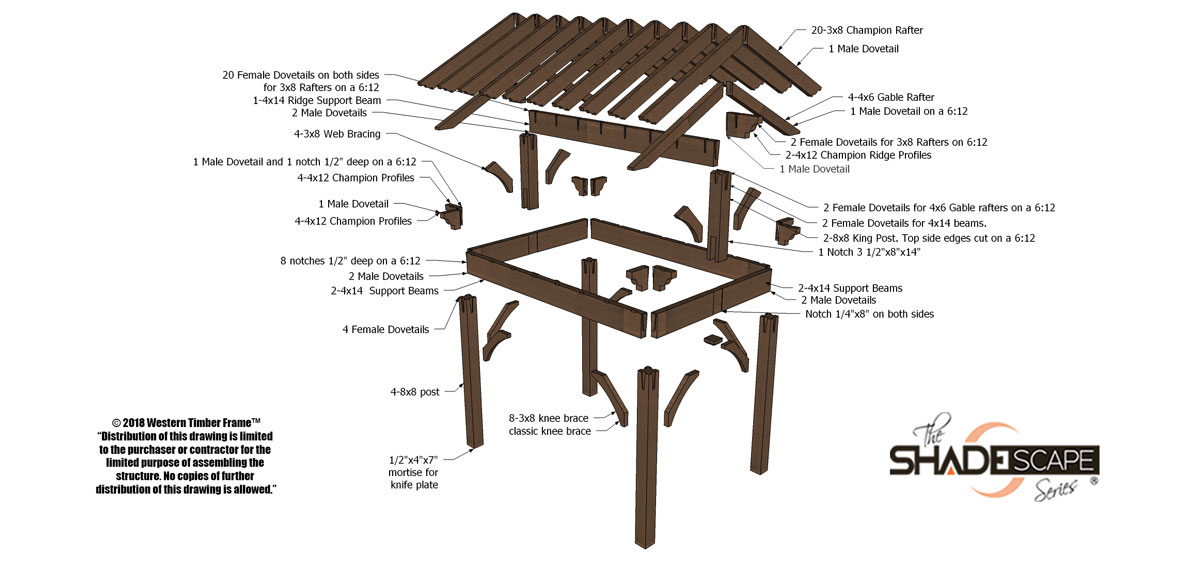 "The beams fit together perfectly and I can't even tell where the joints are...all the timber was pre-cut and stained, ready to be installed. Nothing had to be re-cut. It had all been measured perfectly." — Devon O'Brien, Holladay, UT
"I was surprised at the speed of my backyard makeover, finished in only 3 ½ hours. It is almost magical how quickly and dramatically a place could be transformed into such an amazing and impressionable, beautiful backyard." — Howard Bigenho, Eagle Mtn., UT
There is much satisfaction seeing such dramatic change that takes place in such a small amount of time with a ShadeScape® kit of any size.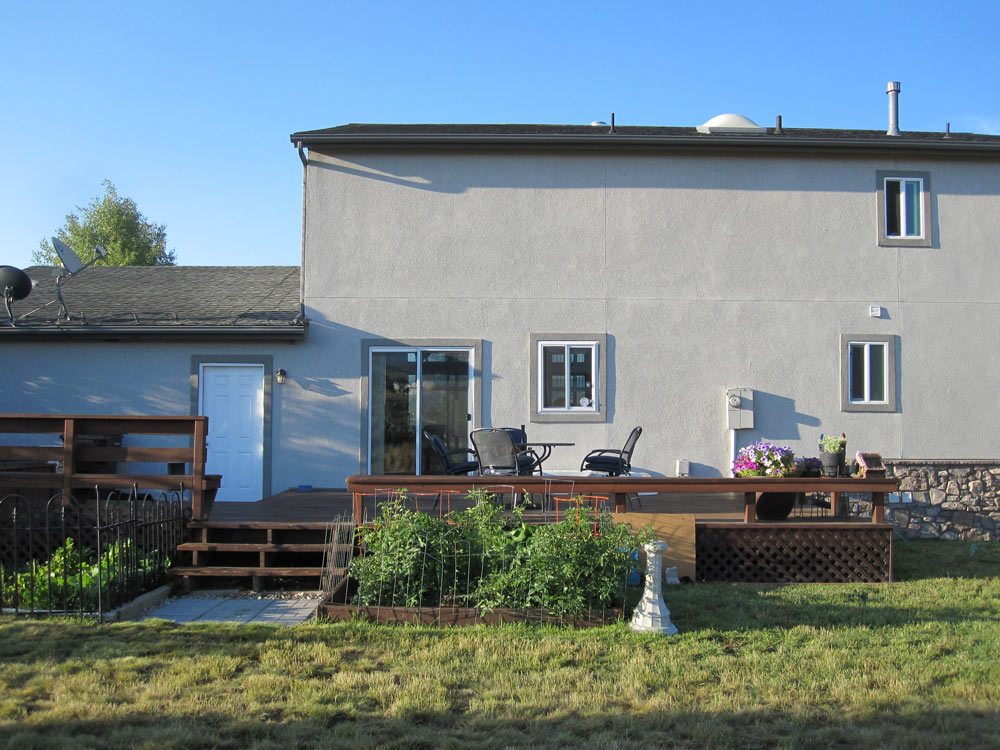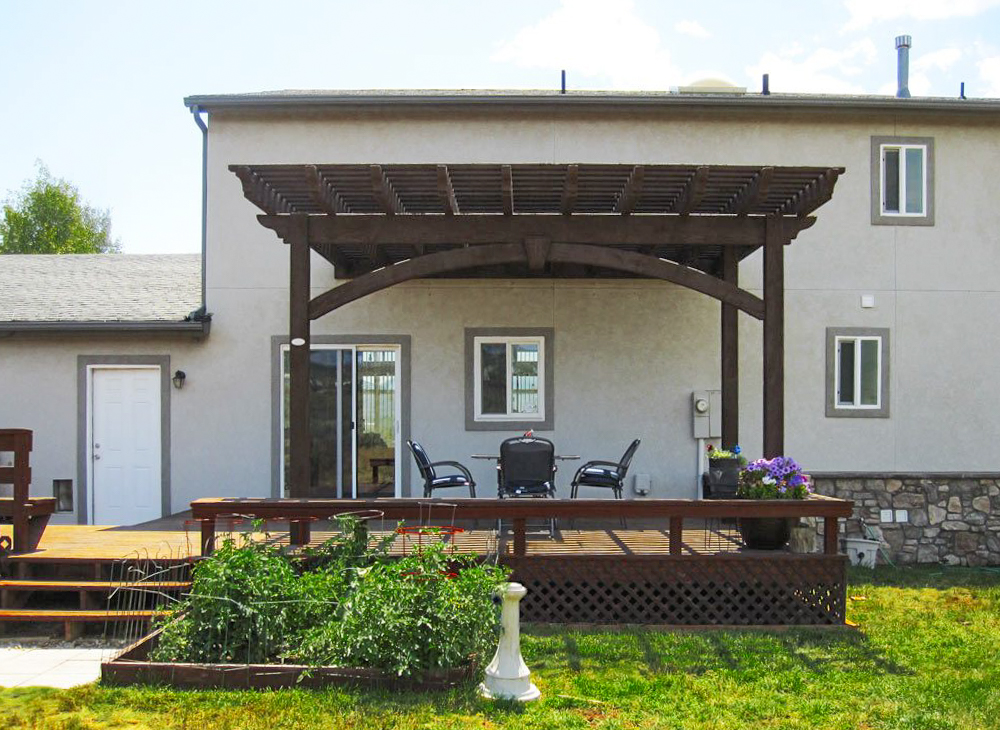 How you plan to use your yard every day will also determine the best type of ShadeScape® for your family. How do you plan to use the whole of the land or space, now and in the future?
You Own A ShadeScape® Shelter What Is Your Optimal Ordinary Day Like?
Allow yourself to dream. What kind of shelter best fits your vivid picture of how you would like to enjoy your time in the outdoors? Feel the moments with those that give warmth to your heart. Party with a cooling game of water balloon piñatas hung from the rafters. Soak in the healing rays of the sun next to your solid wood privacy screen. Swing with the kids in a cozy reading nook. Train vines up a trellis in your garden. On a winter evening, breath in the crisp air curled up with a warm beverage, next to a glowing fireplace. What would your optimal ordinary day look like to you?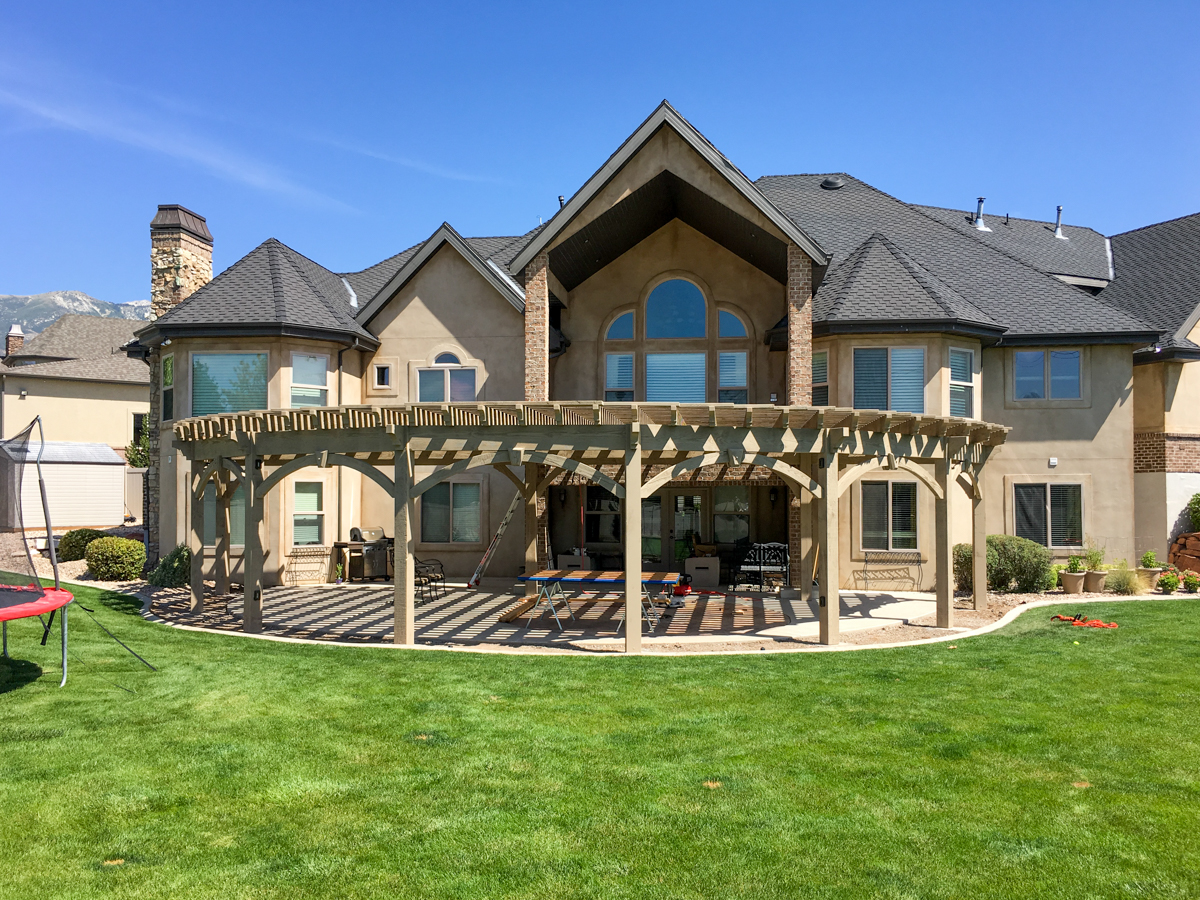 Here is how the Leighliter family of Illinois uses their outdoor ShadeScape® shelter: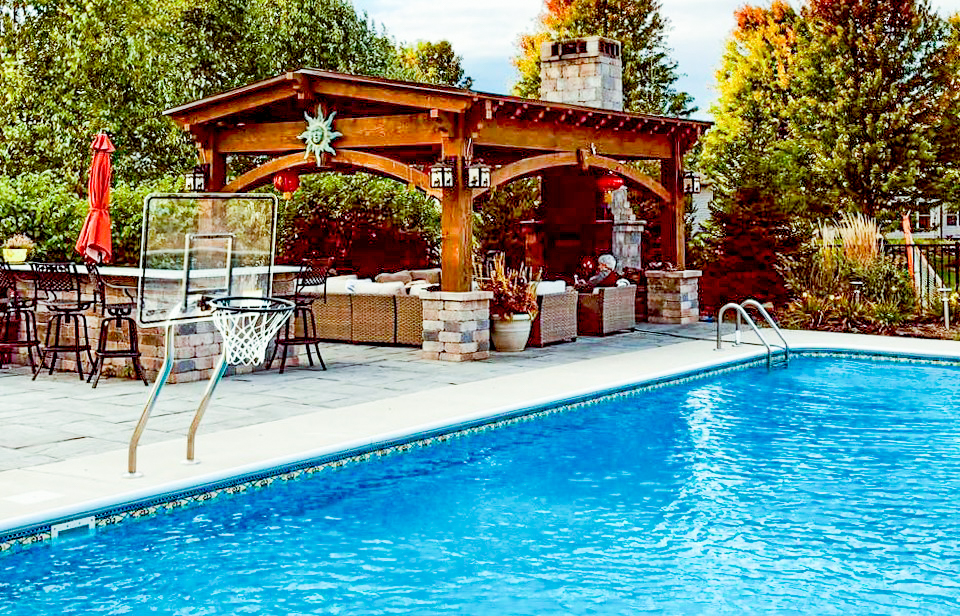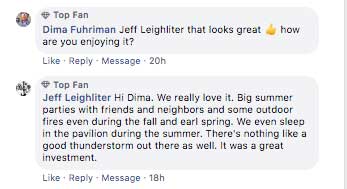 Three and a half years ago, this ShadeScape® pavilion was installed in Illinois for the Leighliter family. They sleep in their ShadeScape® pavilion during the summer. Recently, they sent a few pictures of it in the winter.
Jeff said, "Some winter shots to counter all the summer ones I share! We really love it. One of the best investments we've made. It's an outdoor extension to our home. We light a fire in the fireplace and sleep outside in the summer."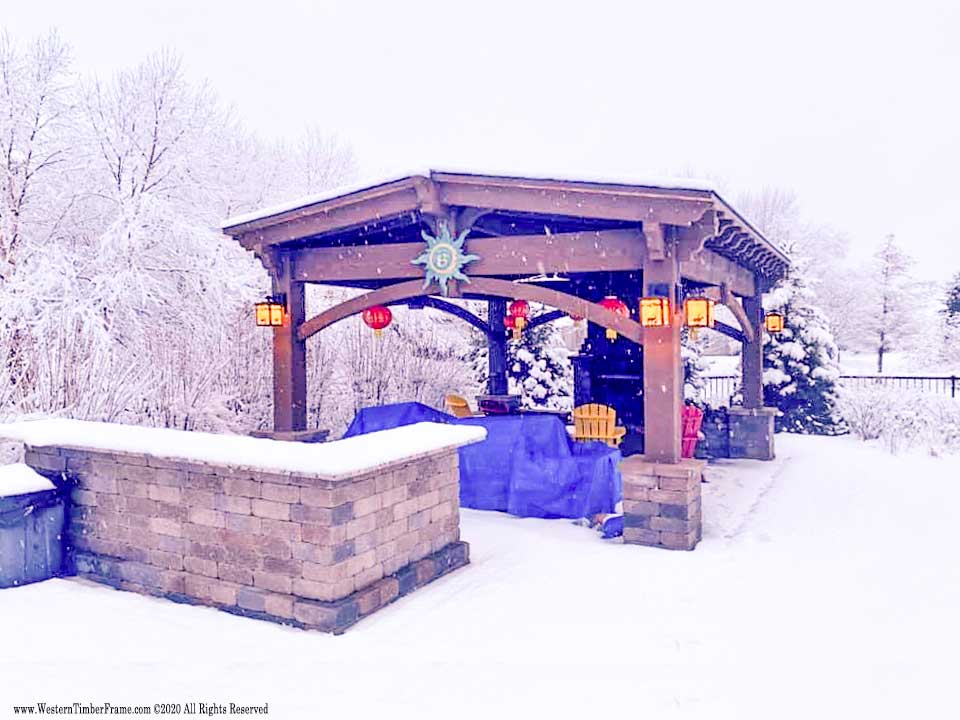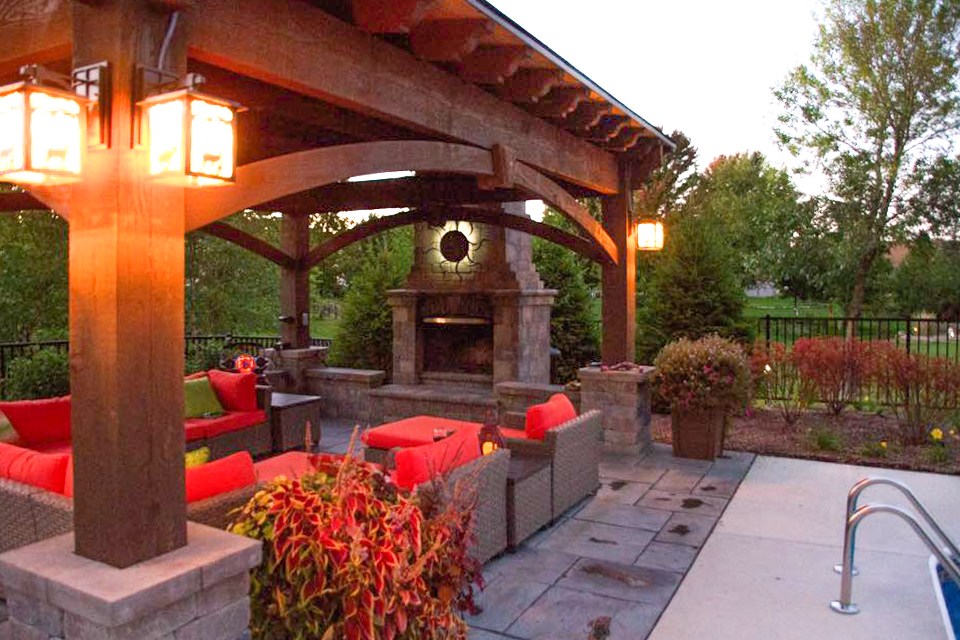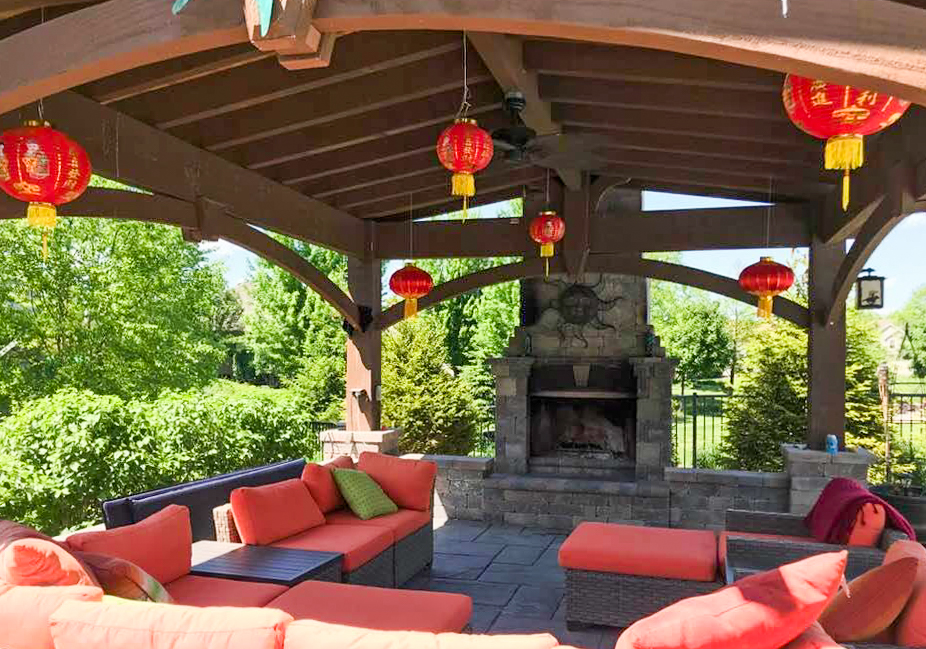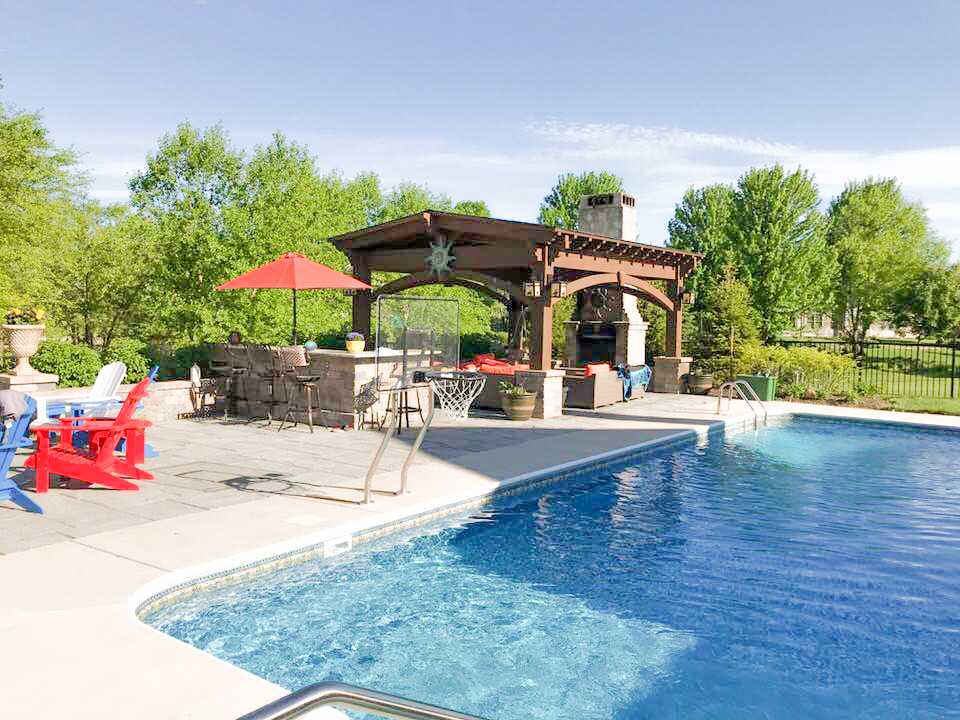 There are no two properties that are exactly alike. As with people, each and every landscape is unique. Let these shelter for outdoor living and landscaping ideas other have done, spark your own creativity in building an exclusive and sustainable oasis.
Outline the Layout of the Landscape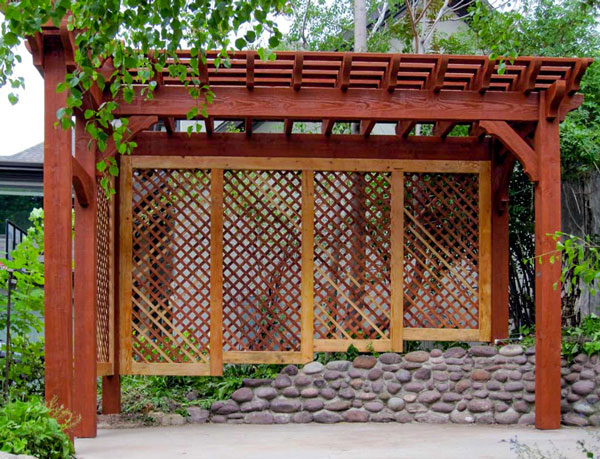 Trellised Step Walls — Form walls in a single chain or a combination of multiple stepped segments. Step panels up or down, conforming to an area or add pleasing composition on the top, sides, or bottom of the shade shelter.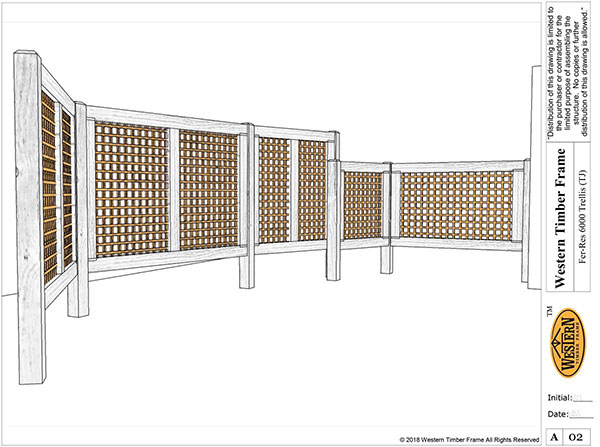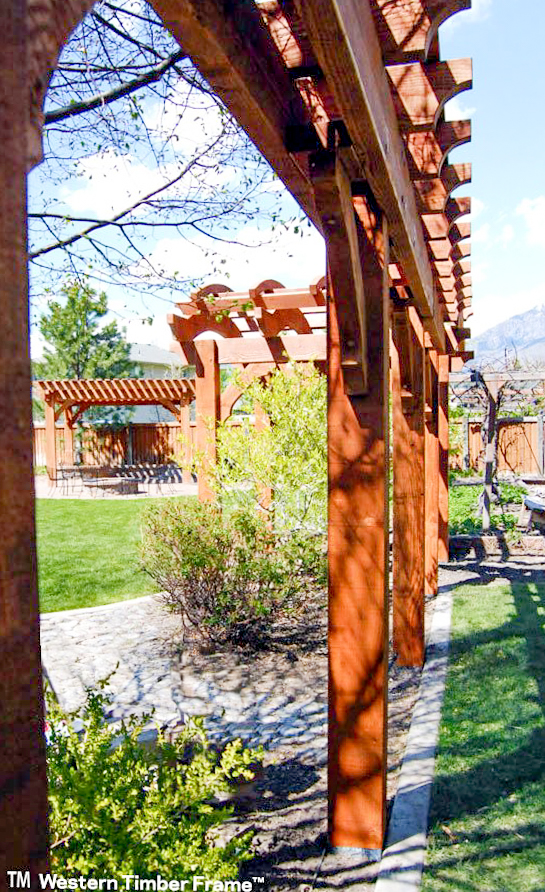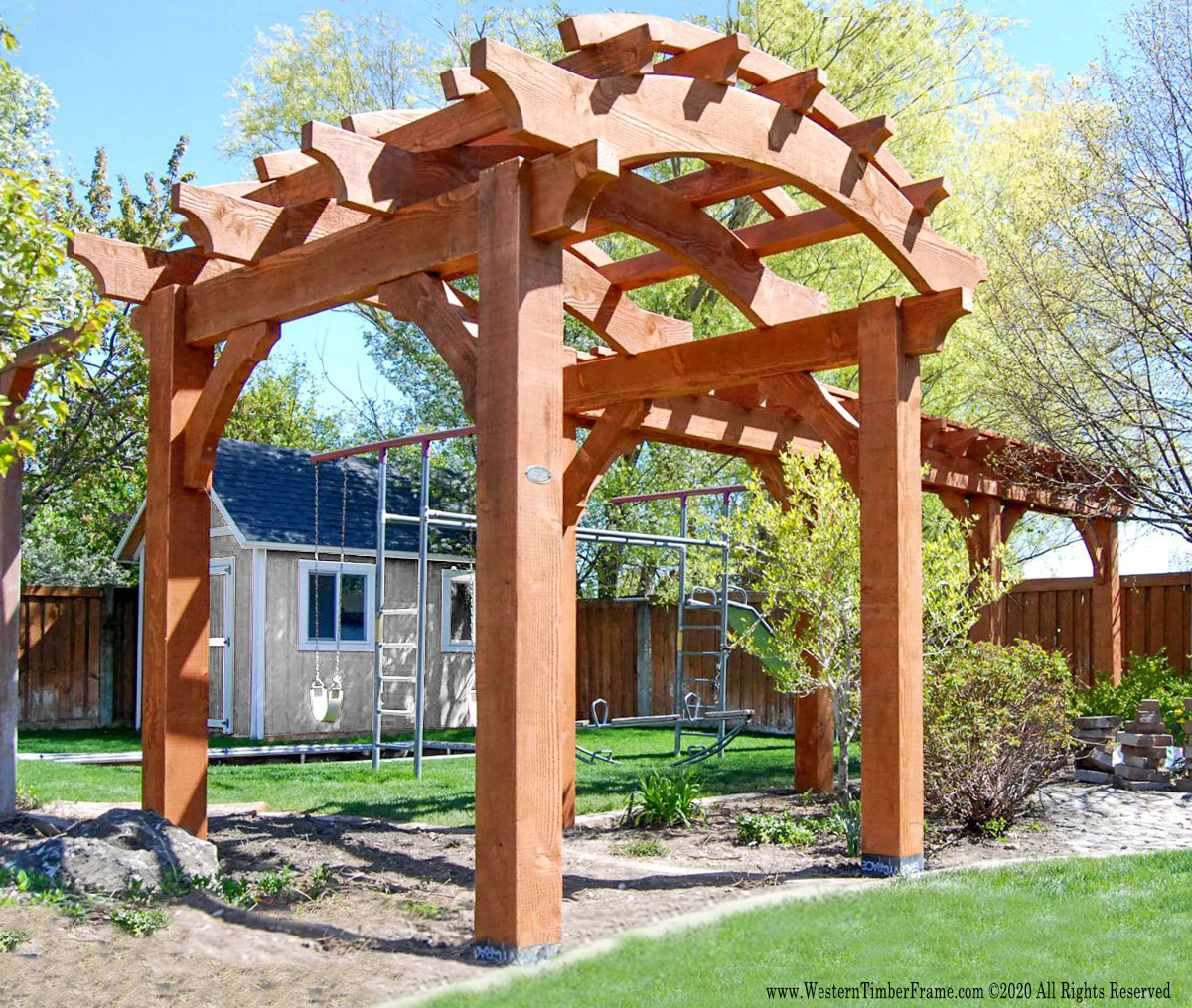 Desegregate for Dividers & Doorways — The border outlines the property, the real or artificial line that separates your landscape from that of next-door resident or real estate.
Create borders, guides and doorways in the mid-sections of a property by integrating two or more shelter types, compartmentalizing the landscape.
Building Barriers, Borders & Boundaries w/Repetitive Shelters — Arbors set in unison acts as a trellis — formalizing and consigning spaces. Easily change the layout of space by working with the effects of cleverly set or attached arbors, trellises, pergolas, or pavilions to form a barrier, border or boundary.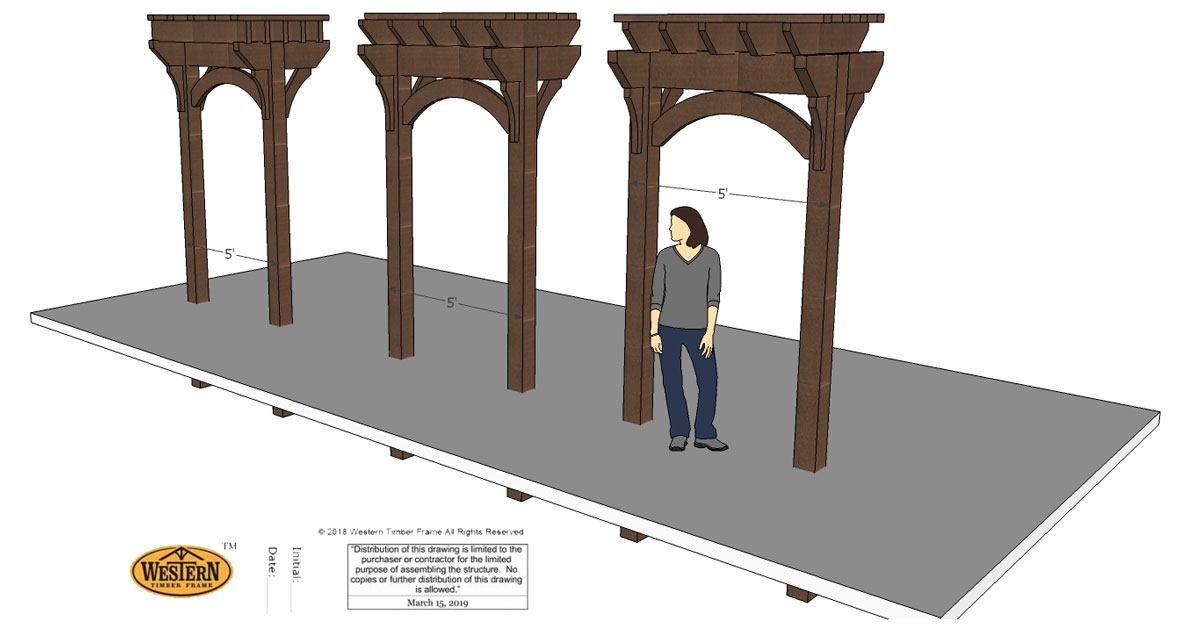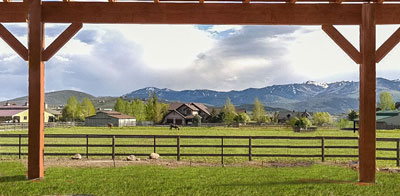 Trellis Open-Style Dividing Lines — Open-style trellises give the concept of a boundary while keeping an open view. Frame a distant scene with the warmth of natural timbers.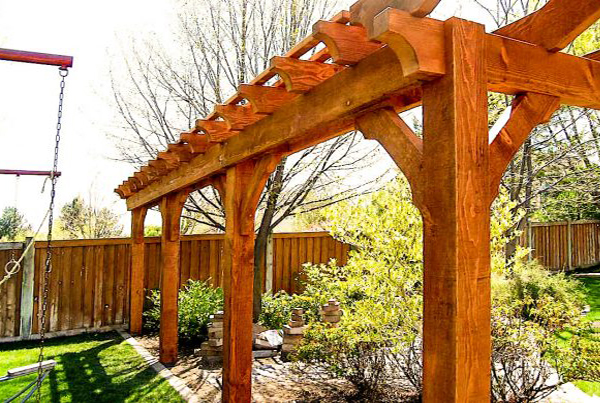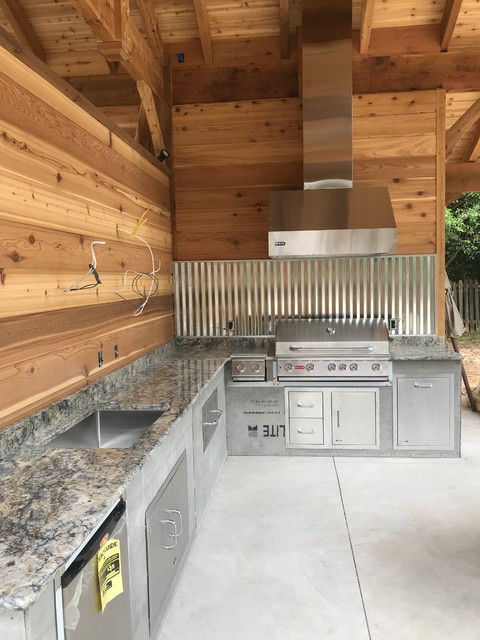 #OutdoorKitchen ShadeScape® Outdoor Kitchen
Walls — Walls can be solid, latticed or any other design.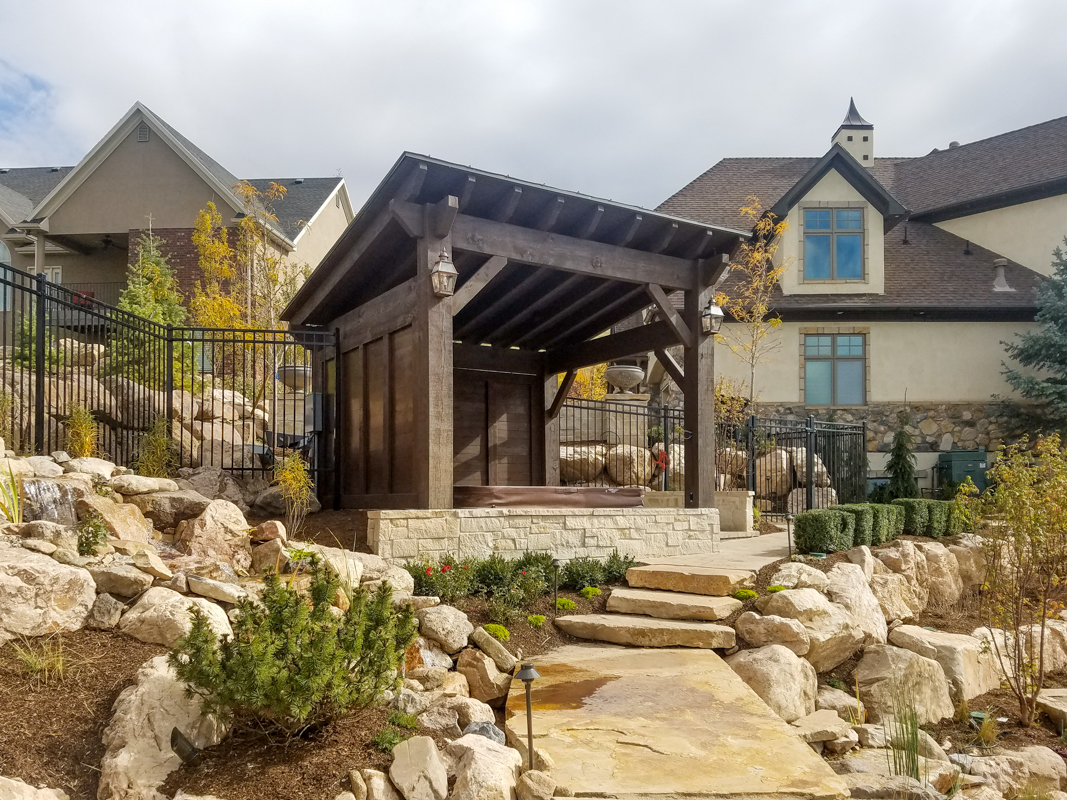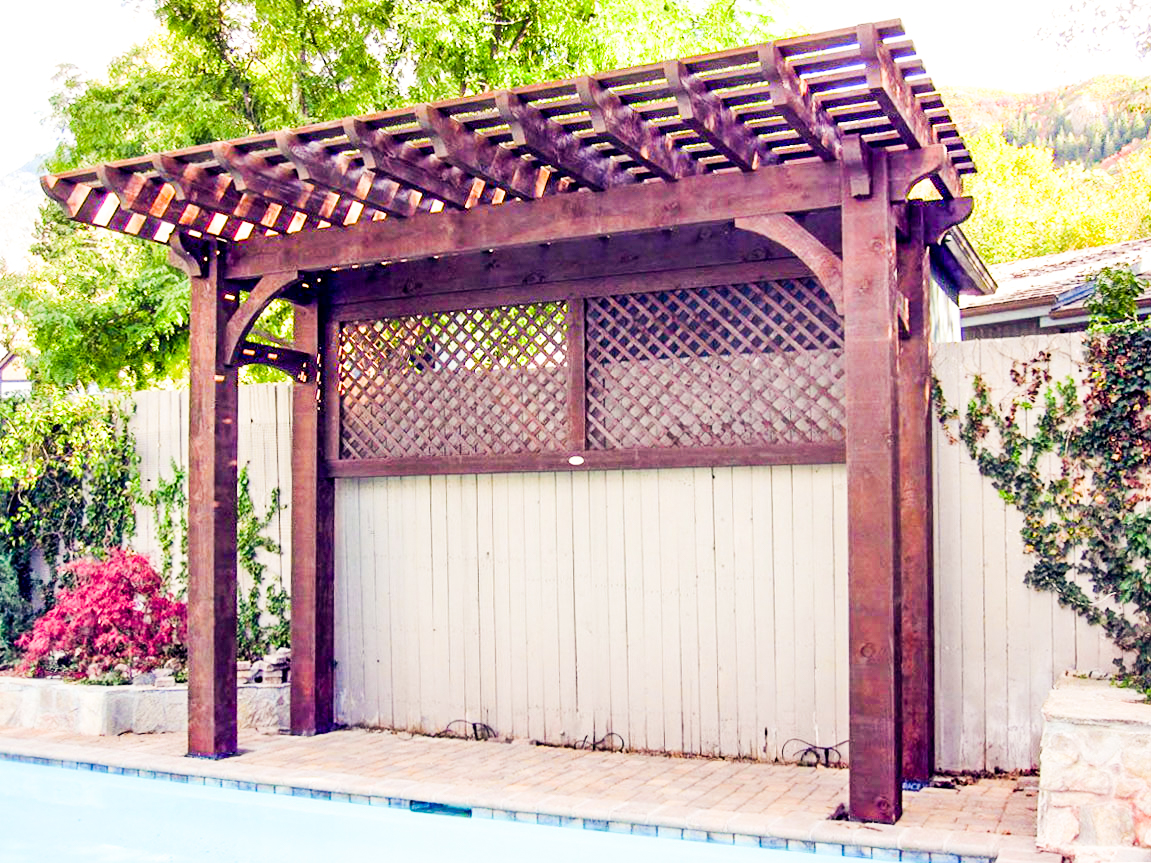 Privacy Screen — Walls give privacy and act as a wind-break. It also is an easy solution for targeting specific areas to shade or shield from view.
Ladyrinth or Maze — Stagger walls and create a labyrinth with a single path with one entrance and exit point or design for a complex maze is a complex branching with path choices and possible multiple entrances, exits, and dead ends.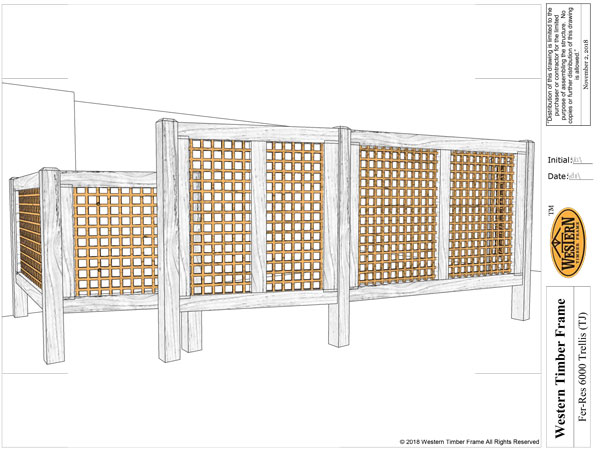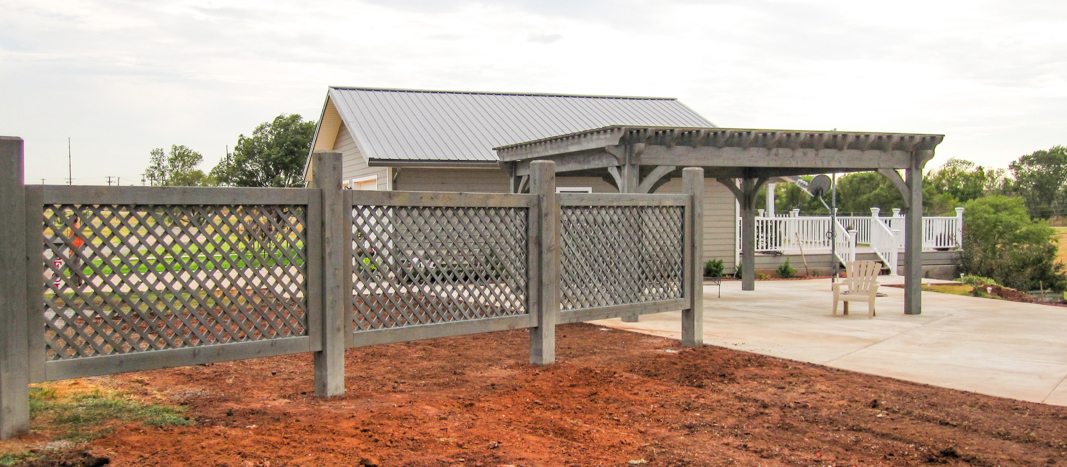 Lattice Panels & Fencing — Lattice the top of an existing fence for more privacy or install a visually stunning ShadeScape® latticed panel or timber, solid wood fence.
Fire intrigues us, creating an emblem of hospitality, a welcoming atmosphere that beckons us with a feeling of safety and healing warmth. Frame your fire feature with a ShadeScape® shelter.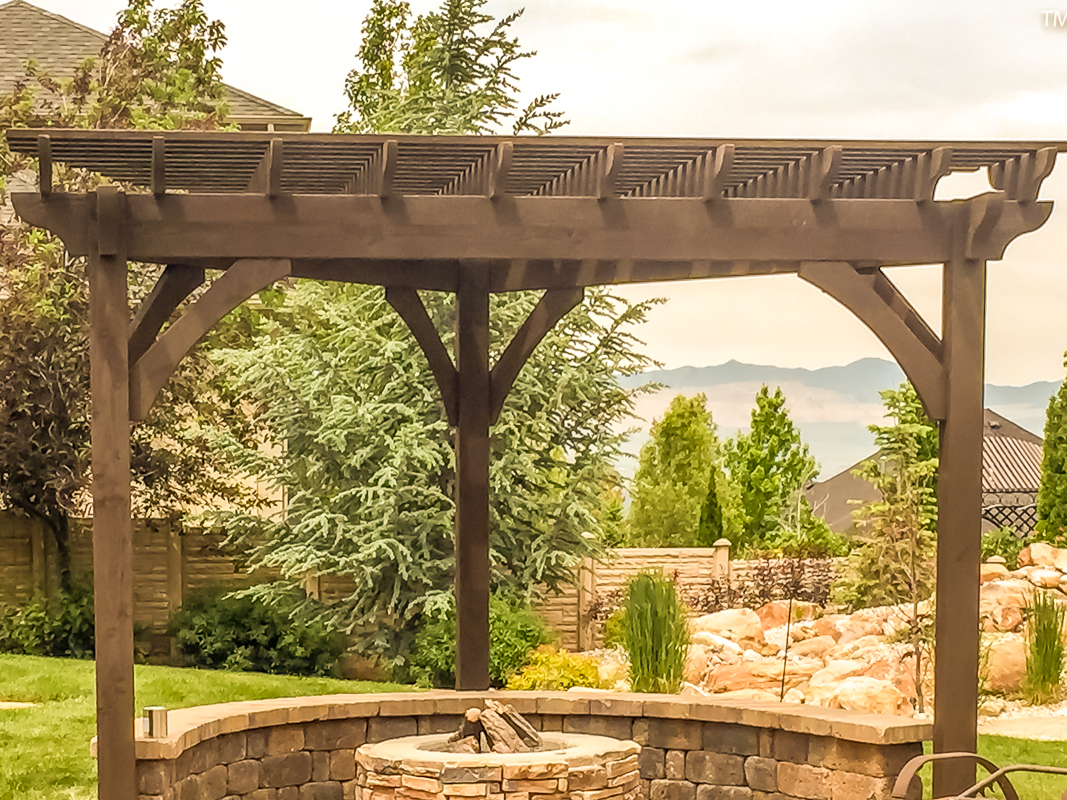 Trellis Fire Place — Trellises grace a landscape with a beauty all their own, enhancing, making a statement, building backdrops and boundaries, and so much more! Trellises create a purposeful fire area in the least amount of designated space.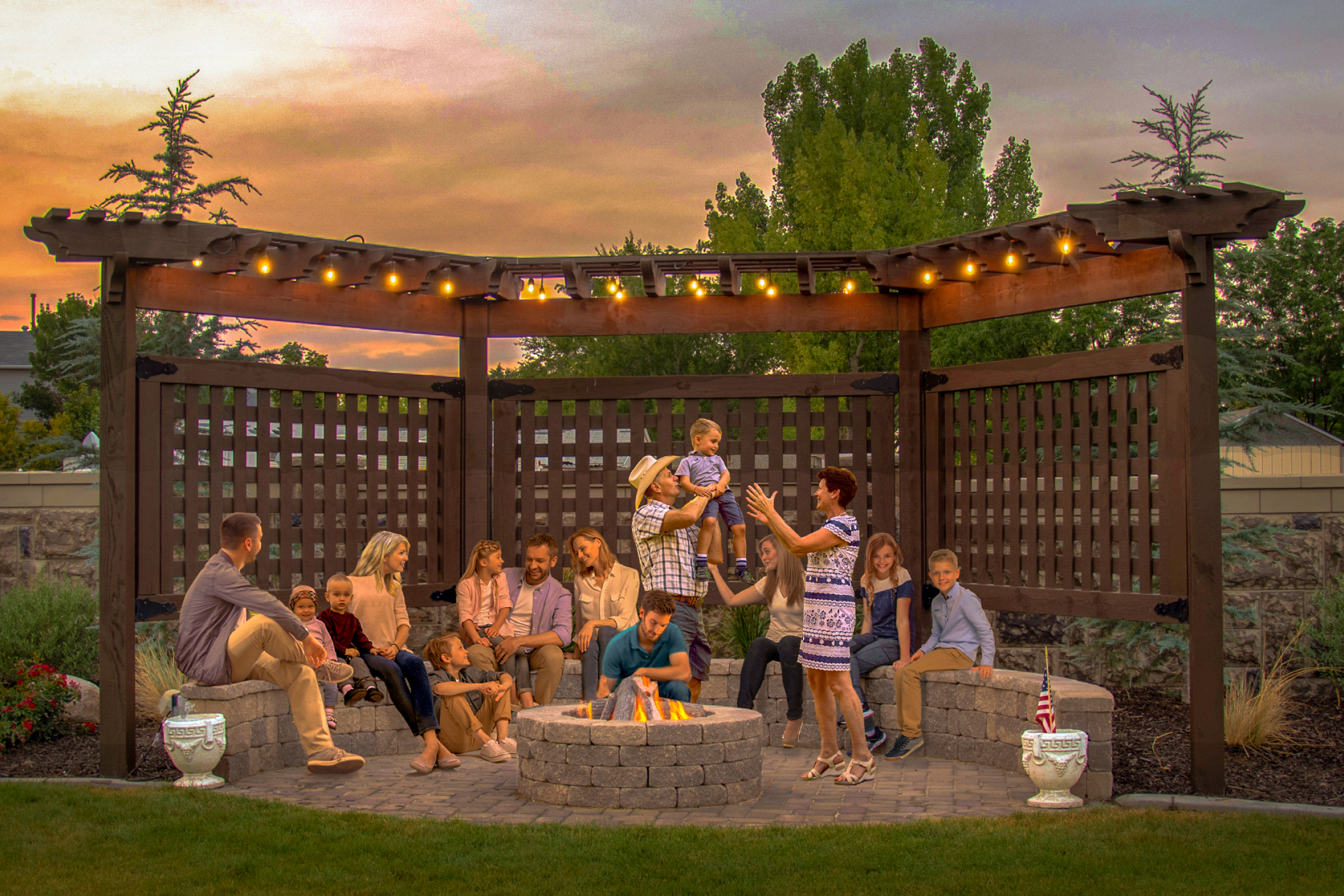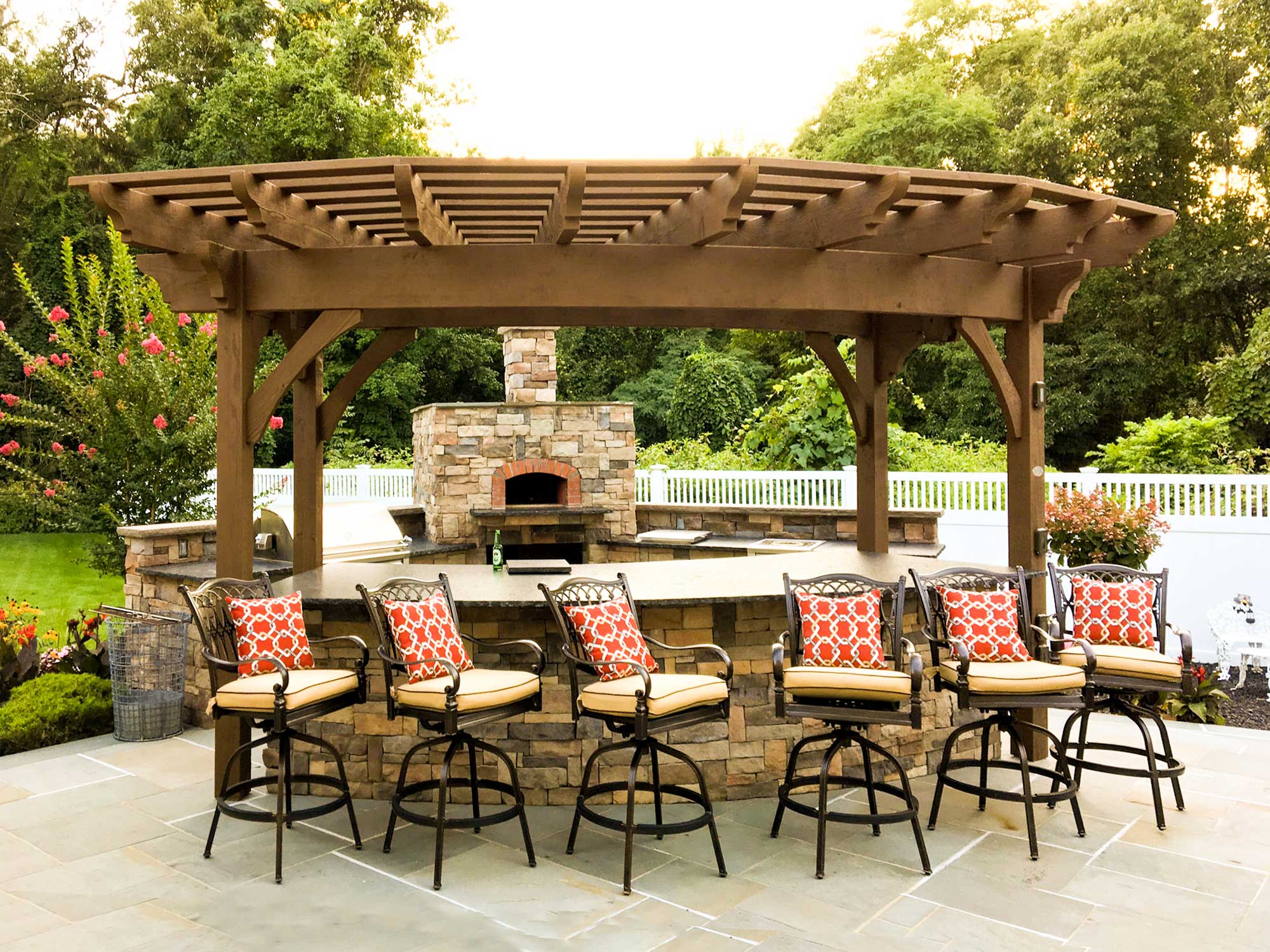 Arbor Fire Area — Fires reflect the vitality of the natural world. An arbor creates a warm, welcoming vibrancy to a space designated for an outdoor fire pit or fireplace.
Pergola Fire Place — Fire draws people together for an intimate exchange of communication, comfort, and acceptance. Pergolas can work for a fire pit, Chimineas or fireplace, and can be fabricated to highlight the fire area as this inverted radius roof pergola.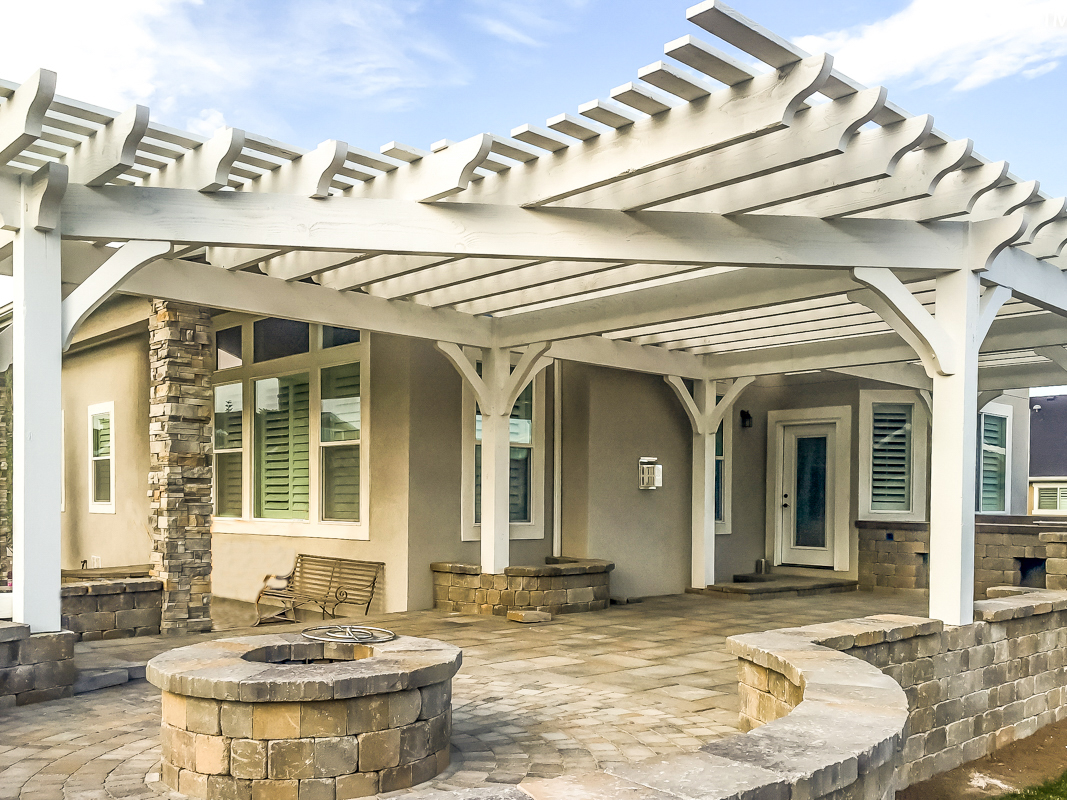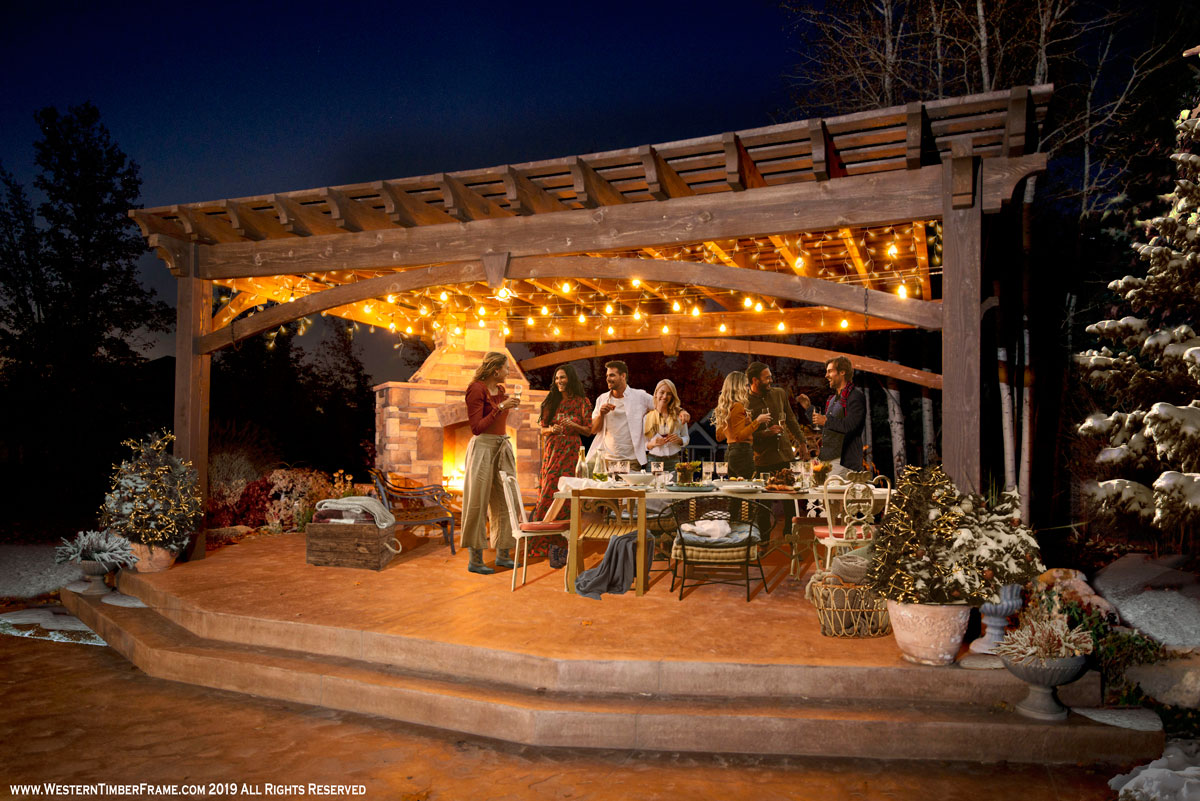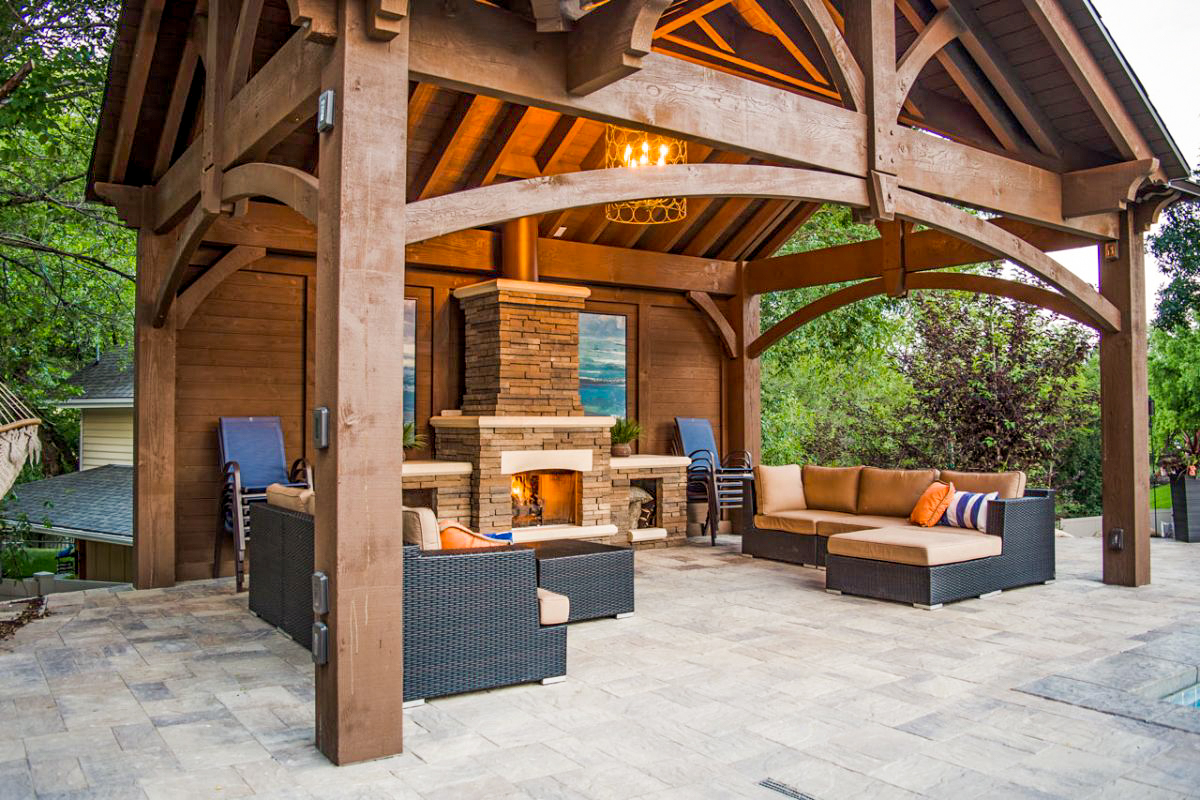 Pavilion w/Fire Place — Traditionally, the fireplace is for reading, discussing news, playing games, gathering and receiving guests. Pavilions recreate the perfect "heart of the home" atmosphere with a hearth.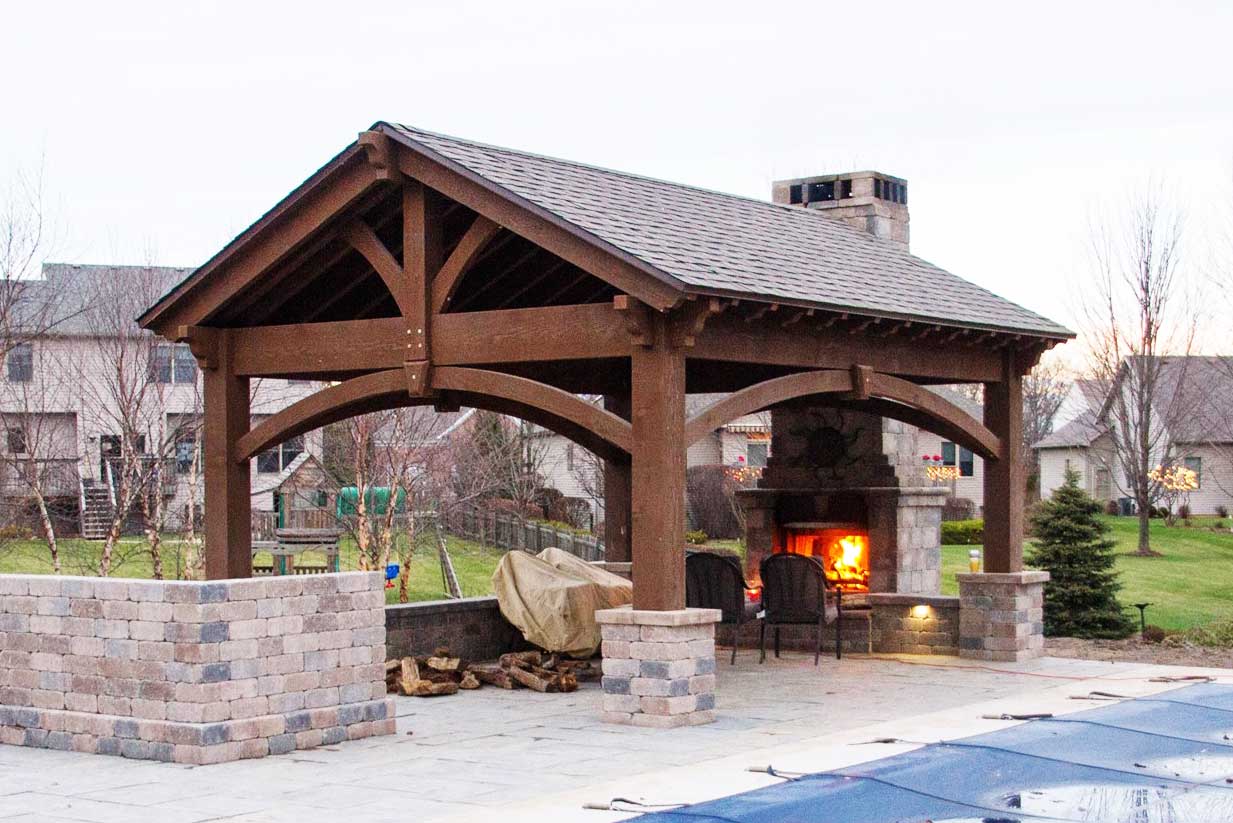 Shade & Beautify Water Stores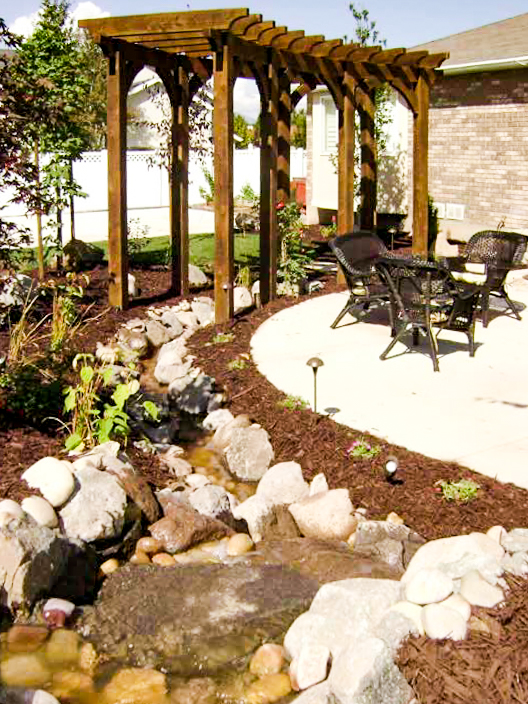 Buried sub-drainage consists of drainpipes and inlets that collect and quickly moves water —invisible to us— through the landscape. Running stormwater away from the home can be balanced to allow the water to responsible and gradually infiltrate the ground.
Shady Swales — The delightful alternative to sub-drainages is a lawn, dry stone bed, or wetland swales — reintroduced by architects and engineers as time-proven professional practices to "daylight" moving water. Swales are elongated, shallow gulfs that collect and allow water to move slowly, improving water quality as it percolates back into the ground as it crosses the surface. The pictured ShadeScape® gives interest radiused with the curved patio and flow of the swale.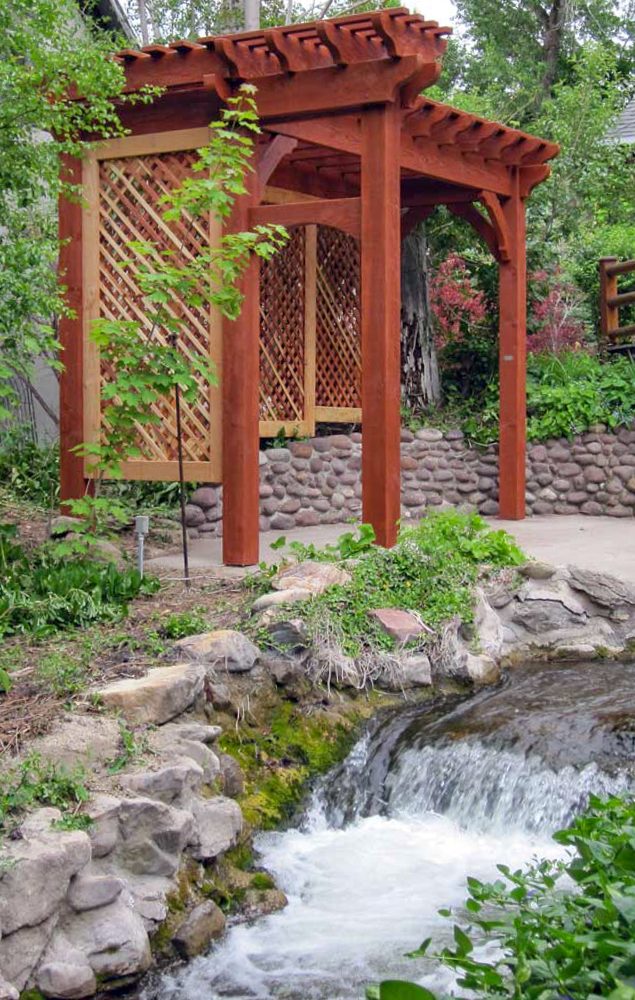 Shade by Stream — Streams leading to a pond or pool can be excavated to create a natural-looking streambed. Or, ff you are blessed to have a natural stream running through your property — either way, an arbor swing or bench, a trellis are a great way to enjoy the babbling brook or a restful river.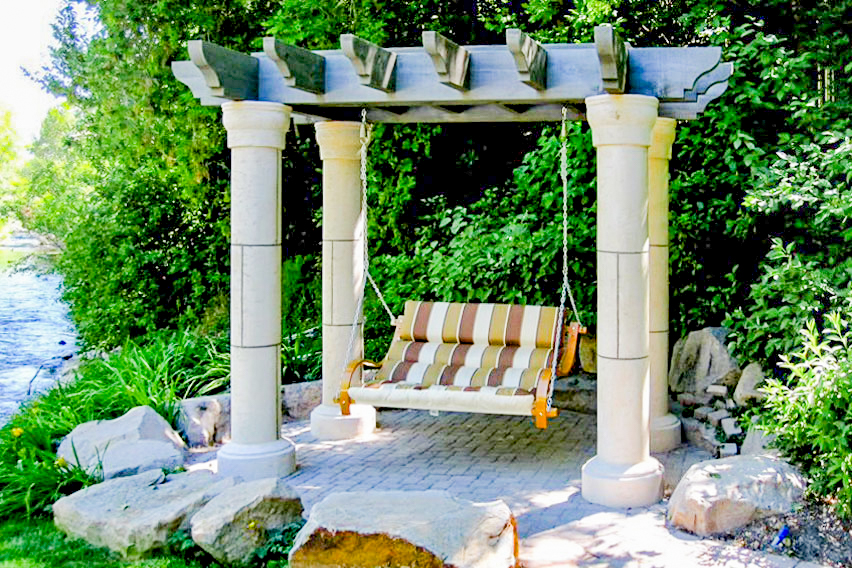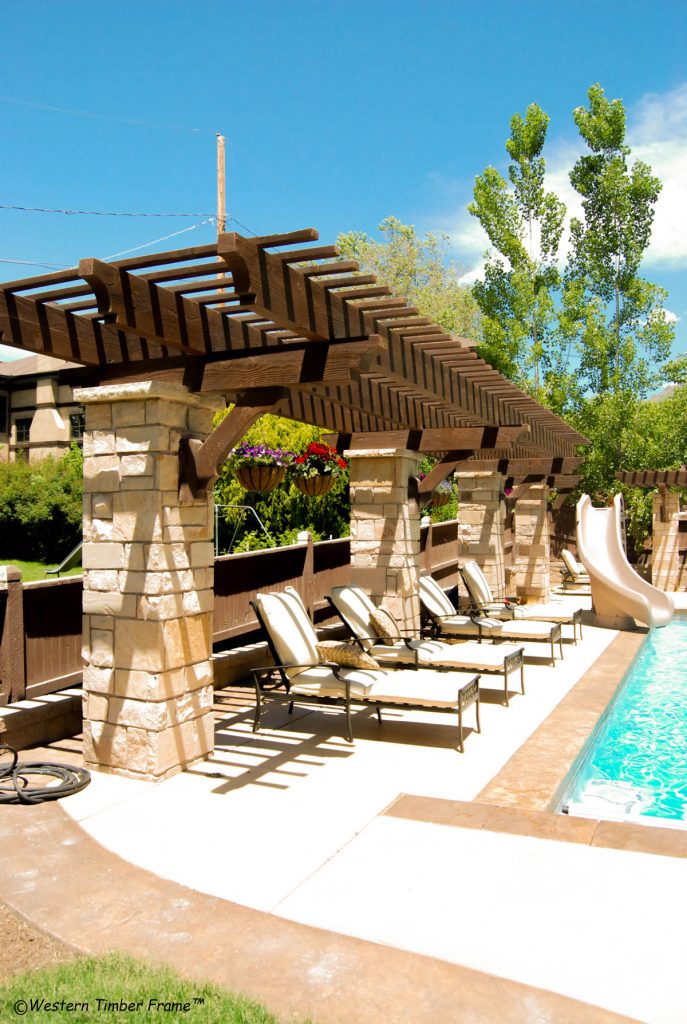 Trellis a Swimming Pool — Trellises are ideal for swimming pool areas providing a good amount of shade in very little space. In narrow and small areas this works especially well. It means no more hanging onto flimsy or portable pool shade covers that get blown and broken down in the wind.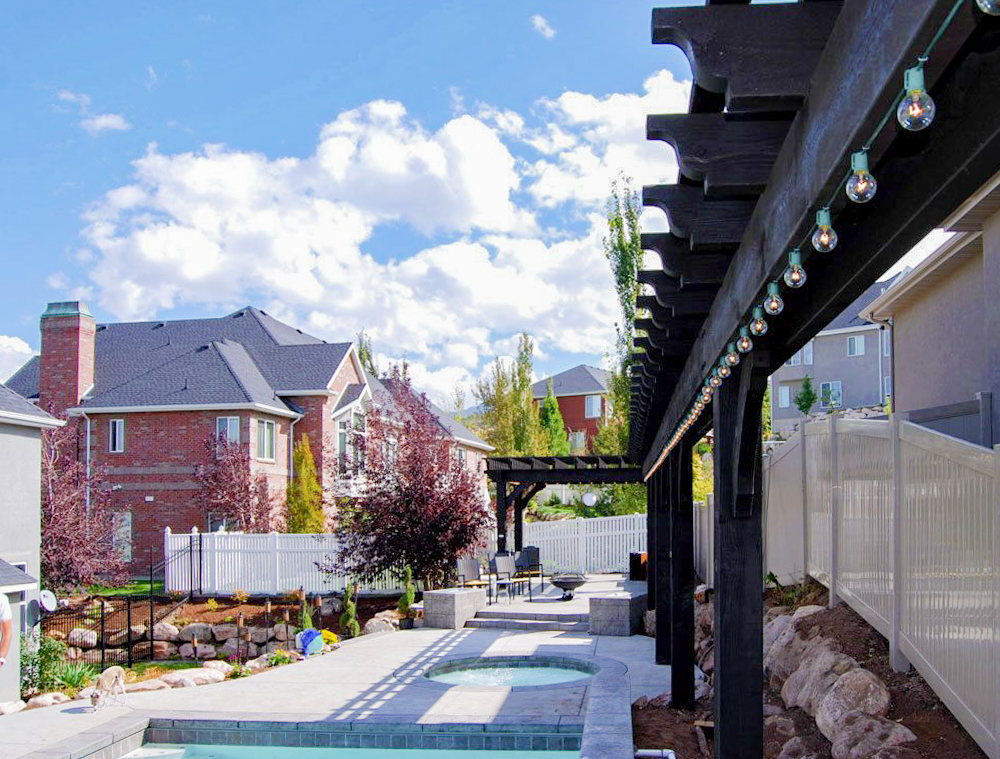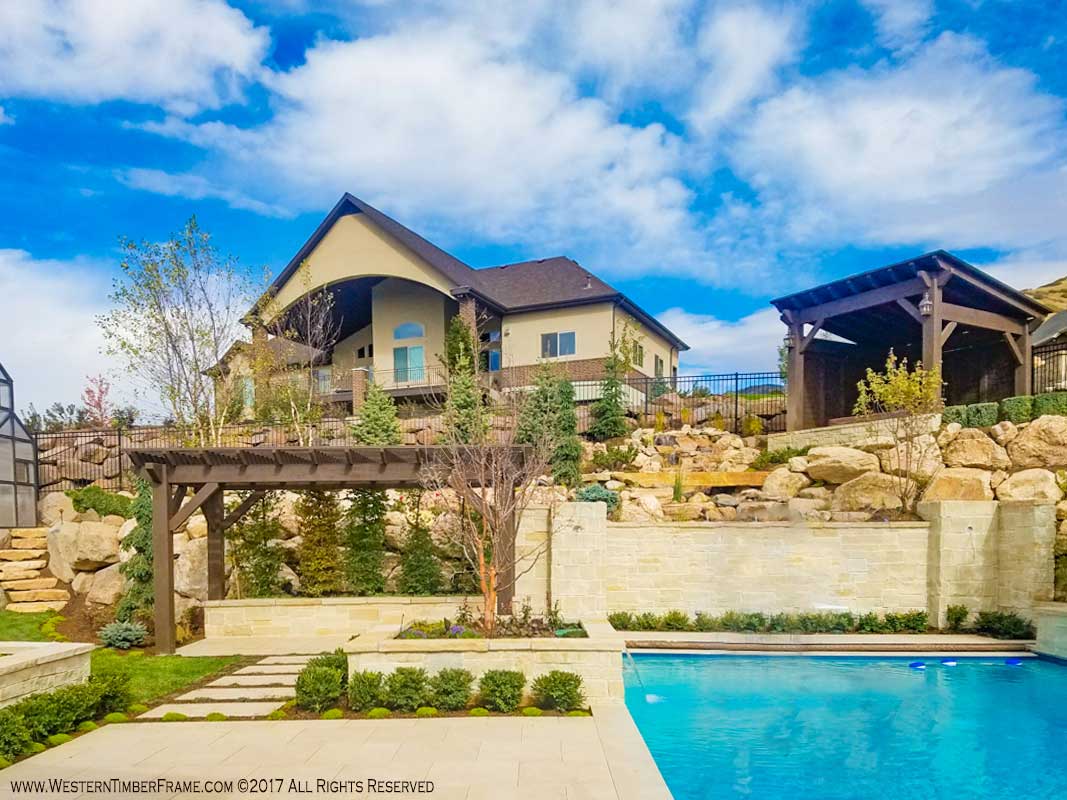 A Swimming Swinging Rope — If you really want fun in a pool, nothing is better than a rope swing! Kids get a thrill out of swinging through the air like Tarzan —splashing into the pool.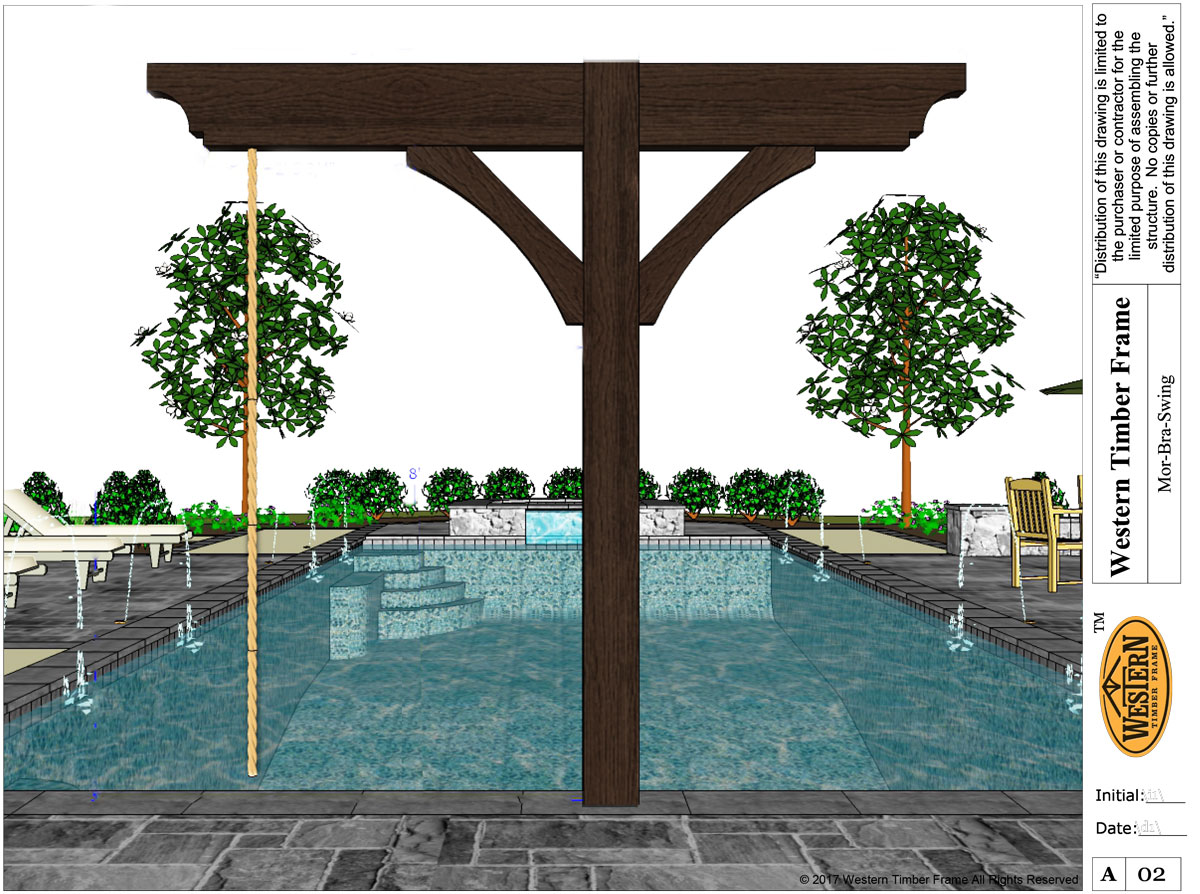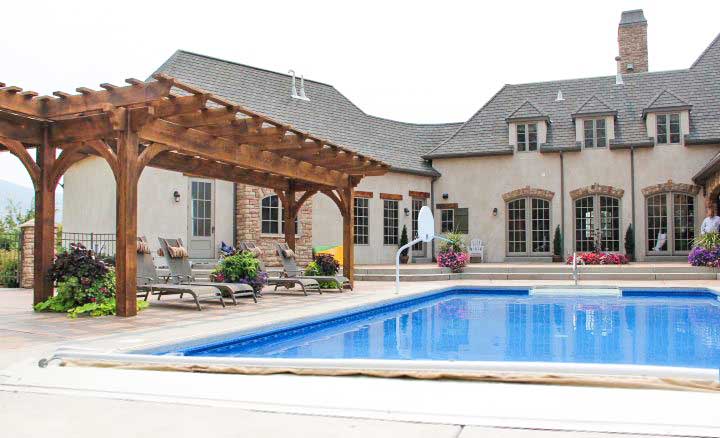 A Swimming Pool Pergola — Pergolas let in the sunshine and provide shade; which is perfect for an outdoor swimming pool area. Pictured right is a swimming pool completely covered with a ShadeScape® step roof pergola.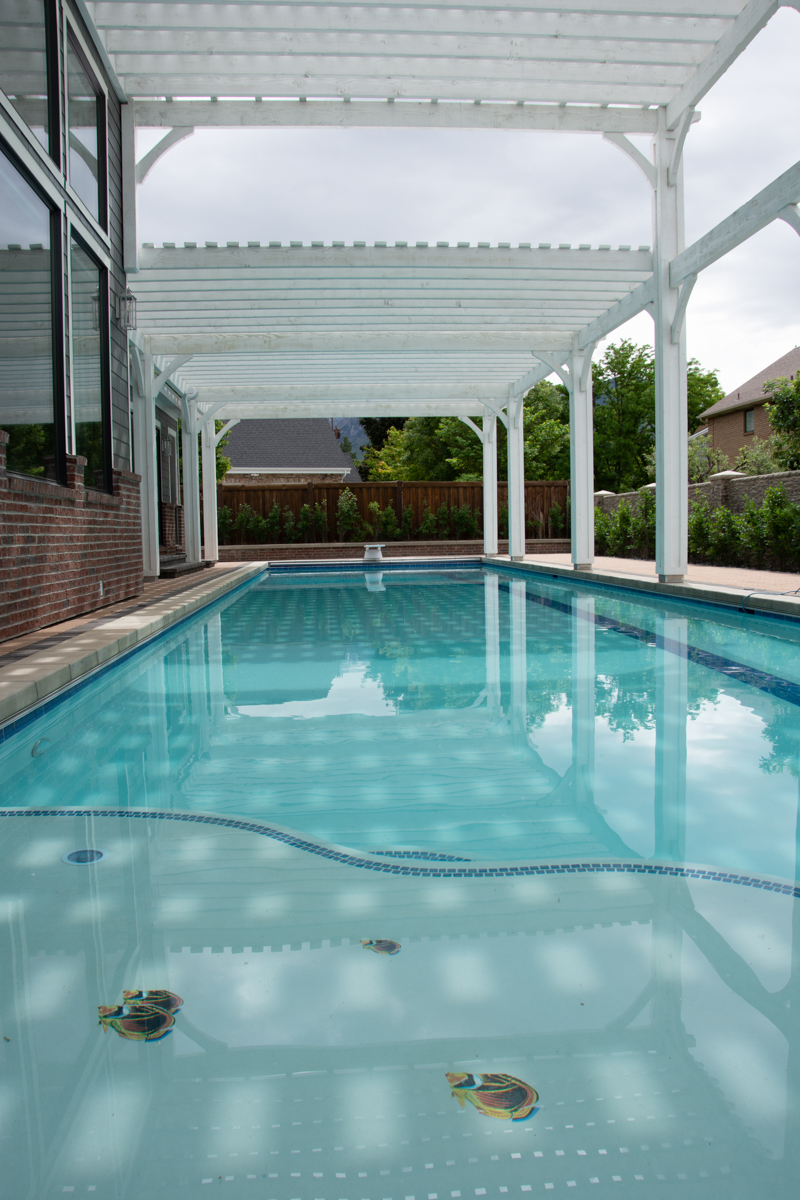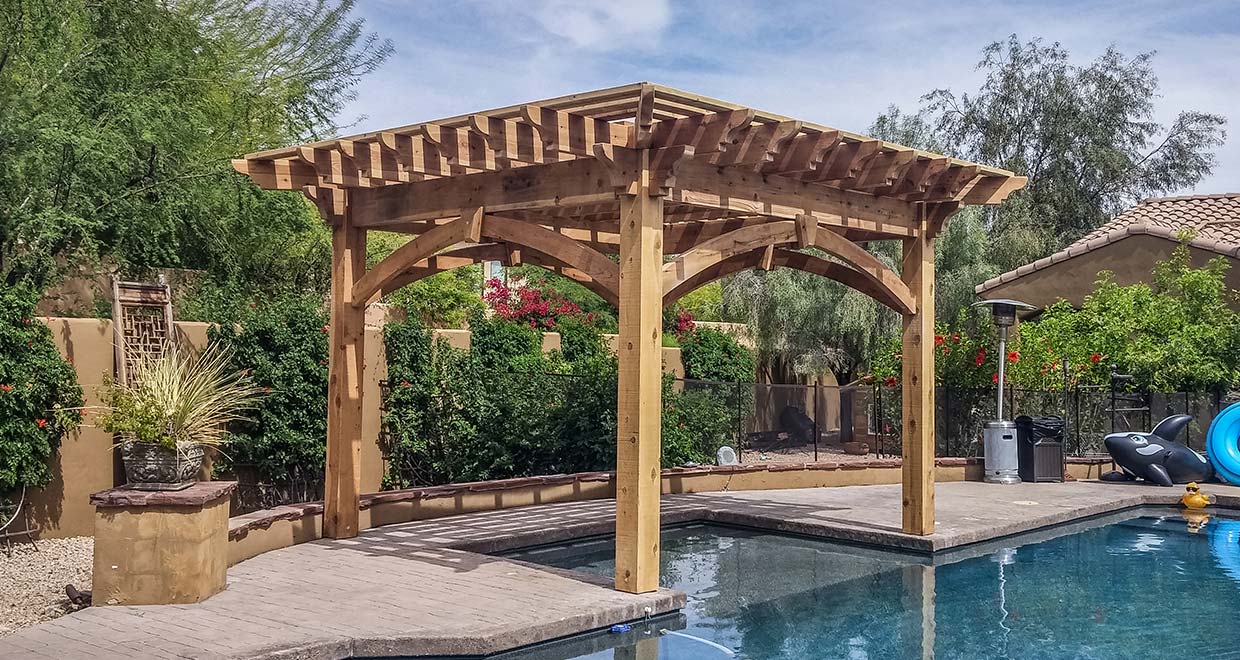 Pool Arbor — Smaller than a pergola, arbors still give a lot of comfort while taking up very little space.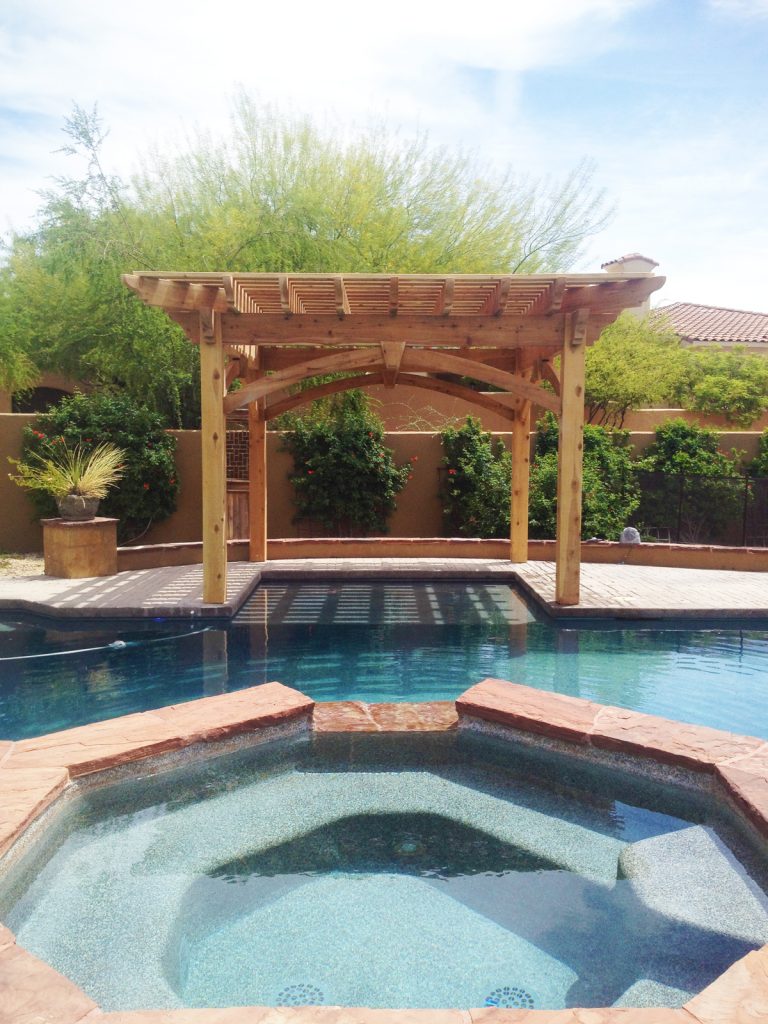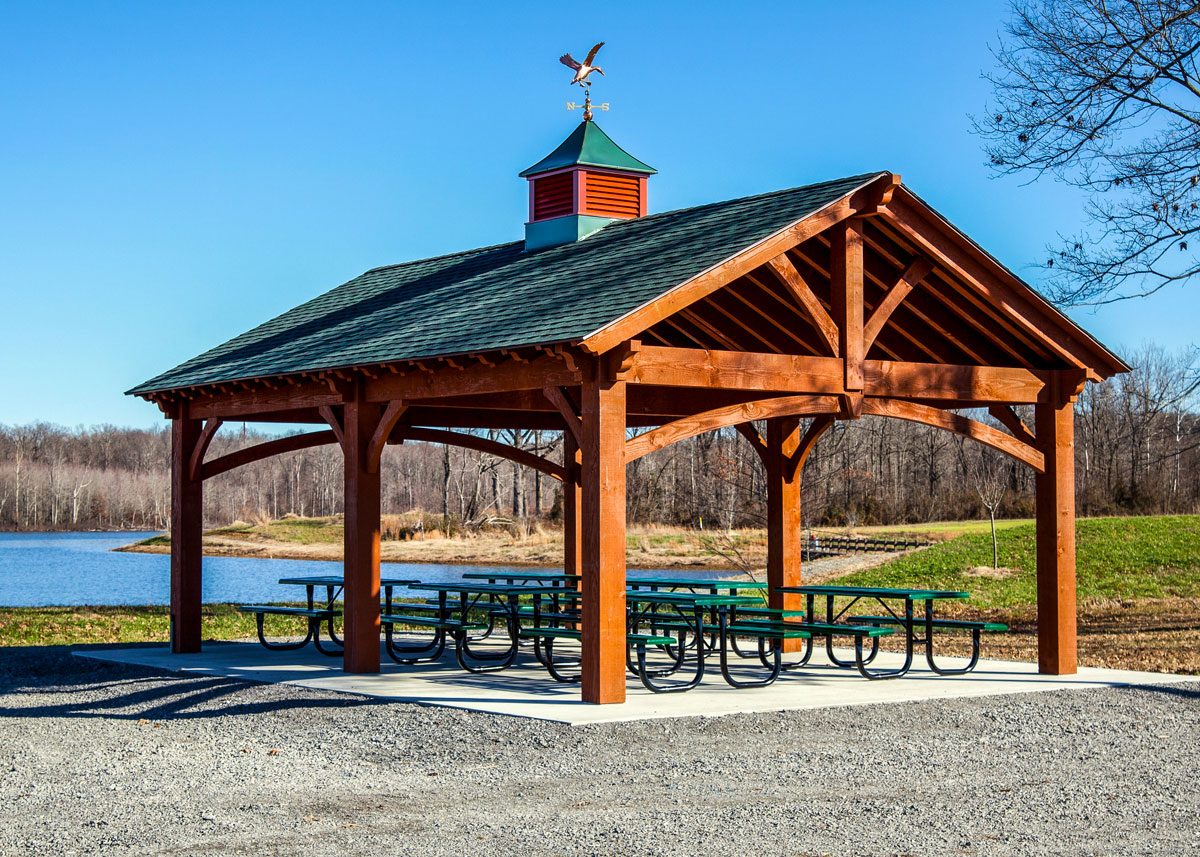 Waterside Pavilion — Pavilions are used for commercial and residential landscapes and are a great way to enjoy a lake, pool, pond, or another recreational water area.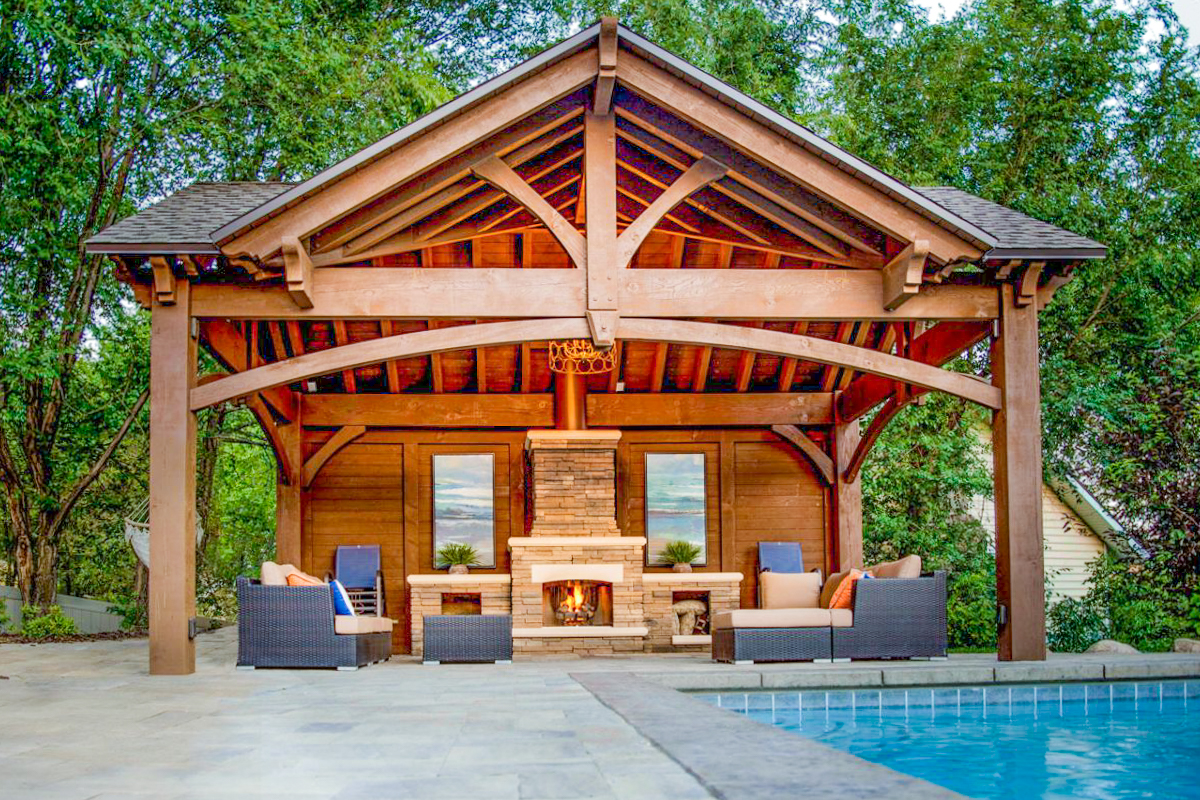 Pavilion Covered Pond — These pictures were sent to us of a ShadeScape® pavilion kit installed to cover a bridged over fish pond and outdoor artworks.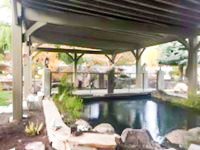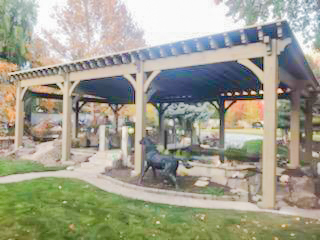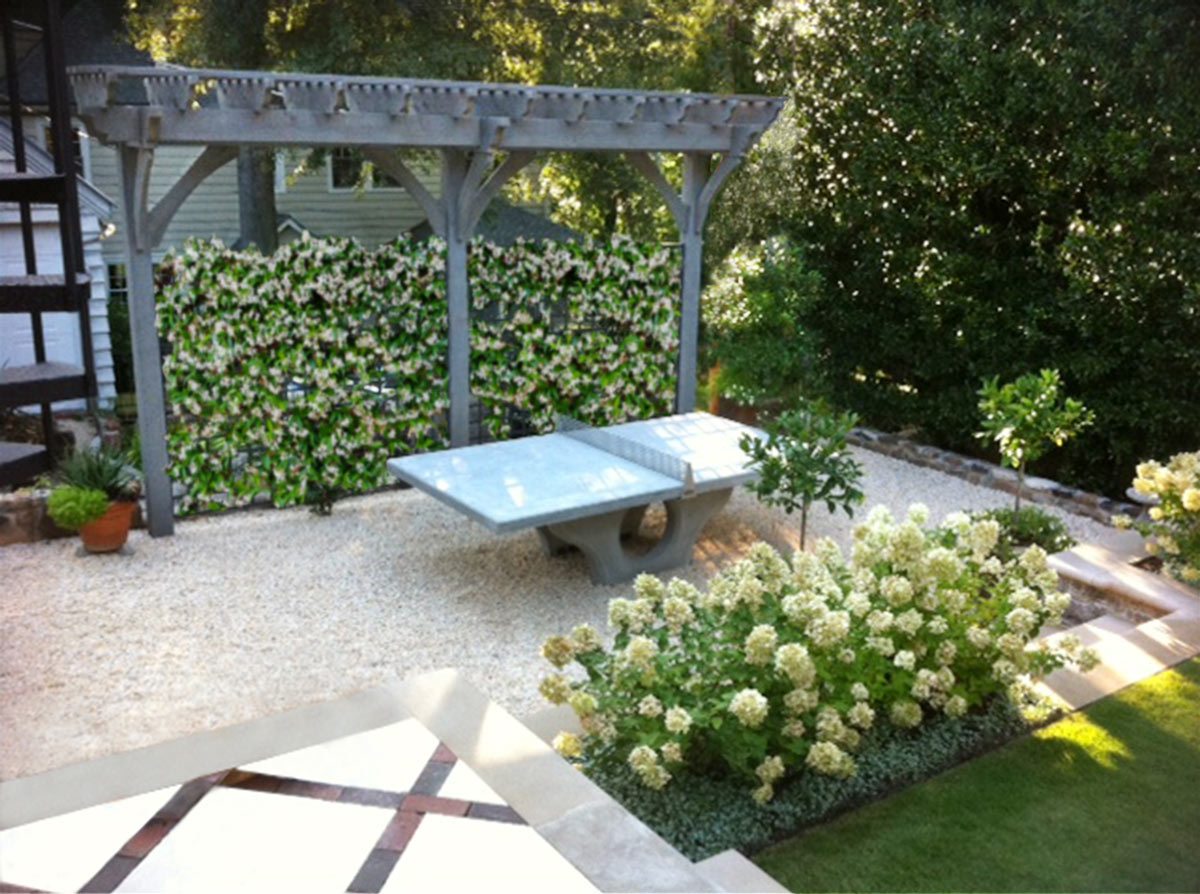 A garden trellis is a foundation for vines and vertical gardening. Timber grow boxes keep plants warm and happy.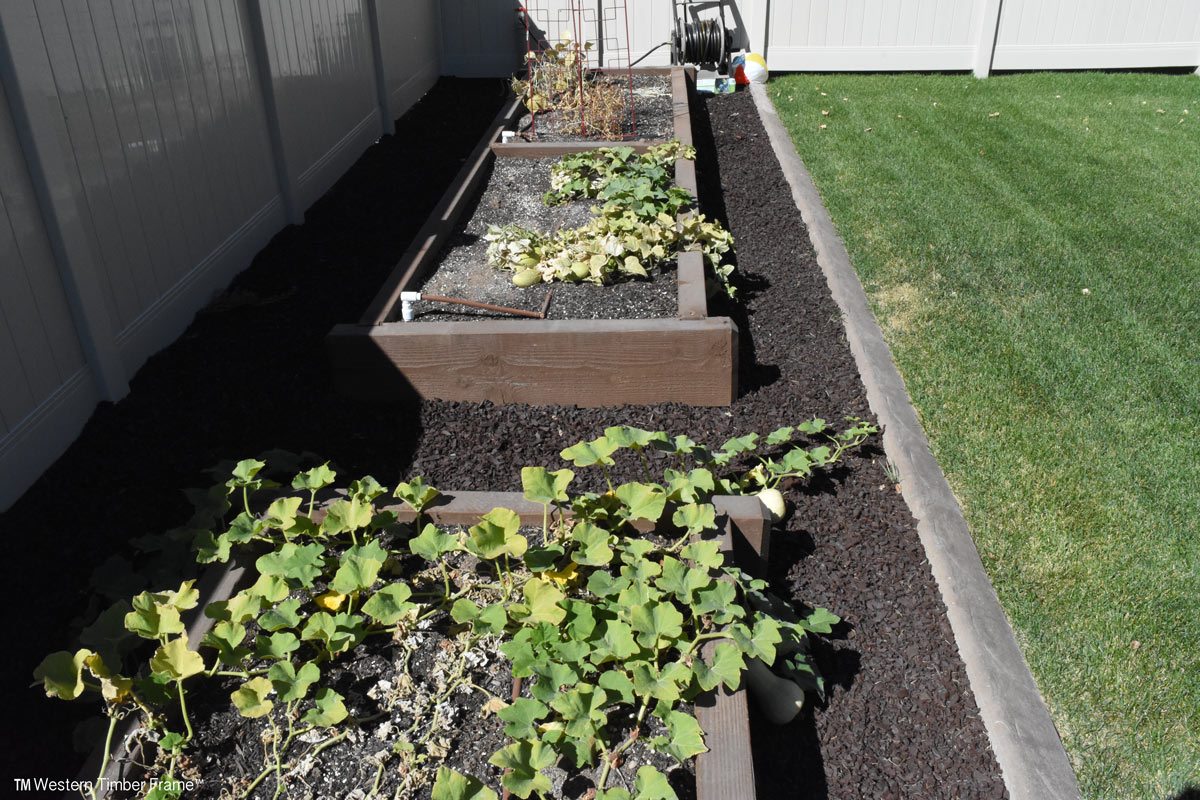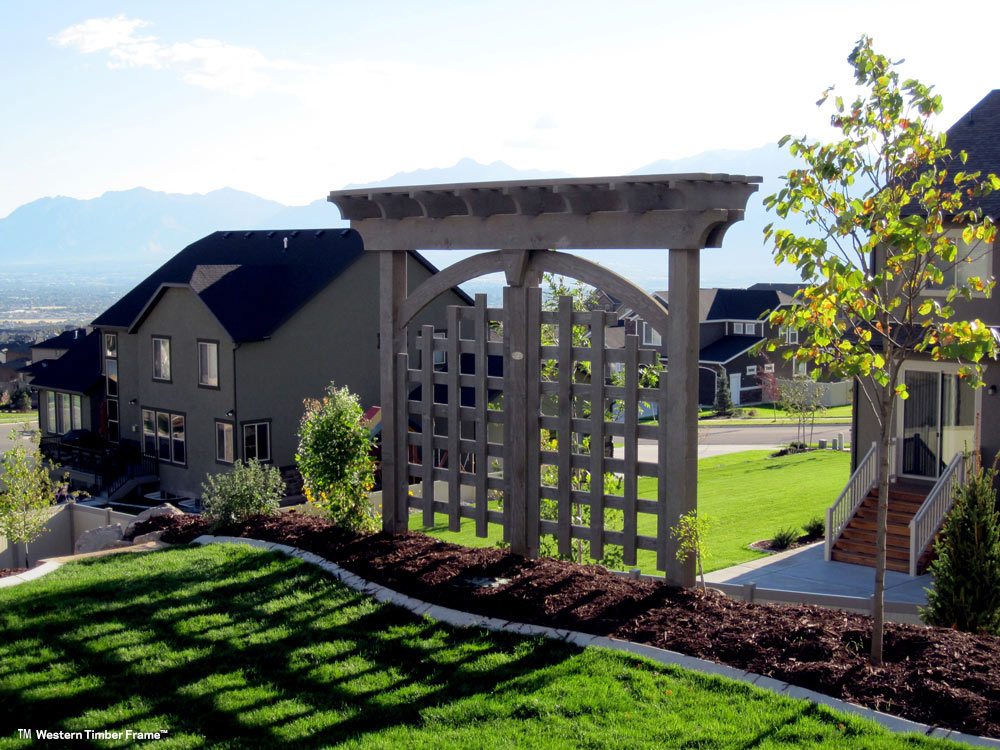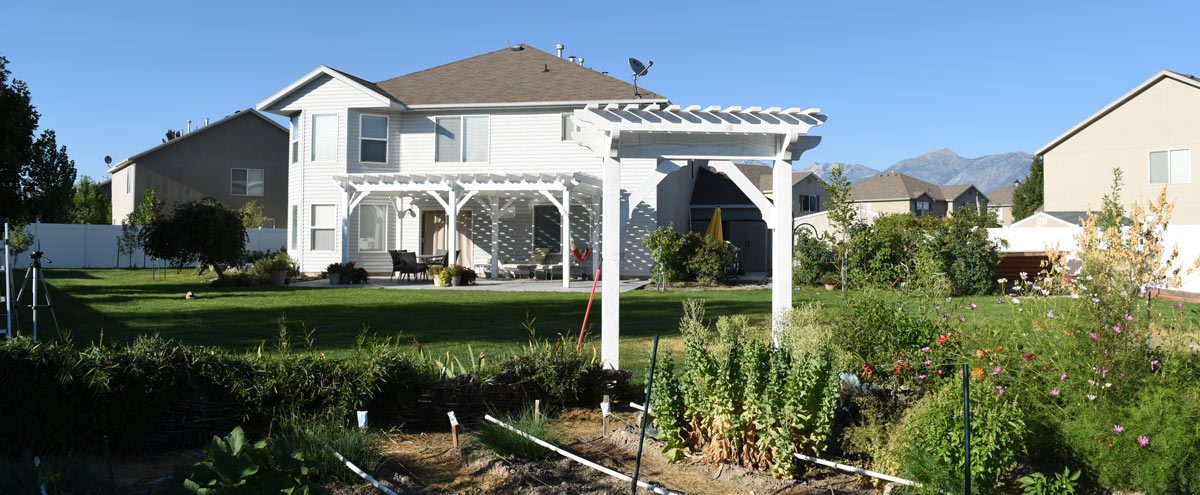 Beautify Your Garden — ShadeScape® arbors and trellises are also a lovely way to outline or create an entryway to your garden.
Set The Stage For An Outdoor Movie Theater
Hosting movie nights with your own personalized outdoor movie theater is especially fun when your theater is set up to play any time.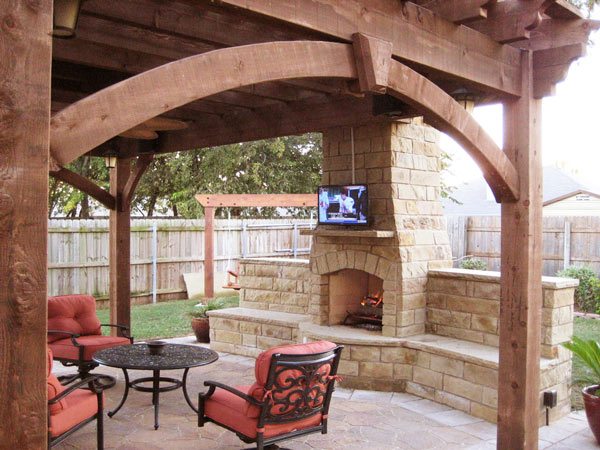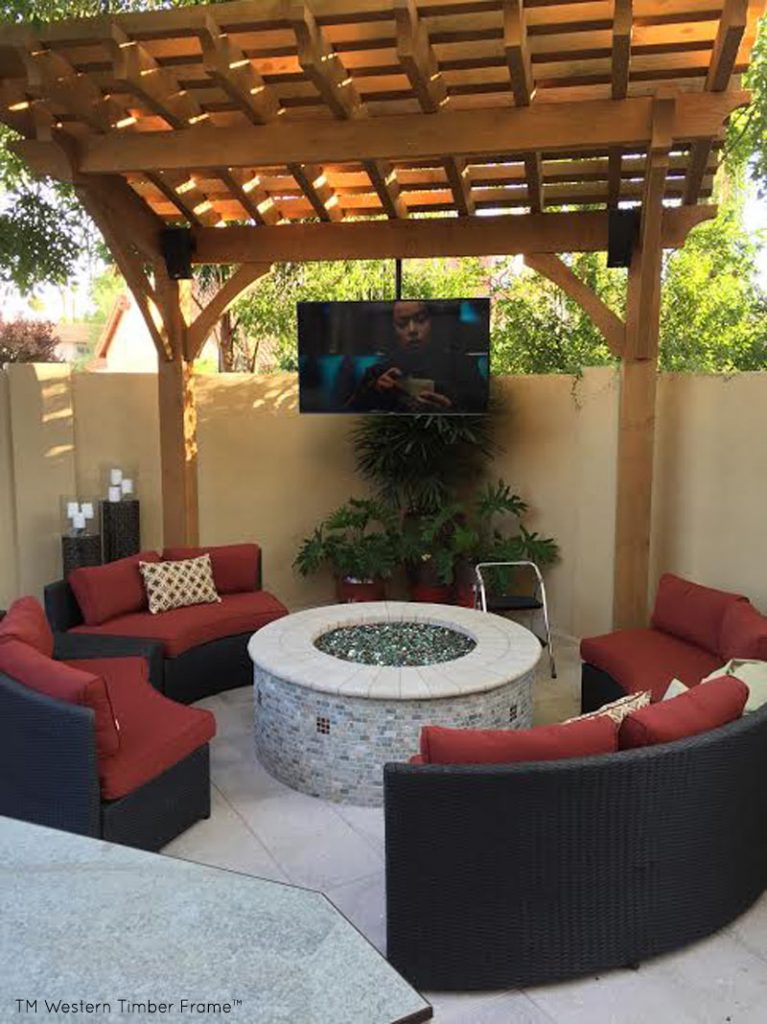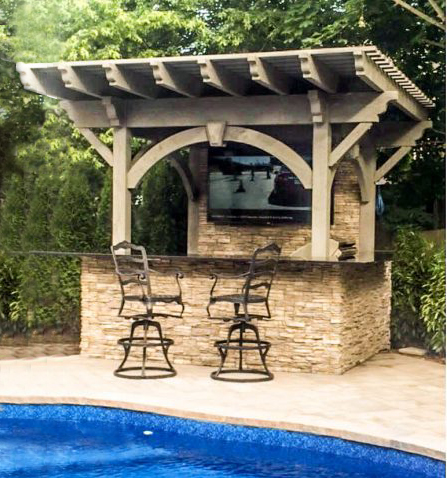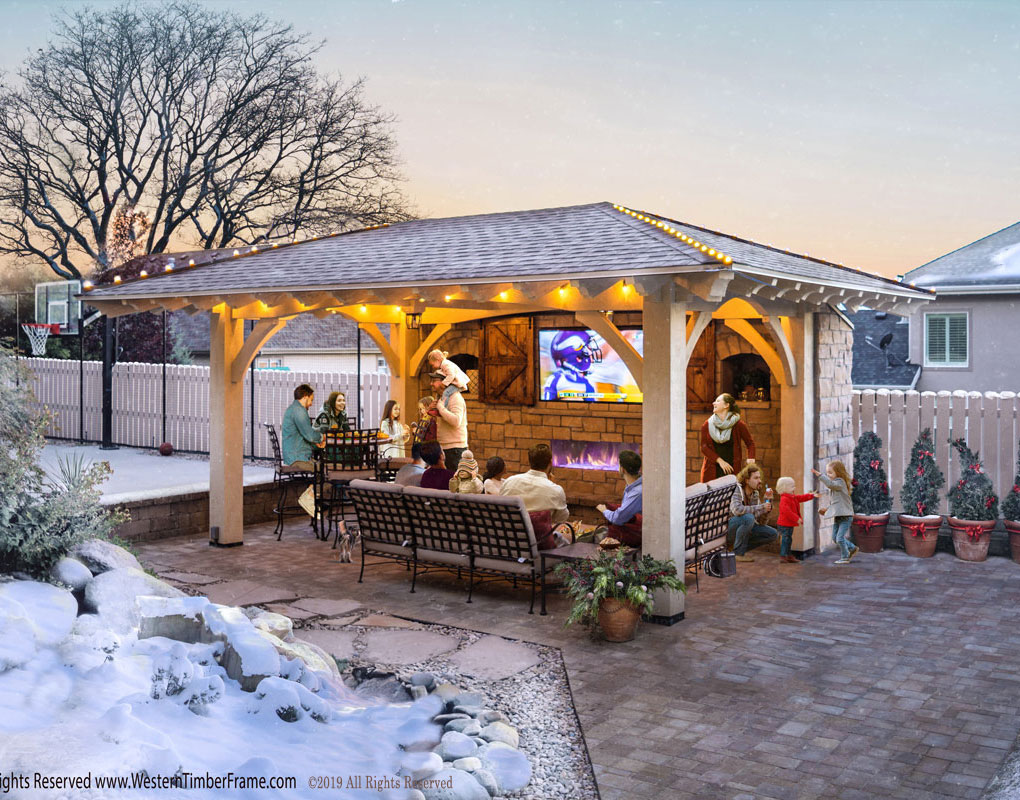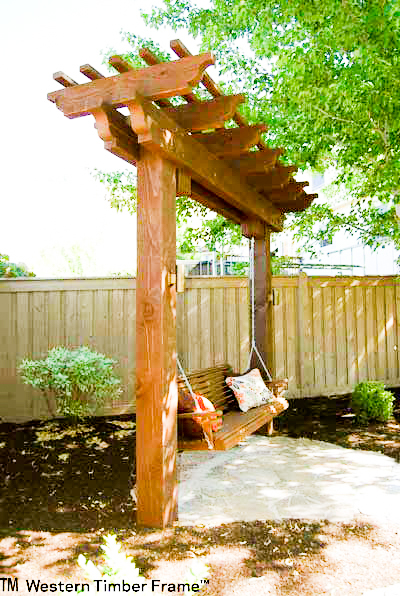 Trellis Swing — Because a trellis usually consists of two supporting posts or a line of posts, it is easy to overlook a trellis as the base and support of kinetic objects, e.g. bench swing, bed, table or bell.
Trellises can also be easily fashioned with a bench swing or swings for a sleek, unique look. These swings are an incredibly sturdy structure that will not rock with the wind or a swing.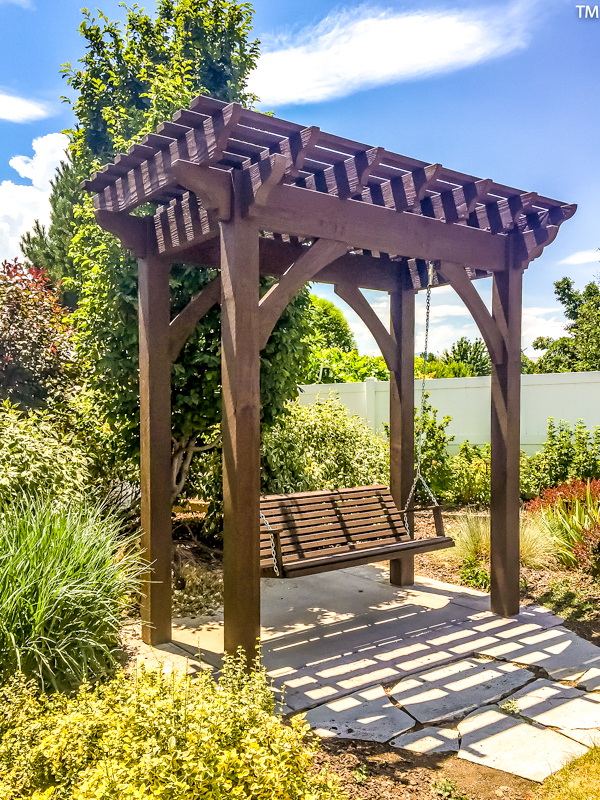 Arbor Swing — Cradles, rockers, and swings — we have loved them since we were a child and we never grow out of love for swings. Arbors are often used for bench or egg swings. Stretch it out, as in this arbor plan, with an additional swing — twice the fun!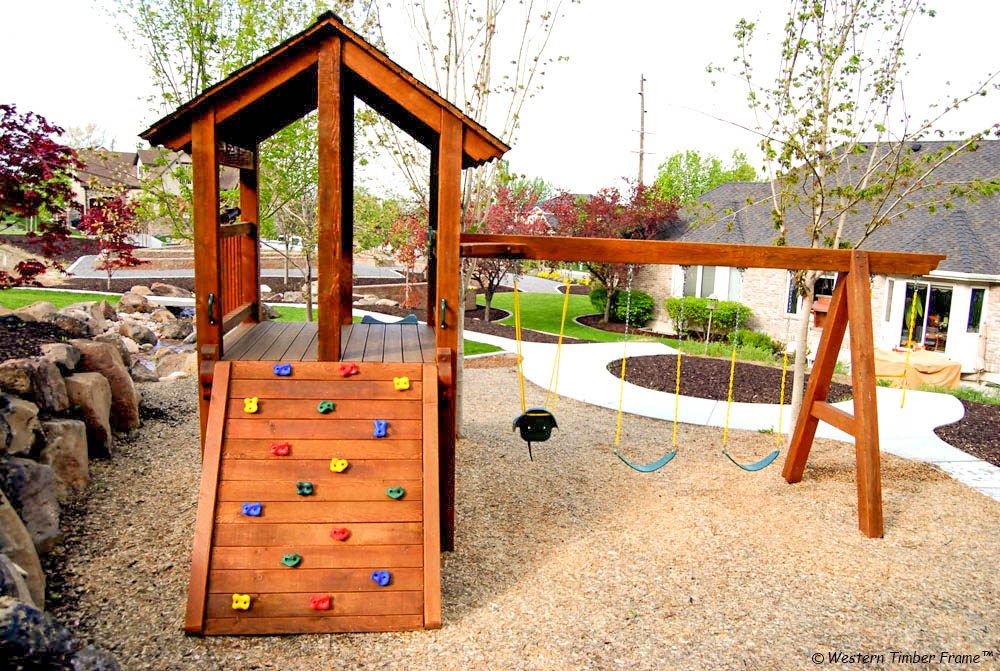 Substructure For Resting Places
As a manufacturer of luxury ShadeScape® shelters, we get asked at times if our pergolas, pavilions or arbors are strong enough to hold a hammock or swing. Yes, they are! And we encourage anyone who loves to swing – by all means – add a hammock, a couch swing, or a suspended bed.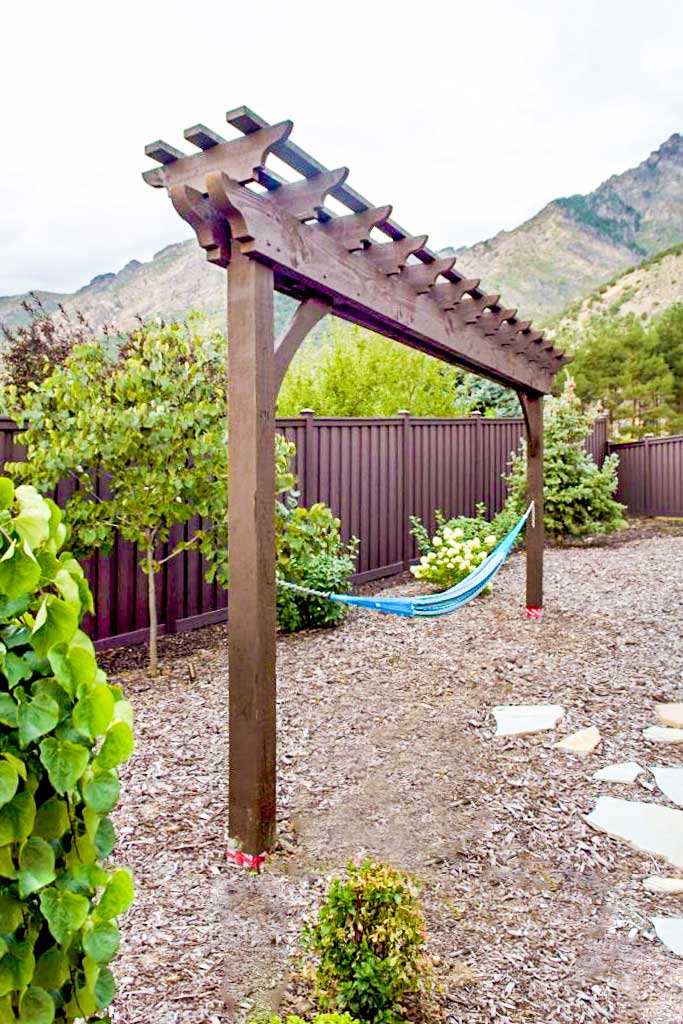 Hammocks and swings are the delight of children as well as adults.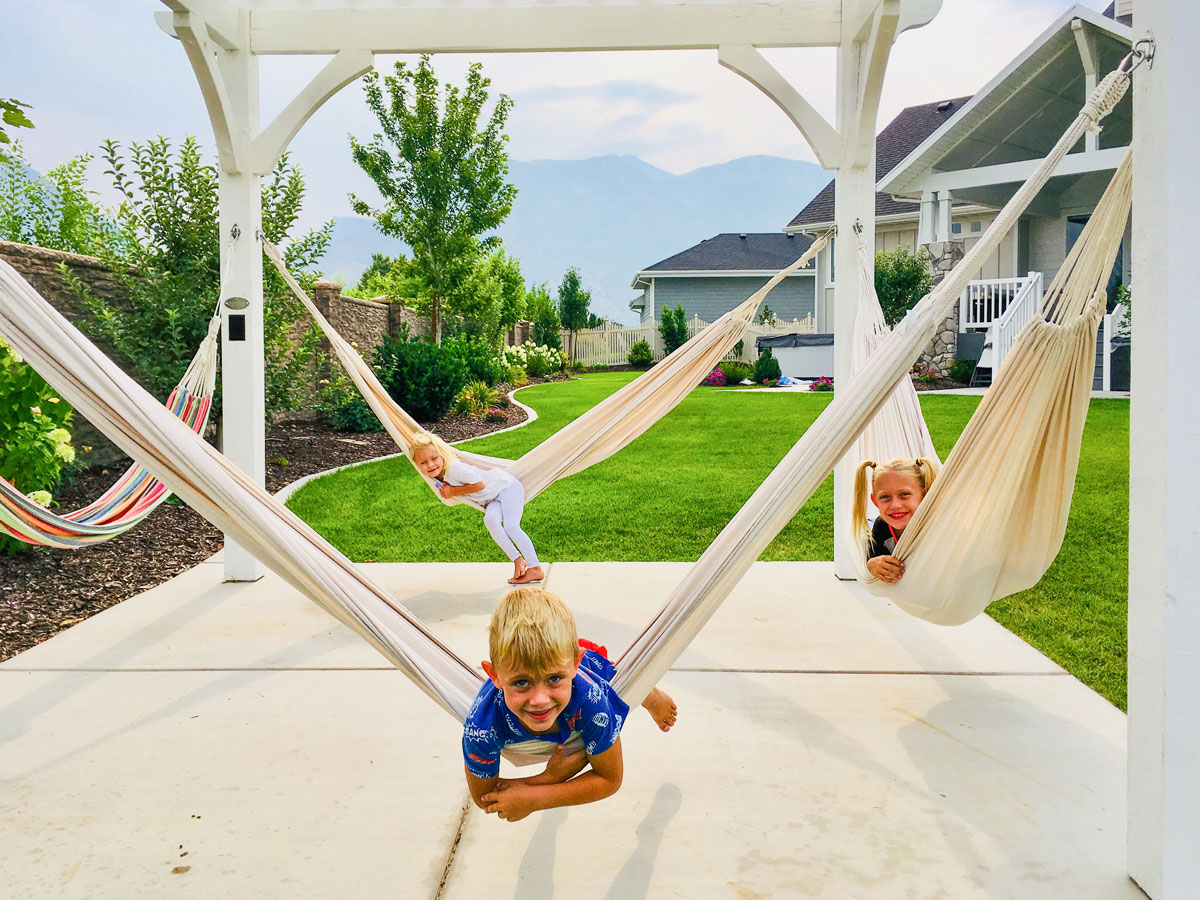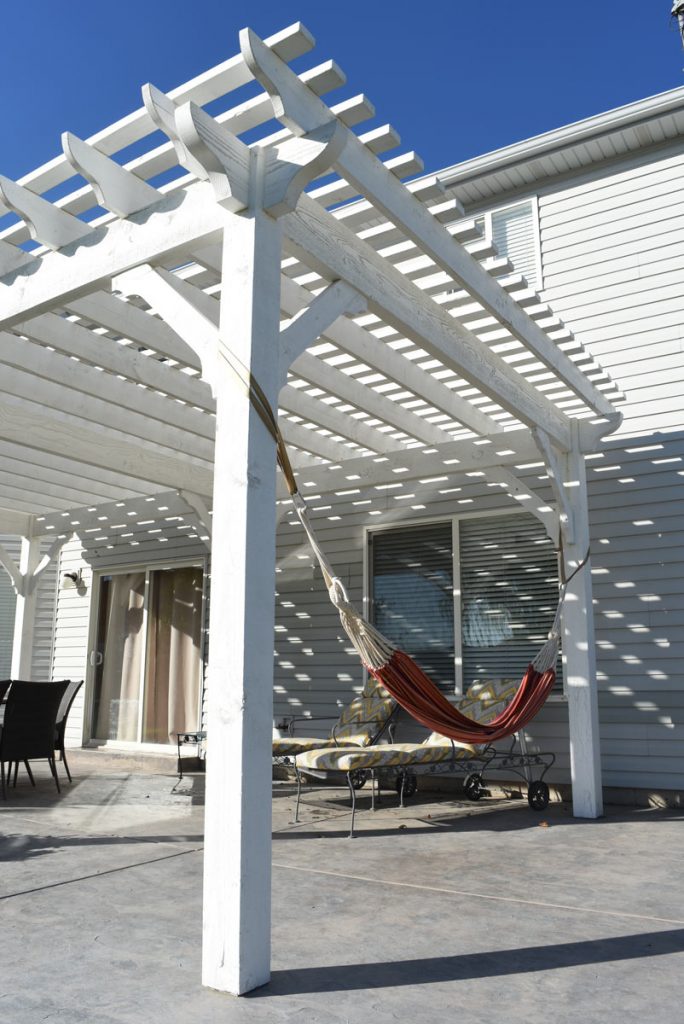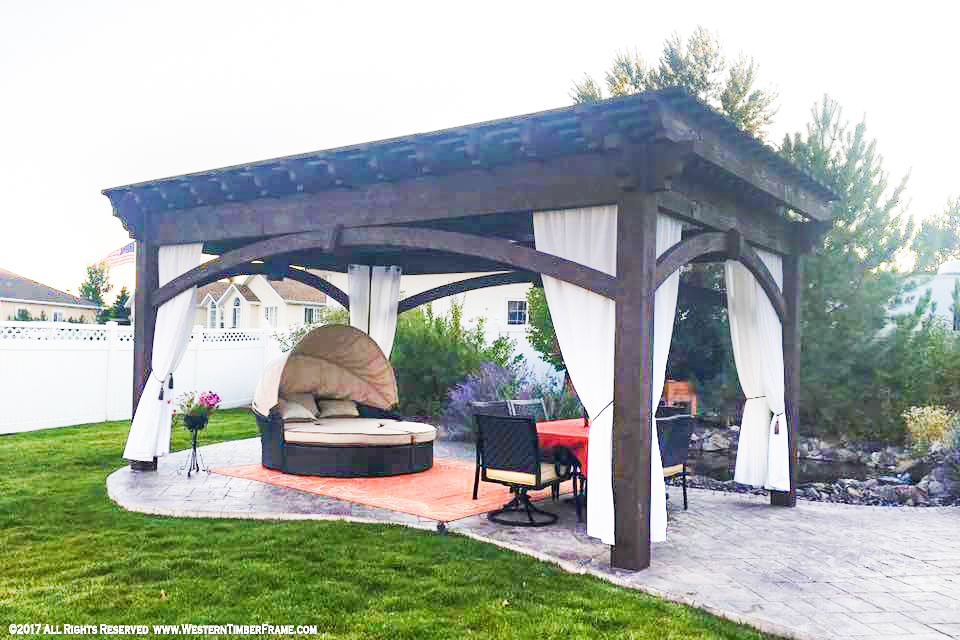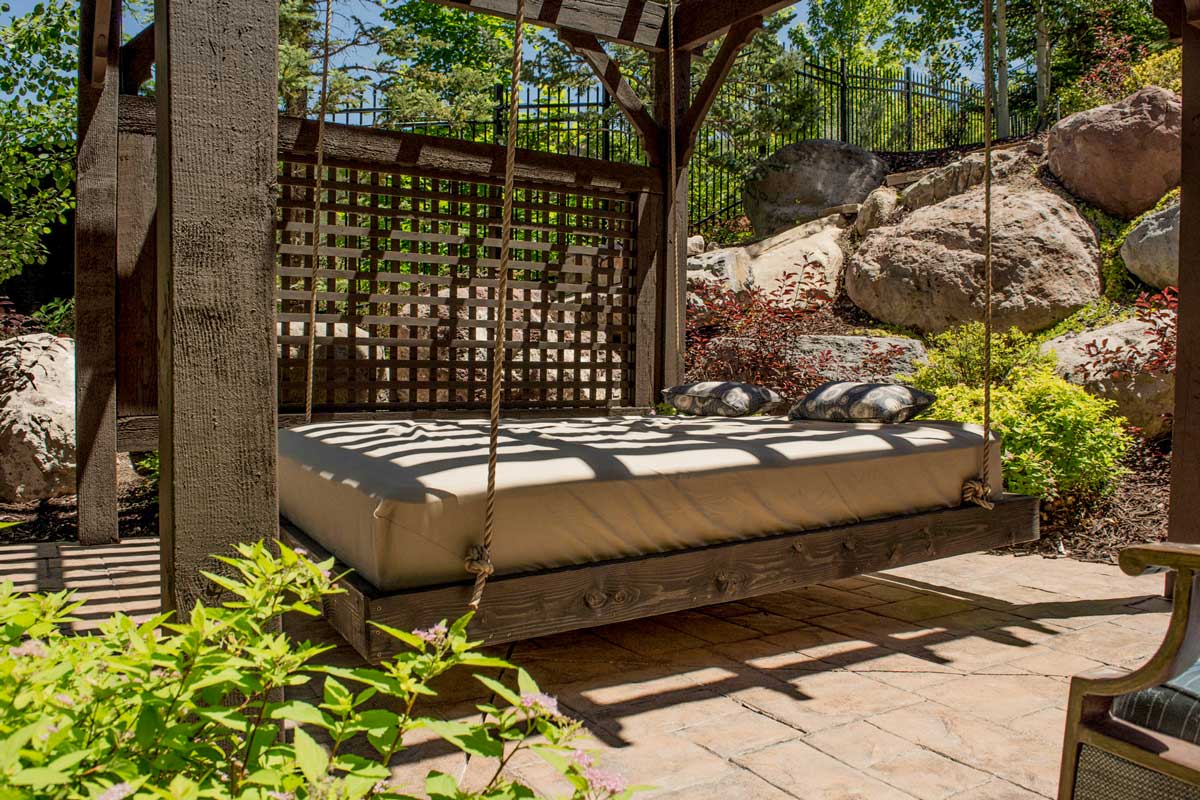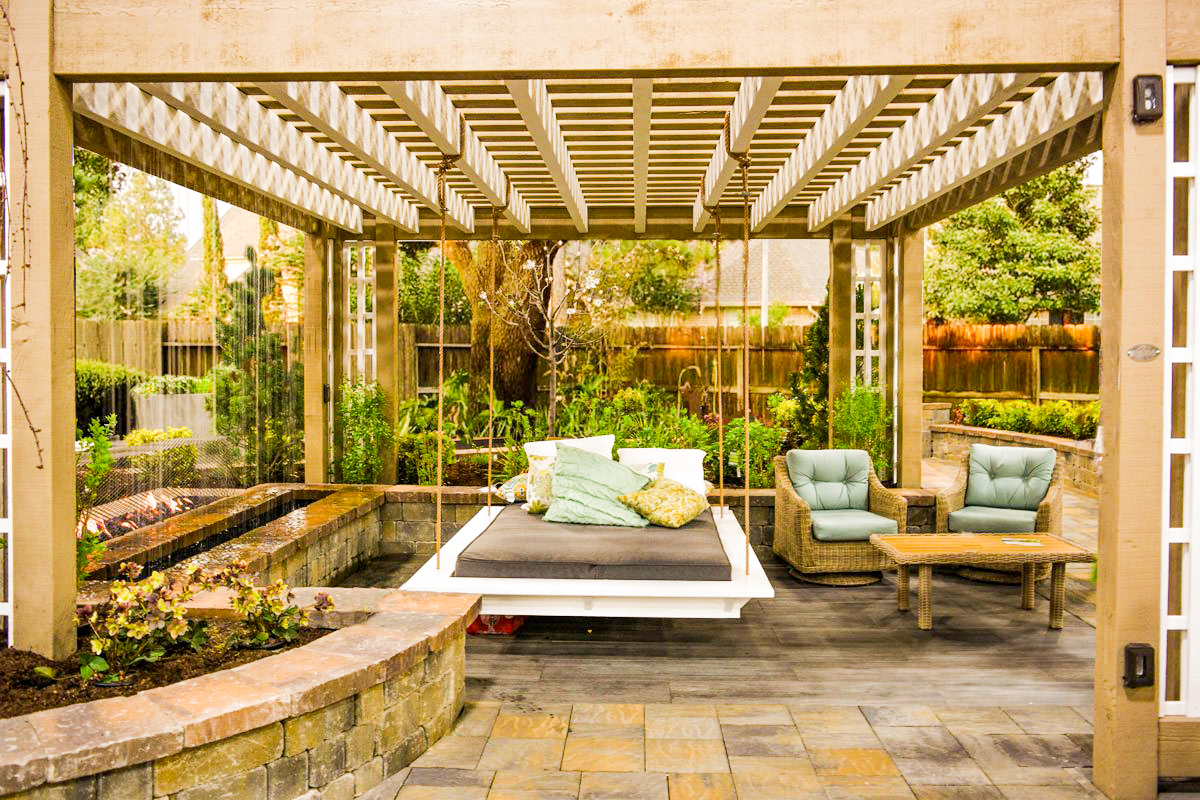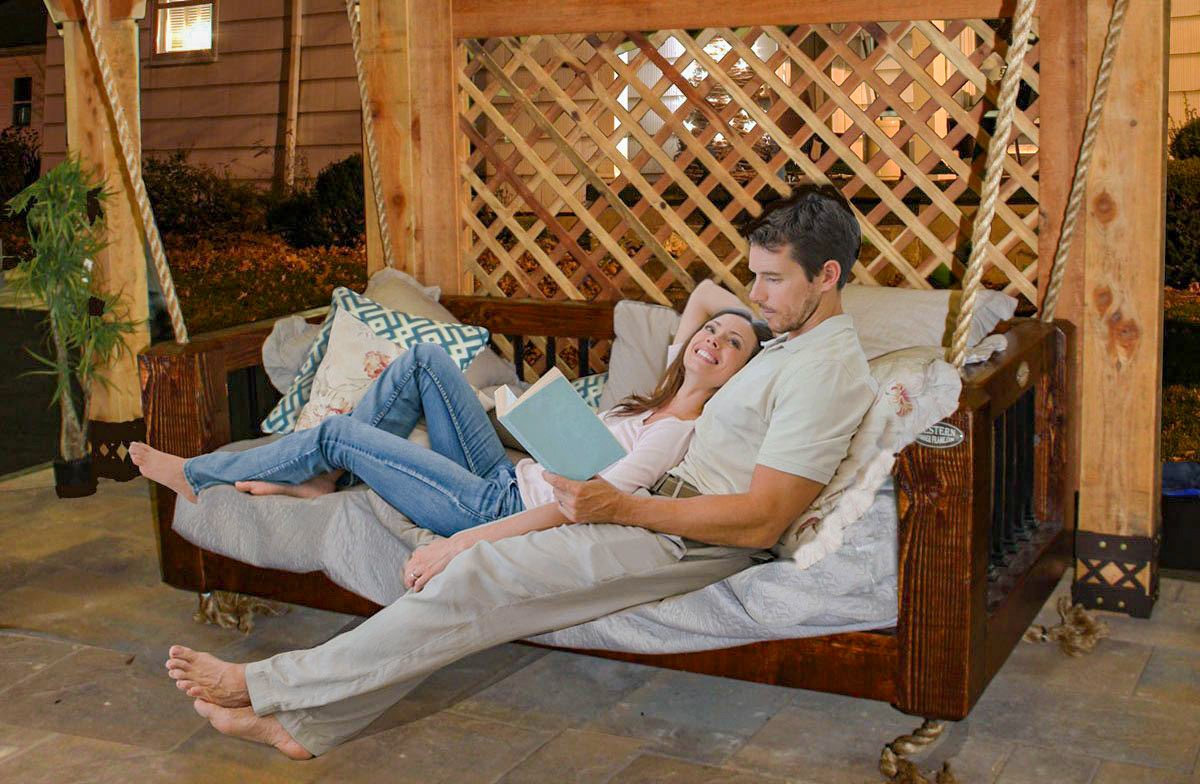 Sleeping in an outdoor suspended bed will relieve stress, improve sleep quality, replenish oxygen levels, and wonderfully boost your serotonin.
Just putting in a bench to rest on is a great way to sit and read a book or spend some one-on-one conversation time with someone you love.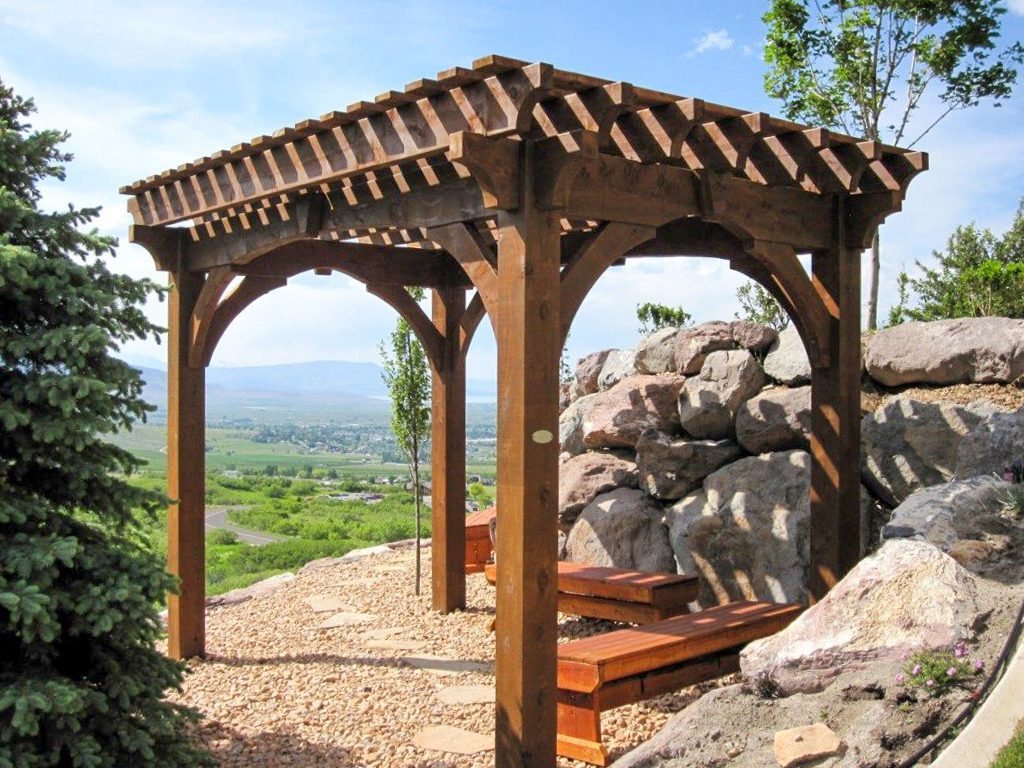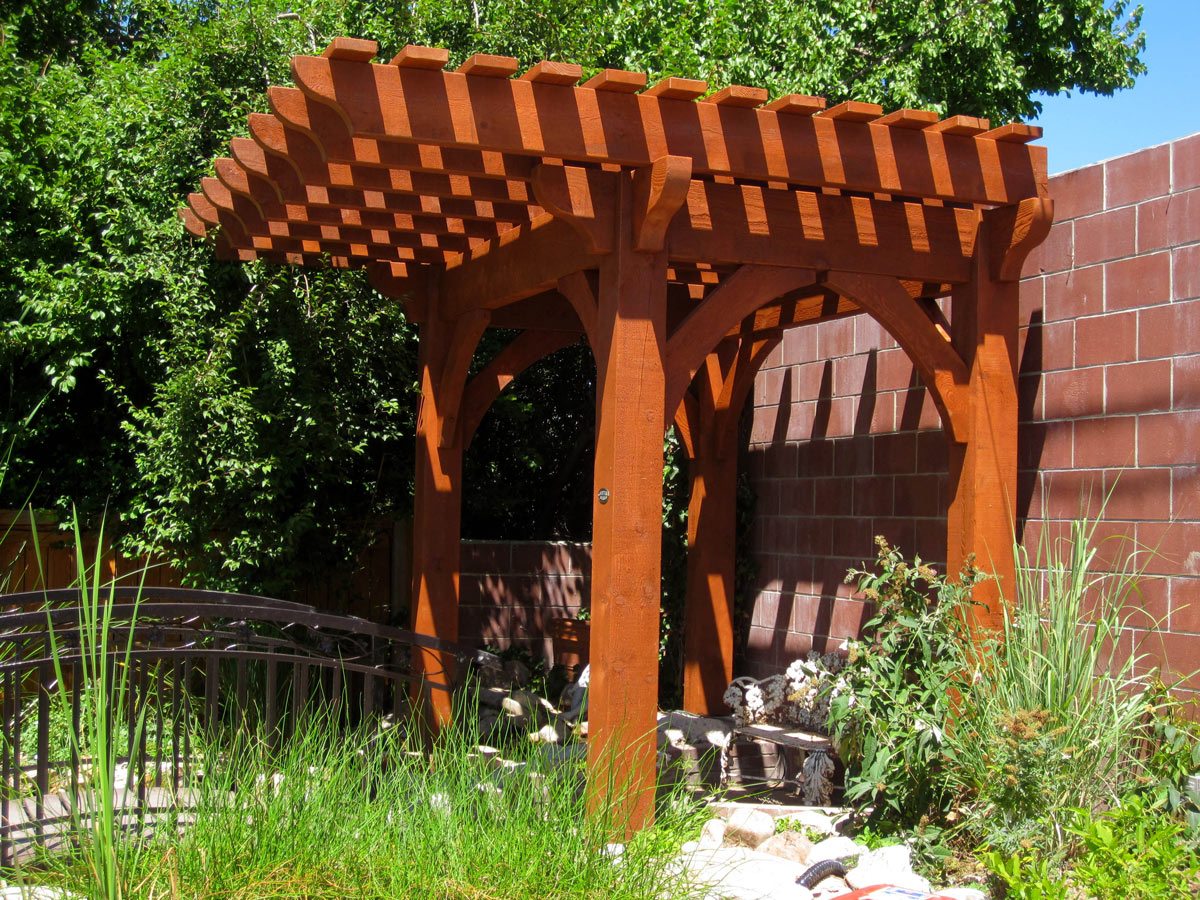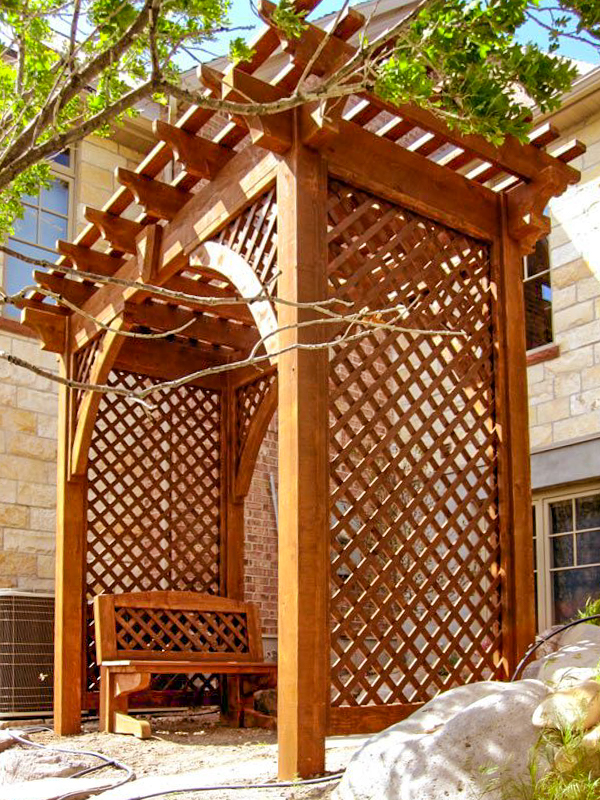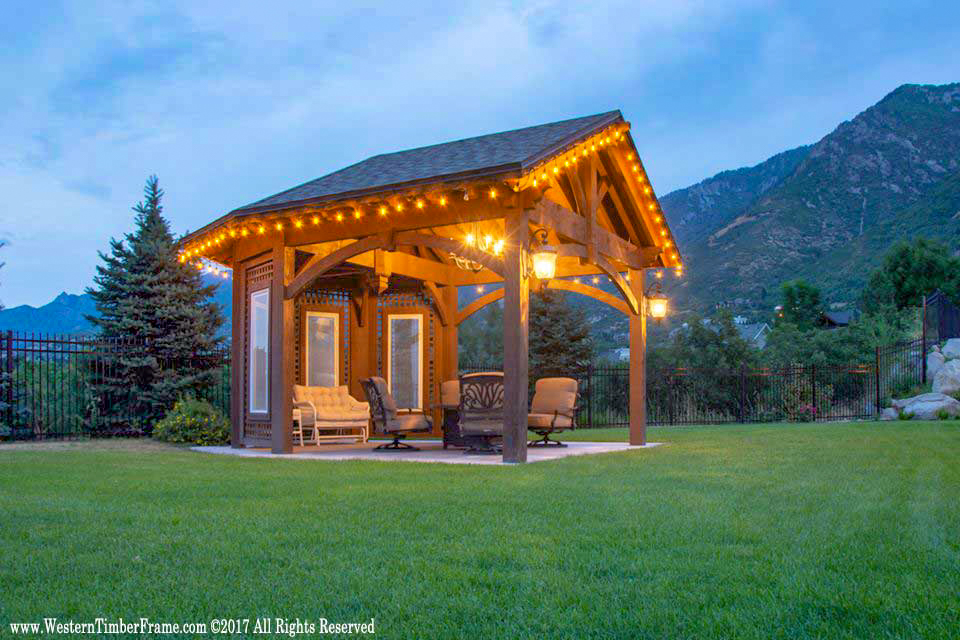 With a cabana, pavilion or pergola, you can enjoy a full-sized living room to get-together with family and friends.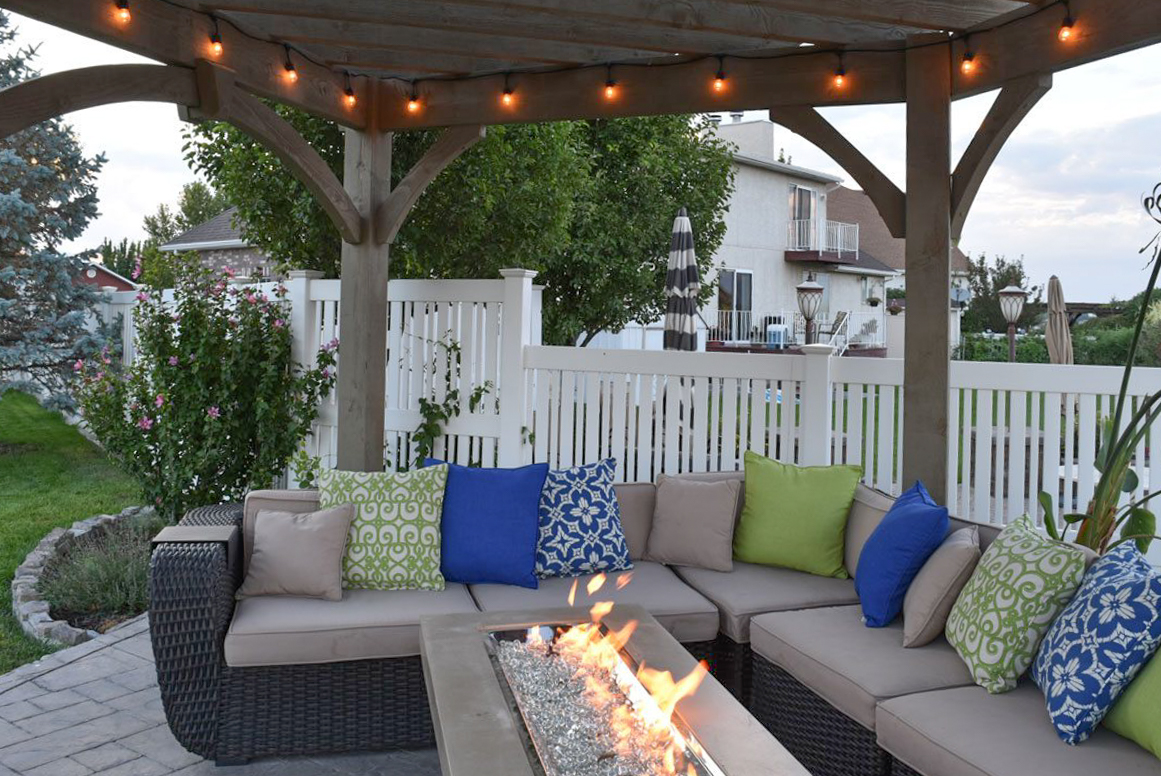 Culinary, Grill, Bar & Outdoor Kitchen Spaces
Arbor or Trellis Grill — As the weather grows warmer and heats up cooking over a grill is more comfortable with some overhead comfortable shade. An arbor or trellis can give sophisticated style and shade just where it is needed at the times you would most likely be barbecuing.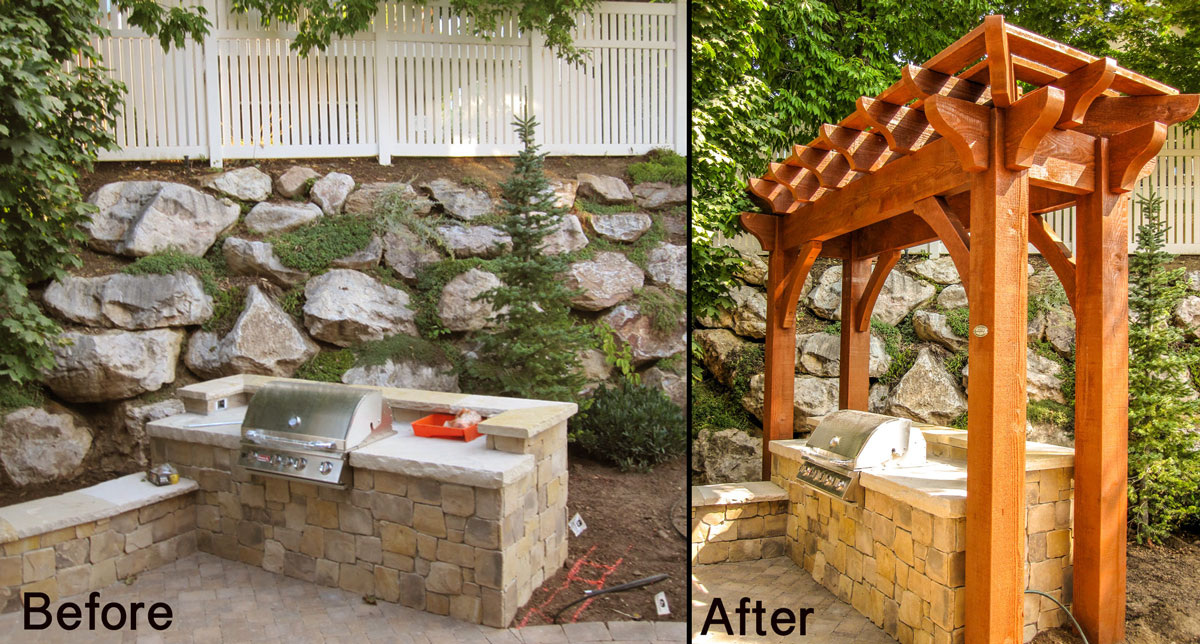 An outdoor kitchen takes your entertainment style to a whole new level. A grill is great, but with an outdoor kitchen, you can prepare full meals with all the amenities available at your fingertips. Whether you have an existing outdoor kitchen or are going to install a custom or prefabricated design you can easily cover it with a ShadeScape® pavilion kit. And again, most ShadeScape® kits can be installed in as little as ONE AFTERNOON!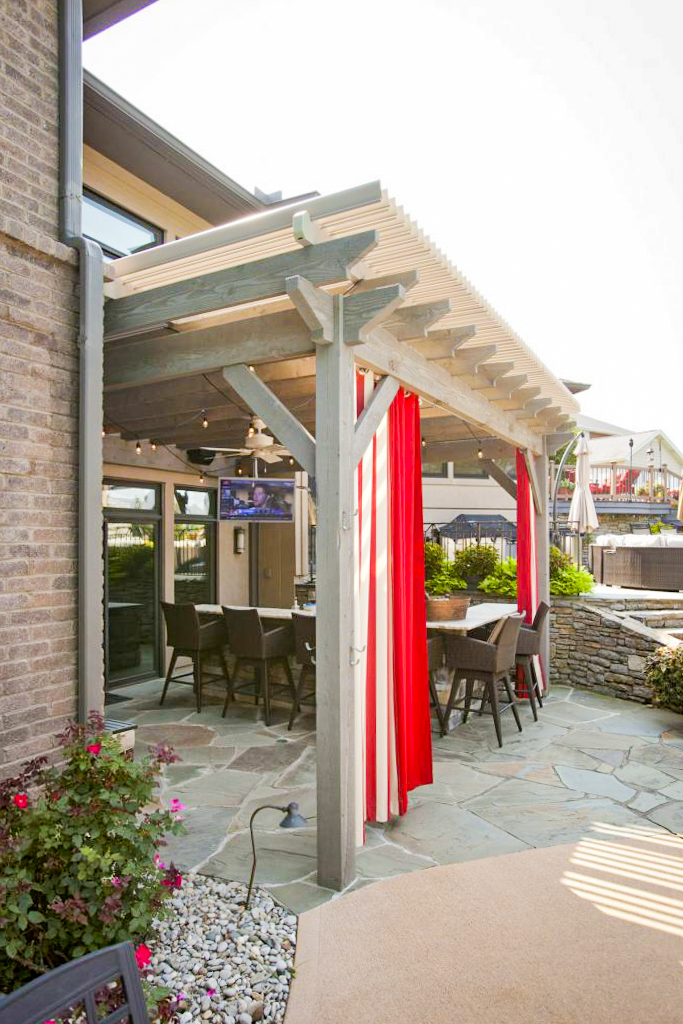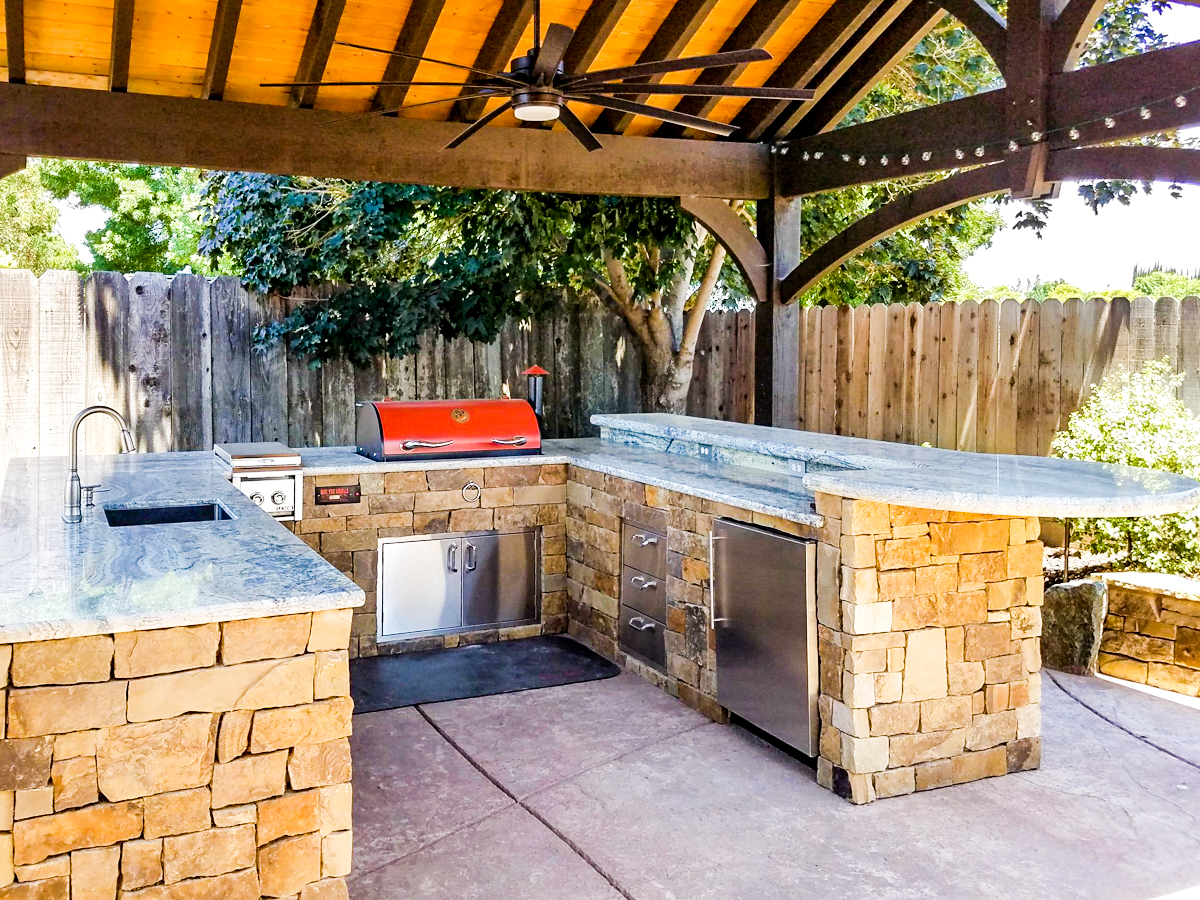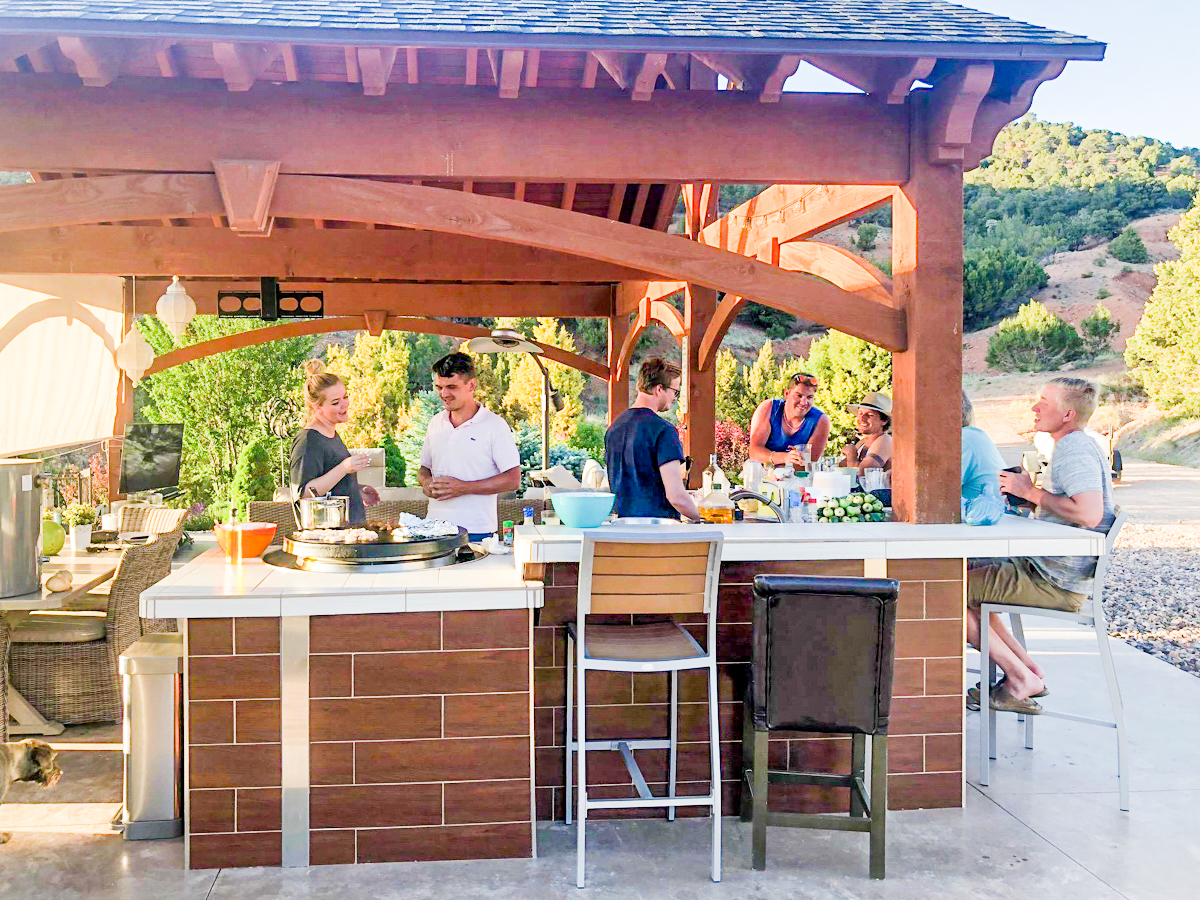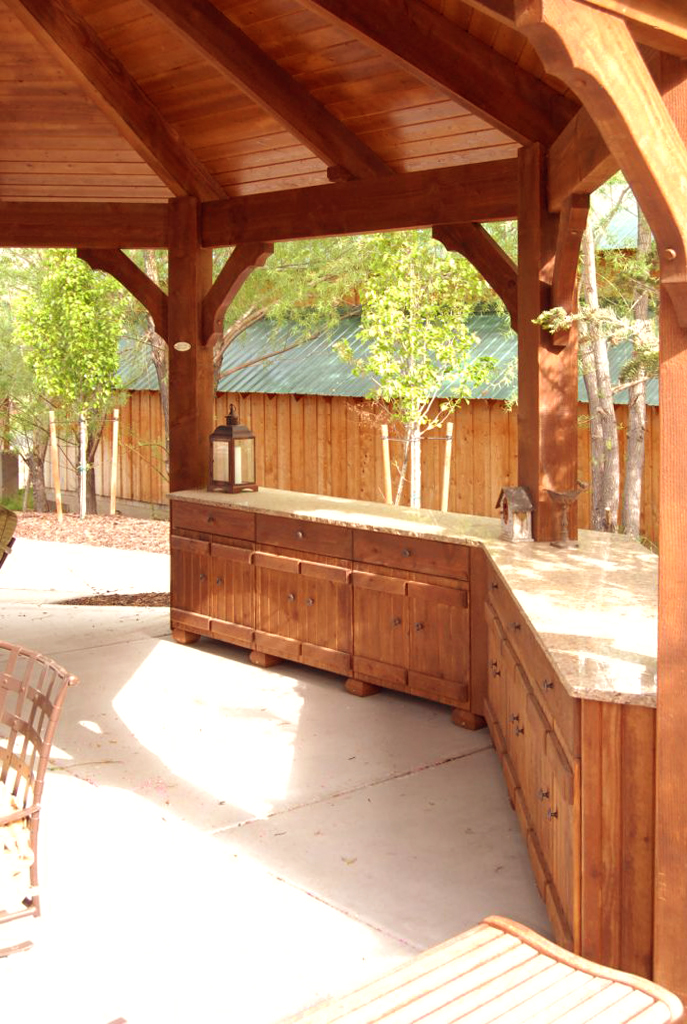 With the help of a Design Manager, a ShadeScape® pavilion can everything you've dreamed about. An outdoor kitchen that is Straight, L-shaped, a U-shaped Outdoor Kitchen, Curved or Corner Kitchen, a Bar or Barbecue Island; no matter what your specifications, you can be sure that the outcome will be exactly what you're looking for.
Outdoor cupboards, built-in sinks, and benches, there is so much you can do when you are covered with heavy-duty timbers that bring the comfort of outdoor shade tree temperatures for enjoying the outdoors to the fullest.
Furnish With Outdoor Power
ShadeScape® timber frame arbors, gazebos, pavilions, pergolas, cabanas, ramadas, and trellises can be installed with the TimberVolt® power posts.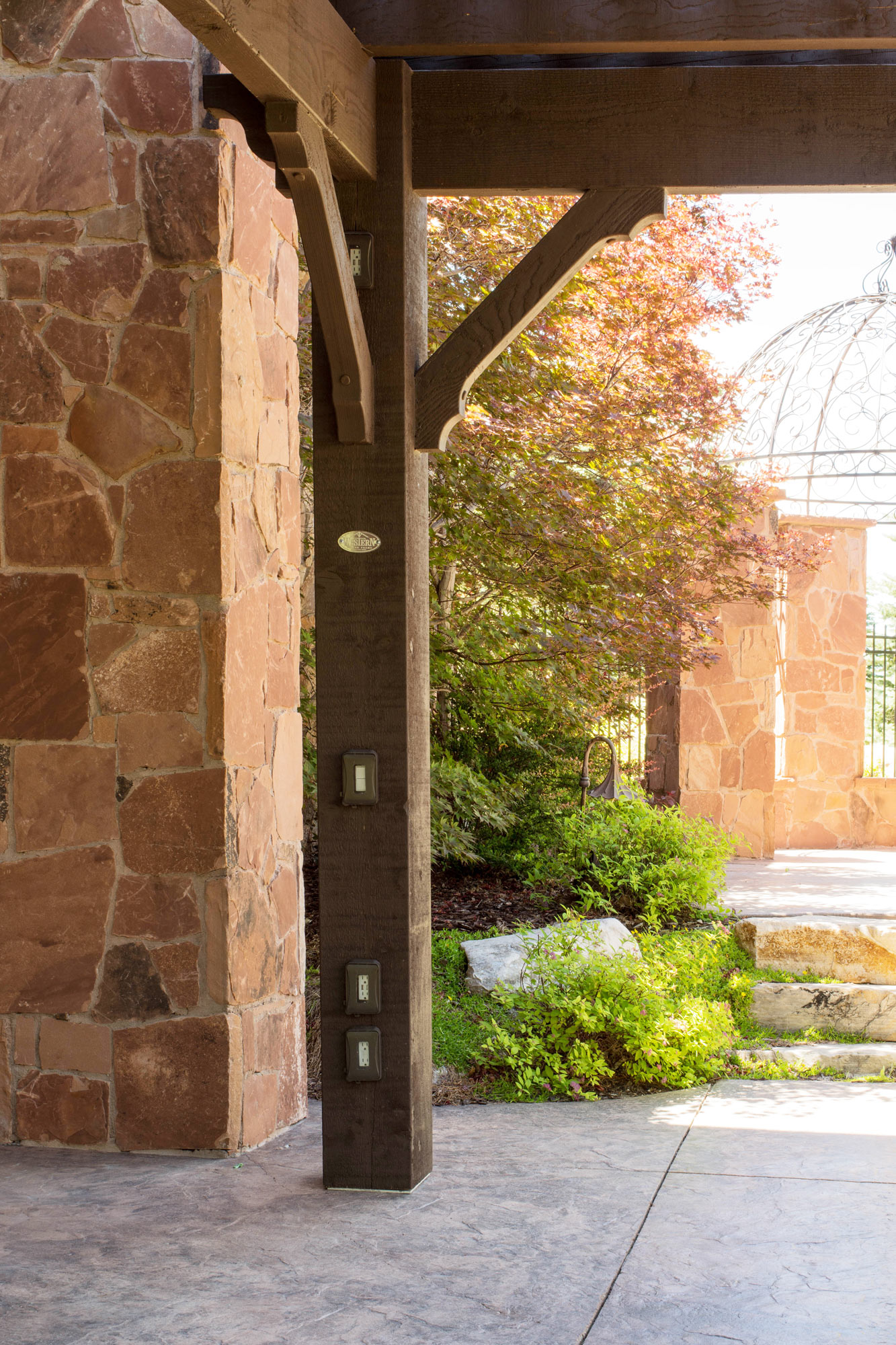 There are several TimberVolt® models to choose from. The TimberVolt® Phoenix Model is a favorite for #OutdoorKitchenPower and accessories. The Phoenix Model FEATURES:
• Pre-wired • Custom steel insert on top to protect the wiring or water lines from being punctured from lags and hardware fasteners throughout the installation process. • Includes an electrical box on top with two electrical receptacles to prevent water and debris from going down inside the post. • Excellent access for lights, fans, and other accessories at the roof. • Core hole through the center of the post can be used for your Electrician to run his own wiring, water lines for Water Misters, water taps, network cables, cat 5 lines, tv lines, etc. • Electrical boxes with blank covers installed and ready for use. Ideal for: Concealing cords out of sight and also offers protection from the elements.
Adding a TimberVolt® power post to your shade shelter kit will maximize your family's outdoor dining experience.
Create Open Air Dining Areas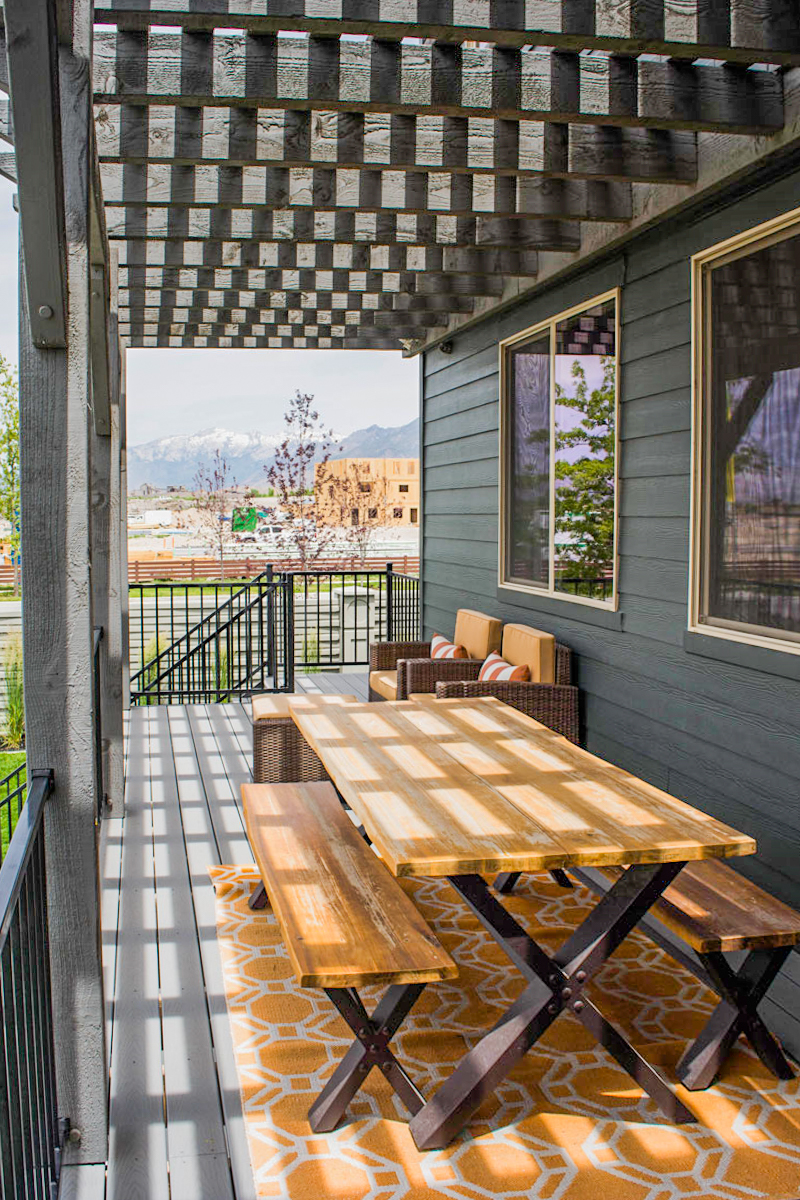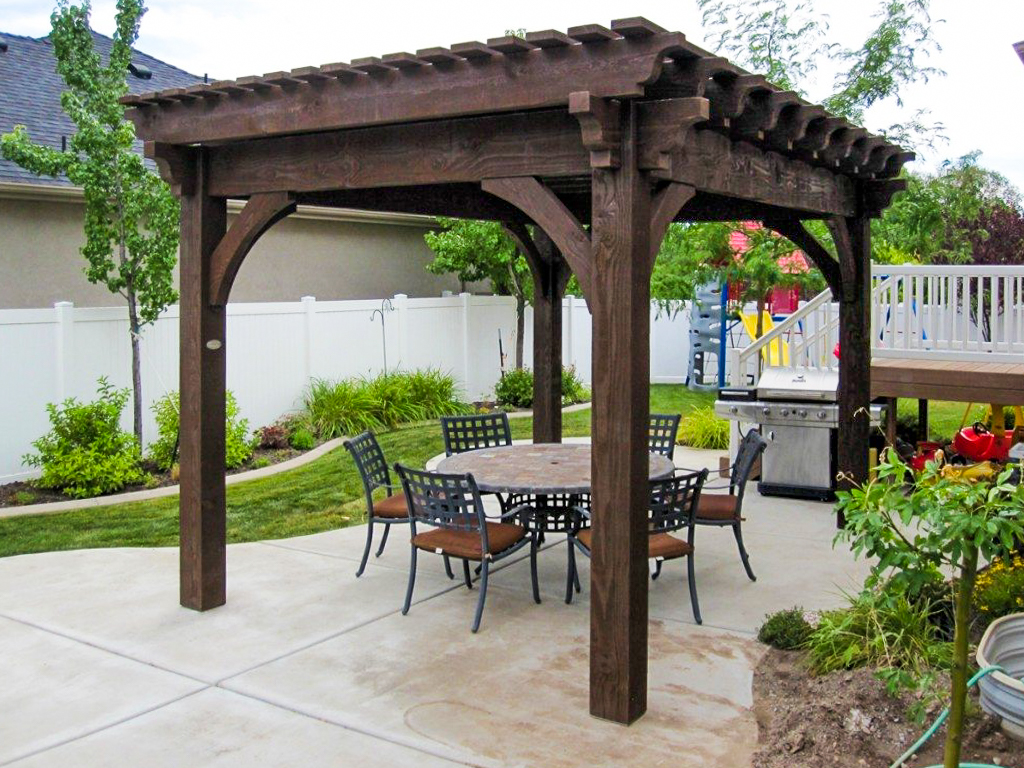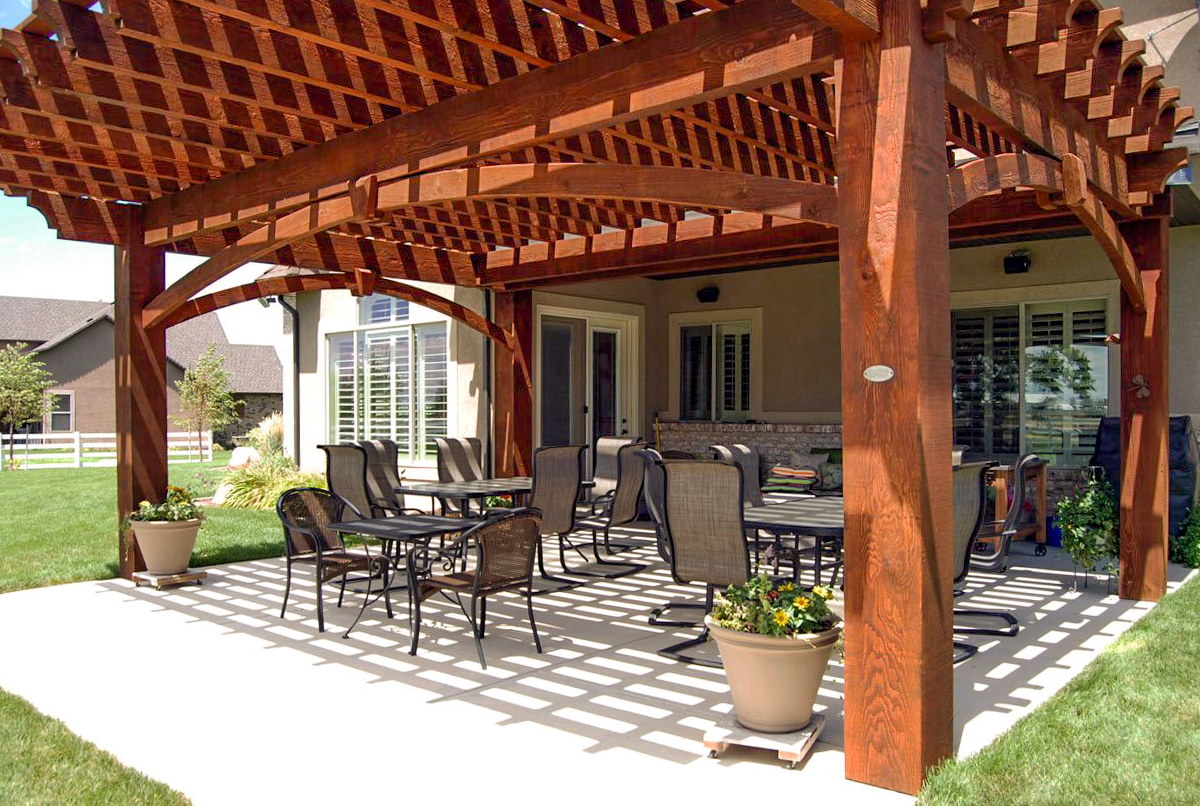 Dining together is a time to breathe easy, re-energize, and catch up on each others day. The stories we share around the dinner table with our children provide pleasure, creates happy memories they can build on for the rest of their lives. A suspended dining table adds playful interest for an outdoor dinner setting.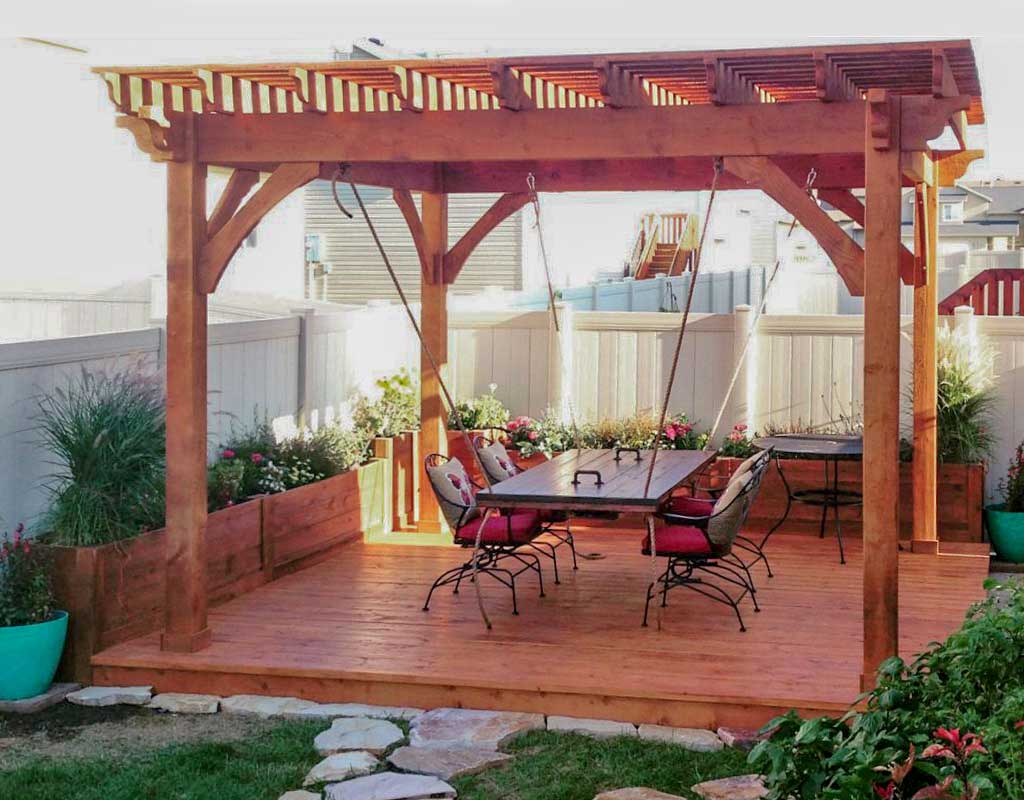 Build Your Own Gates, Portals & Pathways
There are dozens of inspiring ideas and designs for creating a gorgeous garden pathway. A portal or arbor brings a sense of order to a garden or landscape. It is timeless — on the one hand it is yet nostalgic, reminiscence of our Old English and Early American heritage but it also transcends into a first-class modern architectural showpiece.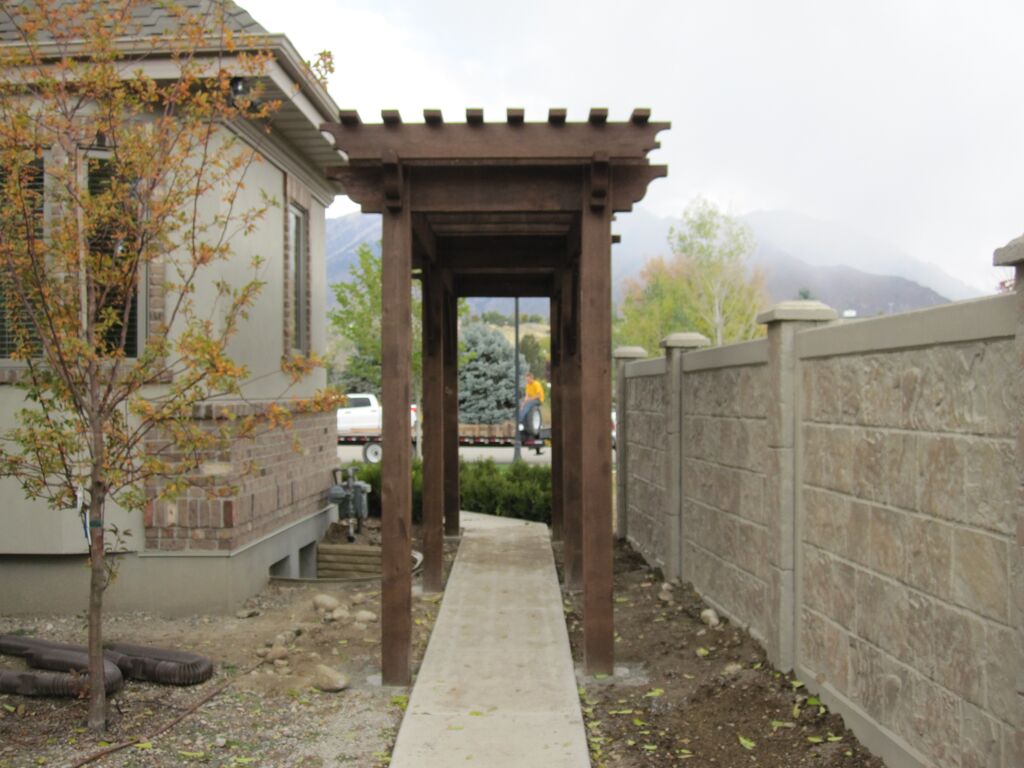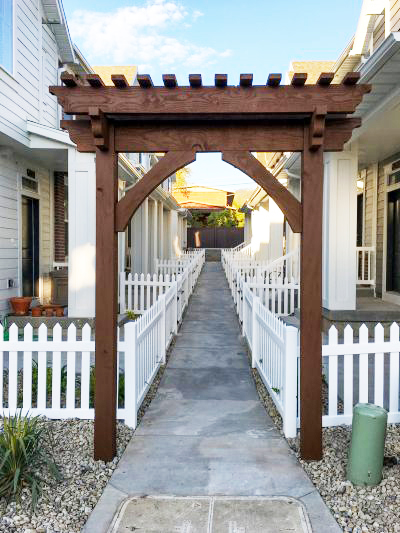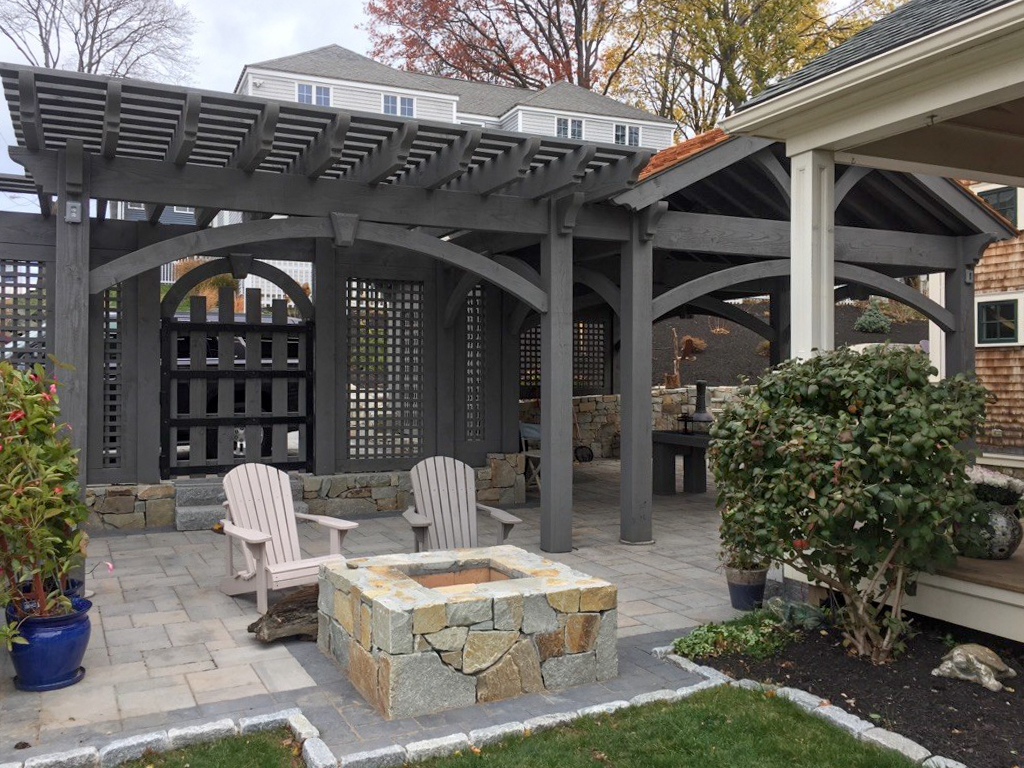 #DIYGardenGate ShadeScape® Pergola Kit w/Garden Gate & Privacy Walls
However you envision your landscape, we can help as little or as much as you like. To us, reaching out to us with your dreams of a new landscape reaches beyond building a beautiful new showpiece. Our mission is to "Enrich the quality of lives through celebrating relationships while creating inspiring environments." Indeed our passion is to influence the integrity of the home through American architecture that invites people who share in the same common values to gather together. Thus strengthening the integrity of the home to build a stronger America.