How to Easily Build a DIY Patio Cover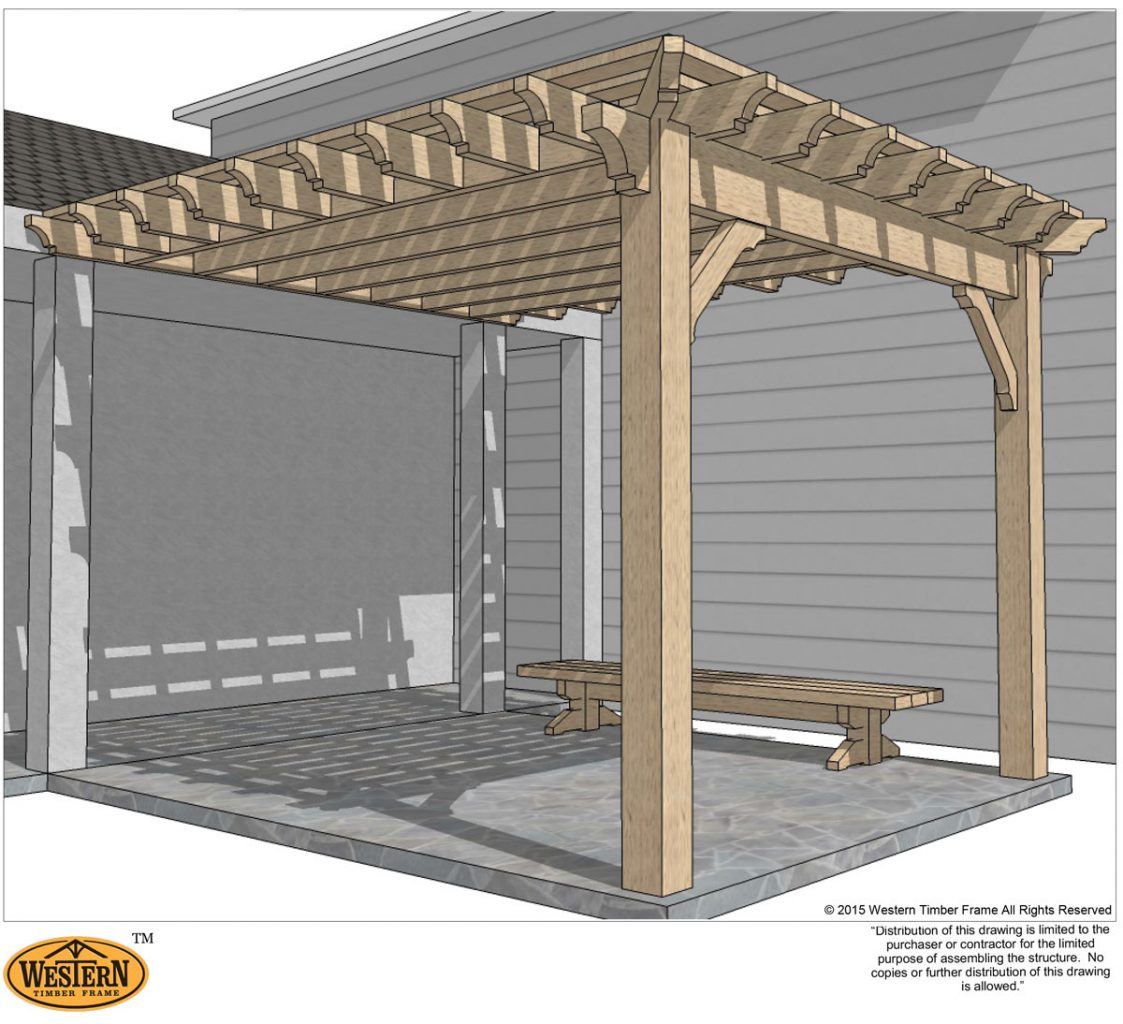 A DIY Patio Cover can be easier than you imagine.
There are many possibilities to plan and build a patio cover; every area is uniquely different. In spite of the differences from project to project, in most cases, in less time than the average turkey takes to bake, you could build a gazebo, pavilion or pergola to cover your patio. We have had families enjoying lunch or dinner beneath their newly erected ShadeScape™ kit the same day it was built.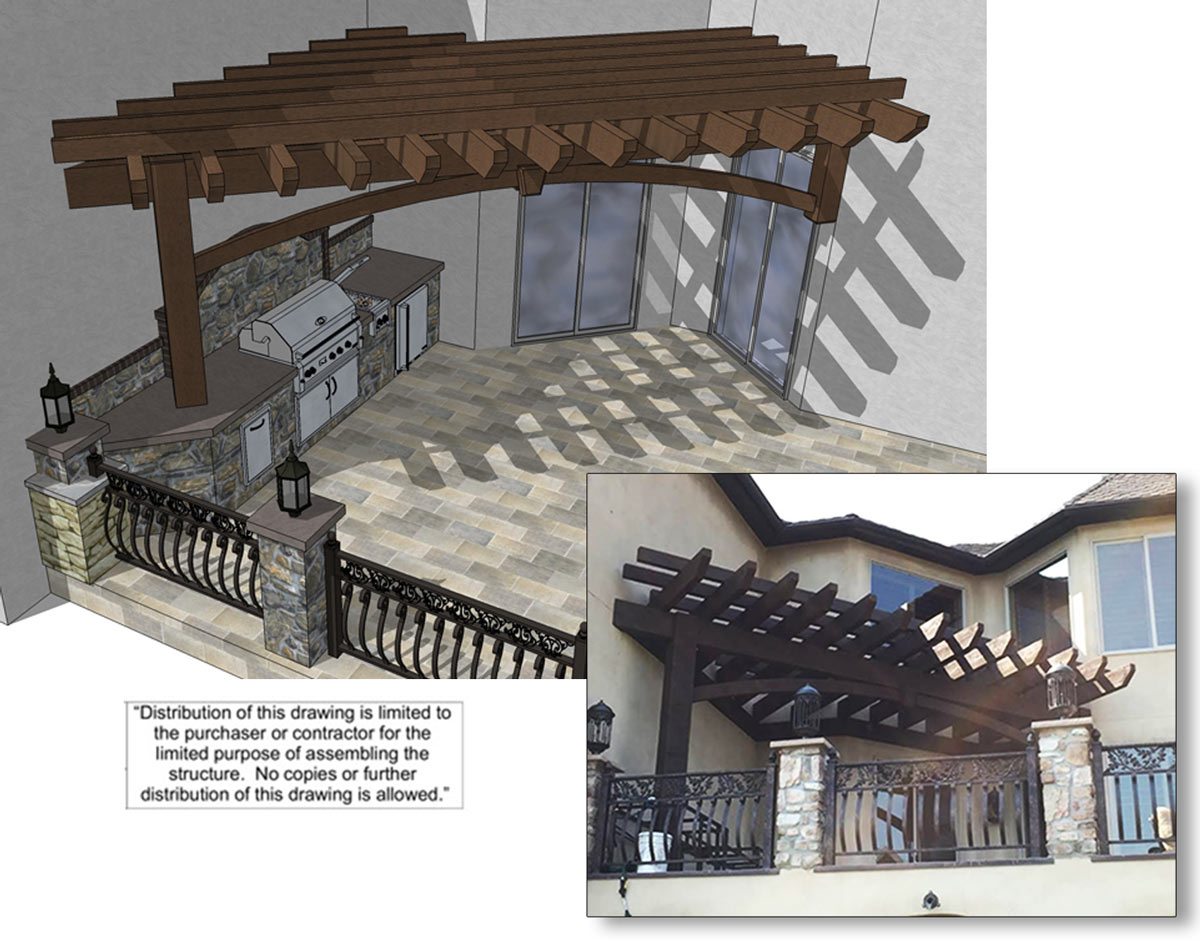 Covering a patio can extend your home and provide shade while reducing cooling costs. It also is perfect for multi-level homes/buildings, great for apartments and condos, entryways, existing patios, balconies, etc. to give more livable space. Best of all, it does not have to be a stressful or strenuous task. A patio cover can be quick and easy, built to last and stand against strong winds.
"It looks awesome!! Only took about 3 1/2 hrs. My brother said this is a GREAT kit!!! Said if you ever needed anyone to install in our area that he'd be more than happy to do it. Just wanted to let you know how excited we are!"
 Karen Reynolds – Enterprise, AL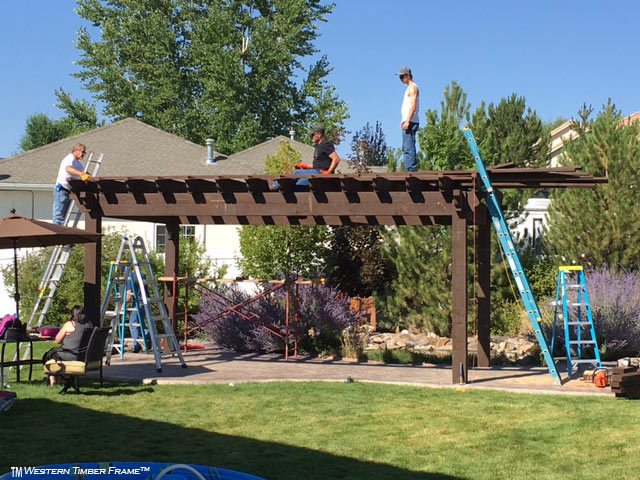 You may be wondering how building a massive, oversized timber frame structure can be as fun as our ShadeScape™ families tell us.
For many reasons, but firstly,
there is an essential element that makes a Western Timber Frame™ architectural ShadeScape™ timber kit far superior to conventional and ancient time-proven architectural timber frame structures.
The essential element is The Dovetail Difference™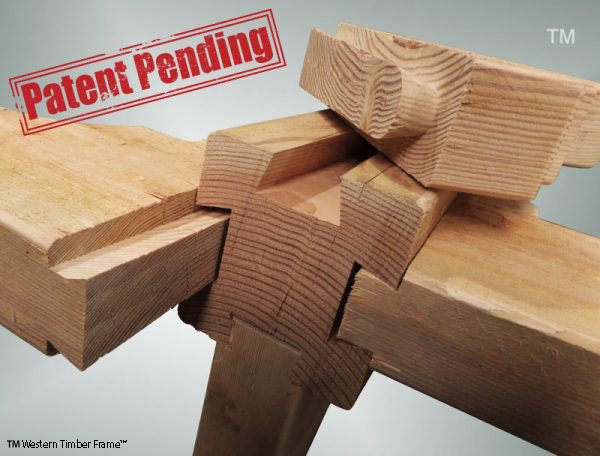 A revolutionary State of the Art award-winning patent pending design The Dovetail Difference™ connection system.
First, take a look at how traditional timber frame joints are made. . .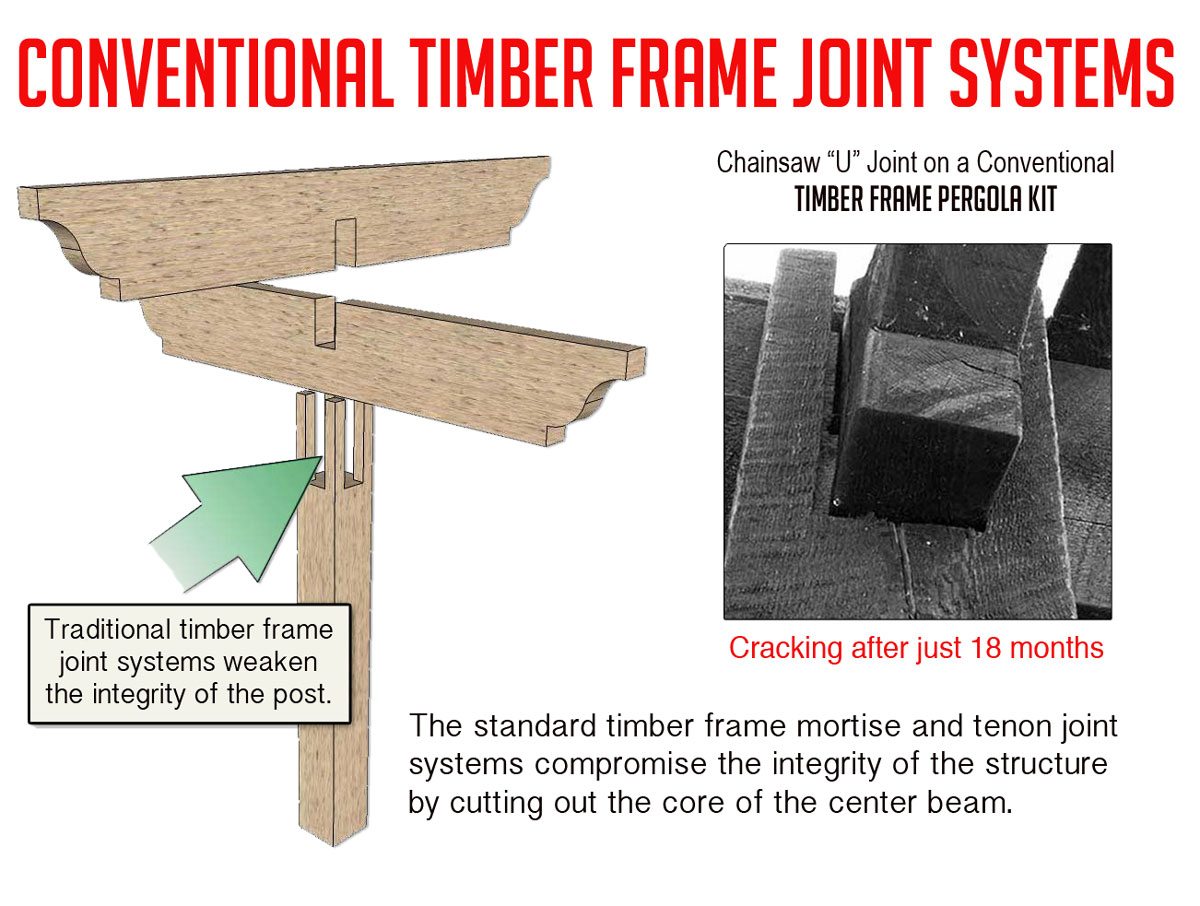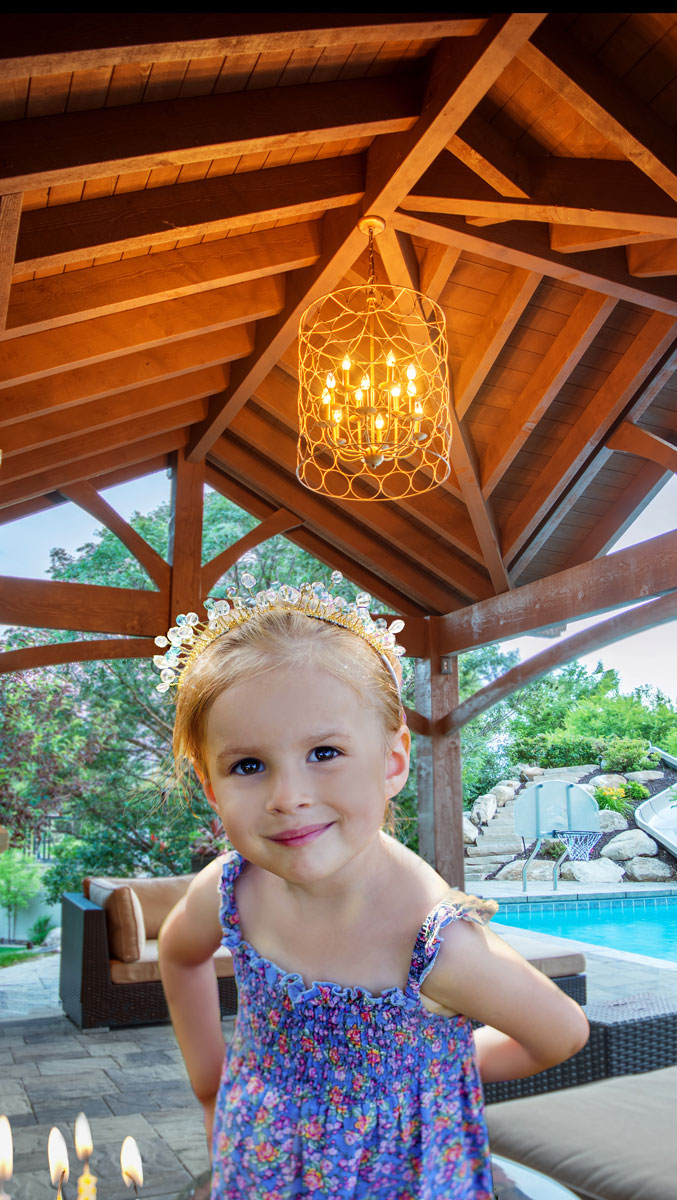 The Dovetail Difference™ is an Engineering Architectural Masterpiece
Here is how it all began and why it can be so easy to build a patio cover like a pro.
Innovation is a blending of inspiration and hard work. Hyrum is a natural born innovator. He has always had found joy in woodworking. To Hyrum, growing a beard, hard work and creating sawdust is so much play and having a good time. Timber frame became his love, but as always his focus was on making a better product.
It was Hyrum's dream to make it so easy to put together than anyone who desired to, could experience the same pleasure he feels in putting together a structural masterpiece. These structures are engineered implementing old world craftsmanship architectural principles that are time-proven and made to last for generations. Hyrum also saw that even in these excellent examples of architectural masterpieces there was a weakness in the overall conventional design.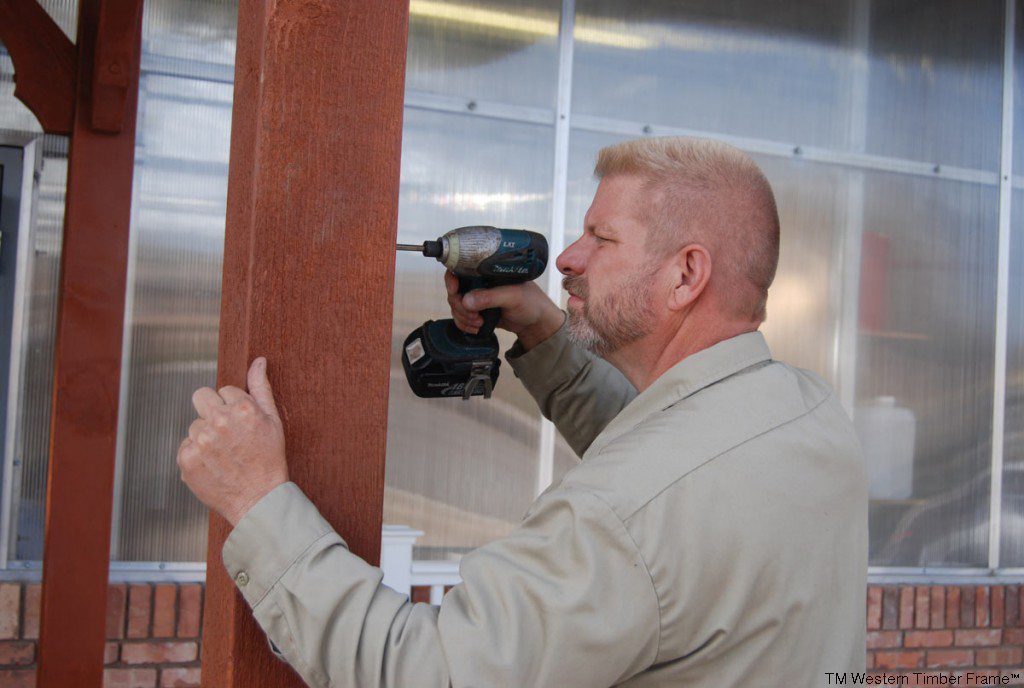 A timberwright, Hyrum, feels a deep connection with nature in these massive sized timbers.
In traditional dovetail timber frame joints, the integrity of the post was weakened by cutting out the center of the post. Using a chainsaw or skill saw method to cut, a timber framer would hack out a "U" shape through the post on both sides, then slide the other post through, lock it in and then bolt it in.
If a timber wright was skilled, they could get a pretty tight seam, and have it look great. However, after a few months, six months to a year, maybe two years, the timber would begin to have gaps and separations because of the nature of wood and the design of mortise and tenon systems. Wood expands and contracts especially in the outdoors wherein thin posts can become brittle and break off, and it does not look as beautiful.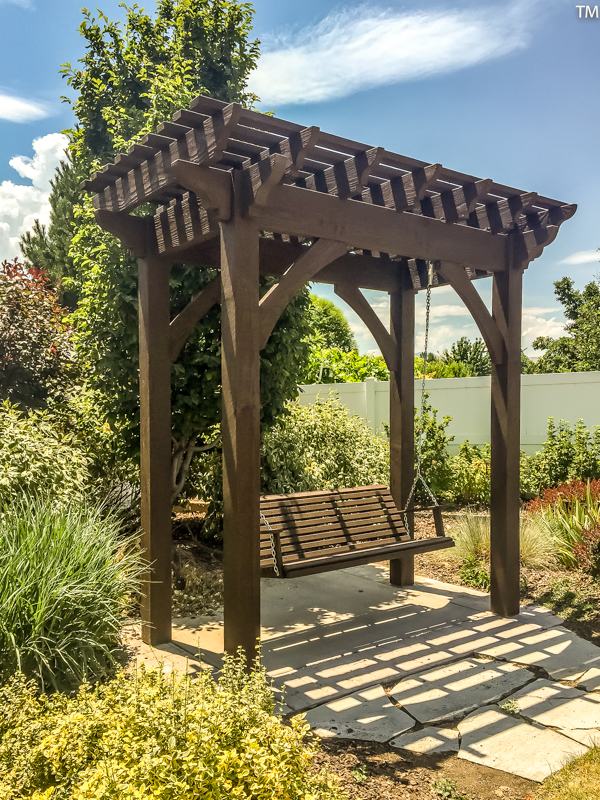 Hyrum shifted his focus and envisioned a new, better and stronger dovetail connection. Hyrum designed a was he termed 'The Dovetail Difference™'.
The primary factor in determining the strength and long-term durability of the dovetailed mortise and tenon would be the size and strength of the material under tension. Hyrum did not want to weaken the post by cutting out the vital center core. Leaving The tenons were vulnerable to breakage without the strength of mass and defeated the purpose of long-term durability of timber frame.
The idea came to Hyrum to create and invest in equipment wherein he could mortise a beveled notch while leaving the integral center of the timber intact.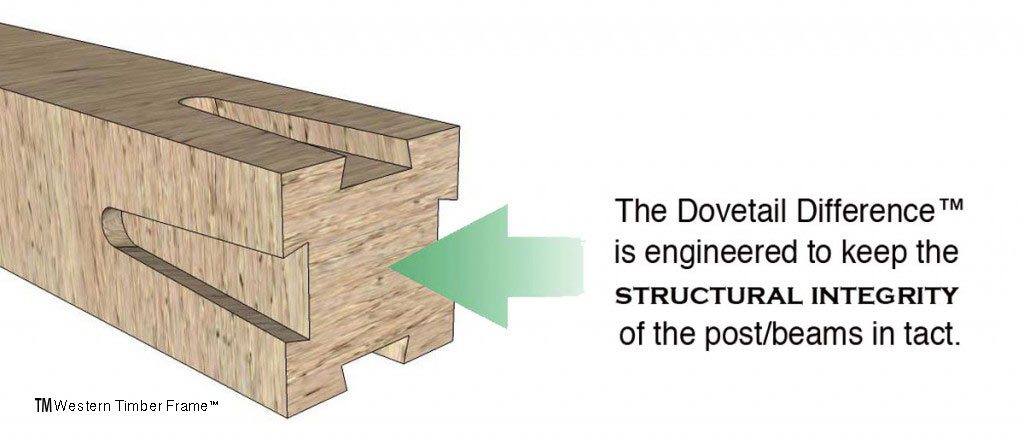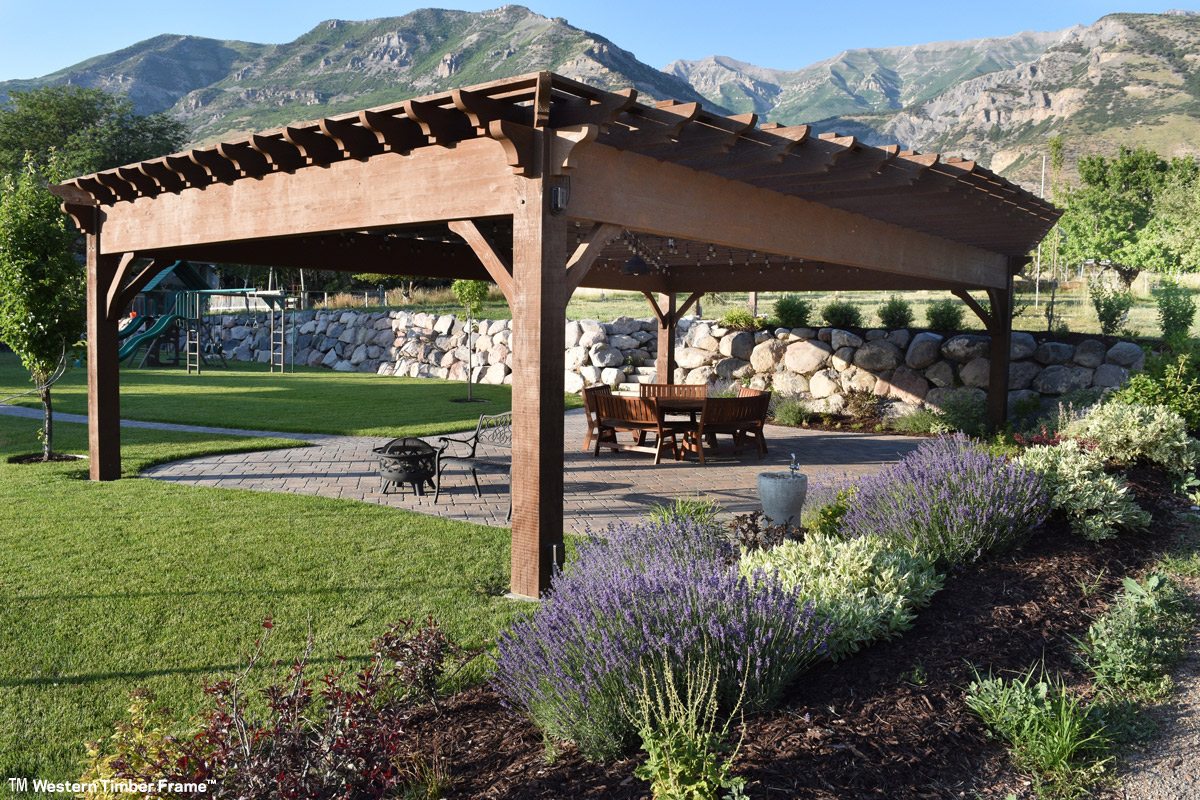 With The Dovetail Difference™, even on a large oversized 20' beam, a post will just slide in, lock in place with a extremely tight seam without unsightly gaps. It allows the wood to naturally expand and contract in the outdoors, wherein you will not see any gaps as it is behind the dovetail mortise notch. Not only did The Dovetail Difference™ prove to be stronger it also adds to the beauty of the structure by maintaining a tighter more aesthetically pleasing joint.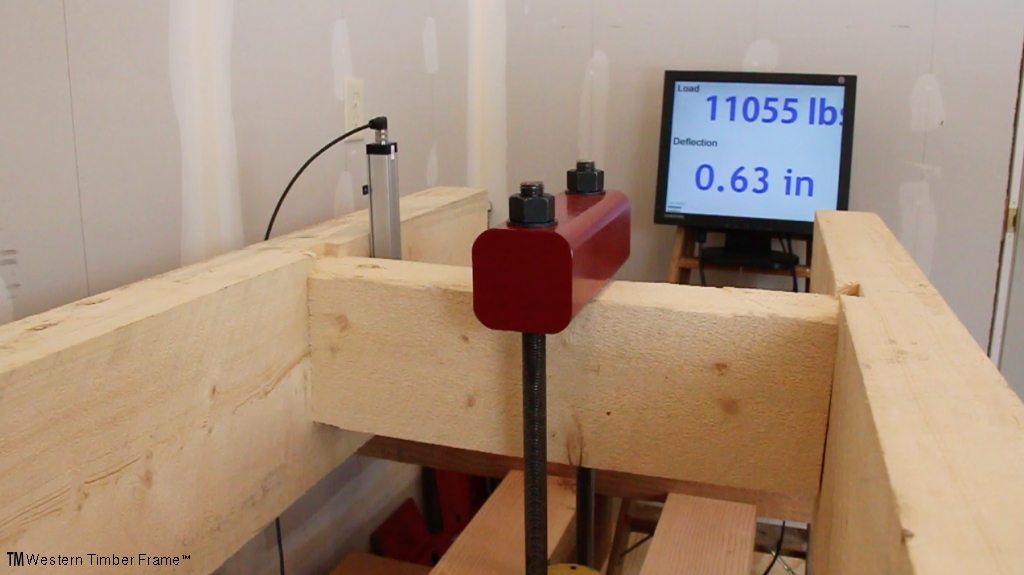 We use The Dovetail Difference™ design, a massive mortise and tenon dovetail joint system throughout our timber construction process that creates very strong, rigid joints. On the pressure test featured here the load bearing The Dovetail Difference™ joint didn't give until over 11,000 lbs.!
Secondly, we do all the hard work for you.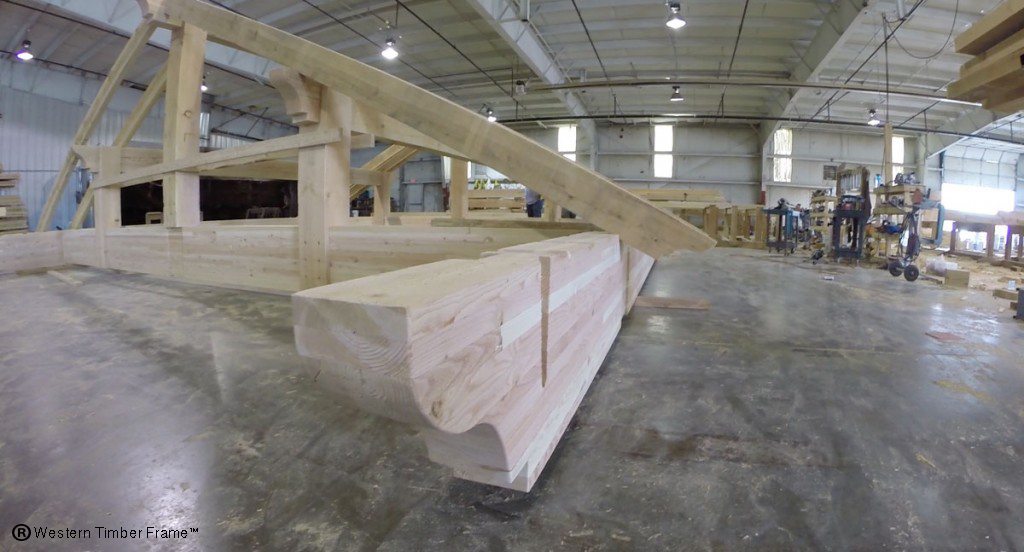 Timber frame DIY ShadeScape™ pavilion kit in the process of being pre-cut and pre-tested for an installation.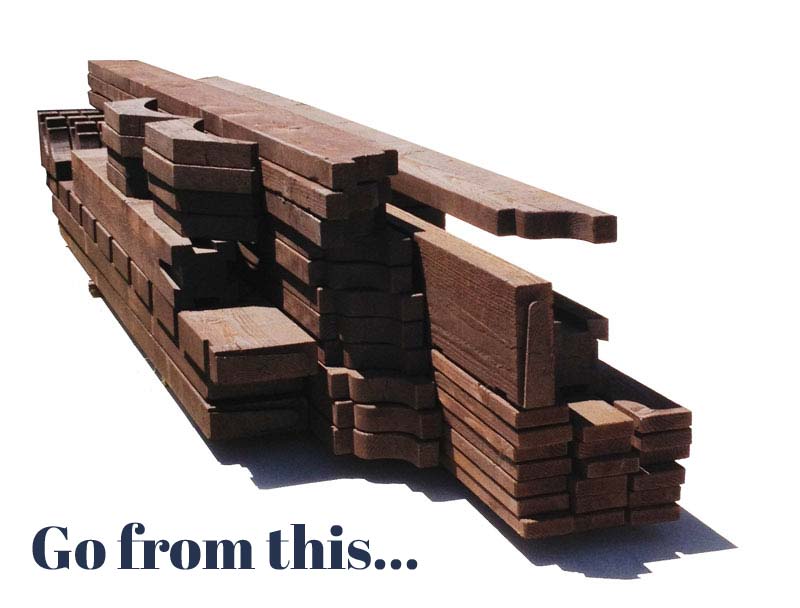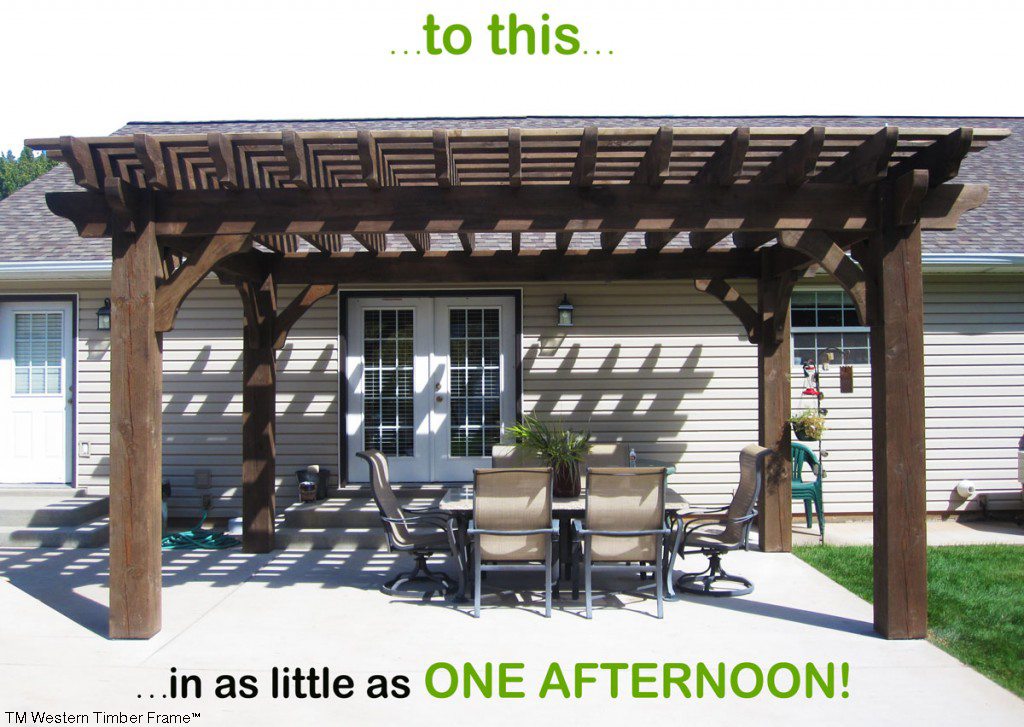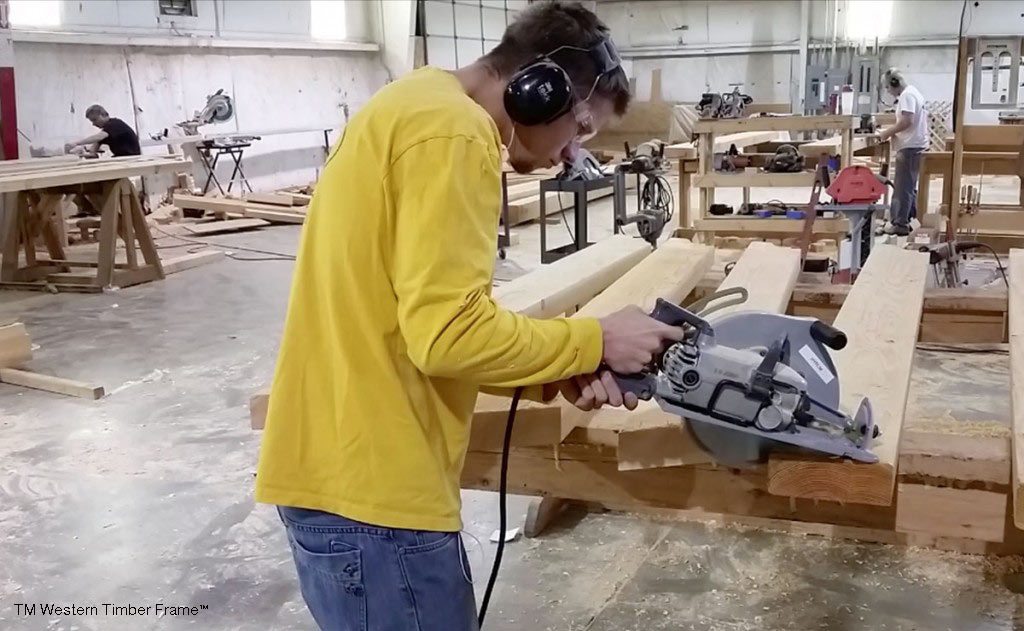 Every single piece is pre-cut, then assembled completely together in our shop and tested & pre-stained before it is ever shipped out.
All this to ensure your installation will be simple.
There is not an easier heavy timber pavilion or gazebo kit to install than the kits from Western Timber Frame™. In many aspects, they are often easier to install than even typical hardware store kits because their sheer size and strength allow for posts to stand upright. This combined with the interlocking joints makes for a straightforward installation.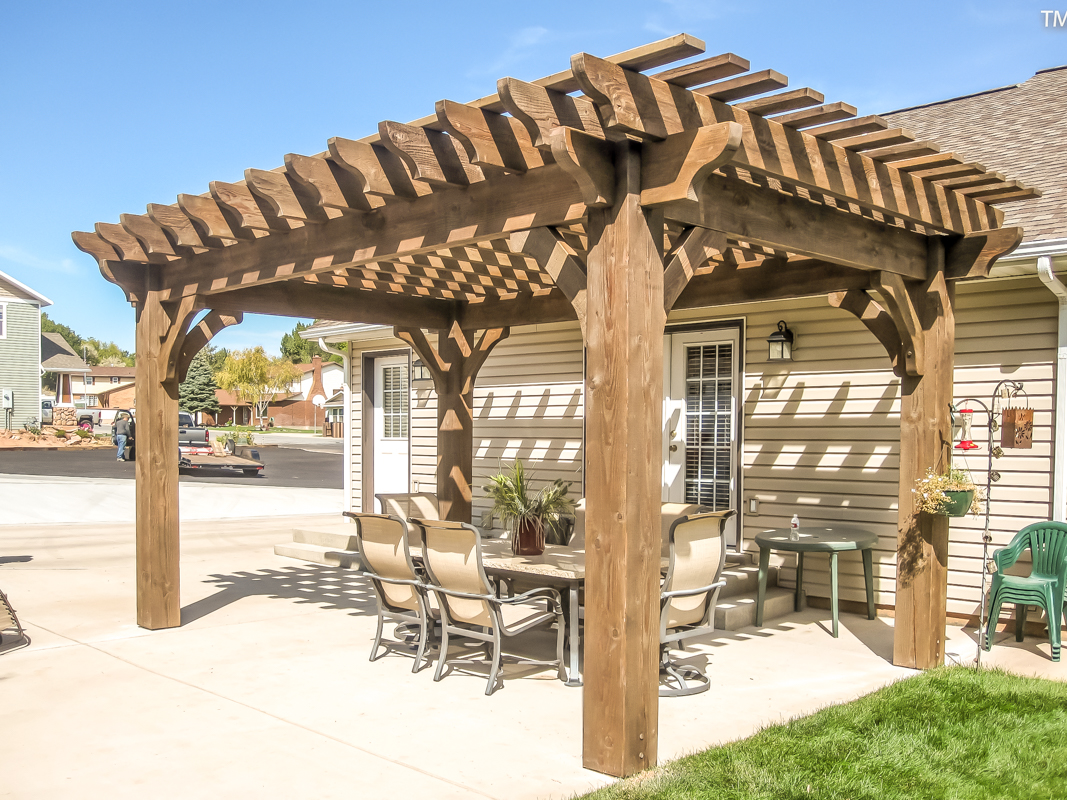 There are many components that create a faster and easier DIY shade shelters. Here are two more features that make these massive timber frame shelters so easy to install.
The Drop-in-Rafter™ Layouts & Post-to-Beam™ Connection System
Hyrum designed an easy Drop-in-Rafter™ and Post-to-Beam™ Connection System succeeding in his vision, by creating new innovative ideas that are easier applications, engineering timber frame ShadeScape™ DIY pergolas, pavilions, gazebos, arbors and other timber frame structures that are as enjoyable for the do-it-yourself client as it is for the client who wants to have it all done for them.
There are two main benefits of the drop-in rafter layout:
#1 Ease of installation.
Because the timber beam that supports the rafters is already marked and slotted, you don't have to measure anything or try to figure the proper spacing of your rafters.
#2 Prevents Warping & Twisting
The primary benefit of the drop-in rafter layout is that it helps prevent warping and twisting of the rafters year after year.
Below is a pavilion in progress with easy Drop-in-Rafter™ and Post-to-Beam™ Connection Systems.
Incredible Strength
Every Piece Pre-Cut
Every Piece Pre-Stained
No Exposed Hardware
Simple Installation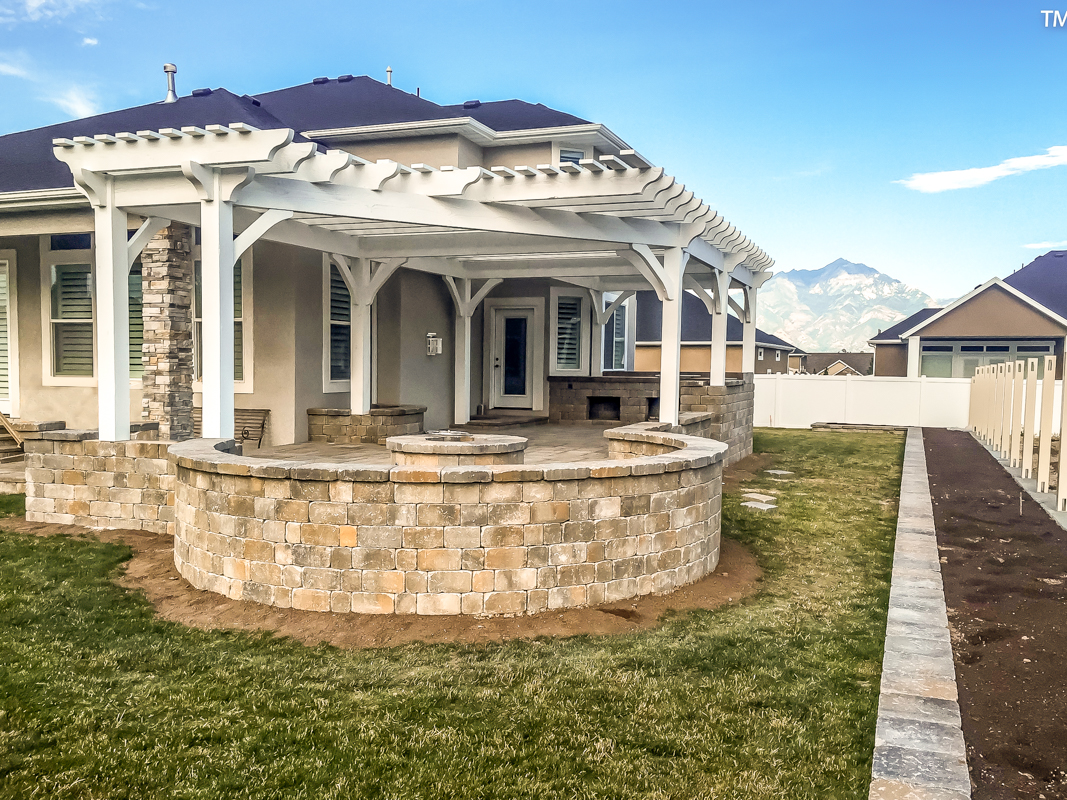 Each and every kit is unique and custom to each homeowners specific needs and specs. These are not cookie cutter kits.
All the measuring, cutting and layout work is done by experienced craftsman.
Shipping is
Free

Across the Contiguous United States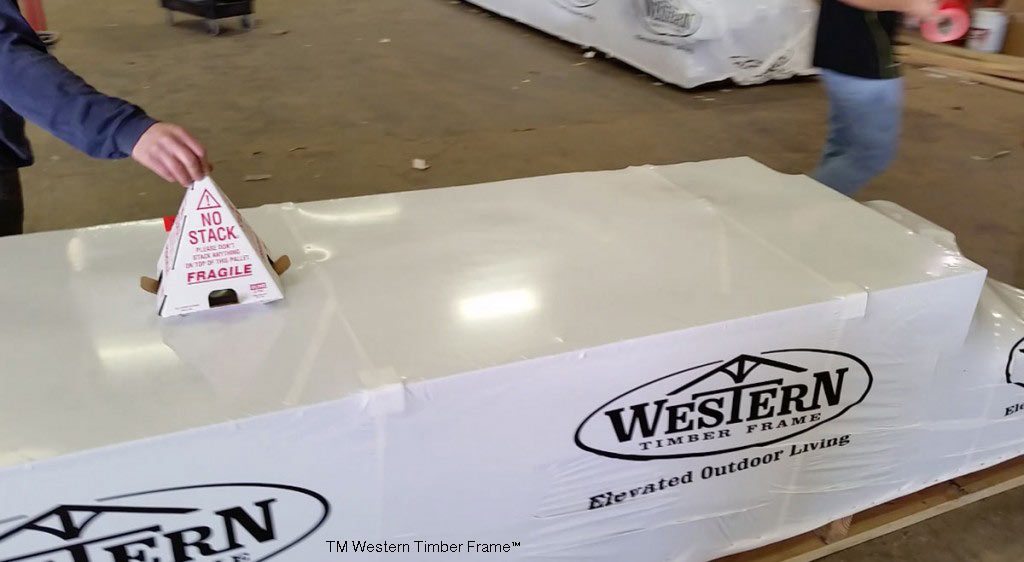 Even though these are tough, durable, solid timbers, every effort is made to protect the kit through every step, from beginning to completion.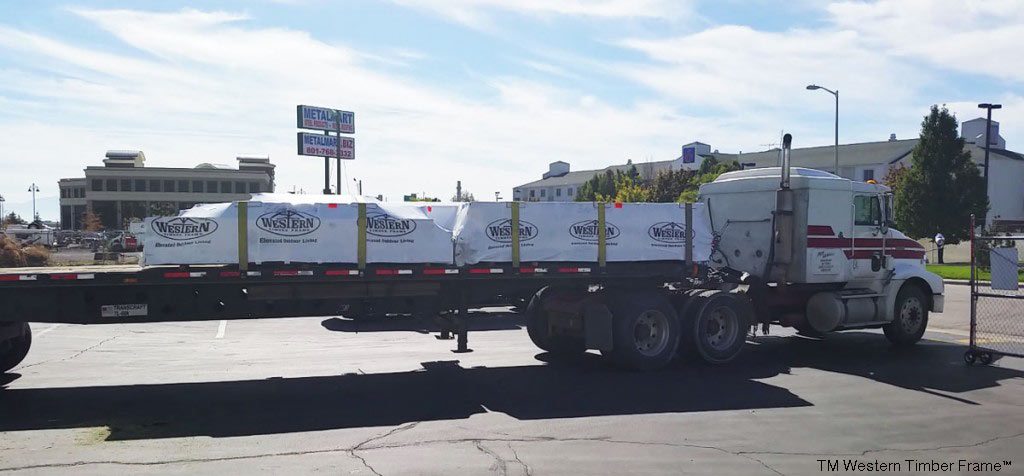 A great semi truck driver pulling out with a new timber frame ShadeScape™ kit to another do-it-yourself person helping to build a more beautiful America!
With a ShadeScape™ Timber Kit You Can Easily Build Your Own Patio Cover!

"Before I found them, I was going to have one self built. But when I found them it was kind of a no brainer to have them manufacture it. Because I wanted something heavy. Rather than the light little you know 2x4 or 2x6 construction. I wanted something that was heavy and sturdy and looked proportional." - Lindsay Andrus - UT