Building an Easy DIY RV Cover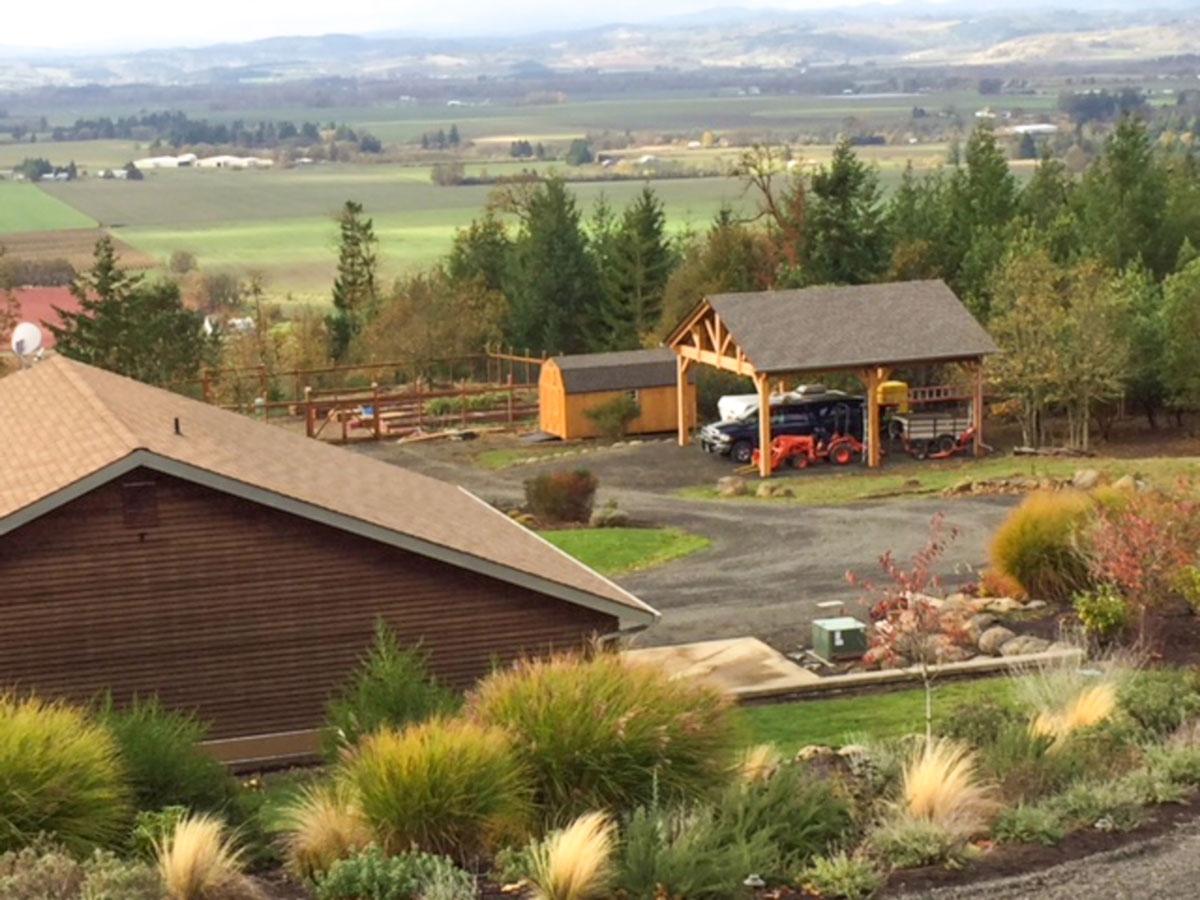 In the beautiful State of Oregon, the Bush family installed their solid Cedar wood Pavilion Kit. They are delighted with their pavilion to cover their recreational camper. It is also large enough to cover their truck, tractor and some farm equipment.
Recreational vehicles, trucks, tractors and farm equipment are all big investments. Whether you travel and need to safely store your RV or other recreational vehicles, operate a family-run farm or a large agricultural enterprise, a timber frame pavilion is a cost-effective solution to protect your valuable equipment.  A ShadeScape® kit is easy to install. Best of all, you can quickly do it yourself.
The Bush's ShadeScape® DIY Pavilion Kit measures 27' 8" x 30'. The posts are 10" x 10", a 10,000 Series ShadeScape®. Every pavilion kit is designed to the landowner's needs. Though they are kits, these ShadeScape® kits are not a "cookie cutter" kit. The key to being an easy to install kit is that each piece is pre-cut, pre-drilled and pre-assembled and tested in the shop before it is ever shipped out. Wherever you are located across the country, you can easily erect the DIY pavilion cover yourself. We have had clients express how amazingly fun it is to experience being a timber-wright and put it together. In many ways like an old-time barn raising that your family can do yourself, or with the help of a friend or a neighbor.
Commercial tarps, portable garages, and canopy covers could provide temporary protection, but the Bush family wanted something that would last. The Bush family sent us these photos of their completed installation.
Thank you, Bush family for the pictures. You did an awesome job!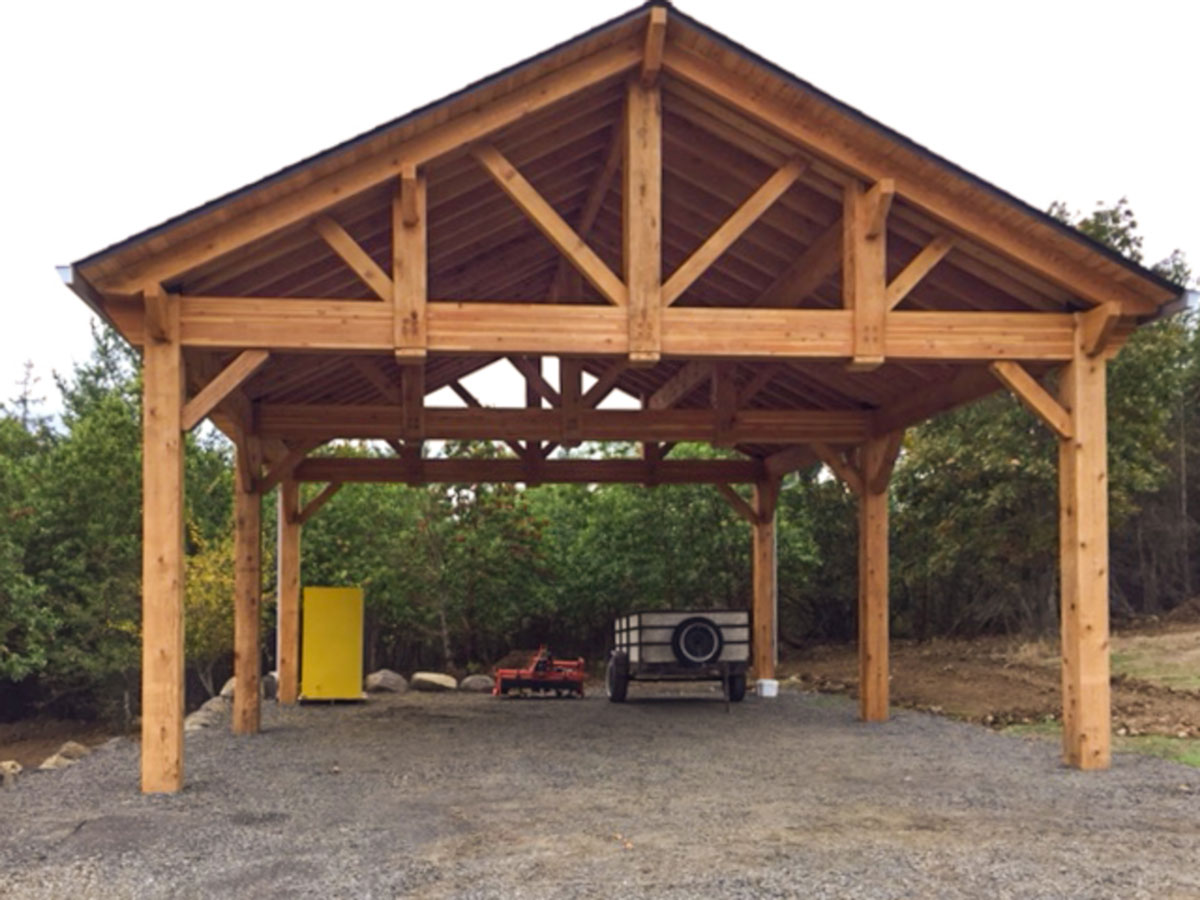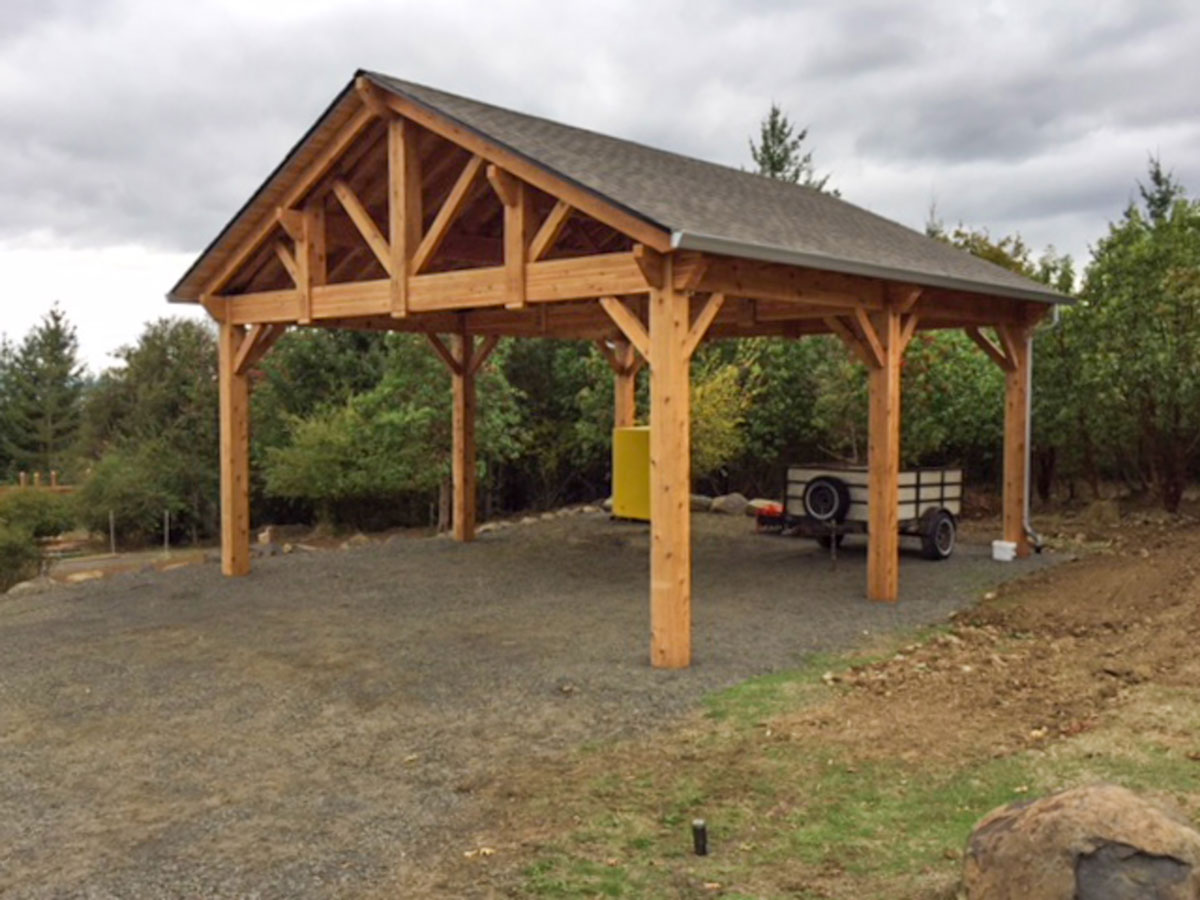 A ShadeScape® do it yourself pavilion cover is built with old world craftsmanship, interlocking mortise, and tenon joints. You slide them in place much like a child's toy of Legos or Lincoln Logs. The beveled trapezoid joints lock into place allowing the wood to expand and contract with a tight joint system naturally. Without the use of brackets and unsightly nails and hardware, the interlocking joints become an extension of the wood itself that won't pull apart. Buildings using these engineering principles have proven to stand for centuries of time. Western Timber Frame™ has excelled the standard "U" joint system with a revolutionary The Dovetail Difference™ design that in testing is 500 times stronger than conventional timber frame hangers.
Whether you need a recreational vehicle cover; a truck, tractor, farm, commercial or industrial equipment cover, you can install a DIY pavilion or pergola kit in as little as ONE AFTERNOON. Check out our gallery or talk with a Design Manager for more ideas.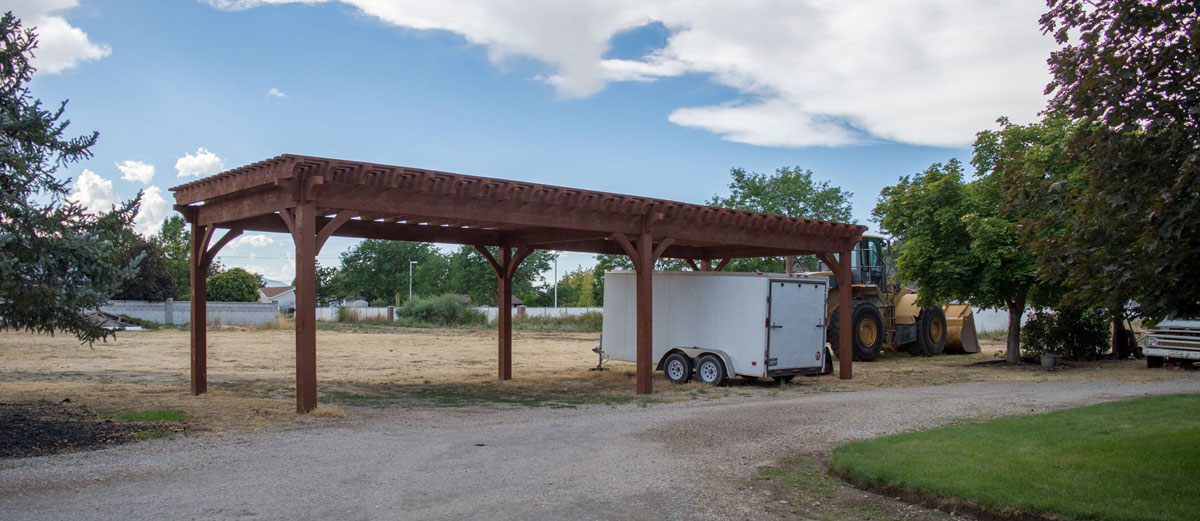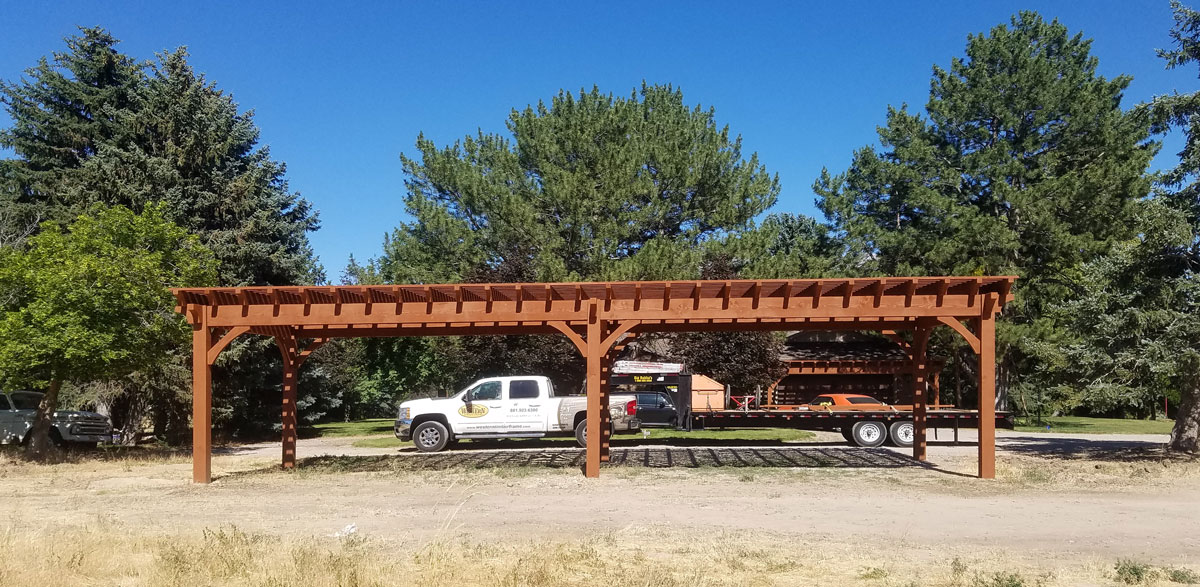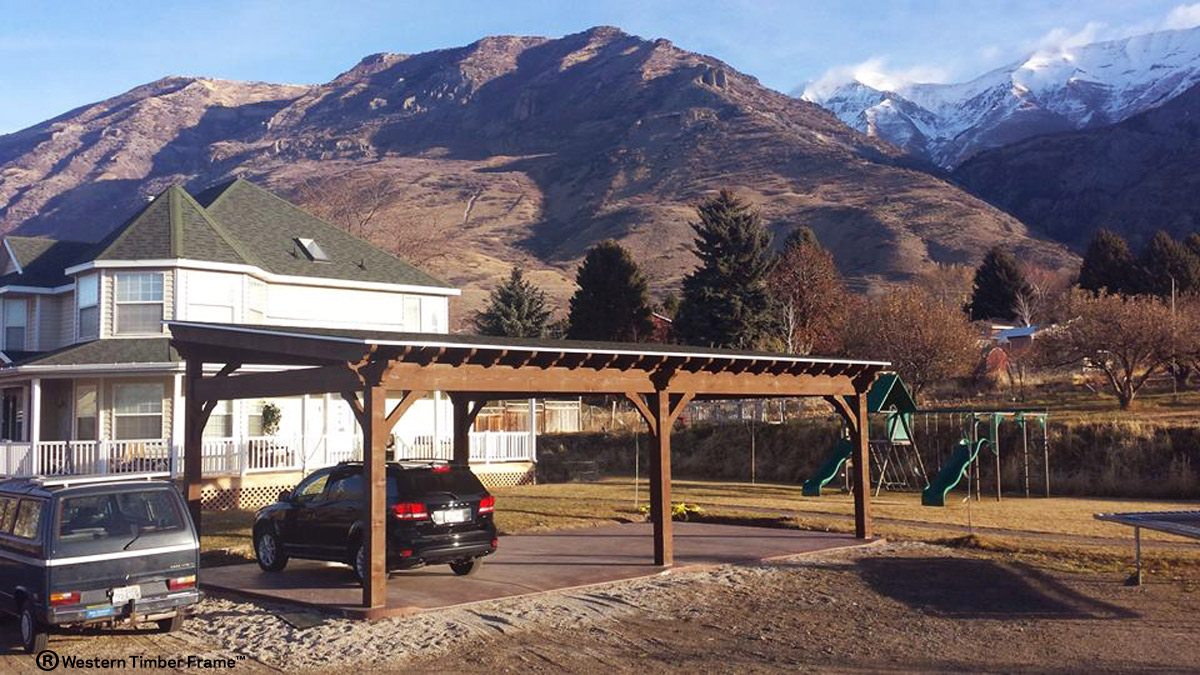 Cost Evaluation When Purchasing A Heavy-Duty Carport RV Shade Shelter Kit
First, let's talk about differences in cost and maintenance of a DIY ShadeScape® Carport RV cover against conventional metal, dimensional lumber, vinyl, or reinforced aluminum car and RV covers. Obviously, cost needs to be one of your first considerations when making a decision. We build a wide variety of structures custom fit to your budget and needs.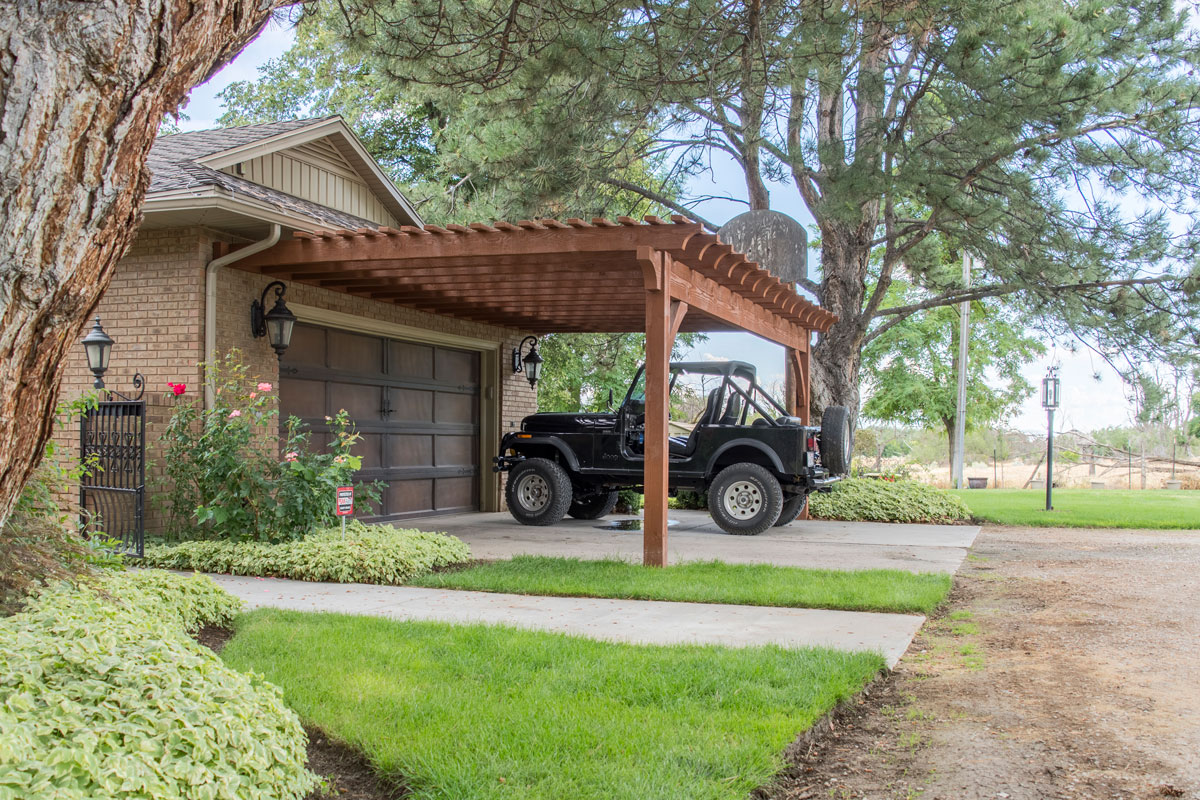 When it comes to weight, pound-for-pound a Western Timber Frame™ pergola or pavilion kit costs less and has less maintenance.
Most importantly: will still be beautifully standing long after the demise of that conventional metal, dimensional lumber, vinyl, or reinforced aluminum cover. That said, you can typically expect the upfront cost of a ShadeScape® Carport RV cover to cost 4 to 6 times more than (for example) an aluminum carport cover.
So, why is this?
#AmericasBest #BackyardPergolaKit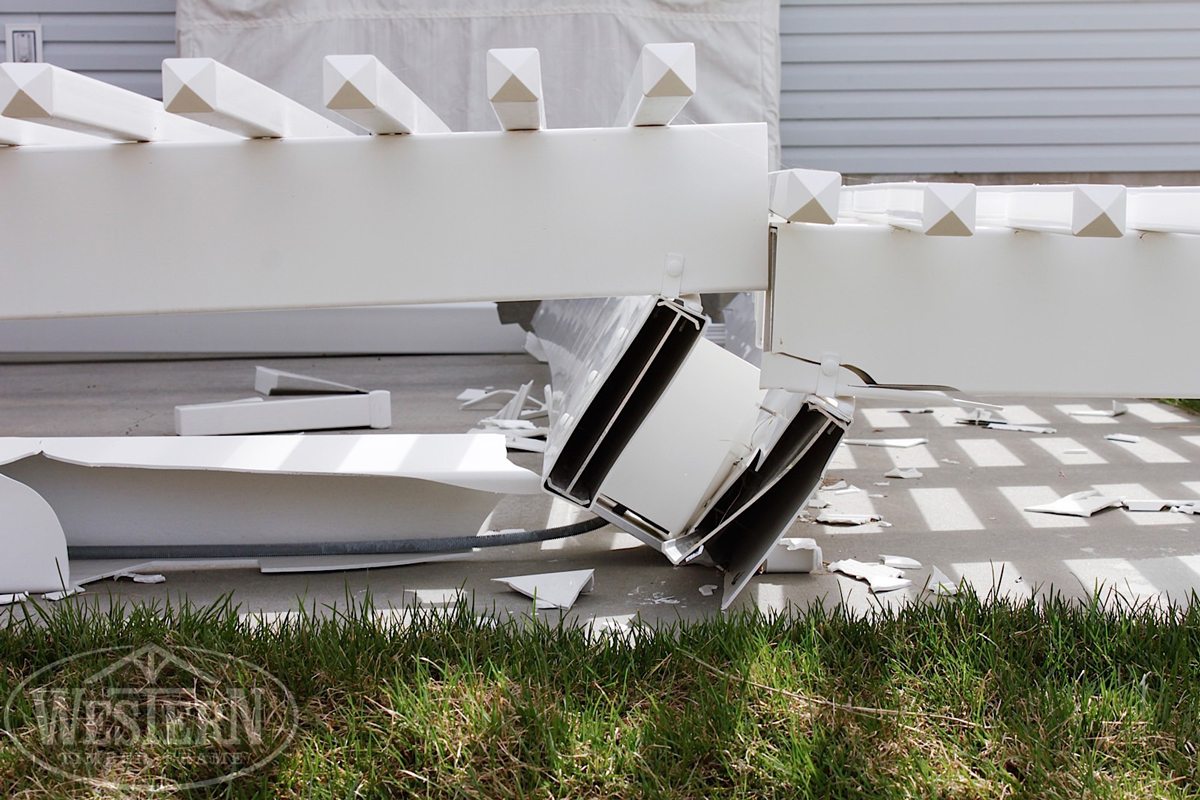 Wind-Blown Aluminum Reinforced Pergola Kit
More Material in Larger-Sized Carport RV Covers
Motorhomes, 5th wheel RVs, diesel pushers, boats, etc. are a few examples of recreational vehicle that vary in size and luxury — from a fold out camper to eclipsing a tiny home in square feet. Along with types of equipment, recreational vehicles can require extra height; which requires the utilizing of more timbers. This is why as a general rule, a vehicle cover will cost more than a standard ShadeScape® outdoor living pavilion.
Pound for Pound, Weigh In On What You Are Getting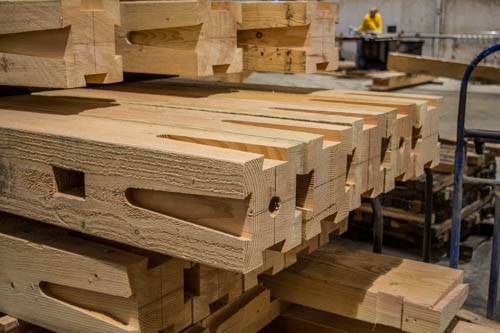 We ship ShadeScape® Pergolas, Pavilions, and Arbors daily throughout North America. These kits range from 2,500 – 11,000 lbs. and often larger on commercial or large custom projects.
The average shipment weight of a ShadeScape® kit is over 5,500 pounds. Because of the sheer mass and weight of the timbers, kit it is transported by freight.
ShadeScape® timbers are NOT a small bundle of wood or dimensional lumber from your local big box hardware store. These structures are massive in size, unlike your average cookie cutter pergola kit.
Conventional kits will typically weigh somewhere between 200 and 380 pounds. A big box store kit will generally run between $800 to $2,000 and will fits inside 2-3 cardboard boxes. That's a huge difference!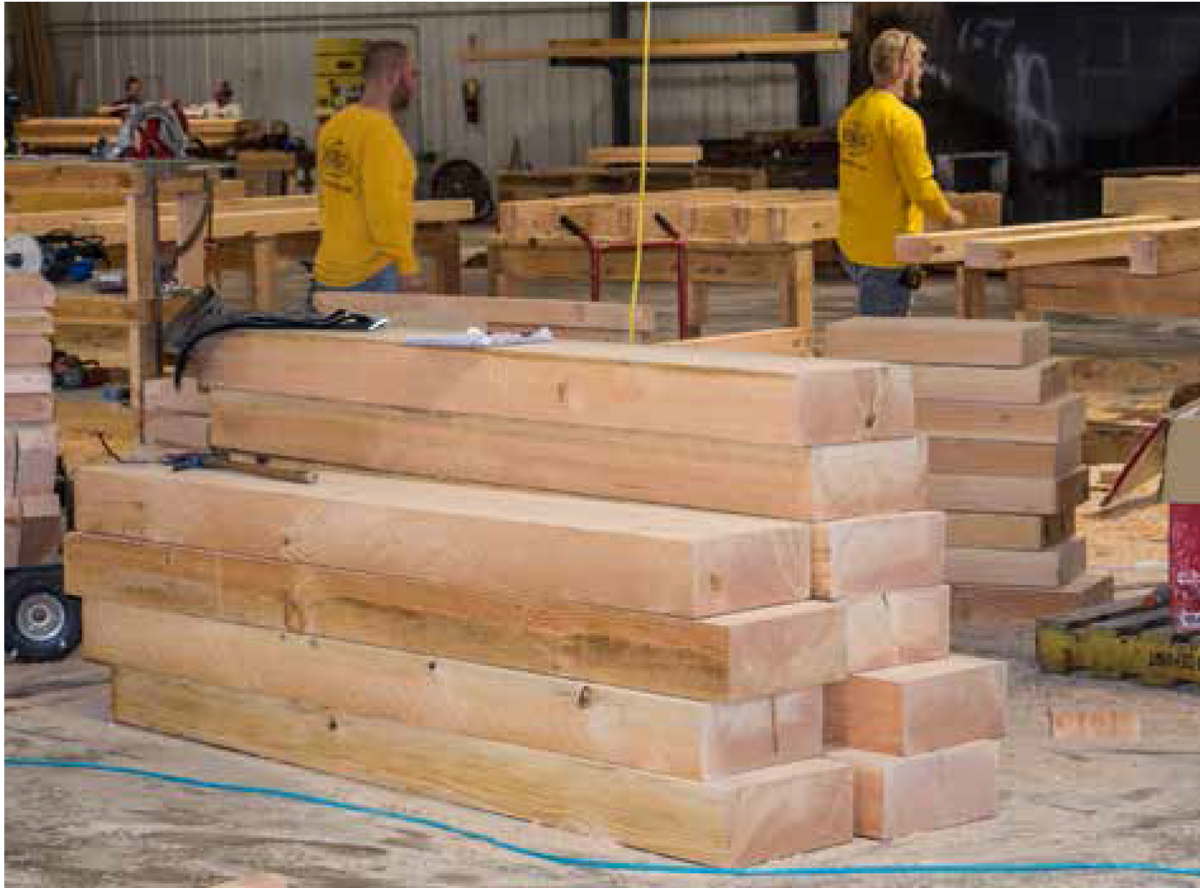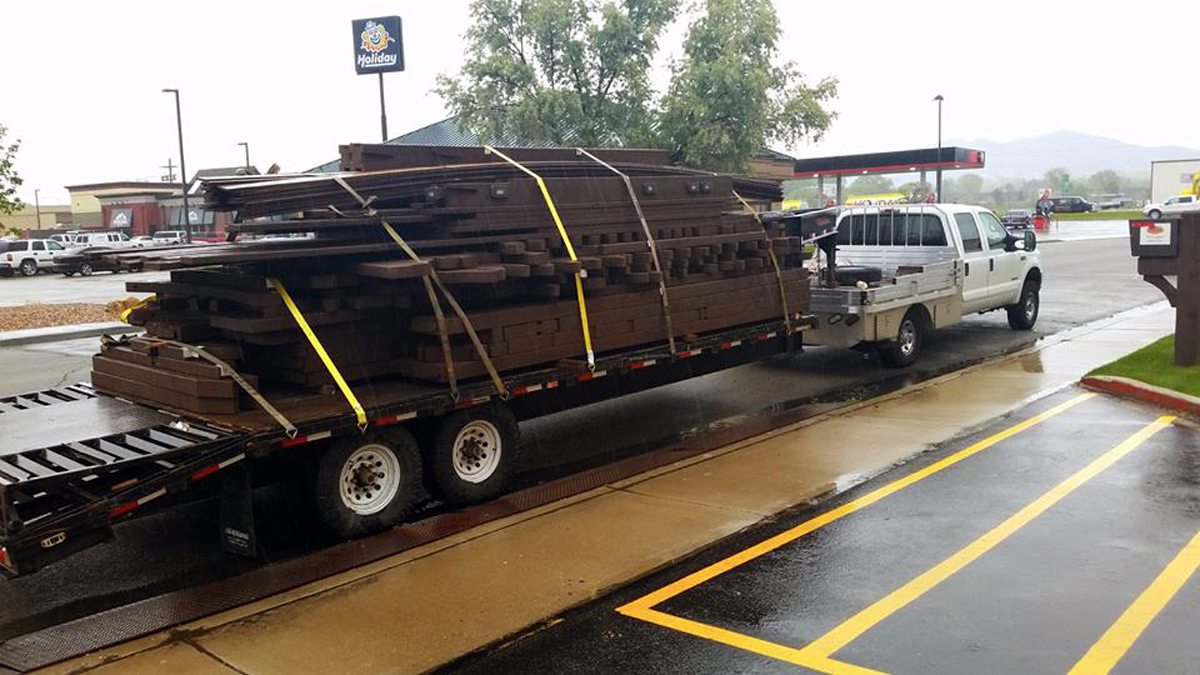 Remember, our structures are 10 to 30 times the weight of commercial or big box store kits. And as I stated previously, when we ship your kit, it is going to come on the back of a semi-trailer.
Packaged ShadeScape® structures have an average of 16 feet in length, and 36 feet in height, and 48 feet with the width. We build custom heavy-duty pallets to ship these ShadeScape® kits to sustain the mass and weight of the timbers.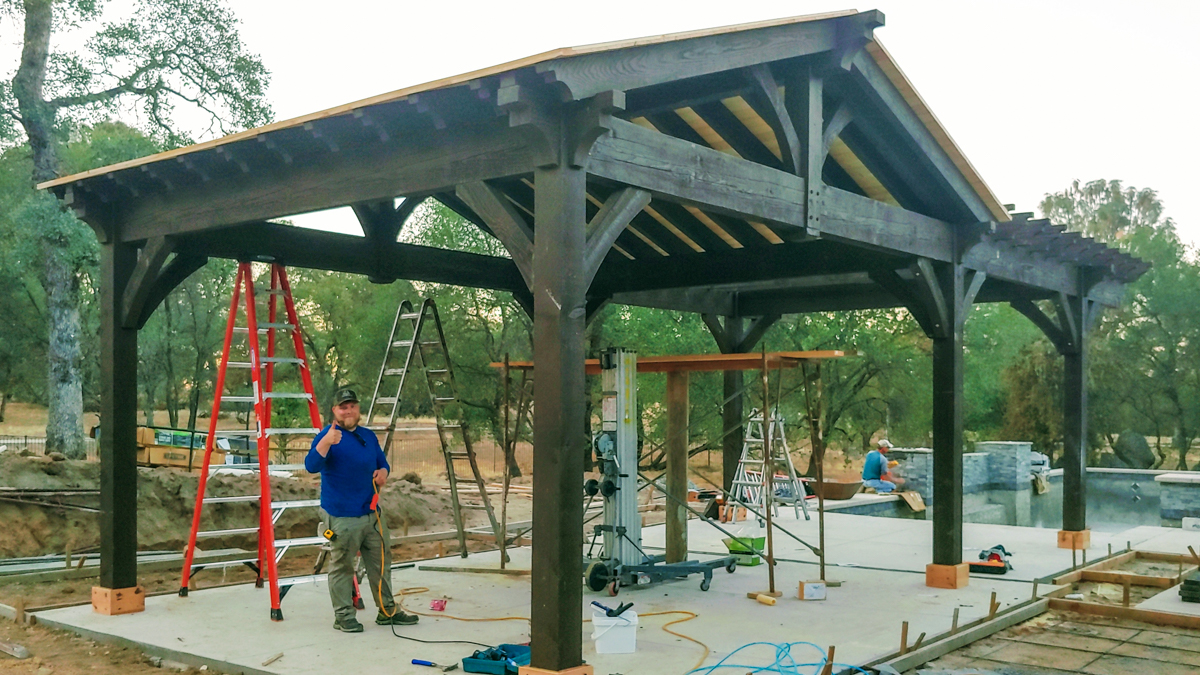 Not to worry though, despite their massive size, they are easier and quicker to assemble than smaller less sturdy kits.
Western Timber Frame™ utilizes The Dovetail Difference® joint method for our beam-to-post connections. Everything is pre-cut, pre-finished, and pre-fitted. We make it easy to assemble.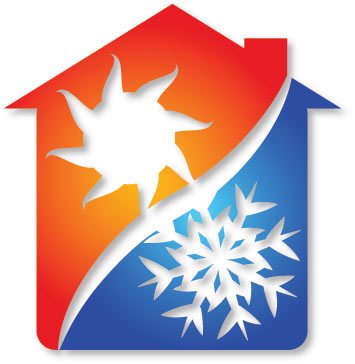 Timber Is a Cooler Cover for Your Vehicle
Cool off your vehicle with 100% genuine wood. Wood is the world's best insulator and can carry two different temperatures at the same time on either side, warming up on cold days and cooling off on hot days.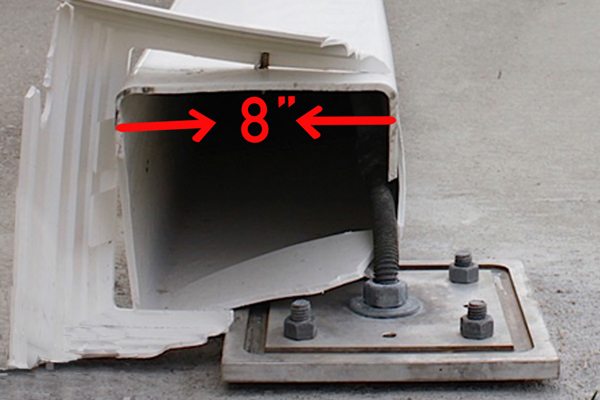 Vinyl Wind-Damaged Pergola Post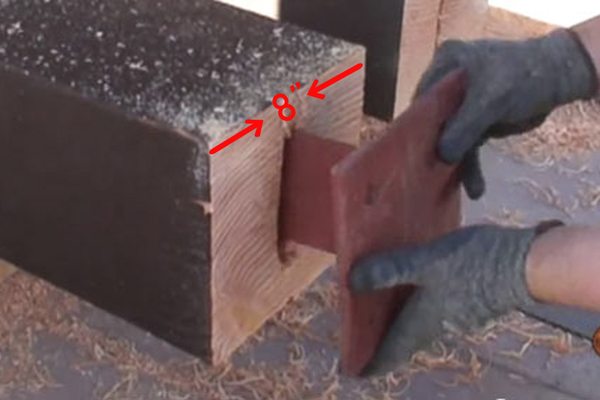 Inserting ShadeScape® Steel Post Plate
Wind-rated aluminum reinforced vinyl is offered as a lightweight, low maintenance and cost effective alternative to modern shade structures. Of all of the pergolas or pavilions replaced by Western Timber Frame™, Vinyl is the #1 most replaced material. All materials have some upkeep and maintenance.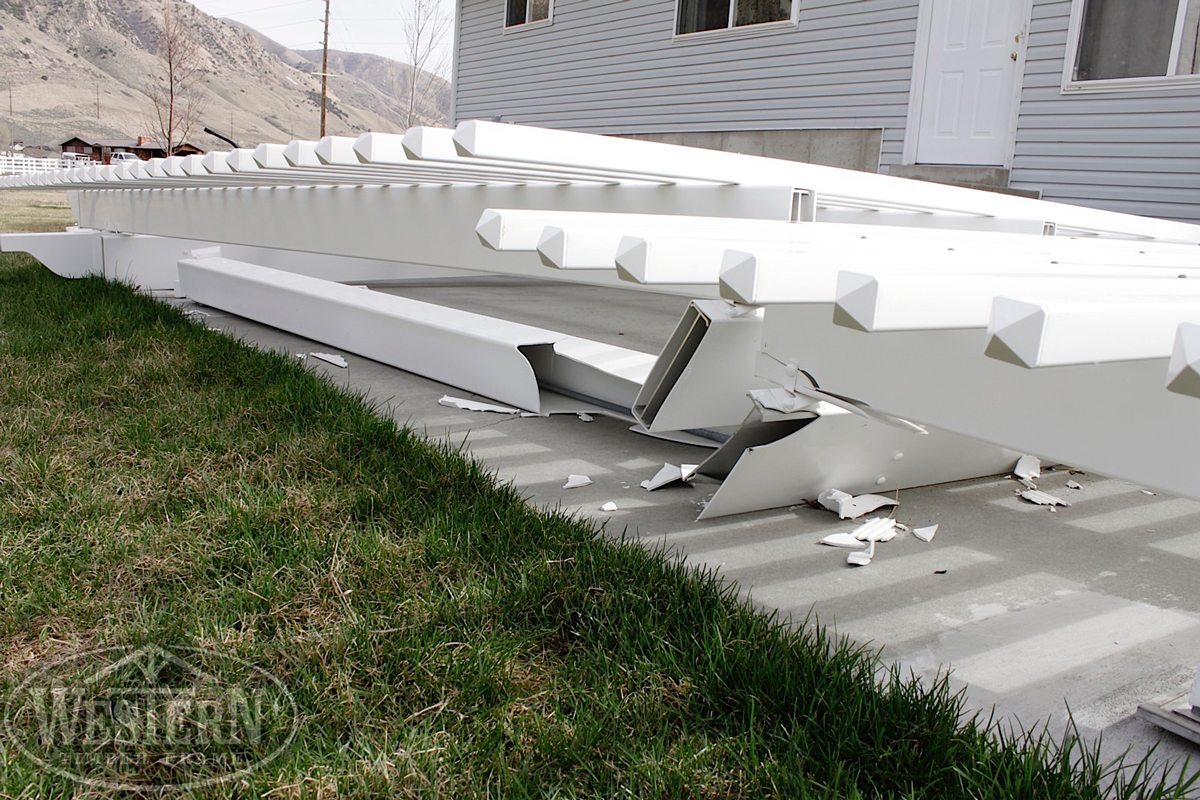 This is a "steel reinforced" vinyl pergola Western Timber Frame™ was asked to replace recently. Like many other vinyl pergolas they have replaced, this one was steel reinforced, supposed to stand up to wind and snow, etc. This kit cost this customer over $6,500, and the national brand company they purchased it from would not do anything to help them.
A warranty is only as good as the company behind it. Luckily for this client, their home insurance covered the damage and they are able to replace this kit with a ShadeScape® that will stand.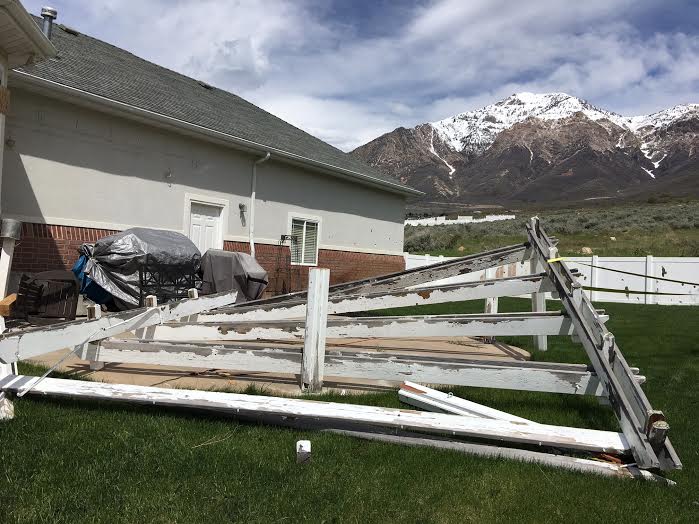 Wind Collapsed Wood Pergola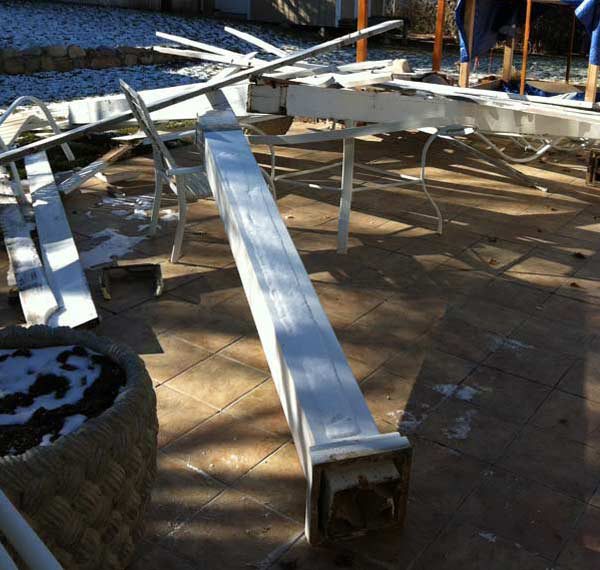 Wind Collapsed Reinforced-Aluminum Pergola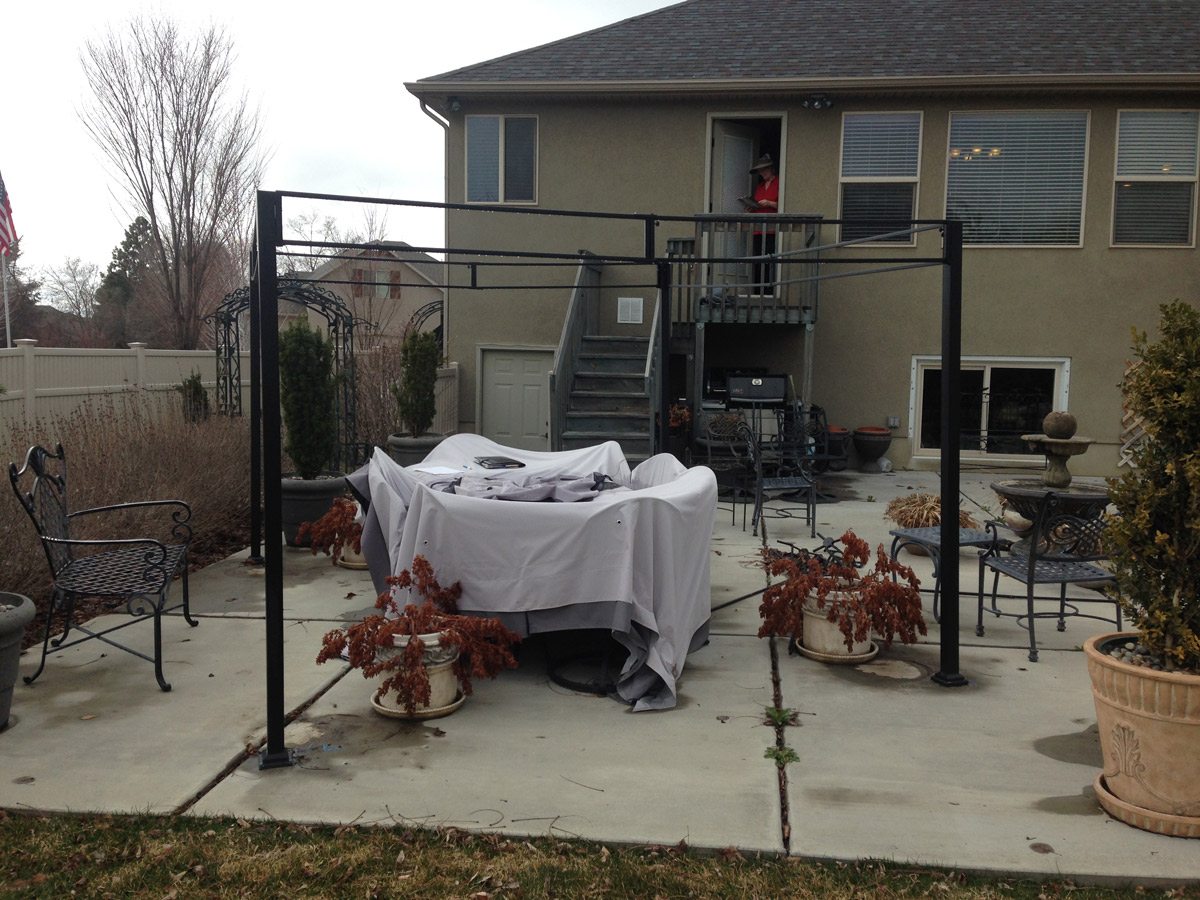 Wind Bent & Damaged Metal Pergola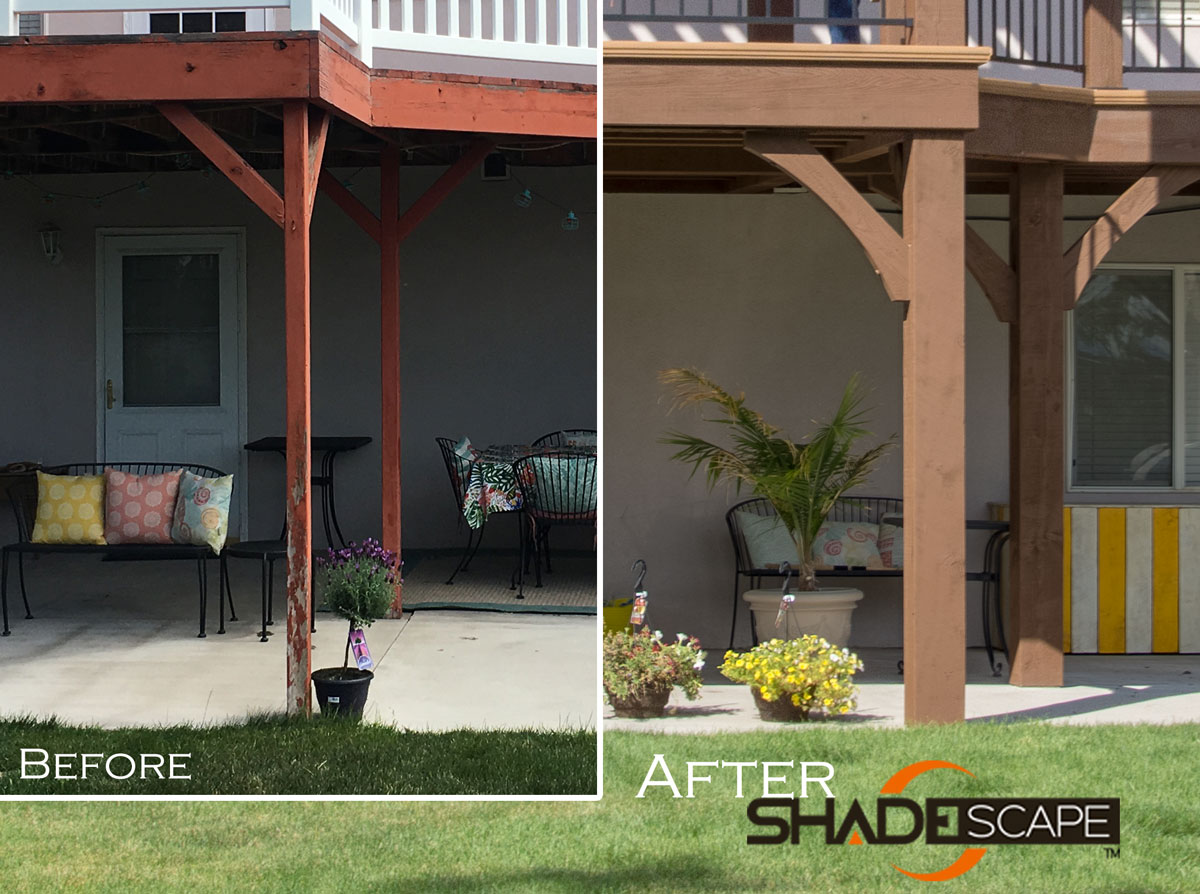 Maintaining integrity isn't just about the materials it is made from but also how they are put together. The old deck had vinyl railing that would move if you leaned on it. Vinyl is soft and pliable anyway, but it also weakens, breaking down in the sun over time. Thankfully, timber and a metal railing gives the "muscles" and "power" this deck so needed. ShadeScape® structures are resilient and will maintain integrity.
For centuries dovetail mortise joints have been used for wood-to-wood joinery. We have used dovetail mortise and tenon joinery on our pergolas and pavilion for many years, and our customers can attest to the strength and durability of The Dovetail Difference®.
ShadeScape® Pergola Stood Strong Through Hurricane Irma!
"Are you kidding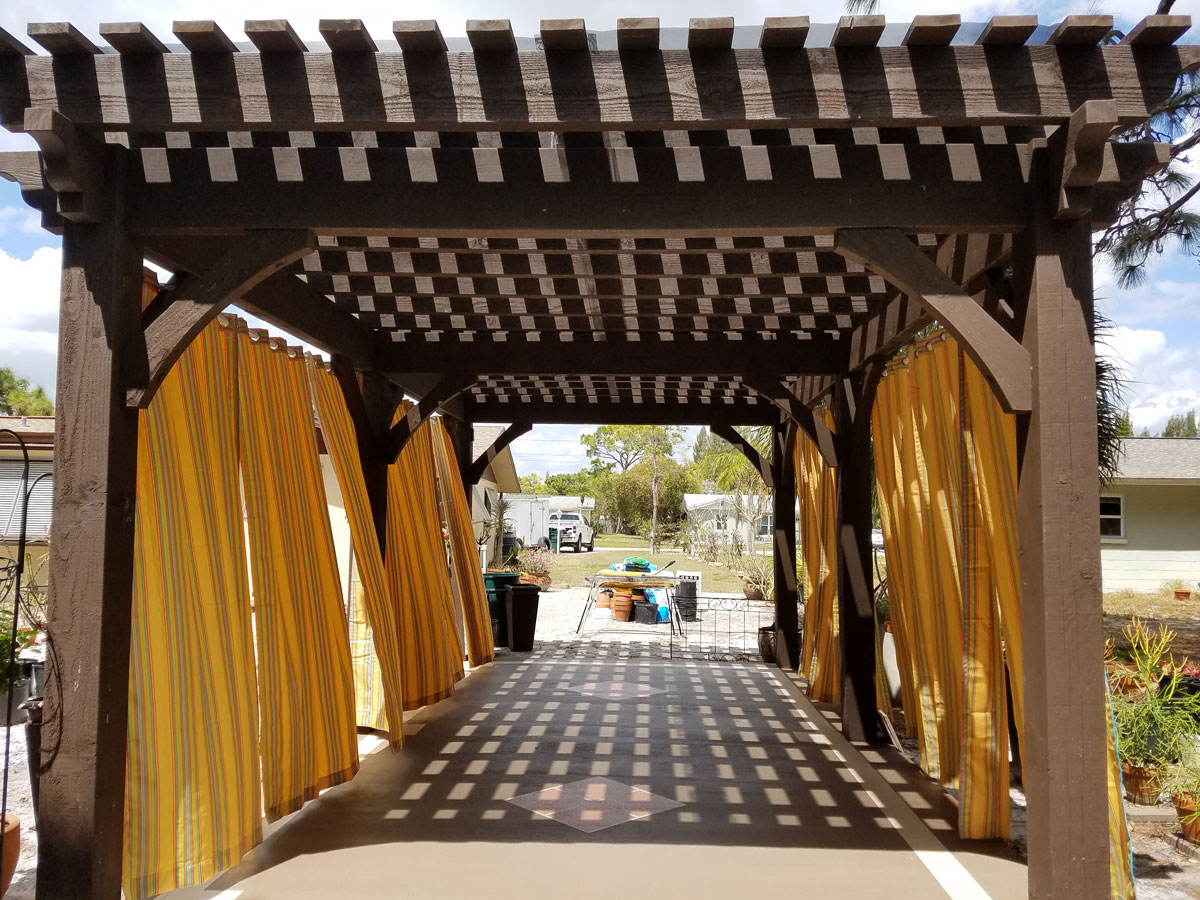 this Pergola has already been through its first hurricane, Irma. She stood tall and proud and never wavered.
Our neighbors with us sat under her and watched as men from Texas cut trees down off the lines and restored our power. Thank you for your wonderful product she gave our neighbors shade when there was none.
Be proud of your product. Thanks." — Kenneth Baker, Florida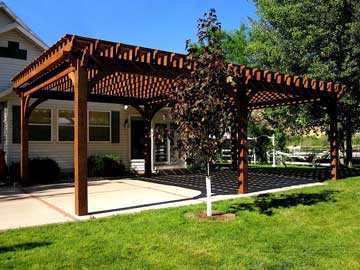 With our proprietary water-based, UV resistant stain, ShadeScape® pergola kits may only require a touch up stain every 3-5 years .
In some cases, simply add some of Western Timber Frame™ stain to a spray bottle. Mist any needed areas, roller over them and it is looking brand new again —good for another 3-5 years, .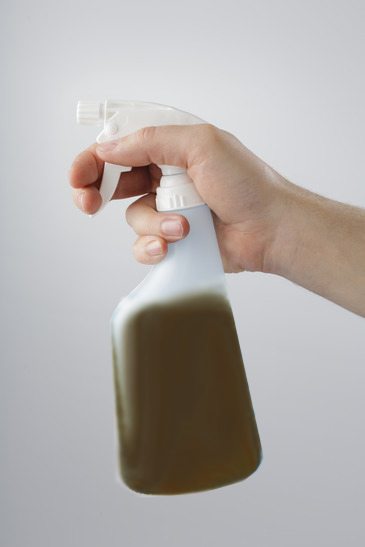 Double Use for Carport RV Covers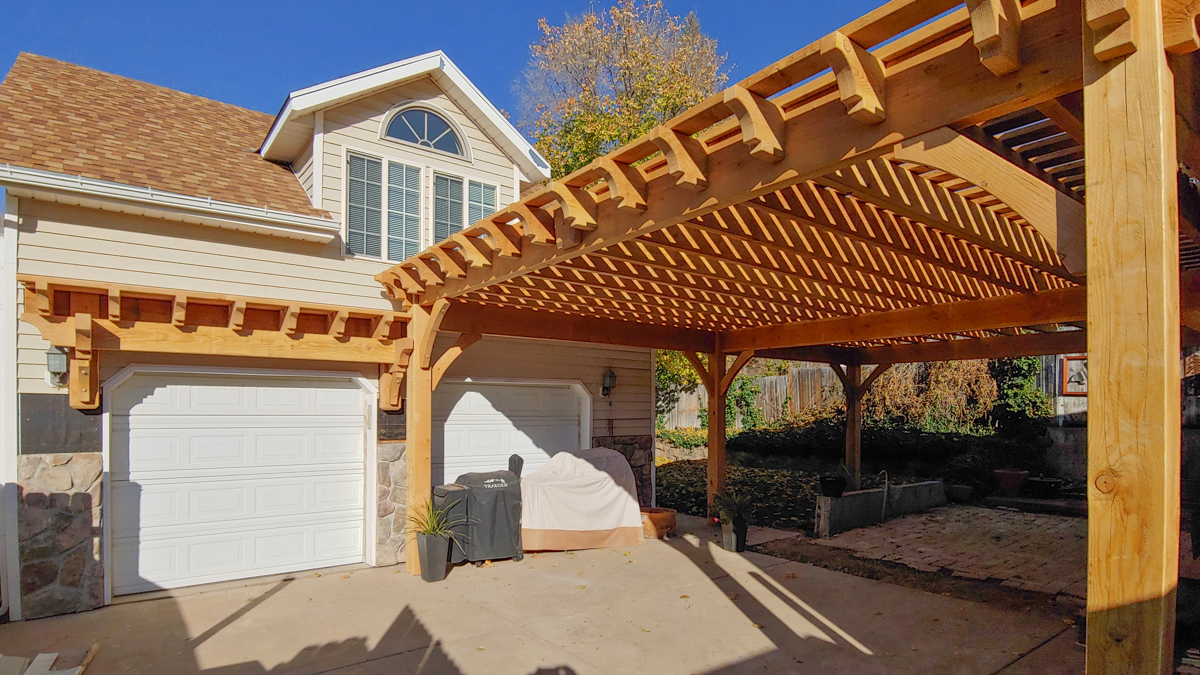 ShadeScape® shelters provide shade for outdoor activities or protection for cars, boats, recreational vehicles, farm equipment and more. As an added value, a DIY carport shelter is great answer to free up space or create a sheltered area that can double as a space for entertainment and relaxation.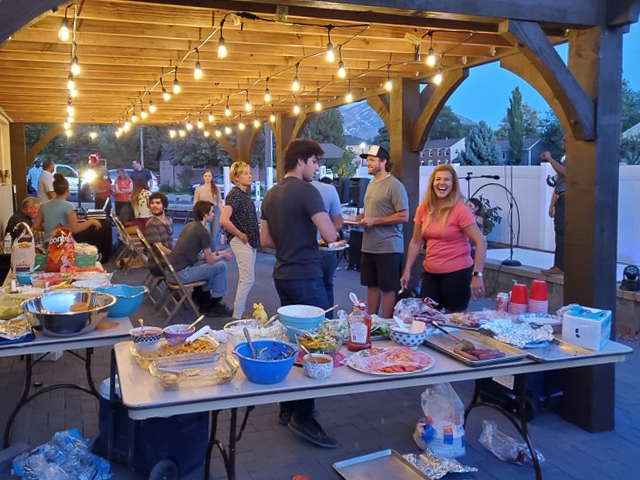 While some ShadeScape® families install an attached or free-standing addition to their Carport RV Cover for recreational or other aspirations, some families choose to build their timber frame vehicle cover to serve multiple purposes and functions, e.g. outdoor movie night, barbecue, gatherings, etc.
Extra Benefits of a Timber Carport RV Cover
Timber also comes with some extra side benefits, bacteria will not reproduce itself on wood and wood is earth-friendly as well as human-friendly. The warmth, smell, and variations in wood color is stimulating and rejuvenating to our senses creating a welcome atmosphere anytime.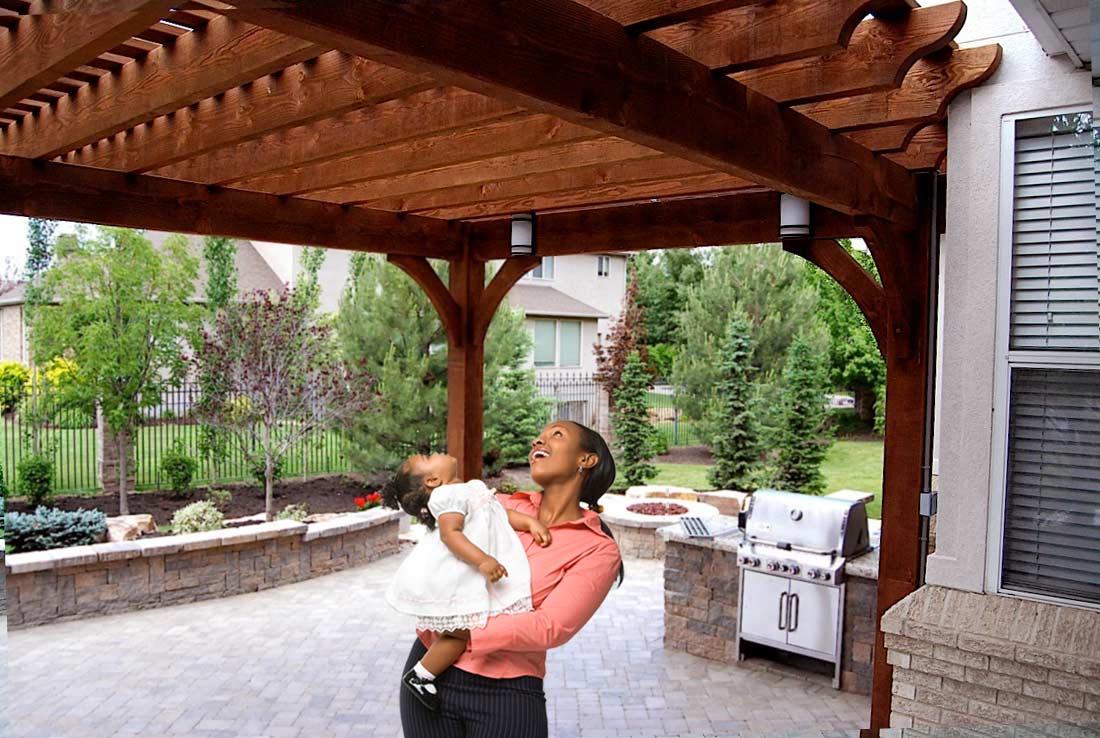 Fabric Recreational Vehicle & Car Covers Uncovered
Before the late 1980s, some will recall cars that changed color, e.g. red cars that oxidized, turning pinker over time. Cars used to be factory painted with several layers of pigmented paint over a primer coat. The color coating had little resistance to the sun's rays. Eventually, the finish would degrade to a chalky surface. That layer would then be polished with a rubbing compound. Repeating the polishing process would then thin the paint layers until the primer and metal were exposed. Modern color and clear coat finishes have come a long way, and few areas of an automobile are as misunderstood as the paint.
Car manufacturers began using clear coat finishes making a more durable coating than in the past. The paint has a pigmented layer that is covered with a translucent layer with UV protectants. From waxes, polishes, clay bars, to covers, looking after your vehicles facade can be confusing with so many competing companies vying for attention.
Here is a look at some fabric car cover considerations.
People buy car covers to safeguard against moisture, scratches, debris, pollen, insects and bird droppings. But the number one reason most vehicle owners want a protective cover is to keep their paint jobs in pristine condition and prevent fading from UV sunlight.
Manufacturers of car covers' main promotion of their products are in the claim of how effective a fabric cover is in blocking UV rays, implying that when a car is exposed to the sun, the paint will fade, crackle and peel.
Modern clear coat finishes have come a long way, with UVA and UVB radiation inhibitors, as long as the finish is in good condition, the paint will be protected. Plastic and rubber interiors do benefit from a cover, but the paintwork does not need the same amount of protection from the sun as did automobiles of the past. As a word of caution, if it is protected from UV radiation you are wanting, some fabric car covers do not actually protect against UV rays.
One primary reason for buying a fabric car protector is to keep a vehicle from becoming scratched, when in fact, putting on a car cover with any dirt or debris can cause some minor scratches. The cover itself will not scratch but the dirt it picks up can. Fabric covers attract and hold particles that can scratch the clear coat as it is slid over a vehicle.
Hailstorms are another reason people use car covers, however, covers typically lay on the surface of the vehicle and offer very little protection from large hailstones. There are car jackets that can inflate over your car that can provide a cushion of air to prevent hailstones from causing damage.
As is mentioned above, covers for RVs and vehicles attract dirt. They are also difficult to wash. Though vehicle covers can be nice for indoor use when storing a vehicle, keeping an automobile covered outdoors for several days isn't always the best idea. Even covers that are said to be 100% waterproof will allow moisture to collect between the car's surface and the cover. Moisture and hot, sunny days can create a degrading environment and damage bodywork.
We have you covered for all your outdoor activities.
Safeguard Your Investment
• Automobiles • Bush hog • Campers • Dirt bikes • Farm Trailers • Farm Wagons • Four-wheel all-terrain vehicles • Generator • House trailers • Mobile homes • Mopeds • Motorcycles • Motorized bicycles • Motorized tricycles • Road Vehicles • Snowmobiles • Trucks • York rake • UTVs
• Aircraft • ATVs • Watercraft • Bulk milk tanks • Bulk feed tanks • Barn cleaners • Pasteurizers • Boilers • Brooders • Windchargers • Windrowers • Outdoor radio • Skid Steers • Rototiller • Backhoe • Outdoor Furniture • Television equipment • Irrigation equipment • Lawn-equipment storage
• Boats • Canoes • Combines • Corn pickers • Cotton pickers • Crop dryers • Fertilizer spreader • Firewood • Harrows • Harvesters • Hay balers • Hay bales • Peanut diggers • Plows • Potato diggers • Potato pickers • Sawmill equipment • Threshing machines • Tractors
#Barn #ParkingLot #ParkingSpace #RepairShop #StorageSpace #CarStall #BoatStorage #RVStorage #RVCover #BoatCover #FarmEquipmentCover #MobileHomeCover #CamperCover #ShadeShelter