2-Story Pergola Deck — 2x the Outdoor Living Space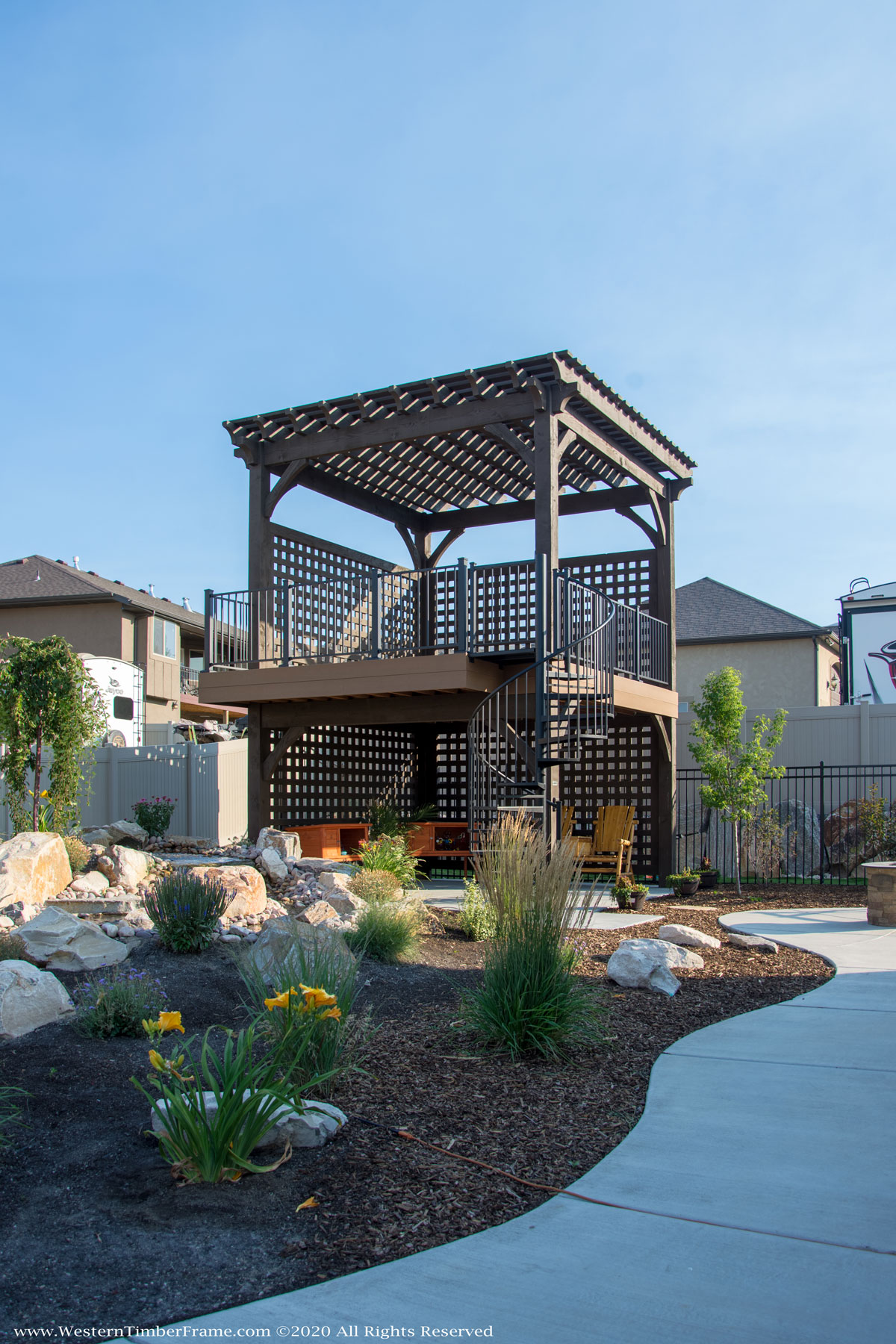 At Western Timber Frame, we specialize in utilizing heavy timbers; solid wood timber shade structures, pergola kits, gazebos, pavilions, arbors, and trellises to create the ultimate experience in outdoor living. Our 2-story shade shelters are uniquely playful, much like a treehouse.
You could say, we have a special love for trees. That love, I think is a love we all share —as every single person has the same DNA as the DNA of a tree. When a tree breathes it needs us. When we breathe we need what the tree exhales. It is trees that give us the energy to walk, talk and breathe, not to mention the thousands of foods, medicines and other wonderful products we use single every day.
This may be why so many of us once dreamed or still dream of our own treehouse —a personal getaway with an aerial view. However, not everyone has the luxury of a large old tree in their backyard to build a world-class backyard treehouse in. Happily, you can still enjoy the same aerial view with an exhilarating two-story pergola or pavilion kit. And as a bonus, there is no need to keep space around the trunk or worry about how to keep the floor level and sturdy to account for tree growth and movement over time. Plus, you will never need to water it or uproot it.
With a Two-Level ShadeScape® Shelter You Gain Twice the Outdoor Living Space Within the Same Square Footage.
For this ShadeScape® family, this two-story pergola deck is their personal playhouse. Their plan is that by next summer they will install a hot tub on the lower patio; furnishing the top to be an outdoor living room, complete with lights.
In Utah, they celebrate Pioneer Day, the 24th of July with spectacular fireworks. The family said watching the fireworks on the 4th and the 24th of July was incredible.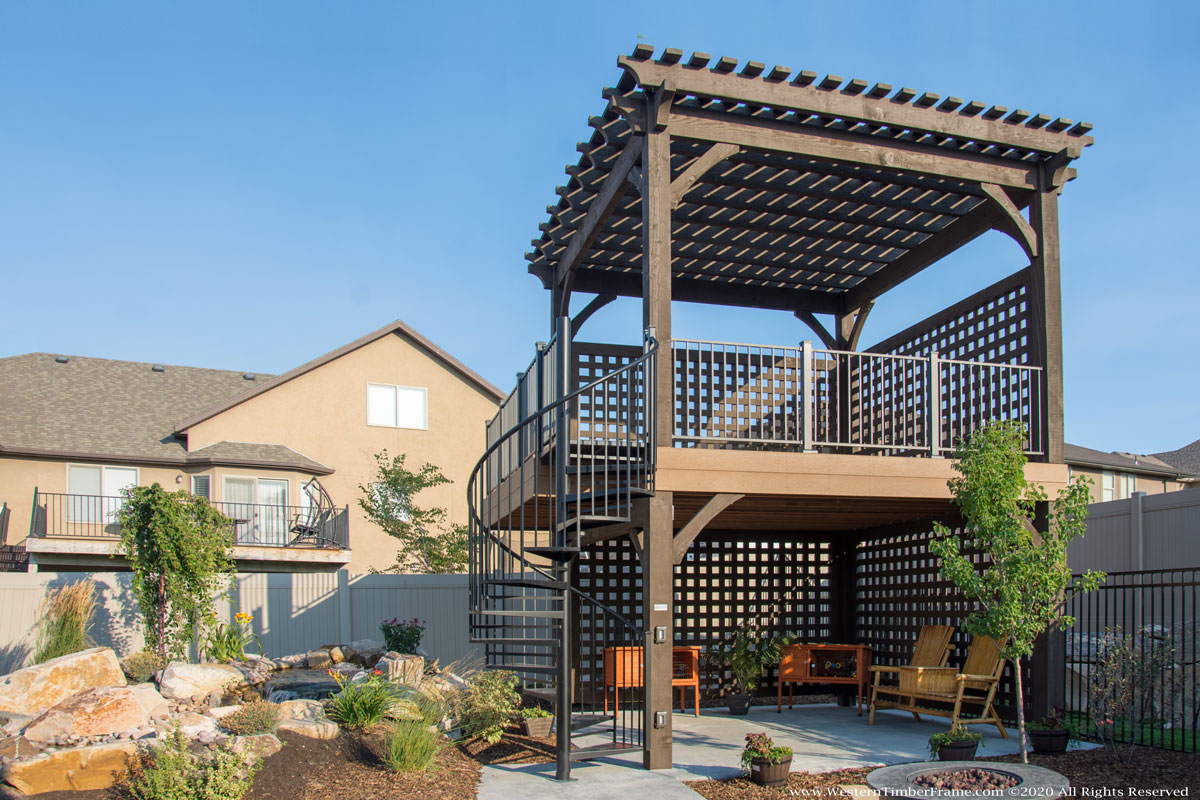 The family watched the fireworks show in three locations across the valley at the same time —relaxing at home, on the upper level deck of their two-story pergola. "It doesn't get better than that. It was just spectacular!"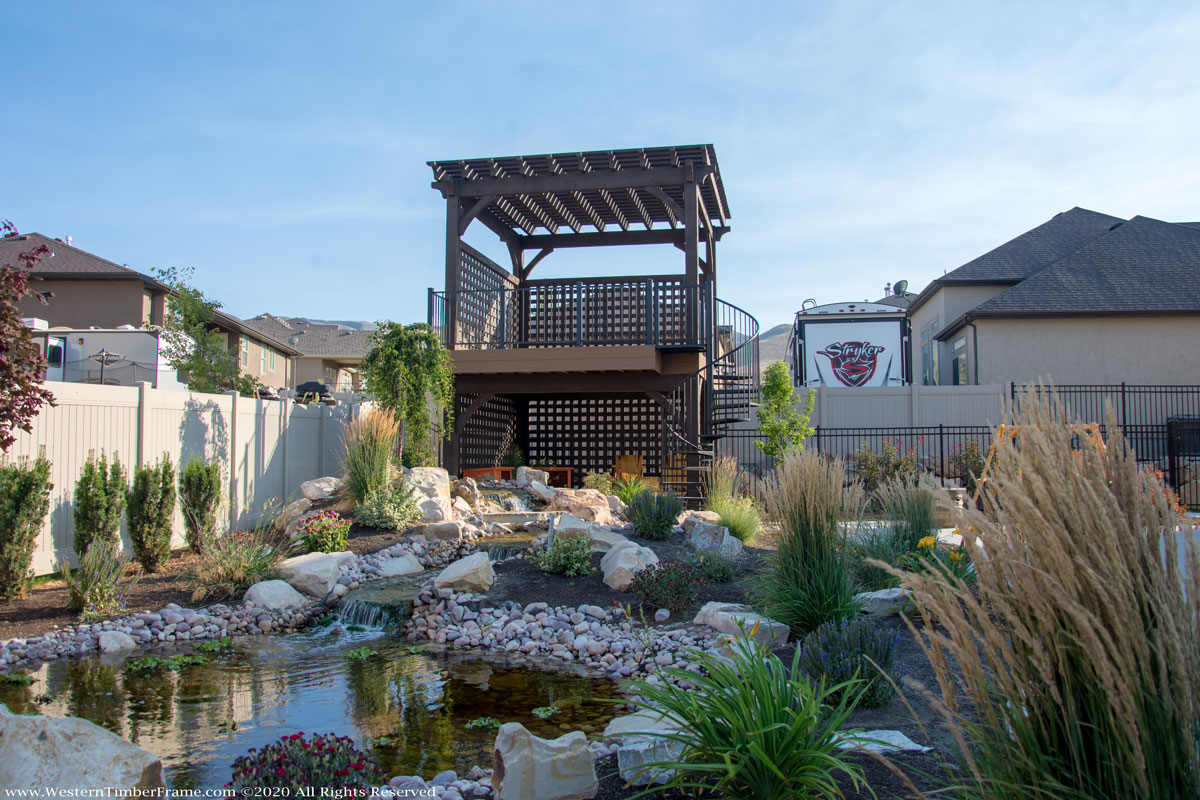 Below the ShadeScape® two-story pergola kit is landscaped with a bubbling waterfall that flows into a pond filled with bright Koi fish that is so beautiful to gaze down on. And several delightfully colored little birds have made this backyard their favorite place to bathe. Our ShadeScape® family have really packed a BIG piece of nature into a small-sized yard. It is wonderfully peaceful.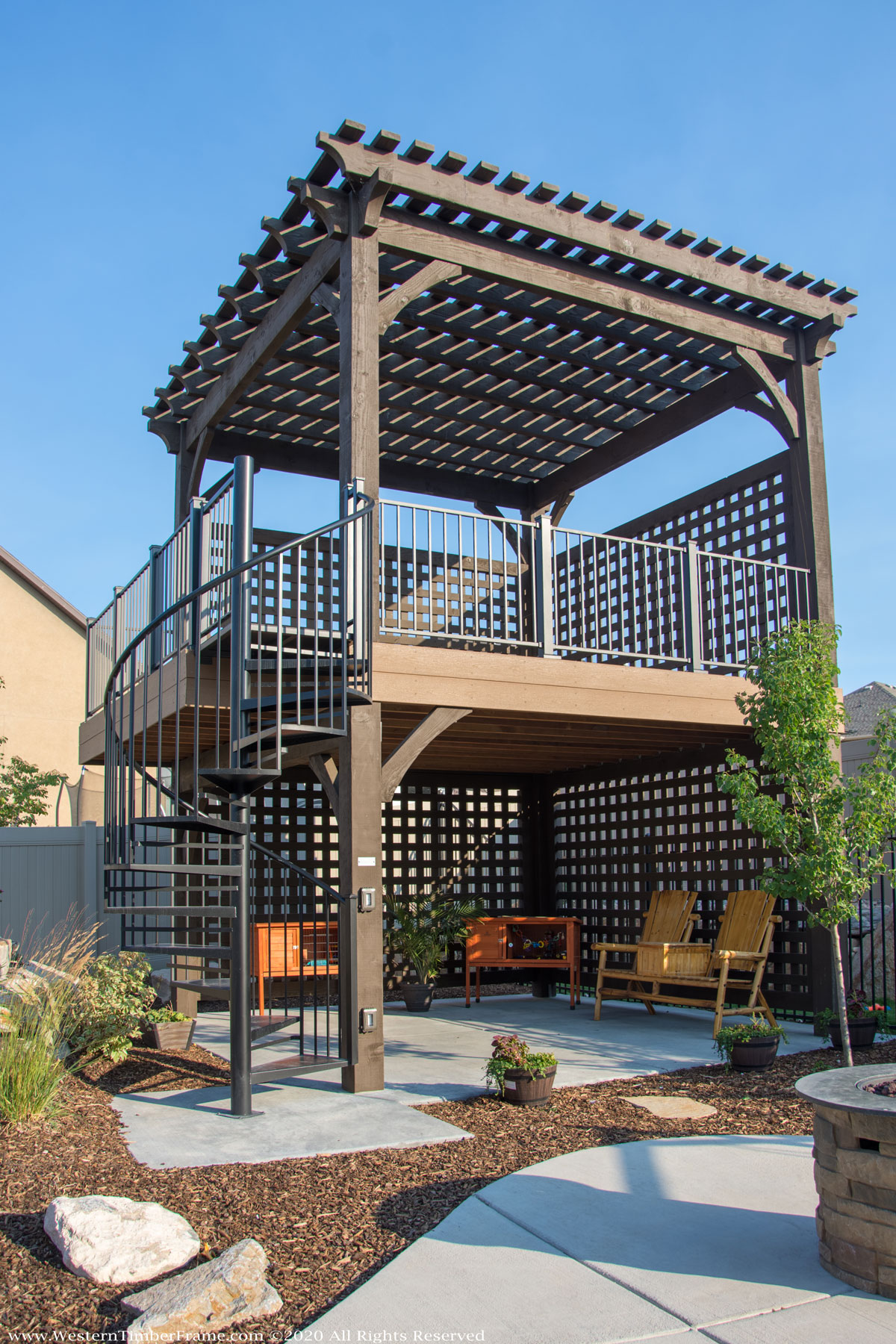 The ShadeScape® is an 8000 series featuring two TimberVolt® power posts, one on the upper level and one on the lower level. It has four latticed privacy screens and a metal spiral stairway and matching deck hand railings. The finish is a Rich Cordoba UV protective stain.
Upper Deck Diving Platform Pool Pavilion w/Waterfall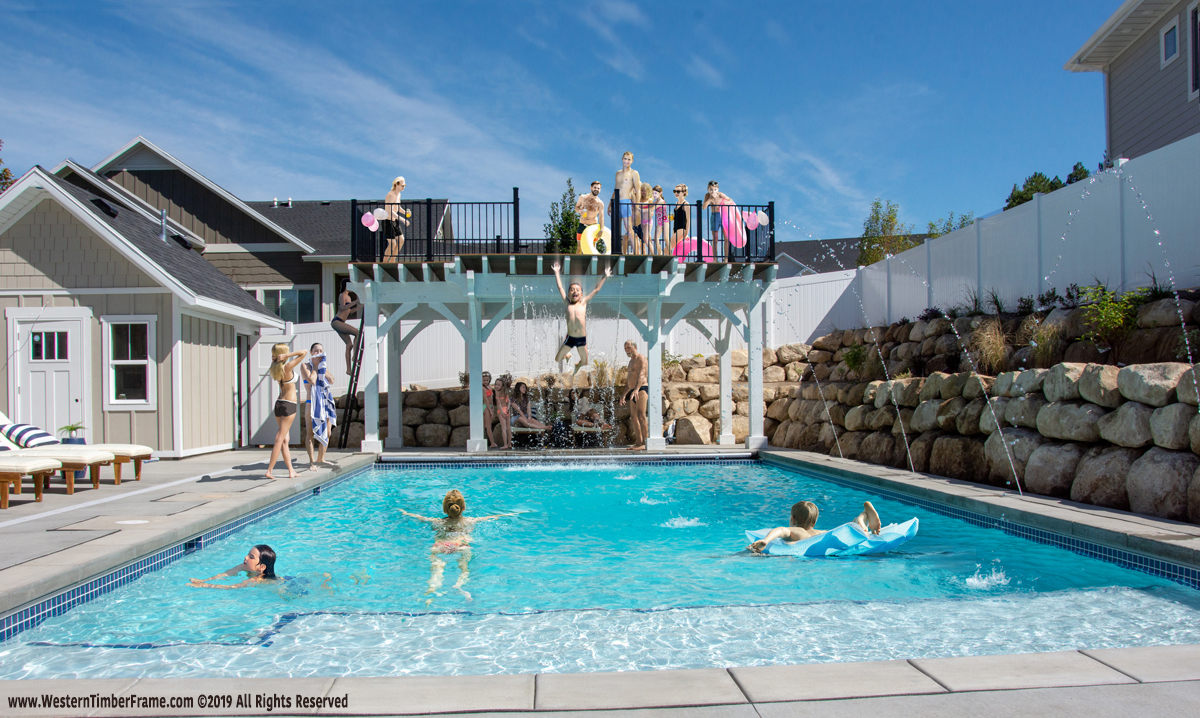 The ShadeScape® pavilion above was another design utilizing the top level. The family wanted more than shade for their pool. After discussing what they desired with a Design Consultant, it turned out better than they ever dreamed. The roof of the pavilion is an upper deck with a diving platform. A waterfall flows out over the pool beneath the diving area.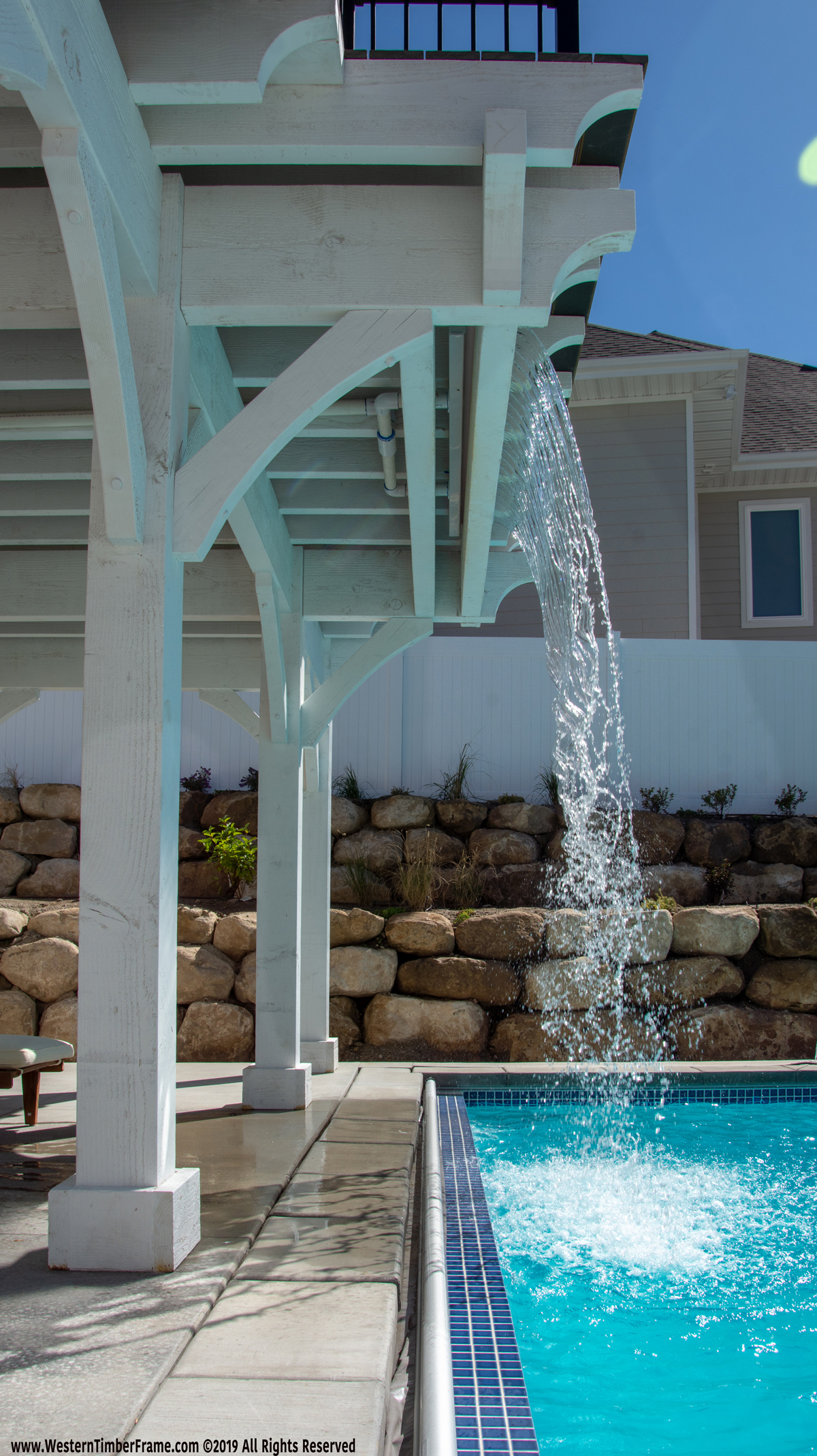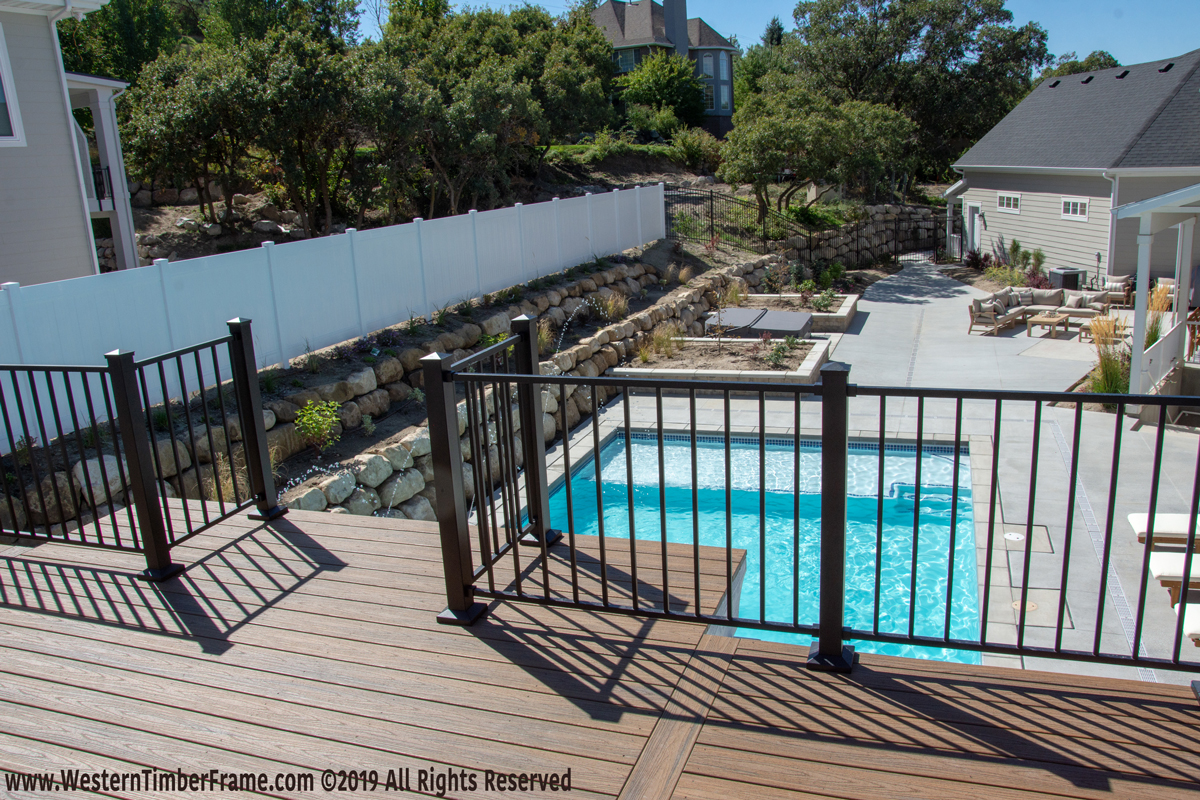 Our Design Consultants are all about vision and the transforming of ideas into reality. The best part is the feedback of families who tell us that it is better than they ever could have imagined!
Mostly, it is all about the family, their interactions, how their time together brings them closer together. Living in area where we get heavy mountainous snows and strong winds, we also take those things into account when planning an outdoor area.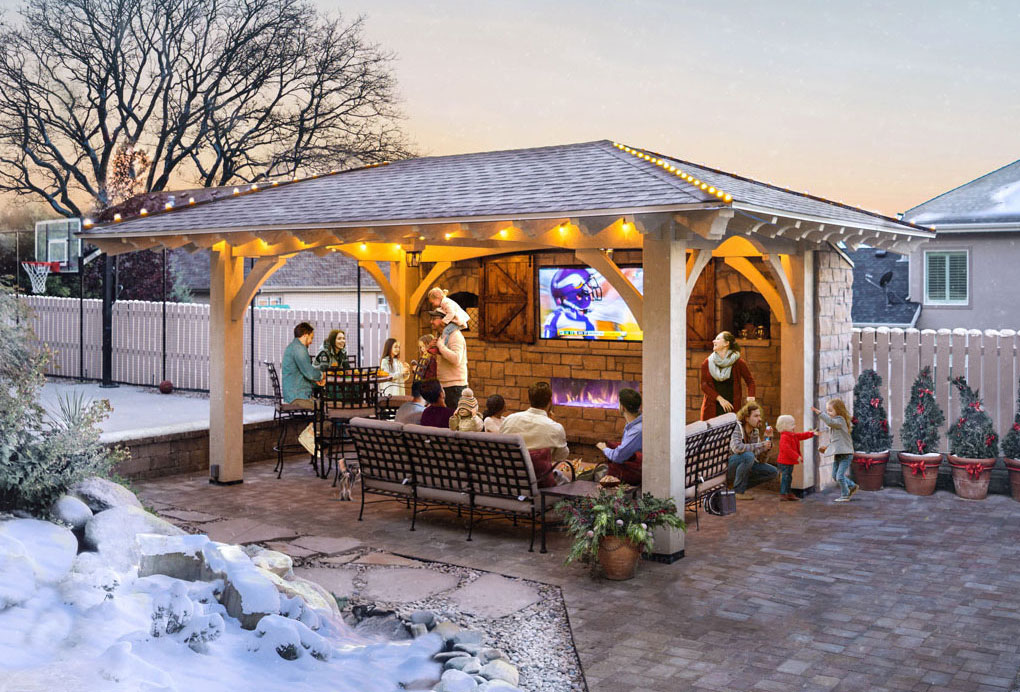 Walls or latticed privacy screens are sometimes added to give additional shade or as a windbreak. Here, a fireplace wall has a built-in television, where the family enjoys time together, comfortably —all year.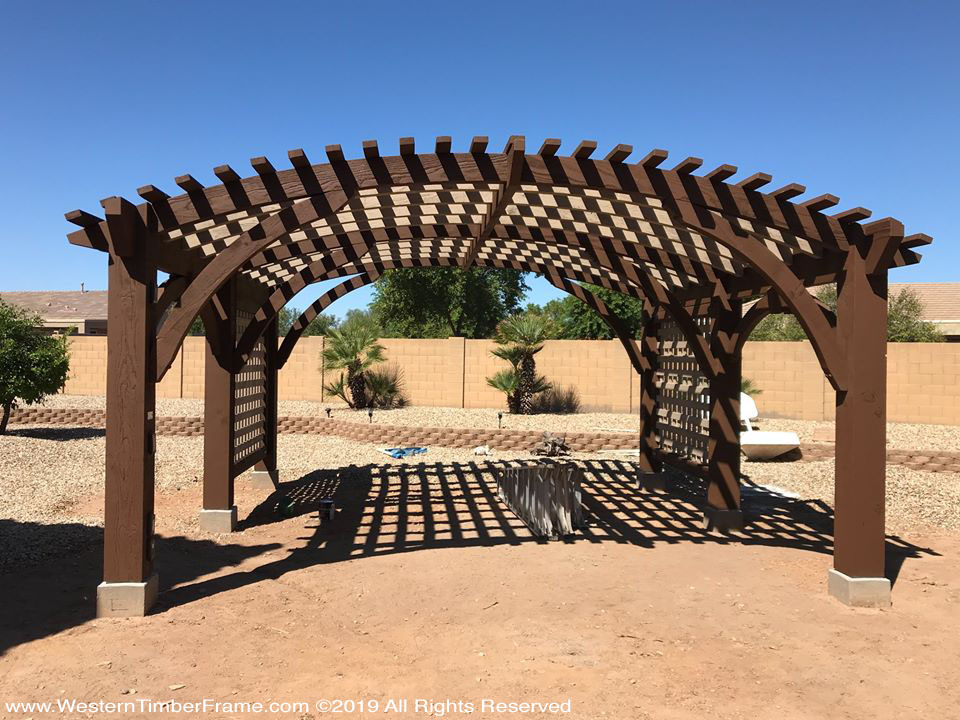 #BarrelPergola #DIYPergolaKit #EasyShade
So much can be done on the top of a timber frame shelter whether it is for aesthetics or utilization.
Here is a barrel top pergola installed in Arizona with a 2-tone contrasting stain —and latticed side privacy walls.
No matter how you dream it each kit goes together with interlocking wood-to-wood connections similar to "Lincoln Logs".
Working with wood on a massive scale to provide excellence in World-Class Outdoor Shade Shelters, we are continually reminded of the authenticity of trees and how they continually bless our world.
And though we have built so many timber frame outdoor shelters, it is fun to see the more recent interest in building 2-story outdoor living shelters. They are the ultimate "tree" house shelters.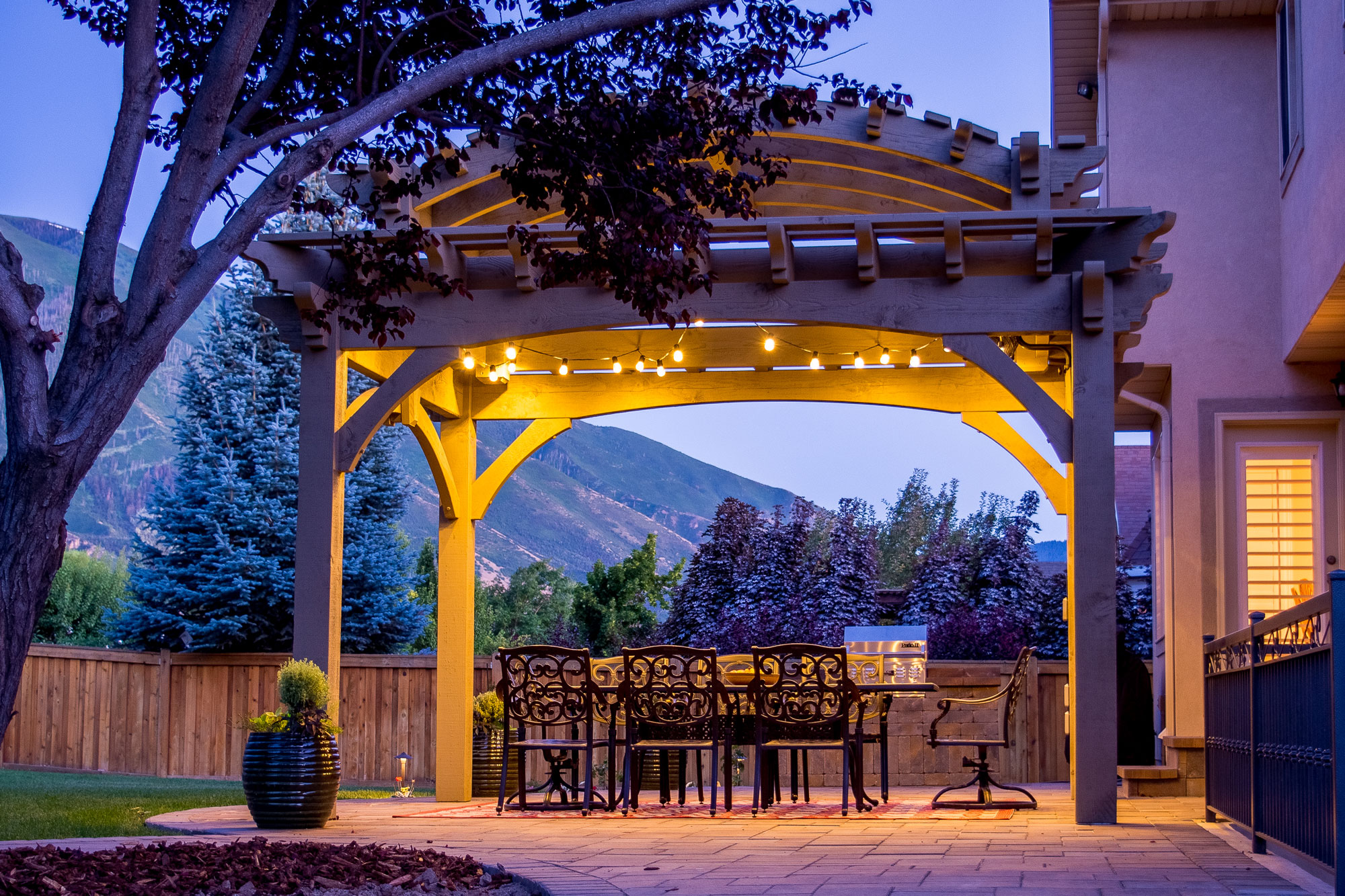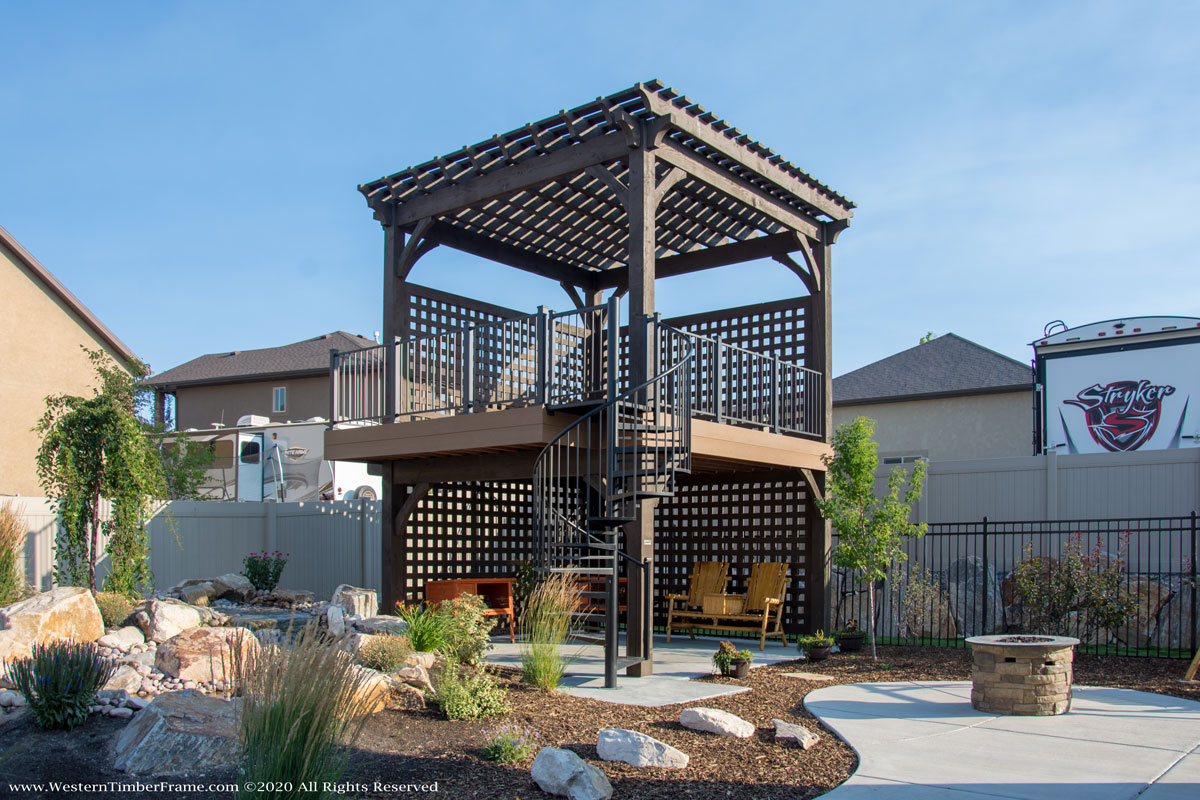 Small Sampling of the Thousands of Products Made from Trees
shaving cream yeast • Linoleum • soap guitars • wax paper • corks • molds inflatable beds • window seals • boots • mace gazebos • prosthetics • calculators • cushions • oxygen pavilions • flip flops • computers • boots • shade • dye • pillows Bibles • trellises • rubber gloves • bathtub plugs • surgical supplies refridgerator • rubber ducks •gaskets • mattresses • asphalt • synthetic bones bay leaves • surgical gloves • tools • melamine • rug backings • toilet paper car dashboards • lab flasks • calcium carbonate • aquarium tubing • wheelchairs glu-lam beams • brake pads • door stops • toilet seats • veneer • books • ear plugs wallpaper • cabinets • vials • myrrh • cell phones • maple syrup • raincoats • pond liners coffee filters • shingles • hot water bottles • varnish • cabinets • protective helmets • paper ice boxes • fabrics • faucet washers • protective shields * waterproof compounds • tires bowling pins • shoes • cosmetics • salicylic acid • Compound W • diapers • art paper • ink printing press .• marine plywood • ballpoint pen • electrical outlets • baseballs • rubber gloves wheelchairs • footballs • basketballs • fishing buoys • turpentine • nitrocellulose • ice cream candle sticks • vacuum cleaner bags • medicines • waxers • road materials • zippers • insulation pears • gum • molasses • syrup • carob • rosin • pitch • film • life preservers * primers • footballs anti-fungal oil • rocket propellant • particle board • pet litter • fireworks • insulation • walnuts hot tubs • erasers • crayons plastic • recyclable solar cells • artificial flavorings • movies • almonds Fishing buoys • checkbook • fishing floats • wall tiles • ceiling tiles • gutters • receipts • hairspray cars • oranges •candy bars * bandages • shampoo • nutmeg • ammonia • corks • signs • car keys snow-shoes • pallets • vitamins * houses • carpets • menthol • guitar pics • shatterproof glass play tiles • telephone • smokeless gunpowder • glucose • beds • gum • tin cans • rubber belts paint • coffins • ceiling tiles • musical instruments • adhesives • antacids • cardboard • shoes violins • olives • drywall • tannin • baby food • furniture • combs • shampoo • pecans veneer • decks • lubricants • airplanes • rayon • electrical energy • camphor • coffee • concrete forms • airplanes • blocks • cloves • latex gloves • furniture • bowling pins phonographs • chemical resistant pads • cinnamon • food containers • pianos water pipes • computer casings • bicycles • stain removers • apples bath tubs • fuel • coffee • cider • spinning wheel • hunting bow arrows • figs • furniture polish • scientific instruments activated charcoal • silos • mail • Benzoin gum ball point pens • flooring equine products foam rubbers aluminum foil rust remover cellophane photographs baking yeast frankincense disinfectants thermoplastic cellulose acetate