Add Fire w/Outdoor Fireplace DIY Pergola

Come Gather at Our Fire Seek those who fan your flames
The purpose of a pergola is not to block out the sun, but to give relief from the direct sunlight and allows the air to circulate freely. A timber frame pergola creates a perfect setting for an outdoor fireplace.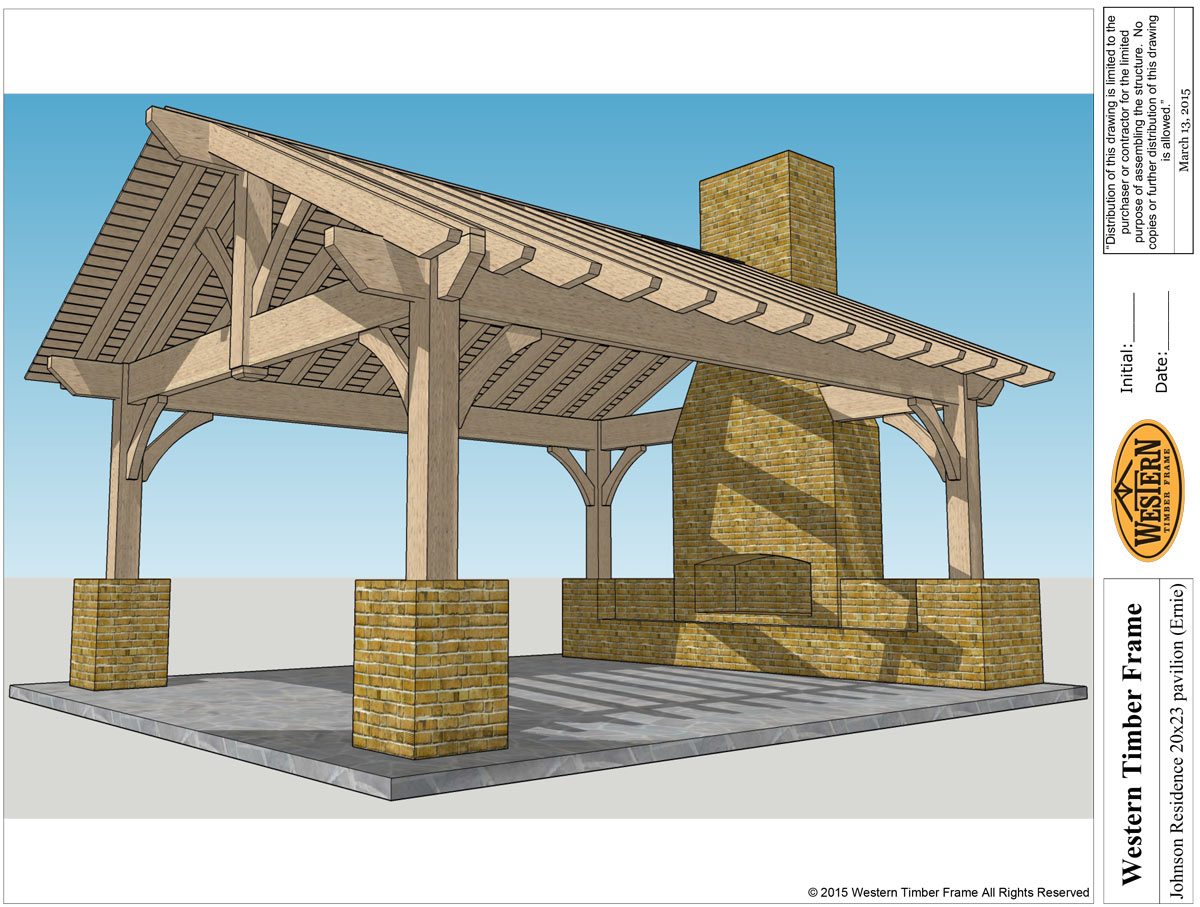 Western Timber Frame™ structures are visible massive heavy timbers of impressive engineering masterpieces rich in architectural heritage, perfected in modern technology, creating monumental heirlooms; built for your grandchildren's grandchildren to enjoy, too. A powerful aspect that separates Western Timber Frame™ from others in the field is our ShadeScape™ Design Consultation™ wherein we assist every client in designing a kit that is just for their specific needs and budget.
From the very first moment a client contacts us, they are connected with a Design Manager. A Design Manager is an expert in all of the ShadeScape™ planning and design processes. Over the phone, in person, or through e-mail, these Design Managers help them to determine what their needs are. The process is so streamlined that most customers complete their purchase without us having ever stepped foot in their yard. From Hawaii to New York Western Timber Frame™ ships kits all across North America and beyond.
These solid timber kits built with old world craftsmanship go so well with an outdoor fireplace, perfectly combing natural wood that is so warm to the touch and a cozy, inviting fire. Fire intrigues us, creating an emblem of hospitality, a welcoming atmosphere that beckons us with a feeling of safety and healing warmth.
The flickering dance of a fire is mesmeric, its glowing warmth with the savoring flavors of fire-baked food is regenerating. We may not totally understand fire in all its flaming beauty but a fire is an element of that draws us together for an intimate exchange of communication, comfort, and acceptance.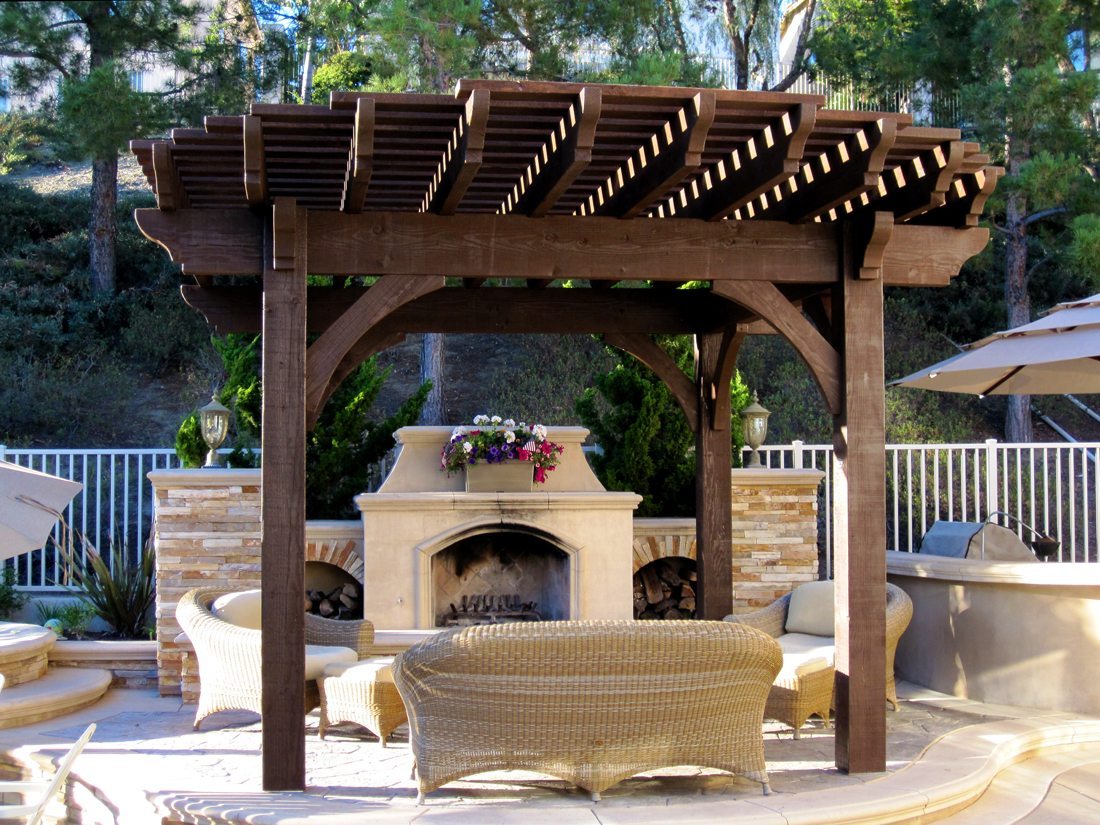 To the Celtics the hearth is The Heart of the Home; British soldiers sang Keep the Home Fires Burning; Romans said, Look After the Hearth and idioms such as Home is Where the Hearth is all express deep felt emotions that each center around a fire as being the symbol of the heart of the home.
In early American Colonial days, President George Washington stood in front the hearth in his living room as dignitaries were introduced to him. Afterward, his guests would form into a large circle to converse around the fireplace. Since the beginnings of America, the fireplace has been a social place where the household read books, discussed news, played games, gathered for events and received guests.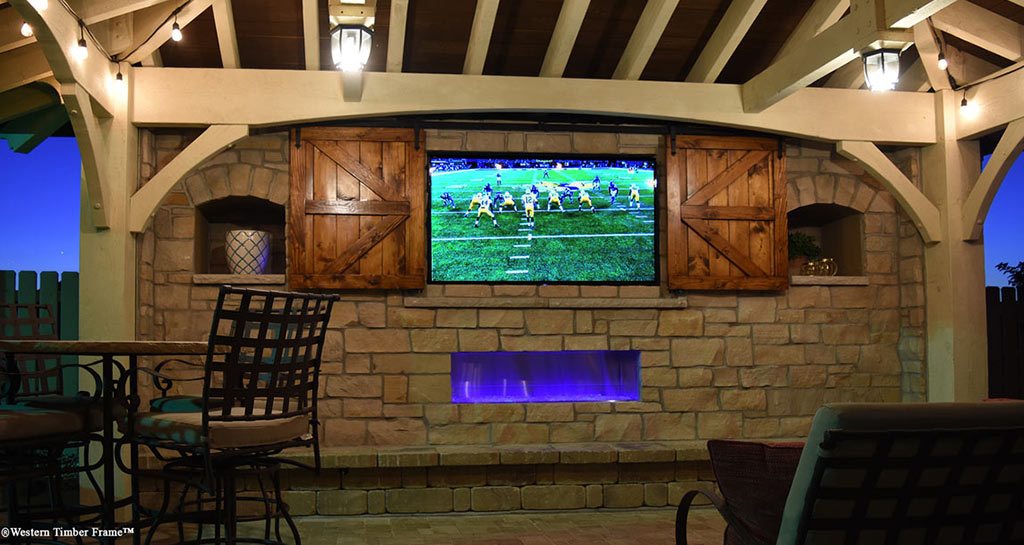 Throughout the world's various languages and literature, there seems to be the common thread of a fascination with fire, referring to it in terms of life, love or a passion.
Outdoor fireplaces today are not all fueled by traditional fire and wood as in times past; some run on natural gas or propane. There are benefits of installing a natural gas or propane fireplace such as the ability to turn a knob and shut it off when you are finished. Fire burning regulations can vary in different areas with some places burning firewood is prohibited due to emission concerns while gas-fueled fireplaces are allowed. Homeowner associations can also have similar restrictions to visible fire impeding upon the sight line of another property. DIY outdoor fireplace kits are an option and can help to keep you within your budget. A fireplace or fire pit is a safety issue and should be installed according to local building and safety regulations, and of course, a fire should never be left unsupervised.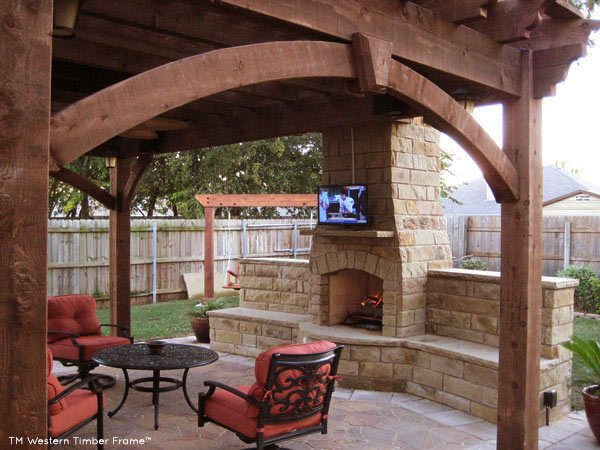 The fire has also been viewed throughout time as more than a means of warmth or just for cooking food, e.g. the Hebrews, Christians and Chinese view fire as being a symbol of divinity. The ancient Hebrew word for fire is "אש" pronounced as esh, which is the parent root of "אש" pronounced as iysh, meaning man. Fire and man in the ancient Hebrew perspective are related. Genesis describes God as creating man in the same fashion a fire is ignited. Genesis 2:7 says, And the LORD God formed man from the dust of the ground and breathed into his nostrils the breath of life, and the man became a living soul. Before lighters or matches were invented fire was ignited using tinder and bow drill consisting of a bow, string, rod, handle and fire board. In a short synopsis, basically as friction is caused by moving the bow back and forth, the fire maker then blows on the dust to create more heat and it ignites into flames.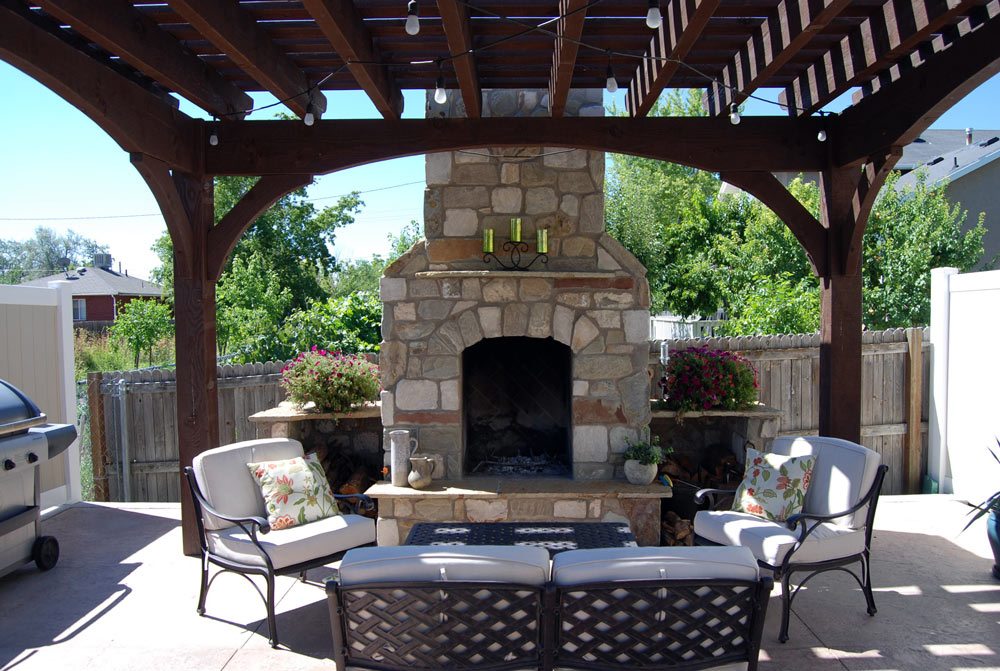 Ancient Chinese physics names five elements; water, wood, earth, fire, and metal. In Alchemical symbolism, metal was incubated in the womb of the earth by fire. The oldest Chinese classical text known as Feng shui describes their ancient philosophy of generation as Wood feeds Fire; Fire creates Earth; (as in ashes) Earth bears Metal; Metal collects Water; Water nourishes Wood.
Of the four elements, earth, air, fire and water, fire is the only element that man is able to produce, which is why ancient Egyptian cultures believed a fire to be a connection between the gods and mortal man.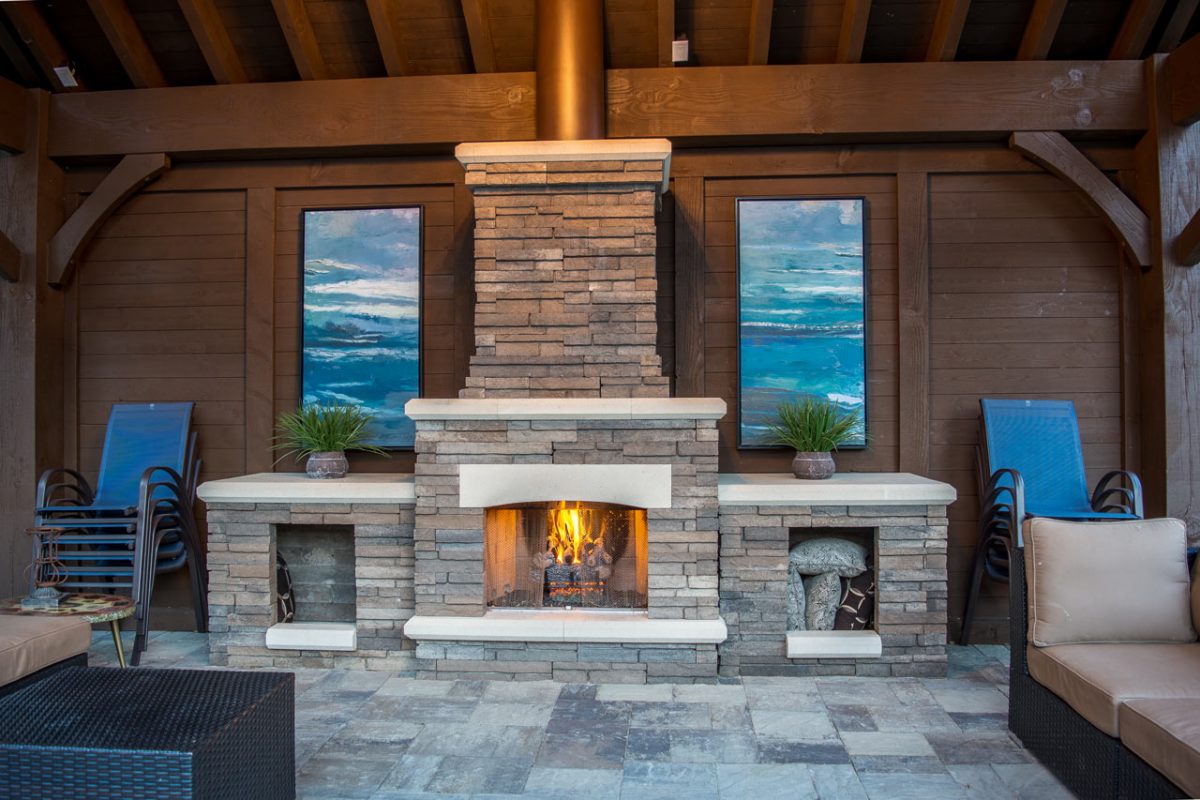 If you already have an existing fireplace or fire pit you are already well on your way to an even better outdoor living area for outdoor fireplace shade. Installing a timber frame ShadeScape™ pergola kit with your outdoor fireplace makes your fireplace area even more usable. The beauty of a timber frame ShadeScape™ pergola kit is that you can install it before or after, as your budget allows. Even with a progressive architectural landscape, they will never appear as an afterthought. They can be color matched to the trim of your house or completed in a wonderful contrasting stain. Each kit is different, it is not a pre-designed kit. We fit our structure to fit our clients' needs. If you would like, check out the gallery to see more landscaping ideas with ShadeScape™ DIY pergola, pavilion and arbor kits others have had installed for their outdoor living fireplaces.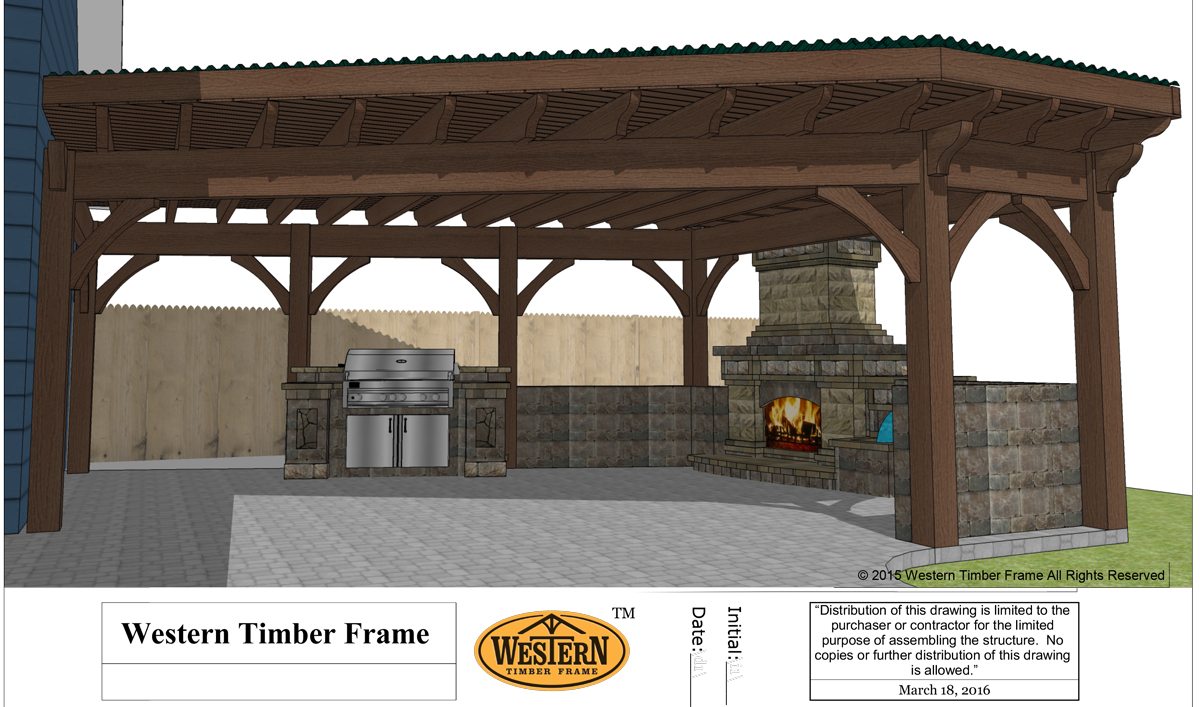 We offer AWESOME Installation Support! Note, however, that DIY does not mean you have to do it yourself. We can install it for you. We are there for you and will help as much or as little as you like.
The Western Timber Frame™ ShadeScape™ Experience ensures that we are able to provide our customers with a quality product encircled within a superb customer experience.

Education is not the filling of a pail, but the lighting of a fire. –William Butler Yeats